Prince Tour 98 ESP Racquet Review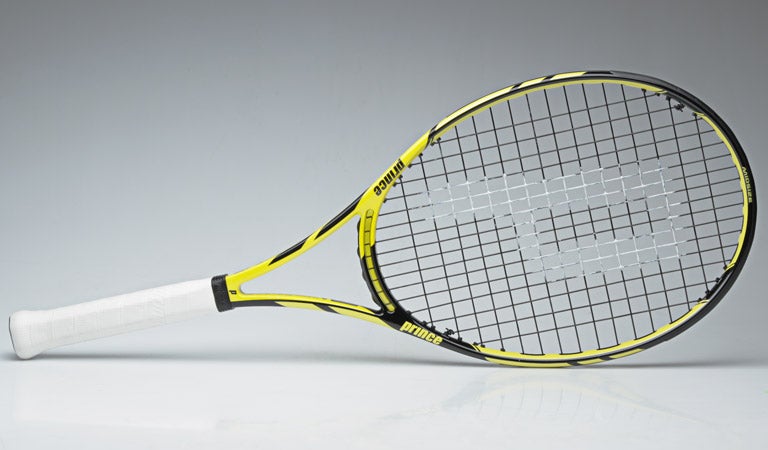 Prince Tour 98 ESP Scores
Power
81
Comfort
89
Touch/Feel
75
Serves
75
Groundstrokes
79
Returns
82
Slice
77
Topspin
87
Volleys
73
Overall
78
Upsides
Comfort
Loads of spin
Control
Downsides
Too light for bigger hitters
Summary
Fans of the Prince Rebel series of racquets, take notice: There's a new name and a boost in spin and comfort with the addition of Prince's ESP (Extreme String Pattern) technology. With a super open 16x16 string pattern, the Tour 98 ESP allows players to swing with confidence, knowing the ball will hook inside the lines. Like the previous Rebel 98, this Tour has an ultra soft, plush feel and plenty of control to urge users to aim for the lines and go for their shots. Mark and Spencer couldn't stop raving about the racquet, claiming that it took their games to new heights. However, Chris and Andy wished for a bit more heft so it could pack a little more punch. All in all, the new Tour 98 ESP is a must try for players who like comfortable, maneuverable and spin-friendly racquets.
Groundstrokes - Score: 79
For the most part, our playtest team enjoyed the great spin potential and fast, comfortable feel that the Tour 98 ESP had to offer. The racquet landed right in Spencer's wheelhouse. He said, "First off, I love how the specs lay out. They translated into a fast racquet, and I was able to get some good power and spin from the baseline. The spin was apparent from the first hit. I could see the ball jumping up a bit higher on my opponent's side of the net. That allowed me to come to the net when I hit a deep ball, making it tougher for my opponent to pass. Also, I'm always happy to get some added power due to my lack of it. The Tour ESP delivered there as well. It offered a nice balance of power and control."
Mark got a boost in confidence from the baseline, and he enjoyed how comfortable the racquet felt even after a long practice. He offered, "It was a bit strange to go back to my own racquet after playing with the new Tour 98 ESP. I felt like I had to make an adjustment to my own racquet and not the newer one. I am definitely more of a grinder than a point ender, but I did get confident enough with this one to hit repeated heavy shots deep to either side of the baseline. Plus, the open pattern left my arm feeling pretty fresh after some two-hour sessions, even with a full bed of poly."
Chris found the racquet comfortable, forgiving and spin-friendly, but he wished for a little more weight to get his shots moving through the court. He said, "This racquet felt much lighter and faster than its specs would suggest. I was able to get lots of racquet head speed and was swinging through the ball very quickly. The ESP technology combined with the large EXO3 ports to make this a very lively, forgiving and extremely comfortable racquet. The sweetspot felt huge! The level of spin I was getting on all of my shots was also huge. The open string pattern really grabbed the ball and spat it out with a lot of spin. The result was a loopier topspin shot that traveled higher over the net before dropping nicely inside the lines. Obviously, that kind of shot ups consistency, but as with the Wilson Blade 98S, this one had my topspin shots sitting up too much. I had to work harder to drive the ball through the court because the racquet simply did not have the mass to it that I like. There's a lot of room to add weight because the swingweight is very low for an 11.6 ounce racquet. To help me get some additional drive to my shots I'd be adding lead tape for some additional plow through."
Like the others, Andy enjoyed the fast feel and massive spin potential, but he also wished for a bit more heft. He explained, "For the most part I enjoyed the control and easy access to spin this racquet offered from the baseline. For as light and fast as it is through the air, I felt like I had good command over my groundstrokes and could get them to hook into the court with the high spin potential. However, I did feel at times (since it was so light) that I would lose control of the tip of the racquet, and it would come through too fast. This resulted in a lack of control. Also, my shots didn't have the kind of weight moving through the court that they normally would."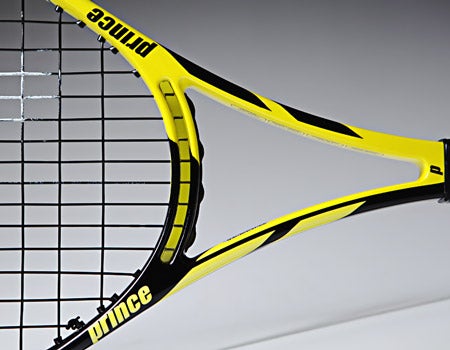 Volleys - Score: 73
Our playtesters also enjoyed the fast feel of the Tour 98 ESP around the net, which made it easy to get into position and react quickly. However, the lack of mass was apparent, too. Mark had no issues, though, and he quickly adjusted to the racquet and was volleying with aplomb. He offered, "I usually start most sessions with short-court groundstrokes and volleys, which is where I immediately knew that I loved this frame. The ball pocketing, whether the incoming ball was at low or high speeds, was very noticeable. It gripped the ball well and I volleyed from anywhere on the court with confidence."
Spencer also found it easy to volley with this racquet, although at times he was a bit disconnected from the ball. He explained, "I felt I volleyed well with this one. Some of that I have to chalk up to good approaches setting up easier put-aways. That said, if there were one thing that was lacking here for me, it would be touch. I've experienced better touch with some other sticks, but with all the positive attributes of this racquet, I can't complain."
Also finding the racquet easy to wield was Chris, but he wanted more mass to make it easier to get pace and depth on some tougher volleys. He said, "This was a super easy racquet to maneuver at net. I found it to be very fast and responsive. I was able to catch up to low stretch volleys and flick them back with a nice angle shot. However, when I was caught deeper in the court I found the racquet lacking some of the mass needed to find depth. It was also easy to hit floating balls short because this racquet required some added effort to really put some stick on my shots."
Echoing the sentiments of the group was Andy, who thought the racquet lacked some stability and feel at net. He said, "This racquet was easy to get into position around the net. It's also has a soft and plush feel, so shots hit off-center didn't result in much discomfort. However, it didn't have enough heft to make it feel solid, and it twisted and turned in my hand if I didn't find the middle of the stringbed. Also, I didn't feel all that connected to the ball, so I lost control a bit when I tried to go for more finesse shots."
Serves - Score: 75
The lack of heft was noticed most on serve. Our team thought the spin potential was good, but they were left desiring more pace as the ball left the racquet. Chris felt the Tour 98 ESP was similar on serve to another racquet featuring Prince's latest technology. He explained, "I was able to serve with more pace with this racquet than I was with the Warrior 100 ESP, and I was getting close to the same amount of spin. My serves were consistent, but they lacked pace and penetration compared to many other racquets. My serves sat up a little with this racquet, and there are plenty of strong returners here at TW to make me pay for anything left hanging. Not to sound like a broken record, but I really needed more weight in the racquet."
The control was there for Andy, but he still didn't feel all that effective when serving. He offered, "I felt like I could locate my serve well, and I also found good spin potential. However, with the lack of weight I couldn't get the ball moving through the court enough to bother my opponents. I don't have the biggest serve, so if I lose some MPHs I have trouble holding serve. I found returners were getting too many good looks on my serve because it sat up for them to hit."
Even Mark, who really enjoyed this racquet, thought it could've used a little more weight for serves. He said, "This is the only area that I could say that I would have liked it to be slightly heavier, but that is being pretty picky. Overall, the Tour 98 ESP was very predictable and versatile on serve. I would play tournaments with this frame, even without any weight added."
On the contrary, Spencer was able to use the massive spin potential to serve more effectively than usual. He raved, "This is where I probably saw the biggest difference in my game. Not only was I getting more pop, but also the ball was really jumping with good effectiveness. I was able to kick the ball more than usual, giving my opponents a tougher time returning. It even allowed me the confidence to serve and volley on occasion. This was the highlight for me of this playtest."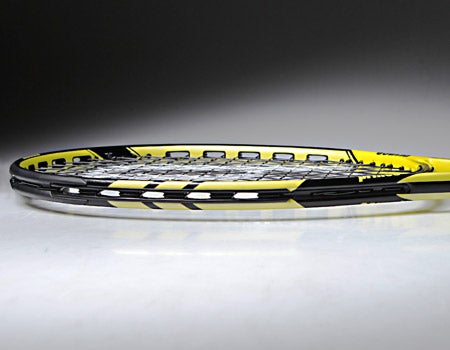 Serve Returns - Score: 82
All of our playtesters really enjoyed returning serve with the Tour 98 ESP. It possesses Andy's most important attributes for returning serve. He said, "Returning serve was my favorite shot with this racquet. It's maneuverable and offers good control, which are the two most important elements to me when returning serve. I could step in, take the ball early and have no trouble directing the return where I wanted it to go. A little more weight would've been nice for chipping returns back deep, but I thought the racquet was fine to return with as is."
The maneuverability allowed Spencer to use all kinds of returns. He said, "Being able to wield this stick pretty easily allowed me to return pretty well. I was able to vary my returns."
Chris liked returning serve with the Tour 98 ESP once he dialed in the feel. He said, "With a control-oriented poly, like Prince's Tour XC, I found a more consistent response that allowed me to take a good rip at the ball with the Tour 98 ESP. While not quite as sweet as the Warrior 100 ESP, this was a good returning racquet for me. I could use my opponent's pace, and the racquet was light enough to allow me to take the ball early. This is also a very comfortable racquet, and I appreciated that when not catching a big serve return cleanly."
Mark thought the racquet allowed him to do more with his returns than usual. He explained, "The version I played with had just the right blend of weight and balance to allow me to swing through some of my returns, instead of simply chipping them back into play."
Overall - Score: 78
Likes
Chris - "I liked the spin and comfort the most."
Spencer - "The comfort, feel and spin. This racquet works really well for my game."
Mark - "I felt like the Tour 98 ESP was made for me from the very first swing. I could not believe that I didn't have to make any sort of major adjustment, even though I have been playing with many of the newer, extremely open patterned racquets that are due out in 2014. The feel, weight, amount of frame flex and balance felt almost perfect for me. It also had a unique sound at contact of the ball, which I liked. It has a very predictable feel with loads of comfort, and I really felt like I could 'hold' the ball on the strings longer than with other racquets I have played with."
Andy - "Good control and spin potential. It's also soft and comfortable, even on hits off-center. It's fast through the air and easy to get around your body."
Dislikes
Chris - "Too light and lacking a little feel if not strung with the right string. Prince Tour XC felt great, Wilson's Rip Spin did not -- although I like that string in other racquets. I needed the swingweight to be at least 20 points heavier to get better plow through."
Spencer - "Not my preferred colors in the cosmetic, but that's just being superficial."
Mark - "I suppose it's not really too much of a dislike, but after playing with the Prince Tour 98 ESP I have to re-evaluate my list of top racquets, and pretty much place this one at the top."
Andy - "It's simply too light for me. My shots didn't have much weight behind them and the racquet would twist in my hand against harder hitters. It's also didn't possess enough feel for me when going for touch shots."
Comparing it to other racquets they've used, our testers said:
Chris - "I prefer the Warrior 100 ESP over this one. Both are very light and fast with huge spin potential, but the Warrior was better on returns and groundstrokes for me. Fans of the EXO3 Rebel 98 should try this one; they play similarly, but the Tour 98 ESP has added spin and mobility."
Spencer - "I did test the Rebel 98 and have to say they are quite similar. The Tour 98 ESP offered better access to spin, and I enjoyed the overall experience a little bit more."
Mark - "I play with a slightly modified Steam 99S, but even in stock form the comparison has to be made. They both play and grip the ball like a ping pong paddle, even though the beam on the Steam 99S is firmer than the Tour 98 ESP. Because I feel that the wide open string pattern has a lot to do with what makes this racquet worth talking about, and there are not too many of them on the market (yet), it is hard to compare with most other racquets, even if they have a 16x18 or 16x19 pattern. Those now seem like dense patterns to me, and although I still like the 18x20 pattern, the way the ball comes off the stringbed is quite different than the new ESP patterns."
Andy - "It reminded me a lot of the Wilson Blade 98S, which offers great spin potential and control in a very soft and light frame. Both racquets got pushed around a bit and didn't add a whole lot of punch to my shots."
Technical Specifications

Length
27.0 inches
69 centimeters
Head Size
98 square inches
632 square centimeters
Weight
11.5 ounces
326 grams
Balance Point
12.58 inches
32 centimeters
7pts Head Light
Construction
21mm Straight Beam
Composition
Graphite
String Pattern
16 Mains / 16 Crosses

Babolat RDC Ratings

Score

Grade

Flex Rating
60
Range: 0-100
Swing Weight
309
Range: 200-400
Scores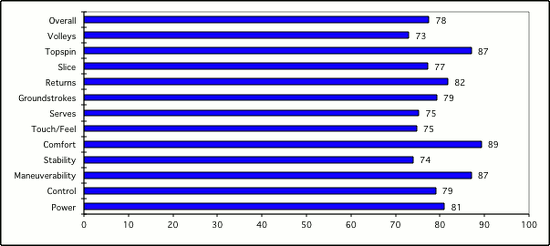 (Scores are determined by averaging individual play test scores)
Chris' Scores
Power
7.9
Serves
7.9
Control
7.9
Groundstrokes
7.8
Maneuverability
8.7
Returns
8.6
Stability
7.7
Slice
8.3
Comfort
9.4
Topspin
8.7
Touch/Feel
7.7
Volleys
7.7
Overall
7.7
Spencer's Scores
Power
8
Serves
8.8
Control
8.2
Groundstrokes
8.4
Maneuverability
8.3
Returns
8.1
Stability
7.9
Slice
8.1
Comfort
8.3
Topspin
8.6
Touch/Feel
7.7
Volleys
8
Overall
8.4
Mark's Scores
Power
9
Serves
8
Control
9
Groundstrokes
9
Maneuverability
9
Returns
8.5
Stability
9
Slice
8.5
Comfort
9.5
Topspin
9.5
Touch/Feel
9
Volleys
9
Overall
9.2
Andy's Scores
Power
7.5
Serves
6
Control
6.5
Groundstrokes
6.5
Maneuverability
8.8
Returns
7.5
Stability
5
Slice
6
Comfort
8.5
Topspin
8
Touch/Feel
5.5
Volleys
4.5
Overall
5.7
Playtester Profiles
Chris: 5.0 all-court player currently using the Volkl C10 Pro 2012. Chris uses a full-western forehand grip, has a fast swing style and hits a one-handed backhand.
Spencer: 4.5 baseline player currently using the Wilson Steam 99S. Spencer uses a semi-western forehand grip, and hits with a one-handed backhand.
Mark: 5.0 lefty all-court player with a one-handed backhand. He currently plays with the Wilson Steam 99S.
Andy: Open level all court player with a semi-western forehand grip and a two handed backhand. Andy currently using a Wilson Blade 98 18x20.

Review date: October 2013. If you found this review interesting or have further questions or comments please contact us.
All content copyright 2013 Tennis Warehouse.