Prince Tour 95 Racquet Review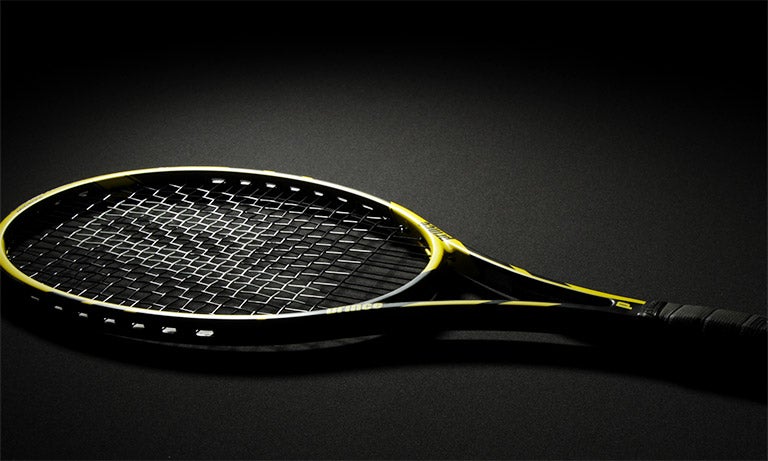 Prince Tour 95 Racquet Scores
Power
77
Comfort
87
Touch/Feel
84
Serves
82
Groundstrokes
85
Returns
85
Slice
84
Topspin
80
Volleys
84
Overall
85
Upsides
Control
Comfort
Power
Stability
Downsides
Nothing we could agree on
Summary
Replacing the EXO3 Rebel 95, the Prince Tour 95 retains all the necessary ingredients to continue the heritage of a great performing player's racquet that has been a favorite of our playtesters for years. Our team of four had a lot confidence when attacking the ball, and they still found enough precision and control to help them set up points. This compact 95 square inch racquet is precise and comfortable thanks to the EXO3 technology. The tighter 18x20 string pattern adds control for players who have long, fast strokes, but we did find it lacking in the spin department. Our playtesters found the Prince Tour 95 to be quick and maneuverable, but they also found enough mass and plow through to complement their games.
Groundstrokes - Score: 85
Offering tons of control from the baseline, the Prince Tour 95 really encouraged our playtesters to swing away. Chris explained, "The 18x20 string pattern paired well with the large EXO3 style ports to offer a nice combination of feel and comfort. The tight string pattern took away any excessive liveliness from the stringbed, leaving a very controlled and entirely predictable response. I felt completely in touch with the direction of my shots, how much pace I was getting and the exact depth I was hitting. I was able to get ample spin out of this racquet -- mostly because it encouraged me to swing quickly. I especially liked the response on slice backhands. This racquet had the weight, headsize and string pattern I like for driving slices, and it allowed me to knife through the ball while maintaining excellent control."
Granville thought this might be the best Prince racquet he has ever played with. "My affinity for this Prince Tour 95 was instantaneous!" he exclaimed. "From the first forehand the feel was soft at impact, with good feel in the 'pocket.' I could really take a big swing with this racquet and know the ball was going to land in the court. I've always liked racquets like this because I can be confident that the racquet is going to do what I want it to do -- with no surprises."
Troy thought the Prince Tour 95 had a similar feel to his Wilson Six.One 95. Knowing this Tour 95 was essentially the new version of the Rebel 95, Troy was excited to take it to the court. He said, "The amount of precision I was getting out of this racquet gave me the confidence to be offensive with my groundstrokes. There are many things that this Tour 95 and my Six.One 95 have in common, but the feel of this racquet is buttery soft, where as my Six.One feels firmer and has a bit more pop. This racquet felt amazing on my backhand slice, with easy plow through, and the dense string pattern allowed for great directional control. The low powered feel of this racquet allowed for aggressive swings at the ball that created heavy, deep and penetrating shots. I was also feeling connected on my drop shots, finding better touch than I recall with the Rebel 95."
Continuing the praises of this racquet from the baseline was Mike, who stated, "It's a very solid frame from both wings. I was able to adjust easily and hit through the ball without having to baby the shot. The racquet felt good on my arm, and the racquet did a lot of the work for me, allowing me to save some energy and focus more on placing the ball. I definitely enjoyed the Prince Tour 95 from the baseline."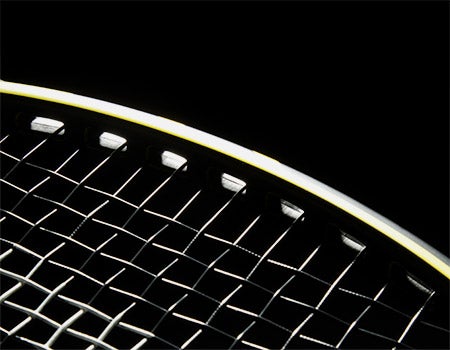 Volleys - Score: 84
A soft feel came in handy at net for our playtesters. "It's solid and stable at impact, with soft pocketing that holds the ball an extra moment or two for fine-tuning," observed Granville. "I could execute nice soft touch on my drop volleys, and at the same time I could punch a winner whenever the opportunity presented itself. The balance is head light, offering that extra benefit of maneuverability."
Mike found this to be a superbly comfortable racquet to volley with, which was a shock to him since he isn't usually a fan of heavier racquets. Because of the weight, he felt like he could place any volley he wanted to in the court. "If I wanted to hit a drop shot the racquet made it easy for me. This Tour 95 really changed my mind about volleying with heavier racquets, especially when my opponent hits a heavier ball at me."
Troy found the solid, stable feel combined with the headlight balance to help him add some good "stick" to his volleys. He said, "The mass of this racquet made it easy to get depth on my volleys without much effort. The amount of control I was finding allowed me to hit precise angles, which helped my confidence when I came to the net in doubles. The pillow-soft feel of this racquet made it fun to hit drop volleys, and although the port system didn't allow for as much feedback as my Six.One 95, I still had a lot of confidence in the control."
Again, it was the controlled response of this racquet that shone through at net for Chris. He explained, "I was able to put my volleys where I wanted thanks to the solid feel and great control. This racquet also felt very stable and comfortable. I found the response to feel plusher than expected, even when strung with a stiffer poly string. As for the solidness of this racquet at net, I'd put it right up there with the likes of the Volkl Power Bridge 10 Mid, Dunlop Biomimetic 200 and the Head YOUTEK IG Prestige Pro."
Serves - Score: 82
The blend of mass and plow through made the Tour 95 a serving weapon. The control of this racquet had our playtesters feeling dialed in on serves. Troy raved, "The combination of maneuverability and mass gave me good pop on my first serves. I wasn't finding much extra from this racquet in the spin department, likely due to the dense string pattern. It's like my Six.One 95 18x20; it only gives you what you put into it. The control was top-notch, and I was getting consistent results."
The inherent plow through from the mass of this racquet is what gave Chris power on his serve. He said, "I liked how once I got the racquet moving I could let it flow through the ball and it would do much of the work for me. I was not only getting nice pace, but I was hitting a heavy serve. I enjoyed adding a little slice to my first serves. The slice upped my consistency and also added just enough movement to the ball to throw off my opponents' timing slightly. The amount of spin I was finding on second serves was predictable, but far from exceptional."
Mike had no problems serving with the Tour 95. He offered, "Access to power and placement was an easy adjustment, and I really enjoyed hitting a flat serve down the T. This racquet helped a lot with power and offered a solid feel."
"This Tour 95 offered excellent targeting and good power on my serve," added Granville. "The soft flex and head light balance gave me excellent control of the ball whether I was feathering a slice out wide or pounding a flat serve down the middle. Again, it's nice to know the tool in your hand can tackle just about any task."
Serve Returns - Score: 85
The solid feel and controlled response of the Tour 95 seemed to work well for our team when returning. Whether returning offensively or defensively, it was Mike's favorite part of the playtest. He said, "The Tour 95 offered tons of control and good ball pocketing, especially when I had the racquet strung with a nice co-poly. That allowed me to focus on striking the ball to get myself on the offensive side of things. Serve returns cross court were my favorite with this racquet."
Granville found the Tour 95 gave him plenty of options when returning. He said, "I could take the return early and aggressively by driving the ball deep and low or slice and dice when I needed to open up the court. As with the other strokes, the racquet delivers a stable, comfortable stringbed, allowing for both feel and accuracy of your shots."
Chris found that he was able to drive through the ball and find his targets with good pace. He said, "I felt very confident going for aggressive swings, and I quickly found that I could rely on the racquet to give me the response I was seeking. Again, the slice I was getting off my backhand wing was great. I had lots of fun knifing through the ball with my backhand, and I was able to add some sidespin to either curve the ball cross court or make it break away down the line."
The mass and stability of this racquet continued to impress Troy. He continued to find great maneuverability, and he felt at home when returning. He raved, "I found that if I just got the ball on the strings and let the racquet do the work, my returns typically would land deep enough to at least get me in the point, and if I hit it cleanly I could push the server back. The recipe of specs on this racquet made it easy to chip the backhand slice return deep in the court, and in doubles I could aim at the net rusher's feet with ease."
Overall - Score: 85
Likes
Chris - "I loved the control, the solid response, the feel and the way the racquet came through the ball on backhands and serves."
Granville - "The soft feel of this racquet is very nice -- all the elements work together to deliver a very nice racquet for the 4.0 and above player."
Troy - "The specs are very familiar to me and the buttery-soft feel was noticeable compared to my Six.One 95. The feel seemed better than I recall with the EXO3 port system inserts (sans grommet holes) on the Rebel 95."
Mike - "Feel, power and control. Everything!"
Dislikes
Chris - "None."
Granville - "The Tour 95 looks like so many other Tours -- it is hard to pick it out on the wall."
Troy - "Although there's not a huge difference in power compared to my Six.One 95, the low-powered feel forced me to stay on the gas with each groundstroke to be effective. I would like to try this racquet with string hole inserts (without the EXO3 ports). That is how I preferred the Rebel 95 to be set up."
Mike - "Maybe a little too heavy for me, but everything was pretty good."
Comparing it to other racquets they've used, our testers said:
Chris - "Just like the old EXO3 Rebel 95, this racquet was a great fit for my game. Other racquets that offer a similarly controlled response would be the Dunlop Biomimetic 200 (and even the Muscleweave 200 reissue, although it is softer in its response), Volkl Power Bridge 10 Mid, Wilson Six.One 95 18x20 and a cross between the Head YOUTEK IG Prestige Pro and Prestige Mid."
Granville - "This is like a soft Six.One 95. It felt like it was between a Six.One and a Prestige, with the Prestige having a crisper feel compared to the Tour 95."
Troy - "A softer feeling Six.One 95 18x20 (my racquet of choice). Very comparable to the Dunlop M-Fil/Aerogel/Aerogel 4D/Biomimetic (1st generation) 200s. Being that Head is no longer producing the Prestige Mid, this may be a good racquet for those who have favored the Prestige Mid for many years."
Mike - "I would say this frame is very similar to the Prince Rebel 98. I thoroughly enjoyed that racquet as well, and this is in the same ballpark. This one is a bit heavier than what I'm used to, but I really liked it and will continue to play with it. It just made things a whole lot easier for me."
Technical Specifications

Length
27.0 inches
69 centimeters
Head Size
95 square inches
613 square centimeters
Weight
12.1 ounces
343 grams
Balance Point
12.7 inches
32 centimeters
6.5pts Head Light
Construction
20.5mm Straight Beam
Composition
Graphite
String Pattern
18 Mains / 20 Crosses

Babolat RDC Ratings

Score

Grade

Flex Rating
58
Range: 0-100
Swing Weight
329
Range: 200-400
Scores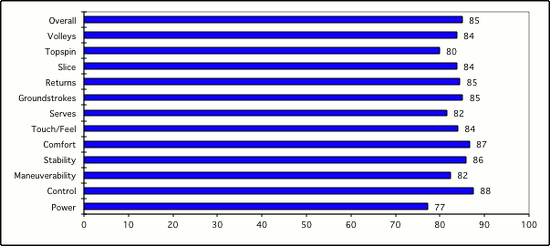 (Scores are determined by averaging individual play test scores)
Chris' Scores
Power
7.8
Serves
8
Control
8.6
Groundstrokes
8.2
Maneuverability
7.7
Returns
8.2
Stability
8.3
Slice
8.5
Comfort
8.3
Topspin
7.7
Touch/Feel
8
Volleys
8.3
Overall
8.2
Granville's Scores
Power
7
Serves
8
Control
9
Groundstrokes
8.25
Maneuverability
8.75
Returns
8
Stability
8.75
Slice
8
Comfort
8.75
Topspin
8.25
Touch/Feel
8.5
Volleys
8
Overall
8.5
Troy's Scores
Power
7.6
Serves
8.5
Control
9
Groundstrokes
8.6
Maneuverability
8.5
Returns
8.8
Stability
8.8
Slice
9
Comfort
8.9
Topspin
8
Touch/Feel
8.8
Volleys
8.7
Overall
8.6
Mike's Scores
Power
8.5
Serves
8.1
Control
8.4
Groundstrokes
9
Maneuverability
8
Returns
8.8
Stability
8.5
Slice
8
Comfort
8.7
Topspin
8
Touch/Feel
8.3
Volleys
8.5
Overall
8.7
Playtester Profiles
Chris: 5.0 all-court player currently using the Wilson Six.One 95S. Chris uses a full-western forehand grip, has a fast swing style and hits a one-handed backhand.
Granville: 5.5 all-court player currently using a Babolat Pure Drive 107. Granville is an aggressive player who uses an eastern forehand grip and goes continental on everything else, hits with a flat swing and a one-handed backhand.
Troy: 5.0 lefty all-court player with a full Western Forehand and a two-handed backhand. Troy currently plays with a Wilson BLX Six.One 95.
Mike: 5.0 baseliner with a semi-western forehand and two-handed backhand. His current racquet of choice is a customized Prince Triple Threat Warrior.

Review date: January 2014. If you found this review interesting or have further questions or comments please contact us.
All content copyright 2014 Tennis Warehouse.