Prince Tour 100 18x20 Racquet Review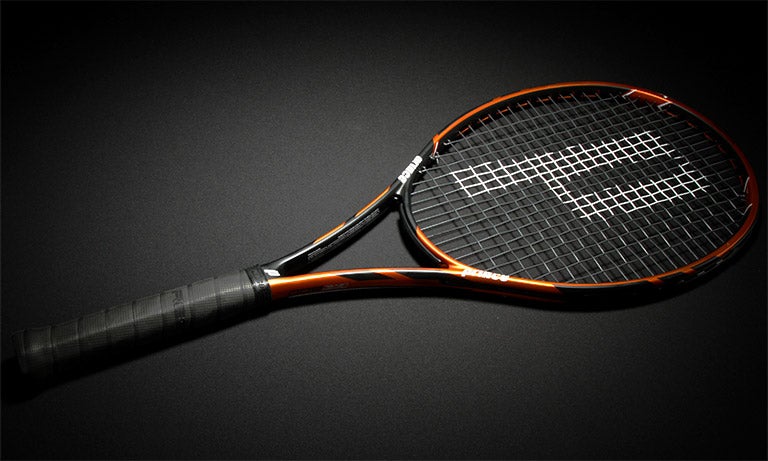 Prince Tour 100 18x20 Scores
Power
76
Comfort
90
Touch/Feel
79
Serves
74
Groundstrokes
87
Returns
86
Slice
82
Topspin
82
Volleys
79
Overall
81
Summary
Prince updates the EXO3 Tour 100 with the Tour 100 18x20. While not a whole lot has changed, sometimes leaving things mostly unchanged is for the best. As with past iterations of the racquet, our playtesters enjoyed the ultra soft plush feel and exceptional precision. In addition, most of our playtesters preferred the control and responsiveness of this tighter string pattern over the livelier, open patterned 16x18 version. This racquet showcased its comfort and control when our playtesters were on the baseline hitting groundstrokes or returning serves. Don't expect tons of pop or a lively feel, but if you're looking for player's racquet specs in an ultra arm-friendly package, the Tour 100 18x20 is certainly worth a try!
Groundstrokes - Score: 87
Our playtesters really enjoyed the ultra soft feel of the Tour 100 18x20 from the baseline, especially coupled with the extra control they got from the tight string pattern. Chris found this version suited his flatter game style nicely. He shared, "I enjoyed the response from this version of the Tour 100. The tighter string pattern offered me more control and more feel for the ball. The response was still very soft; I could really feel the flex of the racquet and the ball sinking into the strings. I liked this racquet best with a full bed of poly. I could string it at a low tension thanks to the dense string pattern and flexible frame. The result was even more comfort from an already comfortable racquet. Access to spin was good, and I really liked the response of the racquet on my slice backhand. I didn't find as much topspin as I did with the 16x18 version, but I had more control on flat shots and aggressive drives."
With a lot of experience with previous versions of the Tour 100 18x20, Spencer felt right at home on this playtest. He offered, "I had struggled with the initial feel of the EXO3 Tour 100, but I didn't have that issue this time around. I stepped right in and felt comfortable from the get-go. Though I prefer the Tour 100 16x18 from the baseline, the 18x20 provided more zeroed in control. The directional control was outstanding, although I wasn't getting the same type of depth on a consistent basis as I was with the 16x18."
We almost had to physically pull Troy off the court after he set up camp at the baseline. He said, "The silky smooth feel had me feeling like I could rally all day from the baseline. I was getting a super plush feel, which was evident with both string patterns of this racquet, but I was a little more confident when taking the offensive with this 18x20 version. With this dense string pattern, I felt a bit more dialed in when hitting close to the lines and anytime I flattened my stroke out for a put-away. Another area where I found this dense pattern to be more beneficial was on the backhand slice. I found that I could get better court penetration and carve the angles with more confidence. The only downside for me was that I had to work harder to create cross-court angles when I was on the run, which is where I felt the 16x18 excelled."
Andy also really enjoyed the Tour 100 18x20 from the baseline, saying, "This is a super arm-friendly frame for the player who only likes to come to the net to shake hands. It feels great hitting groundstrokes! You're getting forgiveness from the 100 square inch head, control from the 18x20 string pattern and all-day comfort from the sub-60 RA stiffness rating.The heft of the racquet also gives it some nice plow through and stability at impact. This version was my favorite of the two string patterns."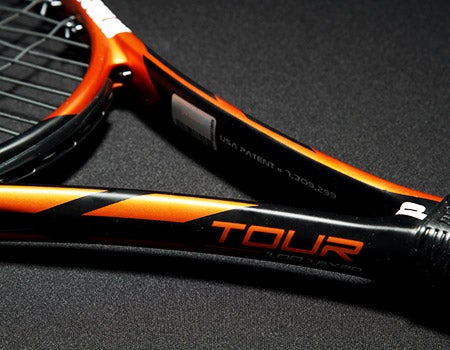 Volleys - Score: 79
For the most part, the team continued to have success with the Tour 100 18x20 at net, where it provided a lot of control, feel and comfort. It checked all the right boxes for Troy, who said, "I really was impressed by this racquet at net, especially when playing doubles. I found plenty of stability to redirect pace and good maneuverability during those quick doubles exchanges. I liked how the sweetspot was more forgiving than my current racquet, which helped me get more balls back when I served-and-volleyed. I didn't quite feel as precise when hitting close to the lines as I do with my Six.One 95, but I was finding a bit more consistency on the volleys when playing doubles."
Spencer's favorite spot to be with this racquet was at the net. He shared, "This one was definitely money at net. The stability and maneuverability, along with the tighter pattern, gave me excellent precision on my volleys. I certainly preferred the 18x20 over the 16x18 when coming to net."
It took Chris a little time to get acquainted with the racquet's feel, but once he did he was dialed in at net. He said, "Once I was adjusted to the soft response of the racquet -- the frame and the large EXO3 ports seem to combine to offer a very dampened response -- I felt very much in control at net. The dense string pattern offered lots of control, and I was able to punch volleys aggressively. I liked the flex of the frame on touch volleys, and I could get the ball to drop or angle away quickly. Comfort was excellent, and I never felt substantial shock from the racquet even when I shanked my volley."
Andy, on the other hand, had trouble adjusting to the feel and never felt totally in command of his volleys. He explained, "Unfortunately, my success at the baseline didn't continue when I approached the net. I thought the flexible feel was almost too much at net, and the racquet would twist at times when I made contact off center. The port grommets also left me feeling disconnected from the ball, which affected my touch shots. The feel was better with this 18x20 than with the 16x18, but it still wasn't great."
Serves - Score: 74
There were mixed emotions from our playtest team when it came to serving with the Tour 100 18x20, but each of our testers found less spin and more control with this version than they did with the 16x18. Chris was able to be effective on serve, saying, "This racquet felt very consistent and comfortable on serve. I could swing it easily through the ball, so generating enough racquet head speed for pace and spin was not an issue. Again, the racquet does not spin the ball as aggressively as the 16x18 version, but I still found lots of spin with this racquet. I was getting decent movement on my slice serves and enough heat on flat deliveries to keep the returner honest."
Troy was hitting his spots nicely. He said, "I found this racquet to be user-friendly and well rounded, letting me hit all my serves. I was able to get a lot of pop on my first serve, with enough mass for plow through and enough maneuverability to get a lot of racquet head speed. I could place my first serves down the T with confidence and hit my targets consistently. I wasn't getting quite as much jump off the court on my topspin and kick serves that I got with the 16x18 version, but I was getting good directional control."
Spencer found that the power level was just too low for him to produce serves that hurt his opponents. He explained, "I need all the help I can get when it comes to power on serve, so it's no surprise that I wasn't acing anyone off the court. There was excellent control for placing serves, but since I don't generate much power on my own I didn't find a whole lot of effectiveness."
The Tour 100 18x20 didn't work too well for Andy's serve, either. He said, "I never got it dialed in on serve. I want to be rewarded with a heavy serve when I get a racquet this hefty moving over my head, but the flex of this racquet zapped too much power. I had to swing harder than I normally would, causing me to lose control. I could place the ball better with the 18x20 compared to the 16x18, but I couldn't produce as much spin."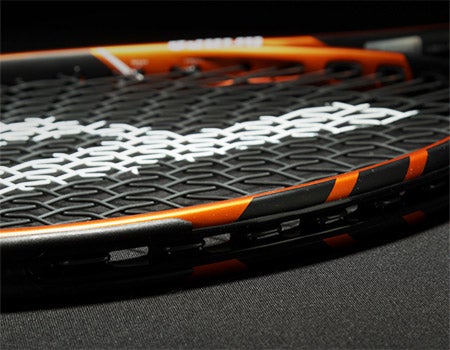 Serve Returns - Score: 86
The Tour 100 18x20 received universal praise from our playtesters on returns. According to Andy, it had all the right attributes for returning a serve. He offered, "I really did enjoy this racquet when returning. The heft gives it stability, the headsize gives it forgiveness and the 18x20 string pattern gives it precision. I felt I could take the ball early, with a short swing, and put the return where I wanted."
Troy also raved about his return game, saying, "I was returning really well with this racquet in my hand. My serve returns can be inconsistent at times, and I found the larger sweetspot of this racquet gave me more chances to break serve. The combination of plow through and maneuverability was evident from all areas of the court, but it was game-improving for me on returns. I felt a bit more dialed in with this dense string pattern compared to the more open patterned 16x18, and I could knife the slice return in doubles with ease. All in all, this is one of my favorites on the return of serve."
Chris had access to his full arsenal of returns, and he could keep his opponents off balance and on their heels. He said, "I found lots of control and enough spin to return with authority. I found it mobile enough to take a good cut at the ball. At contact the racquet felt stable and comfortable. I was driving returns well and also enjoyed the response on chip returns. I liked how the racquet felt when I took an aggressive, flat swing at the ball. I could drive deep cross-court returns or add some spin and roll my returns down the line at will. I was getting enough bite on my slice backhand to follow it to the net for the occasional surprise chip and charge play."
It was no surprise to Spencer that he was able to return effectively with the Tour 100 18x20. He said, "I loved the stability and maneuverability. The racquet allowed me to hit consistent and effective returns. I was confident hitting a variety of returns."
Overall - Score: 81
Likes
Chris - "I liked the comfortable response, the control and the bite I was getting on my slice backhand."
Spencer - "I liked the directional control, along with the comfortable feel."
Andy - "I really enjoyed how arm friendly it was, and it felt great on groundstrokes and returns. The 18x20 version was my favorite of the two string patterns because of the boost in control and feel."
Troy - "Super forgiving sweetspot. I felt like I could camp out at the baseline for days."
Dislikes
Chris - "It's not as crisp and responsive as my regular racquet, but I liked the feel nonetheless."
Spencer - "I prefer a stringbed that's a bit more lively."
Andy - "It's a little too flexible for me, and I never got dialed in on serves or volleys. I also didn't feel that connected to the ball due to the port grommet system."
Troy - "Not much. I lacked the confidence to be as aggressive as I can be with my Six.One 95, but I could grind all day. Leather grip, please?"
Comparing it to other racquets they've used, our testers said:
Chris - "This is a very soft, control-oriented racquet. It offers a tad more power and forgiveness than the Pure Storm Ltd, but both have a very, very soft feel. Not much else compares, outside of the 16x18 version, since the soft flex and EXO3 ports combine to make this a very muted and soft playing racquet."
Spencer - "Aside from the cosmetics, this plays essentially like the previous version, which is a good thing. If it ain't broke ..."
Andy - "It felt most similar to a Prince Original Graphite 100, with a similar headsize and shape, as well as the flexible, hefty feel. This is a baseliner's racquet, especially for a baseliner who wants a soft and arm friendly racquet. You can slug away for hours without feeling any discomfort, even with a stiff poly in it."
Troy - "Not a whole lot has changed between the past generations of the Tour 100, but I feel like the response has improved compared to the O3 and Ozone versions. The plush and solid feel is similar to previous versions of the Head Radical Pro, prior to the new Graphene edition. It kind of feels like a much softer version of the Graphene Speed Pro."
Technical Specifications

Length
27 inches
69 centimeters
Head Size
100 square inches
645 square centimeters
Weight
11.7 ounces
332 grams
Balance Point
12.75 inches
32 centimeters
6pts Head Light
Construction
18.5mm / 20mm / 18.5mm /
Composition
Graphite
String Pattern
18 mains / 20 crosses

Babolat RDC Ratings

Score

Grade

Flex Rating
57
Range: 0-100
Swing Weight
327
Range: 200-400
Scores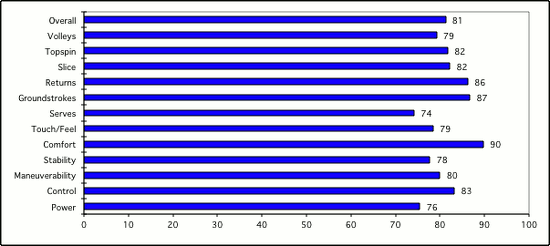 (Scores are determined by averaging individual play test scores)
Chris' Scores
Power
7.7
Serves
8.1
Control
8.3
Groundstrokes
8.3
Maneuverability
8.1
Returns
8.3
Stability
7.8
Slice
8.6
Comfort
8.5
Topspin
8.3
Touch/Feel
7.8
Volleys
8.4
Overall
8.2
Spencer's Scores
Power
7.5
Serves
7.3
Control
8.5
Groundstrokes
8.4
Maneuverability
8.4
Returns
8.2
Stability
7.8
Slice
8.3
Comfort
8.4
Topspin
7.8
Touch/Feel
7.8
Volleys
8.3
Overall
8
Andy's Scores
Power
7
Serves
6
Control
8.3
Groundstrokes
8.8
Maneuverability
7
Returns
8.5
Stability
7
Slice
7.5
Comfort
9.5
Topspin
8
Touch/Feel
7.5
Volleys
6.5
Overall
7.7
Troy's Scores
Power
8
Serves
8.3
Control
8.2
Groundstrokes
9.2
Maneuverability
8.5
Returns
9.5
Stability
8.5
Slice
8.5
Comfort
9.5
Topspin
8.6
Touch/Feel
8.3
Volleys
8.5
Overall
8.6
Playtester Profiles
Chris: 5.0 all-court player currently using the Wilson Six.One 95S. Chris uses a full-western forehand grip, has a fast swing style and hits a one-handed backhand.
Spencer: 4.5 baseline player currently using the Wilson Steam 99S. Spencer uses a semi-western forehand grip, and hits with a one-handed backhand.
Andy: Open level all court player with a semi-western forehand grip and a two handed backhand. Andy currently using a Wilson Blade 98 18x20.
Troy: 5.0 lefty all-court player with a full Western Forehand and a two-handed backhand. Troy currently plays with a Wilson BLX Six.One 95.

Review date: January 2014. If you found this review interesting or have further questions or comments please contact us.
All content copyright 2014 Tennis Warehouse.