Prince Tour 100 (16x18) Racquet Review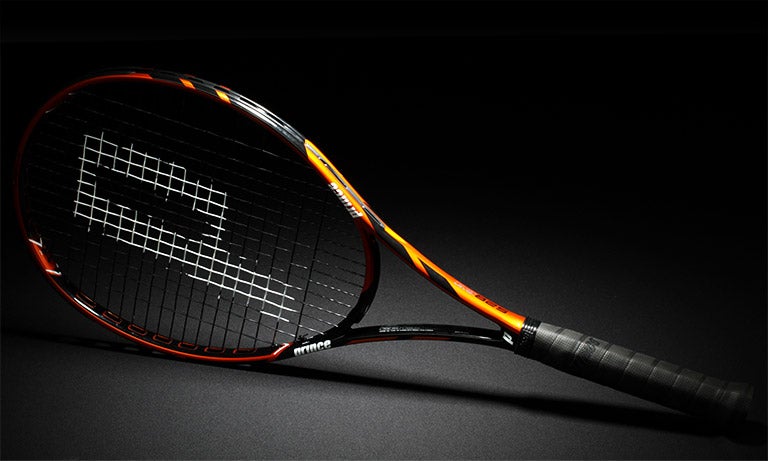 Prince Tour 100 (16x18) Scores
Power
80
Comfort
92
Touch/Feel
76
Serves
75
Groundstrokes
85
Returns
84
Slice
80
Topspin
86
Volleys
77
Overall
80
Upsides
Spin monster
Loads of comfort
Downsides
Nothing we could agree on
Summary
The Tour 100 16x18 is an update to Prince's EXO3 Tour 16x18. Featuring Prince's distinctive EXO3 ports, this racquet retains the incredibly soft and comfortable Tour feel. Pair that with this racquet's flex, and you have one of the most arm-friendly player's racquets on the market. The open 16x18 string pattern helped our playtesters find massive amounts of spin from all areas of the court, but they enjoyed it the most when they were hitting groundstrokes or ripping offensive returns. Our team also had few complaints with this maneuverable racquet at the net. If there were any area where the Tour 100 16x18 just didn't suit our games, it would be the serve. Some of our playtesters couldn't find a rhythm when serving with this racquet, while others dialed it in and found it to excel when hitting high kicking second serves. If you use, or used to use, an EXO3 Tour racquet, or if you're looking for a soft, flexible response when ripping heavy spin from the baseline, this may be the racquet for you!
Groundstrokes - Score: 85
The reviews are in, and our entire team really enjoyed the Prince Tour 100 16x18 from the baseline. All four of our playtesters are quite familiar with the EXO3 Tour line of racquets, and they all agreed that the great spin, power and maneuverability make this racquet a weapon off the ground. Spencer was immediately reminded of the previous version of this racquet, the EXO3 Tour 100 16x18. He said, "Thinking back to the playtest of the previous version, I recall the initial feel, or lack of feel, I had with it. I know I struggled at the beginning of that playtest, but this time around I knew what to expect and wasn't turned off at all by the muted feel. The comfortable feel and large sweetspot were very apparent, and I was dialed in right away. The specs line up well for what I like in a racquet. It had been a while since I played with an EXO3 Tour, but I didn't feel like I missed a beat when I started hitting with this version. I tend to prefer more open string patterns, and this 16x18 was no exception. It's slightly livelier than its 18x20 counterpart, and that is more effective for my game."
"Just like the previous version of this racquet, this one has a very soft and dampened feel," began Chris. "It was not as if it had no touch, but rather the feel is somewhat unique and takes some adjusting to. The soft frame flex and forgiving EXO3 ports create a very muted response. After a couple of hitting sessions I felt I had my touch and feel dialed in. Access to spin was pretty solid, and the racquet seems to offer very good ball pocketing, giving the strings ample time to bite the ball. The racquet is also fairly low powered, so I was able to swing fast, which resulted in good pace and even better access to spin. Switching between this version and the previous version was seamless, and I noticed a bigger difference in the feel of the string (one dropping more tension due to more use or slightly different playing polys) than any change in feel between the racquets. If I had to pick a difference, the new frame perhaps felt a little more responsive. However, that could have been due to our older EXO3 having spent more time on the stringing machine and hours on court rather than any built in differences."
Troy also loved the solid, yet extremely soft and plush, feel that this racquet provided him on the court. "While hitting groundstrokes with this racquet I began to question my current racquet choice based on how obsessed I was becoming with the pillow-like softness of this racquet. I felt like I could attack the ball off both the forehand and backhand sides without fear of any jarring vibrations. I also liked how the large sweetspot allowed me to take the ball on the rise with good consistency. In comparison to the 18x20 version of this racquet, I actually preferred this open 16x18 pattern over the 18x20 version because I could hit heavy spin balls. The shots that I fell in love with when using this racquet were the cross-court angles. When hitting these cross-court angle shots I was able to pull my opponent off the court more easily than with my current racquet, the Six.One 95 18x20. The only knock I had with this racquet from the baseline was that I didn't feel comfortable hitting flatter put-away type shots close to the lines; the feel was not quite as connected compared with my racquet."
"If you like to camp out at the baseline and slug groundstrokes, this racquet will suit you well," exclaimed Andy. "It's super soft and comfortable, and it gave me the impression that I was just whacking the ball around with a pillow -- a pillow that has plenty of control and access to spin, especially with the open 16x18 string pattern. The heft of this racquet gives it some nice plow through and stability for producing heavy balls, but it never feels like the ball just zings off the strings. The more open pattern does result in a livelier response, with a higher launch angle and less control."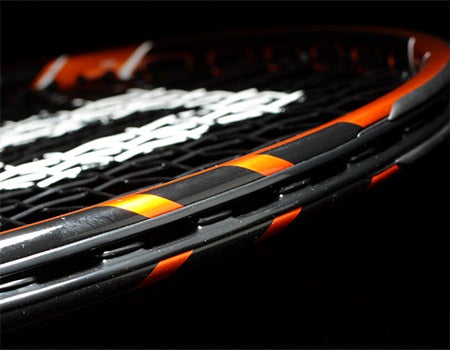 Volleys - Score: 77
The maneuverability of the Tour 100 16x18 helped our playtesters find quick volleys easy to combat, but they were craving a bit more precision. Andy found this racquet's heft gave it some decent stability on volleys, but (maybe because it's so soft) it did still tend to twist at times when he caught balls off-center at the net. He explained, "The port grommets, which give the Tour 100 16x18 its exceptional comfort, do take away some feel and responsiveness. I didn't feel as connected to the ball when my volleys left the strings as I have with other racquets, and the open 16x18 pattern didn't help that, either."
The maneuverability and a silky-smooth feel had Troy feeling confident when coming to the net. He said, "I found enough maneuverability, but the racquet still possessed stability due to the healthy swingweight. It was easy to get good depth on volleys, and the soft feel helped on drop volleys and acute angles. I preferred the 18x20 slightly more on the volleys because I felt that I could place the ball closer to the lines with consistency, and I felt more connected to the ball."
Spencer once again required no time to adjust to the feel. He said, "Because I'm playing more doubles these days I'm getting more volley practice by default. This stick offered plenty of stability while being maneuverable enough during quick exchanges at net. I really enjoyed the placement and depth I was getting. That said, this is the one shot where I preferred the 18x20 because it is a tad more precise."
Chris also enjoyed volleying with this racquet. He said, "Once I adjusted to its feel I was finding my targets well and enjoying the comfortable response. I found ample mass to keep things solid. Punching volleys deep with pace was a breeze. When it came to hitting drop volleys, I came to love the ball pocketing and soft response of this racquet. With a full poly stringbed I was getting a lot of grip on the ball to help me knife it away. This racquet offers a tad softer and more comfortable response than the 18x20 version. The only downside for me was a little less accuracy on volleys I was punching deep. While both versions are very, very soft racquets, the open pattern on this one makes it softer and livelier still."
Serves - Score: 75
Serves were the one area that didn't completely satisfy our playtesters. For the most part, our team struggled to feel connected to the Tour 100 16x18 on first serves, but our testers did find access to big kick serves when hitting their second serves. For Chris, however, there wasn't any particular problem. He explained, "One word sums up serving with this racquet: solid. I was getting a solid level of pace and spin. Consistency was -- you guessed it -- solid. I felt like I was able to start the point off aggressively and force a return error without any extra effort. Both pace and spin were easier to develop compared with the 18x20 version."
"For whatever reason, I could never get dialed in on serve with this racquet," commented Andy. "With the nice heft this racquet offers, I expected to be rewarded with a heavy serve when I got it moving. The generous flex just seemed to zap too much of the power out of my serve, making me swing harder than I normally would, resulting in a lack of control. I could get some nice spin on my slice and kick serves with the open pattern, but I felt this racquet lacked power and precision on serve."
Always excited about great access to spin, Troy was really impressed by the amount of spin he could generate when serving. "There were a few times when I had to check the racquet to make sure I didn't have the ESP version! My slice and kick serves were enhanced with this stick, and I found the amount of spin I was generating was making it tough for my opponents to hit clean returns. When I hit my flat serve down the T I found the control lacking a bit, and I wasn't finding the consistency I would have liked. I liked the 18x20 version a bit more for flat first serves. Overall, I was very consistent when serving with this racquet."
There was nothing that really stood out one way or another on serves for Spencer. Giving it a mediocre review in this department, he offered, "I don't generate much velocity on serve, and this stick isn't one that will supply power for me. I was happy with the control and tended to focus more on placement for effectiveness."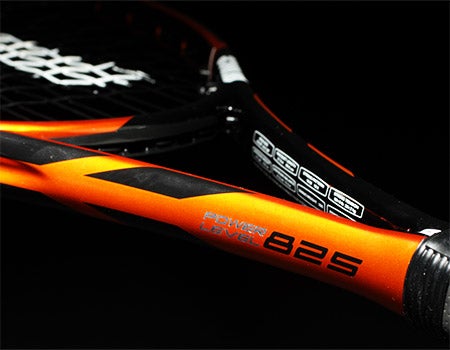 Serve Returns - Score: 84
Our playtesters really enjoyed the soft, spin friendly Tour 100 16x18 when returning. They all found that what they enjoyed on groundstrokes carried right over to their return games. Troy loved returning with this racquet because it allowed him to take short, compact swings and get easy depth. He added, "The super plush feel felt great when redirecting the heavy pace on big first serves hit at me. I felt the racquet had enough mass to chip the slice return deep in the court. The maneuverability helped me get returns back even when I was off balance or stretched out. Overall, the combination of maneuverability, stability, plow through and plush feel made this one of my favorite racquets to return with."
Finding his experience similar to when he was volleying, Spencer said, "I liked the stable response and good maneuverability. They made it easy to hit good returns."
Chris could get plenty of spin on the ball when returning, and he liked how the balls he was hitting dipped right inside the court. He said, "The spin encouraged me to swing aggressively, which led to even more spin and some nice pace, too. I was firing on all cylinders on both topspin and slice returns. The Tour 100 16x18 felt just mobile enough to let me take the ball early and still use a solid swing. Again, the soft feel made for a comfortable response."
"This racquet shone on groundstrokes, and the success carries over to returning serve," said Andy. "It has a nice round head shape, which gives some added forgiveness at the 3 and 9 o'clock positions on the hoop, something I like when returning. The racquet is stable and moves through contact nicely, with plenty of control. With the open string pattern I could step back and take a big cut at the ball, producing a return with heavy spin."
Overall - Score: 80
Likes
Spencer - "The comfort, control and consistency."
Chris - "I liked the soft feel, even though it took a slight adjustment. The comfort is excellent and makes even very firm polys feel decently forgiving. I also found this racquet to be very spin-friendly."
Troy - "One of the most forgiving players' frames on the market. I was getting a ton of spin, and this is probably the most arm-friendly racquet on the market."
Andy - "Very comfortable and spin-friendly. It felt great on groundstrokes and returns."
Dislikes
Spencer - "None."
Chris - "Nothing really, except I still prefer the more controlled feel of the 18x20 string pattern, as I did when we tested the EXO3 versions."
Troy - "I didn't feel confident hitting close to the lines when trying to flatten out the ball."
Andy - "A little too soft for my liking, as the frame just seemed to absorb too much energy at contact instead of returning it to the ball. I never got dialed in on my volleys or serves either."
Comparing it to other racquets they've used, our testers said:
Spencer - "Obviously the comparison would be with the previous version. Other than the paint, I would say they're almost identical in playing characteristics."
Chris - "I could move between this and its predecessor without missing a beat -- great news if your EXO3s are getting tired and you need new sticks. Compared with other player's racquets, this one offers one of the softest responses. While at first it feels more muted, there is ample feel to be found, it is just housed in a unique response that may require a brief adjustment."
Troy - "Not a whole lot has changed between the past generations of the Tour 100, but I feel like the response has improved compared to the O3 and Ozone versions. The plush but solid feel is similar to previous versions of the Head Radical Pro, prior to the new Graphene edition. For someone looking for a ton of spin, like the Babolat AeroPro Drive and Steam 99S offer, but with way more comfort, this is the way to go."
Andy - "It's pretty unique with how soft it is. It plays somewhat similarly to the Prince Original Graphite 100, but it flexes way more at contact and doesn't have the same amount of pop. It's soft and muted feel is somewhat similar to the Volkl Organix 10. But once again, it kind of stands on its own, and if you're a baseliner looking for a control-oriented, super arm-friendly frame, this one will be right up your alley!"
Technical Specifications

Length
27.0 inches
69 centimeters
Head Size
100 square inches
645 square centimeters
Weight
11.5 ounces
326 grams
Balance Point
12.65 inches
32 centimeters
7pts Head Light
Construction
18.5mm / 20mm / 18.5mm
Composition
Graphite
String Pattern
16 Mains / 18 Crosses

Babolat RDC Ratings

Score

Grade

Flex Rating
56
Range: 0-100
Swing Weight
325
Range: 200-400
Scores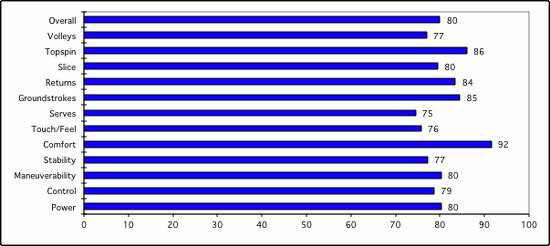 (Scores are determined by averaging individual play test scores)
Spencer's Scores
Power
8
Serves
7.6
Control
8.2
Groundstrokes
8.2
Maneuverability
8.4
Returns
7.8
Stability
7.8
Slice
7.7
Comfort
8.6
Topspin
8.4
Touch/Feel
7.5
Volleys
7.8
Overall
8
Chris' Scores
Power
7.9
Serves
8.2
Control
7.9
Groundstrokes
8.1
Maneuverability
8.2
Returns
8.1
Stability
7.8
Slice
8.3
Comfort
8.7
Topspin
8.5
Touch/Feel
7.8
Volleys
8.3
Overall
8.1
Troy's Scores
Power
8.5
Serves
8
Control
7.7
Groundstrokes
9
Maneuverability
8.5
Returns
9.2
Stability
8.3
Slice
8.3
Comfort
9.8
Topspin
9.5
Touch/Feel
8
Volleys
8.2
Overall
8.6
Andy's Scores
Power
7.7
Serves
6
Control
7.7
Groundstrokes
8.5
Maneuverability
7
Returns
8.3
Stability
7
Slice
7.5
Comfort
9.5
Topspin
8
Touch/Feel
7
Volleys
6.5
Overall
7.3
Playtester Profiles
Spencer: 4.5 baseline player currently using the Wilson Steam 99S. Spencer uses a semi-western forehand grip, and hits with a one-handed backhand.
Chris: 5.0 all-court player currently using the Wilson Six.One 95S. Chris uses a full-western forehand grip, has a fast swing style and hits a one-handed backhand.
Troy: 5.0 lefty all-court player with a full Western Forehand and a two-handed backhand. Troy currently plays with a Wilson BLX Six.One 95.
Andy: Open level all court player with a semi-western forehand grip and a two handed backhand. Andy currently using a Wilson Blade 98 18x20.

Review date: January 2014. If you found this review interesting or have further questions or comments please contact us.
All content copyright 2014 Tennis Warehouse.