Wilson Pro Staff 95S Racquet Review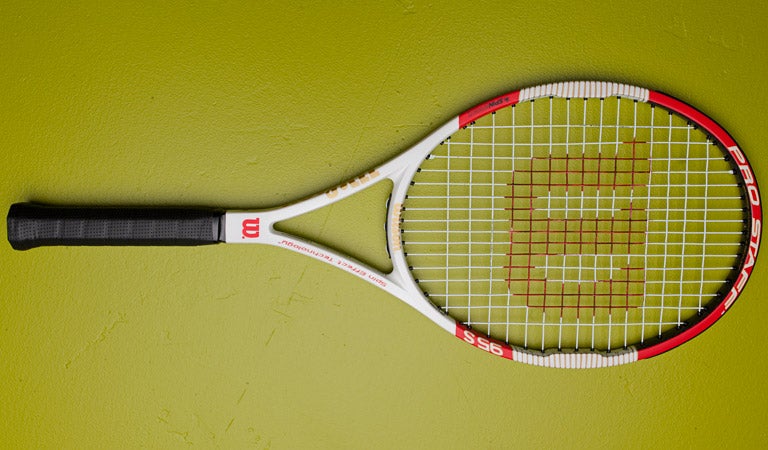 Wilson Pro Staff 95S Racquet Scores
Power
74
Comfort
82
Touch/Feel
84
Serves
79
Groundstrokes
80
Returns
82
Slice
83
Topspin
85
Volleys
87
Overall
83
Upsides
Spin
Control
Feel
Maneuverability
Summary
What do you get when you add Spin Effect technology to the Wilson Pro Staff, one of the most comfortable and classic-feeling racquets around? The Pro Staff 95S! Like the Steam 99S and the Juice 100S, this new Pro Staff features Wilson's super open 16x15 string pattern, which dramatically increases the spin potential and opens up the sweetspot of the racquet. The result is a racquet that was easy on our playtesters' arms and gave them ample access to spin. In typical Pro Staff fashion, we found tons of feel and a great connection to the ball from all areas of the court. Like the previous versions of the Pro Staff 95, this racquet felt light and maneuverable, but it was lacking in power potential. Our playtesters struggled to generate a heavy ball, especially while hitting groundstrokes. However, with its comfortable, fast feel and exceptional spin and control, the new Pro Staff 95S is going to offer something for almost anyone.
Groundstrokes - Score: 80
Our playtesters found the Pro Staff 95S to be extremely soft and comfortable, as well as maneuverable, which allowed them to maximize their spin potential. However, it was a bit under-powered for them, too. Chris felt that a little more heft would give the racquet the added boost in power and stability that it needs to really make it a weapon. He said, "I liked this racquet from the baseline. It offered great spin and lots of feel. I felt very dialed in to where my shots were going. Judging depth was very easy. However, I felt the racquet was a tad down on power. I hit this racquet side by side against the Six.One 95S because they both appeal to me. Whereas the Six.One 95S gets the ball away to my targets with lots of zip, with this one I felt like I was waiting for the racquet to catch up. It just wasn't as snappy or responsive, and I wasn't hitting as big a ball with this one. This racquet would benefit from some weight to bring the swingweight up a bit -- say to the 325 range. On the plus side, the feel is softer and plusher, so it wins on the touch front."
Mike enjoyed the control and spin, but like Chris, he wanted a bit more power. He offered, "I found this racquet to have tons of control on both wings, but it was very low powered. The racquet was very dampened and allowed me to be very consistent, but power was an issue. I don't hit the ball too hard and rely more on my defensive skills to keep me in the point, so I like a racquet that can offer me a little more power than control. This one just allowed me to place and use spin on the ball (lots of it with the open 16x15 string pattern)."
The racquet has many of the attributes Karly normally likes, but she wished for a crisper, more solid response. She said, "For me, if there's an adjustment period with a racquet it's usually because of a high power level or lack of maneuverability, but it was just about the complete opposite with the Pro Staff 95S. The racquet offered great control and was extremely fast and easy to swing. It's very quick, whippy and control-oriented, which are qualities I like, but I needed a little more time to get used to the feel of it. The 95S felt so soft and had such a dampened feel to it that the ball seemed to stay on the racquet much longer than usual. I'm not saying that's a bad thing because that's what makes it an arm-friendly racquet, but I personally like a stiffer frame for a more crisp, solid feel on my shots. The feel was just too muted for my taste, and I felt my shots weren't as lively."
On the contrary, Mark felt totally dialed in with the familiar open stringbed. He explained, "So far I have preferred the 16x15 patterns to the 18x16s, so I was excited to see what I could get out of the brand new Pro Staff 95S. It felt like I was already at home with it because I do play mostly with the Steam 99S. With Luxilon 4G in the Pro Staff 95S I was in control of the direction, level of spin and pace on my groundstrokes."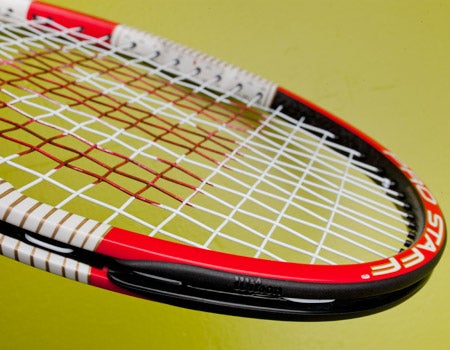 Volleys - Score: 87
While it resulted in mixed emotions from the baseline, the maneuverability and buttery soft feel of the Pro Staff 95S helped our testers excel at the net. Mike raved, "I would have to say this is one of my favorite racquets at net. It's very solid and maneuverable. Although it has a 95 square inch headsize, the 16x15 string pattern allowed me to control the ball and hit the occasional drop shot, which I normally struggle with. The best part was how solid the racquet felt, which may be due to the 11.6 oz weight. Even on off-center volleys, I could place the ball in a decent spot to keep me on offense."
Chris also appreciated the soft feel and precision. He said, "My favorite part of the playtest was volleying with this racquet. I loved the feel and control I got on my volleys. Hitting touch shots was lots of fun. I could get a ton of spin on the ball to help me increase the angle or drop a volley short. The plush feel had me completely dialed in to where my volleys were going. Lots of fun!"
Mark felt he had to spend a little extra effort to keep the racquet stable at contact, but for the most part he was really enjoying it at net, too. He said, "I loved it for the volley, but I had to anticipate the contact of the volley on my strings with a firmer wrist than usual. Maneuverability was top notch for any volley scenario, and although it is a lighter player's racquet, there was no unwanted vibration, even with a full set of a poly."
Like Chris, Karly's favorite shot during the playtest was the volley. She offered, "I was eager to rush the net to volley the point out. This normally isn't the case, but I preferred hitting volleys so much more than groundstrokes. The easy maneuverability shone through again, and the dampened feel really helped with the touch. With volleys I got a great feel for the ball. It was easy to take pace off the ball and drop a ball short, but I also felt like I got a little more pop and power at net. The only thing I had to be careful about was the smaller headsize. The racquet had a smaller sweetspot and wasn't very forgiving outside of it. It was unstable and my shots felt dead if I didn't hit in the sweetspot. Even with the lack of forgiveness, the Pro Staff 95S performed best for me on volleys."
Serves - Score: 79
Our playtesters enjoyed the racquet on serve, but once again, they wanted a little easier access to power. Karly really enjoyed the control and maneuverability of the Pro Staff 95S, but she still found it unforgiving. She said, "I've been playing with a lot of 100 square inch racquets lately and didn't realize how much more I like serving with smaller headsize racquets, especially ones with good maneuverability like this Pro Staff. The control was there with the 95 square inch head, and it was so easy to add variety to my serves with different placement and spin. I didn't have to put much effort into swinging hard for a powerful first serve or a second serve with a lot of kick. However, like my volleys, I had to be careful with the small sweetspot. I knew as soon as I hit my serve whether I hit the ball in the center of the racquet. If I missed the sweetspot then the hit felt dead and my serve lost quite a bit of pace."
Mike shared a similar opinion, saying, "The easy access to spin and precision was awesome, but generating pace was again an issue for me. I had to really hit the ball to get an ace, which I don't mind, but it made me use more energy. Hitting the lines and wide serves were a breeze with this stick, making it easy to get in position to serve and volley and get some free points."
Like he felt at the baseline, Chris found himself wanting a little heftier feel for more pace, but he did enjoy the racquet more than he expected to while serving. He said, "I served well with this racquet. I usually like a much heavier stick to serve with, but with this one I was serving better than I was with the Pro Staff 90, something I did not expect going into the test. Again, spin was very easy to generate. I felt like I could pull my opponents off the court with my wide slice serve to the deuce court very well with this racquet. I was getting decent pace because it was easy to accelerate the racquet through the ball. I fully expect I could serve with more pace and power by adding some weight to boost the racquet's plow through. However, in stock form this one felt surprisingly good."
Mark had trouble hitting effective serves. He explained, "This was one area that the Pro Staff 95S did not shine as brightly for me, and this was the result of me just preferring heavier set-ups on serve. Overall, the serve was effective, but I felt like most of my serves were coming back into play. I could set points up on serve, but I could not finish them with that one shot."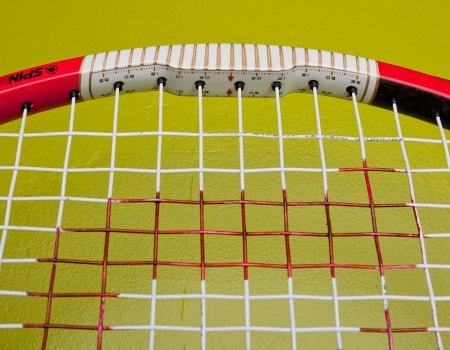 Serve Returns - Score: 82
The fast, maneuverable feel of the Pro Staff 95S continued to impress our playtesters when returning serve. The racquet worked well for Mark, and it allowed him to access his full array of returns. He said, "I really liked the weight and balance on my return. It was stable enough to complement my chip return but light enough for me to swing through the service return as well."
Chris also found the lightweight specs to work well for him on returns. He offered, "Just as on volleys, I found this racquet to work well on returns. It was easy to react quickly with it, and I felt I could swing the racquet through contact quickly. Touch and feel were impressive, and that added some confidence to backhand slice returns. Again, I wasn't hitting as big a ball with this one as I can with my Six.One 95S. I could still take a good crack at most serves, but I just wasn't ripping the ball with as much pace and action."
Like the others, Karly appreciated how easy it was to swing the Pro Staff 95S, but it just wasn't as forgiving as she would have liked. She offered, "It's always a relief when hitting with a racquet that's easy to maneuver, especially when returning serves. Making sure I can bring the racquet around in time is one less thing I have to worry about with the Wilson Pro Staff 95S. The frame was fast and easy to swing, and as long as I hit the ball in the sweetspot I got a good combination of power and control. Like other areas of the court, it was unforgiving outside the sweetspot, and I didn't get much power or pop off my shots if I hit outside of it. However, when I made good contact this racquet made hitting returns really easy."
Echoing the others' sentiments was Mike, who said, "Returns were pretty good. It was hard to really get after the ball and take the offensive right from the beginning, but I really enjoyed returning against a big server. If someone hit a huge serve at me the racquet did a good job of absorbing the shock and using my opponent's pace to return the ball. This was a solid racquet for returning serve."
Overall - Score: 83
Likes
Chris - "I loved the feel, control, spin and touch. This is a really nice playing racquet."
Mark - "I like the way Wilson has configured the paint scheme, including the increments for adding aftermarket weight to particular areas of the hoop. I always liked the 16x19 version of the Pro Staff 95, and adding the 16x15 option makes me gravitate toward the Pro Staff even more. It is one of the most versatile racquets I have reviewed thus far."
Karly - "I loved how fast and whippy the racquet was to swing, and its comfortable feel made it easy on the arm."
Mike - "Easy access to spin and feel at net. And don't forget the 16x15 string pattern."
Dislikes
Chris - "Not as responsive as my Six.One 95S, and I couldn't get as much on the ball."
Mark - "In stock form the swingweight is a little too low for me, but adding a little weight to the hoop would be magical."
Karly - "Even though it was one of my likes, the softness of the frame was too much of a good thing -- the racquet felt too dampened and I wanted more pop on my shots."
Mike - "It's low powered, and serving wasn't the best with this frame."
Comparing it to other racquets they've used, our testers said:
Chris - "This racquet has a much softer and plusher feel compared to the Six.One 95S. I found touch to be improved, but I lost some pace and action on the ball. This one feels just as fast as the Pro Staff 95, but the more open stringbed gave me the sense I was getting more ball pocketing and a softer response from the stringbed. It is a very plush feel for a Pro Staff and offers great access to spin. If that sounds like your cup of tea, you are going to love this one."
Mark - "I have to include the Steam 99S, the Blade 98S and the straight Steam 99 as being similar racquets, all of which I like."
Karly - "The specs reminded me a lot of the Dunlop Biomimetic 200 Lite, with the similar headsizes, swingweights and lower stiffness ratings. However, I think the two differed in feel. The Wilson Pro Staff 95S felt a little more dampened, whereas the Biomimetic 200 Lite had a livelier, crisper feel."
Mike - "This racquet is a little heavier and has a smaller headsize than I normally use, but it actually worked out really well. I'd say it felt pretty similar to the Wilson Six.One Team, in that it's a lightweight, control-oriented frame, but this one has softer and more solid feel. The only downside was a lack of power. The feel and access to spin was great, and the volley was my favorite shot to hit with it."
Technical Specifications

Length
27.0 inches
69 centimeters
Head Size
95 square inches
613 square centimeters
Weight
11.6 ounces
329 grams
Balance Point
12.6 inches
32 centimeters
7pts Head Light
Construction
18mm Straight Beam
Composition
Basalt / Kevlar / Graphite
String Pattern
16 Mains / 15 Crosses

Babolat RDC Ratings

Score

Grade

Flex Rating
64
Range: 0-100
Swing Weight
305
Range: 200-400
Scores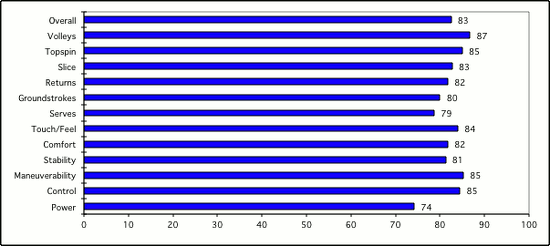 (Scores are determined by averaging individual play test scores)
Chris' Scores
Power
7.7
Serves
8.2
Control
8.7
Groundstrokes
8.4
Maneuverability
8.5
Returns
8.8
Stability
7.8
Slice
8.8
Comfort
8.5
Topspin
8.7
Touch/Feel
8.9
Volleys
8.4
Overall
8.3
Mark's Scores
Power
7.5
Serves
7.5
Control
9
Groundstrokes
8
Maneuverability
9
Returns
7.5
Stability
8
Slice
8
Comfort
8
Topspin
9
Touch/Feel
8
Volleys
9
Overall
8.5
Karly's Scores
Power
7.5
Serves
7.8
Control
8.1
Groundstrokes
7.5
Maneuverability
8.4
Returns
7.8
Stability
7.7
Slice
7.9
Comfort
7.9
Topspin
7.7
Touch/Feel
8.2
Volleys
8.2
Overall
7.7
Mike's Scores
Power
7
Serves
8
Control
8
Groundstrokes
8.1
Maneuverability
8.2
Returns
8.6
Stability
9
Slice
8.4
Comfort
8.3
Topspin
8.6
Touch/Feel
8.5
Volleys
9.1
Overall
8.5
Playtester Profiles
Chris: 5.0 all-court player currently using the Wilson Six.One 95 S. Chris uses a semi-western forehand grip, has a fast swing style and hits a one-handed backhand.
Mark: 5.0 lefty all-court player with a one-handed backhand. He currently plays with the Wilson Steam 99S.
Karly: 4.0 baseline player currently playing with the Volkl Organix 10 Mid. She hits with a semi-western forehand grip and uses a two handed backhand.
Mike: 5.0 baseliner with a semi-western forehand and two-handed backhand. His current racquet of choice is a customized Prince Triple Threat Warrior.

Review date: December 2013. If you found this review interesting or have further questions or comments please contact us.
All content copyright 2013 Tennis Warehouse.