Babolat Pure Strike 100 Racquet Review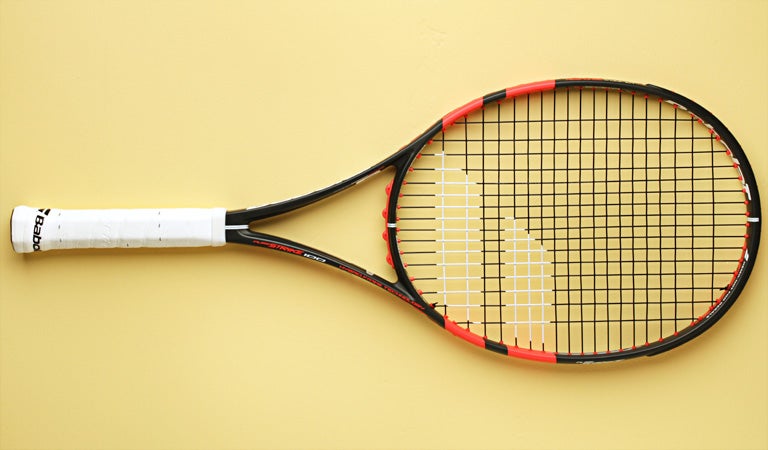 Babolat Pure Strike 100 Scores
Power
83
Comfort
74
Touch/Feel
77
Serves
81
Groundstrokes
79
Returns
79
Slice
78
Topspin
81
Volleys
81
Overall
80
Upsides
Super fast through the air
Power
Access to spin
Downsides
Stability issues
Discomfort outside sweetspot
Summary
The most forgiving frame in the new Pure Strike family, the Pure Strike 100 features a 16x19 string pattern in a 100 square inch head. Quick and easy to use right from the start, the racquet allowed our team to strike shots from the baseline with ease, but our team was craving a bit more mass and stability from the racquet. Some playtesters felt this racquet shone at the net, but two of them noticed a significant drop in comfort when the ball was hit outside of the sweetspot. Babolat debuts new technologies in the Pure Strike line of racquets, including X-Sider, which is designed to increase the size of the sweetspot, and a hybrid-frame construction for a more flexible feel and forgiving response. However, maneuverability was the outstanding feature for our playtesters. With its fast and crisp response, the Pure Strike 100 is sure to help you strike fear into your opponents.
Groundstrokes - Score: 79
This fast swinging Pure Strike 100 caught the attention of our playtesters right off the bat. The power level was debatable for our team of four, but they all found it to be much more flexible than other Babolat racquets they've hit with. They also found themselves wanting a little more weight behind their shots. Tiffani was encouraged to step inside the baseline and take balls early. She said, "I was able to take the ball way out in front for some nice angle shots. There was one drawback, unfortunately. The racquet needs a little more mass in the hoop, I think, for improved plow through and stability. I got some nice pace to my shots, but I needed better shot penetration. It was the same story with spin. It was there, but it didn't give me an advantage because there just wasn't much weight behind my shots. The racquet felt comfortable, with a dampened response, and because it swings so fast there's room to add some mass to the head to make it suit me a little better."
Brittany initially noted how light and easy to swing this racquet was. She said, "I could produce a lot of racquet head speed for a lot of power, especially when hitting in the sweetspot. I was able to get around the ball to produce enough spin to hit balls that angled off the court. However, it's such a light racquet I didn't feel like I had as much 'oomph' on my ball. The light weight also contributed to a lack of stability, especially when hitting against players with more power."
"The racquet felt fine when I first started hitting some groundstrokes, and I was able to generate good power and control," stated Mike. "The only things that didn't feel good were off-center shots. When I struck the ball in the sweetspot the racquet felt awesome. I would say my backhand actually felt a little better than my forehand. Usually it's the opposite, but for some reason this racquet felt easier to adjust to on my backhand."
From the very first swing it was clear to Karly that maneuverability and power were the racquet's standout features. She said, "What a fast racquet to swing! With its low swingweight I didn't have to put much energy into swinging the racquet. It cut through the air easily and generated good power. I just had a tough time with the feel of the racquet -- it felt really unstable and stiff. The racquet felt stiffer than most, which helped give my shots good pop off the racquet, but it was a recipe for discomfort when mixed with the instability. When I didn't make contact in the center of the stringbed, I knew immediately by the feel. I think this racquet could have used a little more weight to raise its swingweight and increase the stability and control. The frame was easy to swing, but the power and instability were just a little too much for my taste."
Volleys - Score: 81
Our playtesters were split when it came to volleying with the Pure Strike 100, with two of them finding this to be their favorite spot on the court with this racquet and the other two desiring more stability. The racquet was very maneuverable at net for Brittany, and she was able to get her racquet quickly into position to reflex volleys back into play. She also found some success putting volleys away deep in the court. She added, "Unfortunately, as with groundstrokes, I struggled with stability and could feel the racquet almost twisting in my hand when trying to deflect heavier, harder hit balls. When I hit outside the sweetspot the feeling was jarring and uncomfortable at times."
"I love it when a racquet is mobile at net, like this one," said Tiffani. "However, the Pure Strike 100 is a little light to stand up to well-struck shots. While I could get my racquet on a lot of volleys and enjoyed it for quick net exchanges, I felt the vibrations when returning heavier shots."
Karly found the Pure Strike 100 worked best for her at the net. She explained, "The racquet felt much more solid on volleys, and the lightweight feel made it easy to move back and forth. I hardly had any issues trying to get the racquet on the ball -- not to mention I could easily put the ball away with the power and pop it generated. The only things I thought the Strike 100 could've improved on were control and touch. It was difficult to place a short ball or drop shot because there wasn't enough feel. The power and pop were too overwhelming for my tastes. Aside from the feel, I really enjoyed putting away hard hit volleys."
Mike, a fan of lighter racquets, said, "It felt super solid, and the racquet did a good job of helping me place the ball wherever I wanted. I wasn't missing too many volleys with this racquet."
Serves - Score: 81
The Pure Strike 100 received some so-so reviews from our playtest team on serves. There just wasn't anything to make this racquet stand out in this area of the court. "Serving was not bad at all," offered Mike. "The racquet was stiff enough to where I was able to generate power and still hit those angles to get some free points. My favorite serve with this racquet was hitting the flat serve down the T."
Serving was just lukewarm for Tiffani. "On the upside, it's super easy to swing, and I did enjoy the extra spin I was seeing on my serves. However, I found the response to be inconsistent on serve. It was a bit odd because the stringbed felt even-keeled on other strokes, but if I didn't strike the ball just right on my serve I didn't get much power out of the racquet."
"Personally, I would've like to have seen a little more weight at the head of the racquet," stated Karly. "The swingweight was just a little too low for my liking for serves. Don't get me wrong, the fast and lightweight feel was great, especially when I was feeling tired, but I think a little weight would've helped with stability and control. The racquet felt too light, and I felt like I lost a little bit of control. On the plus side, with the 100 square inch headsize and the lightweight feel, it was easy to swing fast and produce a lot of spin on my serves. I could easily brush the backside of the ball to produce a ton of topspin and kick. Power and spin were not an issue with this maneuverable racquet."
Differing from the group's sentiments was Brittany, who found that serving was her favorite shot to hit with the Pure Strike 100. She said, "I could generate some high racquet head speeds and get a lot of pace on my serves. I was impressed with the variety of serves I could hit with this racquet. My slice serve into the body proved to be the most effective on both sides of the court. I also had enough access to spin to confidently hit second serves. I did notice that the speed of my flat serve was a little erratic if I hit outside of the sweetspot."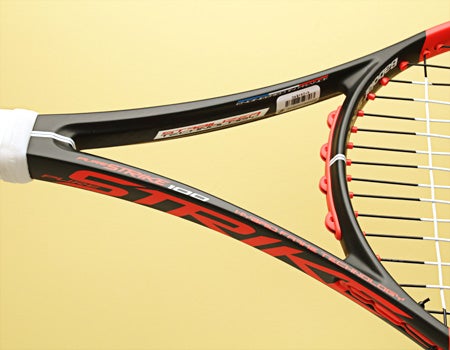 Serve Returns - Score: 79
Maneuverability continued to be a standout feature of the Pure Strike 100 when returning. So much so that Karly found it hard not to like returning with this racquet. "I never dreaded returning a fast serve because the racquet was so easy to swing. Combined with the power of this racquet, I was more confident and aggressive with my returns. The racquet also made it easy to produce spin, both topspin and slice, which made returns that much more fun to hit. However, like other areas of the court, the instability of the racquet was hard on the arm. When I didn't hit in the sweetspot the racquet twisted in my hand and lacked a solid feel."
Also finding this racquet really easy to return with was Mike. "Hitting through the ball and being able to get on offense immediately was not too bad," he said. "Usually I'm on defense all the time and rely on my speed, but with this racquet I was getting more pace. The extra pace let me create some easier points and come to the net a lot."
Brittany felt the maneuverability of this racquet helped her get in position to attack returns. "I loved returning second serves with this racquet because I could really go for the shot and start off the point aggressively. Without sounding like a broken record, I didn't feel there was enough weight with this racquet. The lack of stability could really be felt when returning a lot of first serves."
Tiffani found the extra maneuverability came into play here. She said, "The maneuverability made it easier for me to get my racquet on most serves. Like with groundstrokes, there is a big temptation to take the ball earlier and try to get offensive quickly. However, when coming up against a big server the racquet did twist some in my hand."
Overall - Score: 80
Likes
Tiffani - "I like the Syntec Feel grip. It makes the Babolat grip feel true to size. I also like how easy it is to swing and the angles that I can hit. Another bonus is the racquet looks great."
Brittany - "First, I love the cosmetics; the carbon grey/fluoro red color combination looks really sharp. Secondly, I loved the maneuverability and access to power and spin."
Mike - "Power, volleys and serving were my favorites with this racquet."
Karly - "The maneuverability was lightning fast. I especially loved how easy it was to bring around when returning serves."
Dislikes
Tiffani - "The extra maneuverability came at the price of stability."
Brittany - "I struggled with the stability from all areas of the court. Also, the racquet was uncomfortable at times when I hit outside the sweetspot."
Mike - "Off-center shots did not feel the best, and my forehand, for some reason, felt out of tune with this racquet."
Karly - "The instability of the racquet made it uncomfortable to hit with."
Comparing it to other racquets they've used, our testers said:
Tiffani - "The Pure Strike 100 feels nothing like the AeroPro or Pure Drive lines. It reminds me of the Head YOUTEK IG Radical S racquet. Both are quick swinging and offer pace rather than heavy power. I also had issues with torsional stability with both of these racquets."
Brittany - "I would compare this racquet to the Gamma RZR 100 and Head YOUTEK IG Extreme S 2.0. The Gamma RZR 100 had many of the same characteristics, including power, maneuverability and a little discomfort. The Extreme S 2.0 had the same feel, maneuverability and lack of stability as the Pure Strike 100."
Mike - "The Pure Strike 100 reminded me a lot of the Gamma RZR 98. Both were super easy to swing and offered great spin potential, but lacked stability."
Karly - "Compared with other Babolat racquets I've tried, this one felt better in terms of feel, power and comfort. I would compare this to the Head Youtek IG Prestige Midplus."
Technical Specifications

Length
27.0 inches
69 centimeters
Head Size
100 square inches
645 square centimeters
Weight
10.8 ounces
306 grams
Balance Point
12.87 inches
33 centimeters
5pts Head Light
Construction
21mm / 23mm / 21mm
Composition
Graphite
String Pattern
16 Mains / 19 Crosses

Babolat RDC Ratings

Score

Grade

Flex Rating
65
Range: 0-100
Swing Weight
304
Range: 200-400
Scores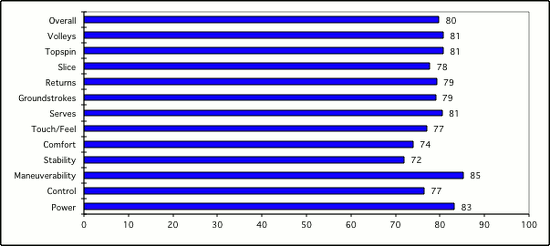 (Scores are determined by averaging individual play test scores)
Tiffani's Scores
Power
8
Serves
7.7
Control
7.8
Groundstrokes
8
Maneuverability
8.5
Returns
7.8
Stability
7.3
Slice
7.7
Comfort
8
Topspin
8.1
Touch/Feel
7.9
Volleys
7.8
Overall
7.8
Brittany's Scores
Power
8.5
Serves
8
Control
7.2
Groundstrokes
7.8
Maneuverability
9
Returns
7.5
Stability
6.5
Slice
7.1
Comfort
7.1
Topspin
8.3
Touch/Feel
7.9
Volleys
7.5
Overall
7.8
Mike's Scores
Power
8.5
Serves
8.6
Control
8.1
Groundstrokes
8
Maneuverability
8
Returns
8.5
Stability
8.3
Slice
8
Comfort
8
Topspin
7.9
Touch/Feel
8.3
Volleys
9
Overall
8.5
Karly's Scores
Power
8.3
Serves
7.9
Control
7.5
Groundstrokes
7.8
Maneuverability
8.6
Returns
7.9
Stability
6.7
Slice
8.3
Comfort
6.5
Topspin
8
Touch/Feel
6.7
Volleys
8
Overall
7.8
Playtester Profiles
Tiffani: 4.0 level baseliner with a semiwestern grip on the forehand and hits a two-handed backhand. Currently playing with the Donnay Formula 100.
Brittany: Open level player with a semi-western forehand and a two-handed backhand. She currently plays with the Yonex V-Core 100S.
Mike: 5.0 baseliner with a semi-western forehand and two-handed backhand. His current racquet of choice is a customized Prince Triple Threat Warrior.
Karly: 4.0 baseline player currently playing with the Volkl Organix 10 Mid. She hits with a semi-western forehand grip and uses a two handed backhand.

Review date: December 2013. If you found this review interesting or have further questions or comments please contact us.
All content copyright 2014 Tennis Warehouse.