Prince Response 97 Racquet Review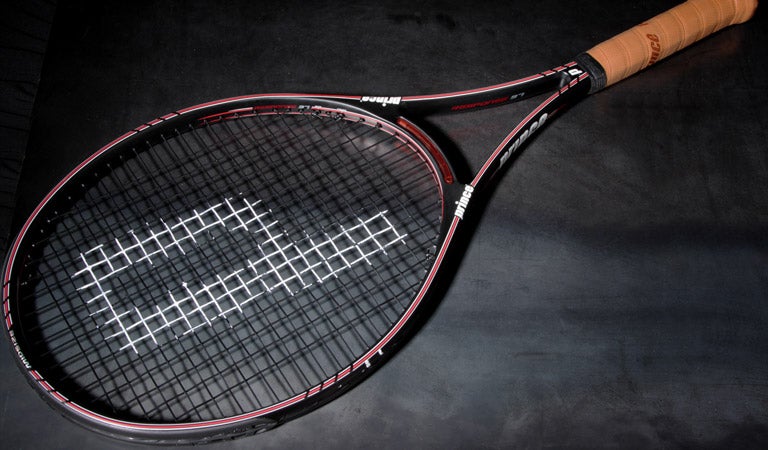 Prince Response 97 Scores
Power
81
Comfort
81
Touch/Feel
84
Serves
83
Groundstrokes
80
Returns
78
Slice
84
Topspin
82
Volleys
92
Overall
83
Upsides
Plow through power
Comfort
Stable, solid response
Feel
Downsides
Nothing we could agree on
Summary
The classic Response 97 is back! This racquet is packed with plow through, and our playtesters couldn't wait to get their hands on it to see how it fared. The racquet's 12-ounce weight, head light balance and all graphite layup suited our players' games. It was clear from the first ball strike that this racquet was solid, crisp and comfortable. Drilling precise and deep groundstrokes came naturally, as did volleying crisp balls at the net. The racquet responded with power when serving, and ample control and placement were there when returning. Overall, our playtesters fell in love with this racquet all over again, and we're excited to see it back in the Prince lineup!
Groundstrokes - Score: 80
Our playtesters unanimously enjoyed the concrete feel of this crisp racquet from the baseline. Despite having four slightly different game styles, all four players agreed that the Response 97 let them drill balls deep into the court. "Rock solid, crisp, accurate, spin-friendly and precise," began Chris as he described his experience with the racquet. "From the baseline I felt very dialed in. The specs were spot on for me. I loved the solid and stable feel, yet the racquet also felt fast and easy to swing. There was enough mass coming through the ball to help me drive shots deep with lots of pace. The crisp response had me taking a good crack at the ball and feeling confident I'd consistently find my targets. I played with this racquet strung with a co-poly type string for the entire playtest, and it felt great (we used Prince Tour XC, primarily at 55 lbs). The solid weight and firm string made this a great racquet for hitting slice backhands. I was able to drive through the ball, using the weight of the racquet for pace and depth while letting the firm stringbed add all the control I needed. When hitting topspin I was able to drive the ball deep and generate plenty of spin to get the ball to drop inside the lines."
Sean couldn't agree more, adding, "Talk about stability and a rock solid feel, this racquet had both in spades! Using its plow through, I could easily punch the ball deep into the court without much effort, and I could control the rally from the baseline with great precision." The only trouble he had from the baseline was when he tried to generate spin on his flat groundstrokes. He explained, "The ball felt like it was flying off of my stringbed before I had the chance to impart any sort of rotation on it. I found myself adapting by hitting flatter and concentrating on keeping the ball deep in the court, which this racquet made very easy."
Troy found a stable feel and control-oriented response from the baseline. He commented, "This racquet was easy to maneuver since it has a slightly lower swingweight than I'm accustomed to. Although maneuverable, it still possessed a solid feel at impact. The downside for me was that this racquet didn't quite have the plow through that I get from my BLX 6.1 95. I sometimes struggled to get the ball deep during baseline rallies, but the more I played with this stick the more I was able to adjust. I found that I had to accelerate the racquet more to get depth, which comes a bit easier with my racquet of choice. Overall, this racquet had plenty of control and spin from the baseline, which allowed me to trust it when taking big swings."
Mark, who tested the 11.6 ounce Tour 98 ESP alongside the 12 ounce Response 97, needed a slight adjustment period to get used to the weight of the Response 97. He said, "Once I got used to its heavier feel and let the racquet do some of the work, my groundstrokes showed some reasonable depth and pace. It has a very solid, well-made feel about it, and although the Response 97 is just out of my spec range, the 12-ounce strung weight and the low 320 swingweight afforded me some good results in groundstroke games."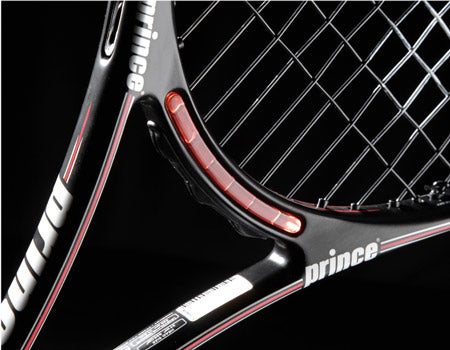 Volleys - Score: 92
The Response 97 continued to score high when our playtesters took it to the net. "This is one of the areas that the Response 97 really stood out. It personifies stability," explained Mark. "It never wobbled, even on high stretch backhand volleys. Volleys struck at the knee or lower were a breeze."
Troy was in complete agreement. He found the net to be where the Response 97 truly shone. "I found easy maneuverability as well as a solid, stable feel. This racquet felt great when serving and volleying. I found superb control when placing my volleys, and it had enough feel to hit the drop volley when needed. There was enough power and mass from this racquet to get good stick and depth to my volleys. This racquet definitely lived up to its Response name when it came to taking control of the net."
While this racquet felt firm and crisp at net, its heft and the Double Bridge dampening system combined to keep everything comfortable for Chris. "I loved the solid response on those tough first volleys; it allowed me to punch the ball deep or soften my grip for a touch volley. This racquet remained stable even with a light touch, and that enabled excellent touch and feel. This was a great serve and volley racquet for me, and I loved playing doubles with it."
"This racquet's combination of plow through and maneuverability really impressed me at net," said Sean, who continued to praise the racquet. "I felt like I could easily control every volley and place shots with great precision without much effort. The weight of this racquet was great for keeping the ball deep in the court, even when I was forced to stretch or make a stab volley at the last moment. Turning defense into offense was simple when I could depend on my first and second shots being deep and precise regardless of my net position."
Serves - Score: 83
Starting the point out aggressively was easy with the Response 97. Our team enjoyed the heavier weight and found easy access to power. Sean, who enjoys bombing serves, again found a stable feel when it came to serving. He said, "Power was in ample supply, with enough weight behind each shot to really do some damage on flat serves. The only drawback was that I found it difficult to produce spin for kick and slice serves, which left me vulnerable to a deep return. I found myself depending on my first serve too much and dreading having to hit a second serve."
The Response 97 gave Troy the confidence to hit a variety of serves. He said, "The increased maneuverability and the slightly more open string pattern allowed me to get some nasty kick and spin on my serves. The racquet's control allowed me to place my serves on a dime, and I was hitting flat first serves down the center T with lots of pace."
Mark benefited the most from the 12 ounces weight of the Response 97. He said, "This racquet has great plow through once it's in motion, resulting in a pretty heavy ball coming off the stringbed."
Chris continued to sing the praises of this racquet, saying, "This is my kind of racquet on serve. I'm not the biggest server, so I like heavier racquets that do some of the work for me. This racquet came through the ball very nicely, and I was able to find some added pace. My serves pushed through the court better, and that enabled me to start points more aggressively. The spin potential was very good, and I found plenty of slice or topspin to get the job done."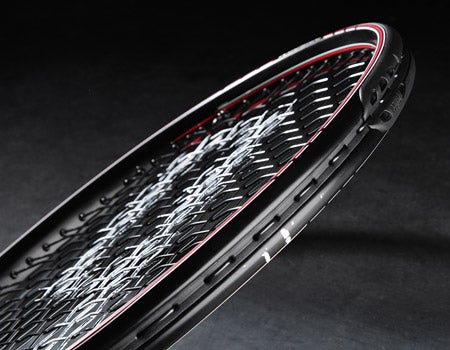 Serve Returns - Score: 78
Our playtesters were happy with how the Response 97 helped them hit a variety of returns. For Troy, the maneuverability and control from this racquet were beneficial when returning serve. He explained, "I initially noticed I had to take a larger than typical swing at the ball to get the depth I wanted. I found a fast and stable feel when connecting on returns in my wheelhouse, but I favor just a bit more plow through from a racquet to get easier depth."
"The Response is a bit too heavy for me to really swing through the return, but it was very stable off both sides," said Mark. "On the plus side, my backhand chip return stayed pretty low and deep."
Sean felt that with a very dampened feel and enough weight to deflect hard serves accurately, this racquet was very impressive during his return games. He said, "I had no trouble stepping up to the baseline a little more than usual so I could take the ball on the rise and drive it back through the court."
Chris continued his love affair with the Response 97 when returning. He said, "Again, the specs of this racquet suited me well. I loved the solid and stable response. I was able to control returns and find good placement off a short swing. When I wanted more pace I could accelerate this racquet easily through contact. The heft and the head light balance fit perfectly with my game. The result was a rock solid racquet that felt fast and easy to maneuver."
Overall - Score: 83
Likes
Chris - "I liked the solid feel, crisp response, touch, feel, control, spin, plow through and head light feel. Oh, and I like the classic look, too."
Sean - "A few of the characteristics that clearly stood out for me on this playtest were the soft dampened feel and the combination of weight and precision. I really enjoyed this racquet from all areas of the court. It offered a great control-oriented feel with good plow through for those seeking a nice player's frame."
Mark - "It just feels like a high quality frame. From the way it looks (traditional/understated) to the way it feels, it leaves nothing to be desired when playing. I feel this is one of the best frames from Prince in quite some time, and the Response 97 just brims with heritage and control. It does feel firm, with a reported beam stiffness of 68 RA, but not 'Pure Drive' stiff, which was another aspect I liked. The red Double Bridge soft grommet is a nice touch, too."
Troy - "Easy maneuverability and a solid graphite feel. Good spin on groundstrokes and serves. A gem to serve and volley with; it had me feeling very Rafter-like!"
Dislikes
Chris - "None. This was an awesome racquet for me."
Sean - "I had trouble generating enough spin on my serves and groundstrokes, so I was forced to hit flatter shots. This racquet was very effective for hitting those kinds of shots, although I had less room for error."
Mark - "It is a bit out my weight range for the long haul. Also, I do dislike the fact that I would have had a few of the older/original versions of the Response 97 to compare this to if it weren't for my temper in my younger tennis playing years!"
Troy - "Just slightly lacking in plow through on my groundies and serve returns, but nothing a bit of lead at 3 and 9 o'clock can't fix."
Comparing it to other racquets they've used, our testers said:
Chris - "Racquets that compare to this one for me would include the Wilson Six.One 95 16x18, Volkl Organix 10 325, Tecnifibre TFight 325 and Head Youtek IG Prestige Pro. All of those are solid player's racquets that combine useful heft with a fast, head light feel."
Sean - "I was reminded of another incredibly stable racquet that boasted a dampened feel, the Babolat Pure Storm Tour. One of my personal favorites, the Volkl Organix 8 315g, also comes to mind because of its solid feel at contact and the plow through it delivers."
Mark - "I feel that it's fair to compare the Response 97 with the Babolat Pure Storm Tour and the Head Prestige Pro/MP. I would also include the Yonex VCORE 97 (330 gram version) and the Head Graphene Speed Pro, though it is a little lighter than the Response 97. Anyone who is fond of those frames will most likely gravitate toward this frame as well. With the heritage, high frame quality and comeback story for this frame and company, the Response 97 goes straight toward the top of my list."
Troy - "I've never played with the original Precision Response because when that racquet was released the only thing I was swinging was a baseball bat. But having played with the Triple Threat Warrior MP and now testing this Response 97, it is easy to see the resemblance. In stock form, I prefer the added heft the Response provides, as well as the pure graphite feel. Other racquets that compare would be the Slazenger Pro Braided and the Dunlop Biomimetic Max 200G. All of these racquets will help a player's game from all areas of the court, but especially for those who still like to incorporate serve and volley into their game!"
Technical Specifications

Length
27.0 inches
69 centimeters
Head Size
97 square inches
626 square centimeters
Weight
12 ounces
340 grams
Balance Point
12.65 inches
32 centimeters
7pts Head Light
Construction
23mm Straight Beam
Composition
Graphite
String Pattern
16 Mains / 20 Crosses

Babolat RDC Ratings

Score

Grade

Flex Rating
68
Range: 0-100
Swing Weight
322
Range: 200-400
Scores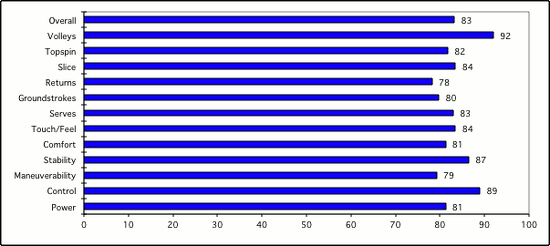 (Scores are determined by averaging individual play test scores)
Chris' Scores
Power
8.5
Serves
8.6
Control
9
Groundstrokes
8.6
Maneuverability
8
Returns
8.5
Stability
8.9
Slice
8.5
Comfort
8.2
Topspin
8.4
Touch/Feel
8.2
Volleys
8.6
Overall
8.5
Sean's Scores
Power
8
Serves
7.4
Control
8.5
Groundstrokes
7.8
Maneuverability
7.5
Returns
8
Stability
8.2
Slice
7.8
Comfort
9
Topspin
7
Touch/Feel
7.9
Volleys
9.2
Overall
8
Mark's Scores
Power
9
Serves
8
Control
9
Groundstrokes
7.5
Maneuverability
7.5
Returns
7.5
Stability
9
Slice
8.5
Comfort
8
Topspin
9
Touch/Feel
8.5
Volleys
9.5
Overall
8.5
Troy's Scores
Power
7
Serves
9
Control
9.1
Groundstrokes
8
Maneuverability
8.7
Returns
7.3
Stability
8.5
Slice
8.6
Comfort
7.3
Topspin
8.3
Touch/Feel
8.8
Volleys
9.5
Overall
8.3
Playtester Profiles
Chris: 5.0 all-court player currently using the Volkl C10 Pro 2012. Chris uses a full-western forehand grip, has a fast swing style and hits a one-handed backhand.
Sean: 4.5 baseliner using the Head YOUTEK Prestige Pro. Sean has a semi-western forehand, 1 handed backhand.
Mark: 5.0 lefty all-court player with a one-handed backhand. He currently plays with the Wilson Steam 99S.
Troy: 5.0 lefty all-court player with a full Western Forehand and a two-handed backhand. Troy currently plays with a Wilson BLX Six.One 95.

Review date: October 2013. If you found this review interesting or have further questions or comments please contact us.
All content copyright 2013 Tennis Warehouse.