Prince Premier Touch String Review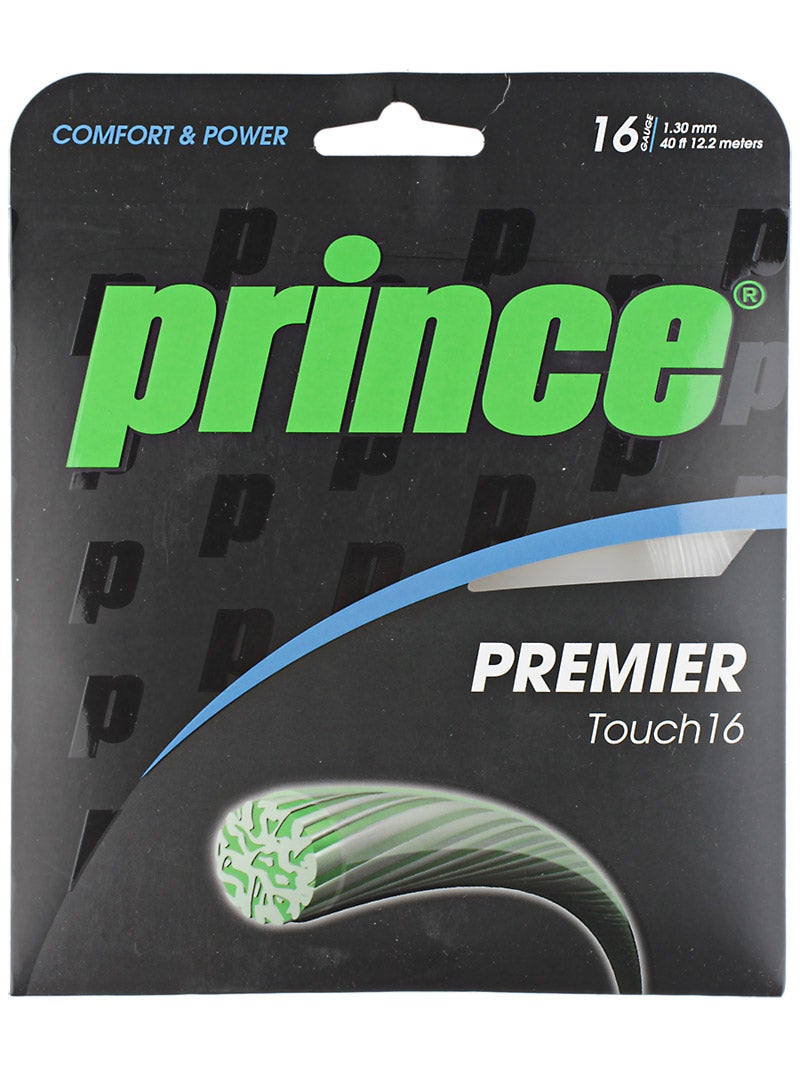 Prince Premier Touch String Scores
Power
88
Spin
53
Comfort
97
Control
71
Feel
75
String Movement
65
Playability Duration
78
Durability
70
Overall
78
Upsides
Maximum comfort
Perfect choice for players with tennis elbow
Powerful
Downsides
Too soft and muted for most poly players
Low spin potential
Summary
Prince Premier Touch is no ordinary multifilament. For starters, it is built with a spiraled ribbon construction that is intended to mimic the twisted serosa ribbons of natural gut. It also happens to be one of the softest strings ever tested in our TW String Lab. Even more impressive was the "off the charts" comfort score it received from our playtest team. As with most soft strings, this one proved quite powerful, so much so that we had to exercise caution on our biggest swings. As for feel, we found Premier Touch to be extremely muted, a fact that should please the tennis elbow crowd as much it will frustrate the poly player who requires maximum feedback. We also think that advanced players looking to rip heavy topspin will likely have to sit this one out (unless they're looking for the perfect hybrid cross). Ultimately, though, Premier Touch definitely comes with a sizable upside for any player who wants easy access to depth coupled with maximum comfort.
Power - Score: 88 / Control - Score: 71
Premier Touch definitely erred on the side of power over control. Chris explained, "This string had a decent level of pop to it -- even at the 64lbs I had it strung at! I was able to find easy access to depth, and even when it was strung at the high tension I was prone to launching a couple of shots here and there. I missed the control of my typical poly setup at first, but I quickly adjusted to the soft and powerful response of this string. Control for me was OK. I couldn't swing out as confidently as usual, and I preferred using this string in a hybrid with a stiff poly rather than in a full bed. It worked well as a hybrid because it added comfort without making things too lively."
Tiffani also had some problems taming the pop. She said, "This string swings to the side of power rather than control. When I spoke with my fellow playtesters after hits they noted the extra zip that was coming off my shots. I struggled to control the power because the super soft feel made it hard to tell how much power I was putting on the ball. Controlling my shots took a little bit of an adjustment period because the pillowy feel made it seem like the ball was hanging out on the strings for a long time."
Spin - Score: 53
While Premier Touch would make a great cross in a spin-friendly hybrid, our playtest team found it to lack sufficient bite in a full set. As a result, Tiffani had to rely on her flat mechanics. She said, "Although I hit a flatter ball, I struggled to hit spin with this string, which in turn didn't help my control problems. My slice shots seemed to sit up a bit more than usual, and I found myself emphasizing the brush up for topspin in an effort to get the ball to drop into the court. I had much better results when not trying to hit with spin."
"I found a mediocre level of spin off the stringbed with this one," said Chris, who typically plays with a shaped poly. "I'm used to getting more action on the ball and found myself leaving more room for error. I simply wasn't getting the hook and drop into the court I usually get on my shots."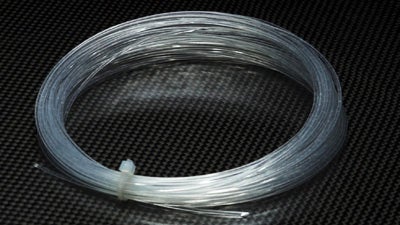 Comfort - Score: 97
For our playtest team, Premier Touch offered absolute comfort. Rumor has it Chris is still trying to find where the sweetspot ends. He said, "The most impressive aspect of this string was the level of comfort. Even at a high tension, this string pocketed the ball very well and felt soft and comfortable. From the sweetspot this string felt silky smooth. On off-center shots the string had enough give to absorb some of the shock, and it definitely had my racquet playing with a new level of comfort."
Reporting an almost unbelievable level of comfort, Tiffani said, "Without doubt, comfort is the outstanding feature of Premier Touch. I'm trying to find the best way to describe it. When strung in the mid-50s in the Volkl V1 Pro (an already comfortable racquet), it was borderline ridiculously soft. We upped the tension to 62 lbs and it was still soft, like I was hitting marshmallows, not tennis balls. I think I would like this best strung in a stiff racquet that needs softening up. This string can really handle the higher tensions and maintain absurd levels of comfort."
Feel - Score: 75
Our playtest team found Premier Touch to be very muted and lacking in the crisp feel they get from their typical strings. Tiffani explains, "This is the softest string I've hit -- probably ever. Even at higher tensions, this string is soft with a muted feel. I personally prefer more ball feel with a crisper response, but this string can make anything feel comfortable. If I were to use this more regularly I would likely hybrid it with a stiffer co-poly. If comfort is what you're seeking, you'll find it here."
As someone who likes the stiff feel of polyester, Chris preferred the feel of Premier Touch as a hybrid with a co-poly. He said, "The feel was very, very soft with this string. It felt a tad muted to me. Whereas natural gut feels soft and crisp at the same time, this one had the softness but lacked the crispness. Again, it worked better for me in a hybrid with a poly. The stiffer poly firmed up things enough that the stringbed offered a nice blend of feel, comfort, control and power. This could quickly become a solid cross string option for me in poly hybrids."
Playability Duration - Score: 78
Like all strings, Premier Touch definitely lost its fair share of tension, but this wasn't a deal breaker for Tiffani. She said, "The main characteristic of this string for me is comfort, and that's something that never changed from first hit to last. Like many multis, this one does fray, but it didn't change the playability at all. There was also some noticeable tension loss, but again, the soft feel and easy power were maintained so the string remained playable for me."
Also finding decent playability was Chris, who added, "This string lasted pretty well. There was some initial tension drop, but the playability never dropped off dramatically. I was able to get a little more than five solid hours of doubles on the full set without breakage. More singles play had me sawing through the strings a little quicker, but all in all the durability was impressive."
Overall - Score: 78
What type of player would you recommend this to?
Chris - "In a full bed, this makes a great option for classic advanced level players seeking a very soft and comfortable response. Any beginning through intermediate players looking to soften the response of a stiff racquet would also like this string. It will take some of the sting out of shanked shots, which is another huge plus for beginners who may not yet hit the ball cleanly on a consistent basis. I also found it to be a great cross string option in a poly hybrid. As a hybrid, this string makes a great choice for anyone looking to increase the comfort and power slightly over a full poly setup."
Tiffani - "Anyone who is looking for comfort, look no further. This would soften up the stiffest feeling racquet."
Likes
Tiffani - "It's the most comfortable string I've hit to date."
Chris - "I liked the comfort the most, and how it livened up a hybrid setup."
Dislikes
Chris - "Too soft and muted in a full set."
Tiffani - "It's too soft and muted for my taste. It was just too much of a good thing in a full setup."
Comparing the string to others they've tried, our testers said:
Tiffani - "I thought Tecnifibre NRG2 was soft, but this has an even softer feel. Another multi that comes to mind is Dunlop Silk. All of these strings are comfortable, but Premier Touch trumps both of these in comfort. The power and spin levels are comparable among the three, however."
Chris - "This string is one of the softer playing synthetics I've hit with. While not quite as soft playing as Ashaway Monogut ZX, this string had vastly better feel and did not have the annoying ping that Monogut had on every contact."
Scores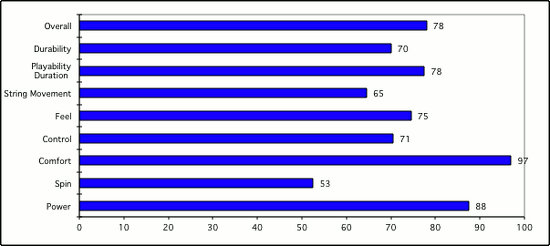 (Scores are determined by averaging individual play test scores)
Tiffani's Scores
Power
9
Playability Duration
7.5
Spin
6.5
Durability
7
Comfort
10
Control
7.1
Touch
7.3
String Movement
7
Overall
8
Chris' Scores
Power
8.5
Playability Duration
8
Spin
4
Durability
7
Comfort
9.4
Control
7
Touch
7.6
String Movement
5.9
Overall
7.6
Playtester String Setups
Tiffani:
Playtest Racquet: Volkl Organix V1 Pro
Playtest Tension: 57 lbs
Typical String: Tecnifibre X-One Biphase 16
Chris:
Playtest Racquet: Wilson Six.One 95S
Playtest Tension: 64 lbs
Typical String: Volkl Cyclone 16

Review date: January 2014. If you found this review interesting or have further questions or comments please contact us.
All content copyright 2014 Tennis Warehouse.