Kirschbaum Pro Line X String Review

Kirschbaum Pro Line X Scores
Power
73
Spin
89
Comfort
78
Control
84
Touch
80
String Movement
88
Playability Duration
77
Durability
88
Overall
89
Upsides
Durable
Crisp Feel
Excellent Spin
Excellent Control
Summary
Our testers found Kirschbaum Pro Line X to be a firm, durable and low-powered co-poly that rewarded the power and technique of advanced players with remarkable control and spin. To combat one of the biggest downsides of polyester, tension loss, Pro Line X is pre-stretched. As a result, we found it to play a tad firmer "out of the box", with the upside being it stayed playable a little longer. Kirschbaum designs this string with a lighter, softer feeling pigment to mitigate another common complaint of polyester: stiffness. Ultimately, for our testers, the combination of spin and control had a geometric upside, as evidenced by their increased command over angles and trajectories. This explains why they reported so much confidence going for ambitious targets. While those with compact strokes will likely have difficulty unlocking the benefits of this firmer string, big hitters will discover an expanded universe of shot making possibilities.
Power - Score: 73
For the most part, our testers found Kirschbaum Pro Line X to be low powered. Siobhan saw this as an opportunity to swing faster and add more of her own pace. She said, "I swung big with this one. The low power forced me to hit flatter than normal, allowing me to swing through the court with more force. This actually made me feel more powerful, and definitely resulted in more heat from the baseline. Shots that I would struggle to turn into weapons were clean winners (especially my cross court forehand)."
Reaping the control benefits of Pro Line X was Chris. He said, "This is a very control-oriented co-poly. Typical of Kirschbaum polys, this played firm and crisp with a fairly low power level, especially on the first few hits. Like other Kirschbaum polys, I assume this one is pre-stretched, which likely contributes to its firm feel and lower power level. I liked the feel, as it allowed me to take a good cut at the ball without fear of hitting long."
Mark also thought Pro Line X erred on the side of control. He said, "I normally don't get power from co-polys like Pro Line X, regardless of the tension. They lack the energy return found in natural gut or nylon multifilaments. If I had to characterize the response, I would describe it as crisp rather than gummy - and very predictable at higher head speeds."
Mike, who strung his racquet at 50 pounds, actually discovered a little pop. He said, "I achieved penetrating depth without having to swing as hard as normal. This made it easier because the string did do some of the work for me. Like most firmer strings, though, this one was comparably low powered."
Spin - Score: 89
The bite of Pro Line X impressed our testers more than any other feature. Chris quickly discovered how effectively the spin potential translated into easy shot making. He said, "This string really felt like it grabbed the ball. I was able to get the ball to hook inside the lines on cross court angles, which allowed me to add additional pace to those shots. When hitting up the line I could roll the ball with lots of pace. I was getting enough topspin on my shots to hit high over the net with good pace and let the ball kick up high and fast at my opponent - lots of fun! When driving my slice I was able to get lots of spin and knife the ball very well. I also liked the "grab" from the string on drop shots, and found enough spin to help me drop the ball very short and have it die quickly. I think my spin generation was helped by the fact I could swing very fast due to the low power, and that helped me to get the ball to spin faster."
Like Chris, Mark felt very plugged in to the ball's rotation. He said, "I prefer the round polys, as opposed to profiled, gear shaped or textured, so this one was a joy. Accessing spin with Pro Line X was like turning the volume knob on my stereo; I could dial in more or less without too much fuss. Top-notch spin!"
"This string has become a personal favorite because of the incredible spin," said Mike, who found quite a groove. "The pronounced bite and excellent feel allowed me to achieve a nice rhythm. I settled in and started focusing more on my targets than my mechanics. I love when a string gives me this level of precision and consistency."
Siobhan found that the extra bite allowed her to hit a heavier ball. She said, "I got a lot of comments about the explosion of my ball off the court. Hitting spin was effortless. It gave me great kick, more so than other polys. I found myself hitting more direct, penetrating topspin, rather than slowing the point down with high arching spin."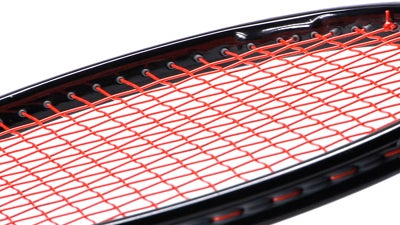 Comfort - Score: 78
As a pre-stretched co-poly with a firm feel, Kirschbaum Pro Line X is not targeted at those with tender tendons or players who prefer a soft response. However, none of our testers reported high shock. Mike thought it was quite comfortable. He said, "This is a friendly co-poly. I thought It was easy on the arm. I had no issues with soreness or vibrations."
Siobhan noticed the stiffer feel but was not bothered by it. She said, "This string had a little less comfort than I'm used to, but I was able to really rip big balls with it. The slightly lower comfort was nothing to shake a stick at; I felt fine with this string."
Chris was able to reach an acceptable comfort level with a lower reference tension. He said, "The string plays firmly, so I would not say it is the most comfortable co-poly I've tried. On the plus side, the firm feel allowed me to drop tension without losing control. The lower tension softened the stringbed and kept comfort in check."
Mark also discovered that he could lower the tension without losing control or distorting the response. He said, "Comfort with most polys is very tension dependent. At 52 pound the Pro Line X felt pleasantly crisp. With most strings, the trick is finding that middle ground where it's not too harsh and not too mushy."
Control - Score: 84
The precision and predictability of Kirschbaum Pro Line X was a recipe for consistency and confidence. Finding a groove was Mike, who said, "Pro Line X made it easy for me to keep more balls in play and take control of the point. My favorite part was catching the ball on the rise, where the predictable response gave me the confidence to re-direct the considerable energy."
"I really like the way the Pro Line X behaves," said Mark, who found all the directional control his flatter strokes needed. "The string does not move much at all at impact, which makes the flight path off the stringbed very predictable."
Chris was able to swing away with impunity, saying, "I love the control of this string. I can take big cuts at the ball and keep it inside the court. The crisp feel and spin potential added a lot of control for me and combined to make it a very good match for my game. I found a very consistent response from the string. As the test wore on the change in the string was very gradual, which helped me maintain control for the duration of the test."
The low power of Pro Line X actually led to some overhitting by Siobhan. She said, "My control suffered a bit because I was trying to hit so big. I blame that a little more on user error. In general, I felt the control was very good. Pro Line X has definitely captured all the things I like about polys."
Playability Duration - Score: 77
Polys and co-polys tend to lose tension (and, as a result, playability) faster than most string materials. This is where Kirschbaum's pre-stretching comes into play, as it's supposed to make the playability change less dramatic. Mark seemed to find the virtues of pre-stretching. He said, "I have logged close to 10 hours of hard hitting on this string with no signs of notching. The crispness hasn't wavered much either."
Not quite as enthusiastic as Mark, Siobhan was still able to get good results after the tension dropped. She said, "After several hours of hard hitting I definitely noticed a drop in tension and playability, but nothing disruptive enough to destroy my strokes."
Chris found no surprises with Pro Line X. He said, "After 7-8 hours of hitting, spread out over two weeks, the string is just starting to drop off. I can still use it and adjust to the drop in tension, but I'm not enjoying it nearly as much as I was the first week. For a co-poly, two weeks is about all I get, but this one felt better than most towards the end."
"It took six or seven hours to snap," said Mike, our resident string breaker. He added, "The playing characteristics held strong for half my hitting sessions, but it wasn't terrible hitting with it after it loosened up."
Overall - Score: 89
Likes
Mark - "This is not the first poly from Kirschbaum that I played well with. This one will be added to my list of 10 or 12 absolute favorite polys. Spin, comfort, tension maintenance, and even the color, was right for me. This almost sounds like a paid testimonial, but it's not. I just really liked the string, and would purchase it myself."
Chris - "I loved the spin and control. I liked the power level in an open patterned racquet like the Slazenger Pro Braided."
Mike - "I honestly loved the string and will be hitting with it more often."
Siobhan - "I really like most things about this string. The pace, spin and power, and the ability to hit big shots from all over the court. It took my game up a level."
Dislikes
Mark - "Nothing."
Chris "It felt under-powered in a 1990 Prestige Pro 600. I would have to string it in the low 40lbs range to get the pop needed in a midsize with a tight pattern."
Mike - "If anything, maybe better tension maintenance compared to nylon strings, but Pro Line X did a better job than most co-polys."
Siobhan - "Only minor dislike was that it was harder to get height on the ball and to slow things down with spin."
Comparing the string to others they've tried, our testers said:
Mark - "I would say that the 17 gauge version is a bit crisper than the Pro Line Evolution, but a little softer than the original Pro Line 1. For a comparison with other brands, I would describe the Pro Line X as slightly more elastic than RPM Blast, but certainly not mushy. It also reminded me of the Solinco Revolution, which also has some elasticity for a poly. Though polys are all pretty control oriented and durable, Pro Line X maintains tension better and is friendlier on the arm than, say, the ALU polys from Luxilon."
Chris - "Similar in feel to Wilson Enduro Pro and other Kirschbaum strings such as Touch Turbo and Pro Line I, this string feels nice and crisp. I liked the firm response and I felt very dialed in with control. I'd say it plays a tad stiffer than Volkl V-Pro, and I found better spin than I get with Kirschbaum Competition. Basically, it felt like a classic Kirschbaum string to me, but I felt like I was getting better spin."
Mike - "It plays more like a traditional polyester - a very spin-friendly one without a ton of shock."
Siobhan - "This string reminds me of Volkl Cyclone, which gives me the same ability to really rip balls and have them drop in. Although Pro Line X delivers more power, kick and spin (like normal polys on steroids!), Volkl Cyclone has the same level of comfort and control."
Scores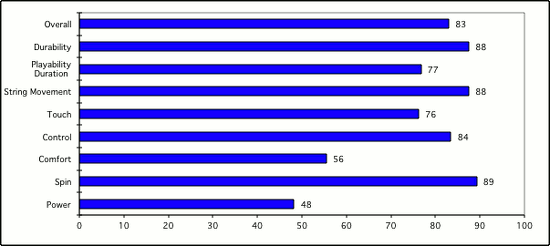 (Scores are determined by averaging individual play test scores)
Mark's Scores
Power
8
Playability Duration
8
Spin
9
Durability
8
Comfort
9
Overall
9
Control
8
Touch
8
String Movement
9
Chris's Scores
Power
7
Playability Duration
7
Spin
8.7
Durability
9
Comfort
7
Overall
8.5
Control
8.8
Touch
8
String Movement
9
Mike's Scores
Power
8
Playability Duration
7
Spin
9
Durability
9
Comfort
8
Overall
8.6
Control
8
Touch
8
String Movement
7
Siobhan's Scores
Power
9
Playability Duration
8.7
Spin
9
Durability
9
Comfort
7
Overall
9.3
Control
8.6
Touch
8
String Movement
10
Playtester String Setups

Review date: June 2012. If you found this review interesting or have further questions or comments please contact us.
All content copyright 2012 Tennis Warehouse.