ProKennex Black Ace 98 Tennis Racquet Review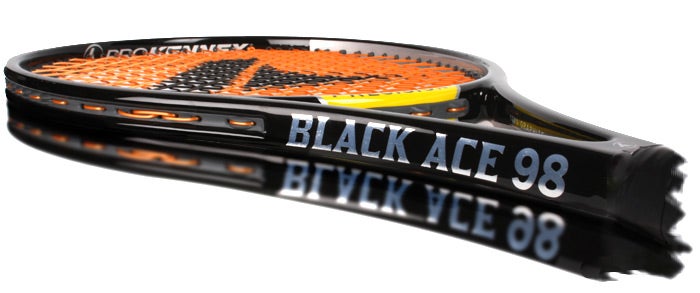 Is bigger really better?
Take for instance the Black Ace racquets from ProKennex. The Black Ace 93 was well liked by our playtest squad, as it fell squarely into the player's racquet category. This version, with its 98 square inch headsize, actually specs out almost identically to the 93. The Black Ace 98 features a strung weight of 11.7 ounces, a straight 19 mm beam, a head light balance and a tight 18x20 string pattern.
So, with virtually the same specs, could the larger Black Ace 98 result in better performance? Would it be a more forgiving racquet with more power and better spin, while still providing the precision we found with the Mid?
There was only one way to find out. We sent our playtesters out to see what the story was with this Black Ace 98. Read on to find out what the playtesters concluded.
Groundstrokes - Score: 78
For a thin beamed, flexible racquet, our team was impressed with the power the Black Ace 98 generated off the ground. Chris also praised the feel of this midplus ProKennex. "This racquet really reminded me of a HEAD Prestige Midplus. It offered a solid combination of mobility, spin and control. Power was not hard to generate, and I was actually surprised with the speed of my shots with this racquet. What impressed me the most, though, was the forgiving feel. Even when I was a tad late I was still able to drive the ball with good pace and depth. The response on slice backhands was also impressive. I was able to get some nice bite on the ball and drive my slice cross court, keeping it low with solid pace."
Danny was generating more spin with this larger sized Black Ace. "I wasn't as fond of the 98 version from the baseline, compared to the Black Ace 93. Still, with a solid and flexible feel from the baseline, this version added more power and spin to my groundstrokes. With the addition of power, I lost some accuracy and consistency. Hands down, though, the Black Ace 98 still plays better than any other midplus racquet I've tested this year."
The faster she swung, the better the results for Kana. "I think this racquet had more power than the Black Ace 93 because of its larger head size. I found plenty of spin generation off the stringbed, and my shots went much deeper into the court. I had to be more aware of controlling my shots, but I noticed the faster I swung the better my shots became, as I could use all that spin I was getting."
Enjoying the plow-through on her shots was Tiffani. "Power was surprisingly easy to come by with this racquet. I enjoyed hitting flat through the ball because I felt like the Black Ace 98 gave my shots some nice weight. Hitting flat also came more easily. While I could effectively hit flat shots, getting the additional head speed and brush needed for topspin was difficult for me to do consistently over a long period of time. Generating slice was another story. I would go to the backhand slice more often than usual because I felt like I could get it to stay nice and low with the Black Ace 98."
Troy felt right at home with the Black Ace 98. "I had no problems getting used to this racquet when hitting groundies. My timing came easily because the static weight and swingweight are nearly identical to how my Wilson KBlade 98 is set up. The softer, more flexible feel of this racquet made it feel smooth upon impact, with no feeling of shock on my arm. The downside was that I wasn't getting the amount of pop I'm used to with my own racquets, so it took a little adjustment to get balls to land deeper in the court. I enjoyed everything this racquet had to offer from the baseline except that I wouldn't mind if it were a bit stiffer to enhance the power level."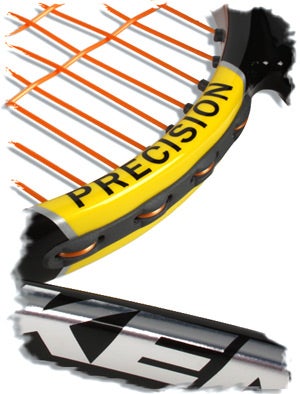 Volleys - Score: 79
The Black Ace 98 impressed our playtesters with its touch at net, as well as its power level. Kana found the racquet to be versatile up at net. "I could execute volleys deep into the back court for effective shots. I could also get great touch, and I believe that the softness of the frame had a lot to do with it."
It was a thumbs up from Troy at net with the Black Ace 98. "This racquet really felt like an extension of my arm. The soft feel that was evident from the baseline also made volleying feel very comfortable. Stability was top-notch. I noticed that the harder the ball was hit at me the more stable the racquet felt when at the net. Controlling the ball from corner to corner within the court was not hard to do with this stick. I enjoyed that I could punch deep, penetrating volleys; feeling the plow-through of this racquet."
Tiffani noted the feel off the stringbed. "This racquet was solid at net for me, and my volleys felt strong. I enjoyed the feel from the Black Ace 98, and I felt more at ease trying touch shots and drop shots."
Danny found more power while volleying. "Again, with the addition of power and spin my volleys were less accurate. My touch was good, but when I had to stick my volleys or punch them deep, I had a hard time controlling the ball."
Confidence was on Chris' side when he was at net. "This was a nice racquet for volleying. I found plenty of feel, and again, I found the response to be very forgiving. I was able to control my volleys and felt confident going for aggressive shots. The balance and weight felt great, as I found the racquet to feel quick, yet plenty stable."
Serves - Score: 79
When compared to the midsize version, the Black Ace 98 stood out with more power and spin on serve for our playtesters. Danny also found additional comfort. "I thought serving with the slightly larger version of the Black Ace was comparable to the 93 version, with some additional power and natural spin. In addition, I thought the larger headsize added comfort."
The racquet helped build Tiffani's confidence when serving. "I was most successful hitting flat serves. My usual hitting partners were surprised by the power I was getting from the Black Ace 98. I didn't get a ton of spin on serve, but I felt that I got enough for a safe second serve, at least enough that I felt like I could go for more on a flat first serve. I admit, the feeling that I was hitting bigger serves than I'm used to was addicting."
Chris tapped into some power when serving with the racquet. "I was impressed by the pace I found on my serves. I was definitely finding some added zip and hop compared to the mid. I usually prefer a midsize for serving, but with the Black Aces, that was not the case. On second serves I was able to generate enough spin with the midplus to be pretty aggressive without losing consistency. For me, this was a nice racquet for serving, as I consistently found pace and spin without much effort."
Finding a more control-oriented response was Troy. "Control was the best aspect of this racquet when serving for me. Placement of the ball within the service box was great. Whether going down the T or out wide, I was hitting my targets consistently. To get slice and kick on serves I had to generate a lot of racquet speed due to the dense string pattern, which is something I am used to. I don't know if I increased my serve in the MPH category, but I'll take great placement over that any day."
Kana was also pleased. "I hit a relatively flat serve and it felt great with this racquet. I was able to get nice pop along with spin when I wanted."
Serve Returns - Score: 78
Our playtest team found the Black Ace 98 to be a solid returning stick. Troy praised its stability. "The stability was beneficial when returning fast, heavy serves. As I noted for volleys, the faster the ball was hit at me the better this racquet responded. I felt great torsional stability on off-center hits when returning. This racquet lacked in power for me, and I sometimes found it hard to get depth on returns, which was most evident when I was stretched out and the ball was out of my wheelhouse."
The power level impressed Danny. "I had good consistency and power when returning serves. My accuracy wasn't as good as with the smaller headed version, but I'm not complaining. I think the additional power when returning was just as effective as the added accuracy that the Black Ace 93 offered."
Chris was able to hit a wide variety of returns. "The racquet felt solid and comfortable on returns. I was able hit out and be confident I would find my targets. I was finding some nice bite on slice returns, which allowed me to either drive the ball deep or drop the ball at an angle. All in all, this was a nice racquet on returns."
Kana agreed. "The racquet felt solid on returns. It was easy to quickly react on the big serves, and it was easy to maneuver when I had more time."
Struggling just a bit was Tiffani. "Like the mid Black Ace, I couldn't get it around in time on big serves. In general, though, it had nice plow through, and it always felt stable. When I was getting a solid connection the ball went deep into the court with decent accuracy."
Overall - Score: 79
Similar to its midsize counterpart, the Black Ace 98 impressed us with its comfortable feel. Our playtesters noticed more power and spin from the Black Ace 98 when compared to the midsize. This increased forgiveness resulted in plenty of comfort and easier access to depth and pace, especially from the baseline, for most of our testers. Still, the feel and stability were standout features, making it a must demo for players looking for an arm-friendly, midplus player's frame.

Likes
Danny "I liked serving and returning the most with the Black Ace 98."
Chris "I liked the solid and comfortable feel. I also found some impressive bite and spin on slice shots. Good feel, too."
Kana "I've recently been having arm/shoulder problems so this racquet felt great because of its forgiving feel. It felt solid and stable all around, especially at the net."
Tiffani "The feel was great, and the power level was surprising."
Troy "The specs of this racquet are almost identical to my KBlade 98. This is one of my favorite playtest racquets."
Dislikes
Danny "I didn't like my inaccurate volleys and groundstrokes with the larger 98 version."
Chris "Not much for me really, as I thought this was a solid racquet. I always knew where I was with it."
Kana "There isn't much I disliked about the racquet. In comparison, I prefer the Black Ace 93 because I feel a little more solid in all areas of the court with it."
Tiffani "It's not quite maneuverable enough for me to use in match play. I'd want it to be a little more head light."
Troy "I would have liked the racquet to be a bit stiffer, giving it some more pop, which I feel is beneficial to my baseline playing style."
Technical Specifications

Length
27 inches
69 centimeters
Head Size
98 square inches
632 square centimeters
Weight
11.7 ounces
332 grams
Balance Point
13 inches
33 centimeters
4pts Head Light
Construction
19mm Straight Beam
Composition
Graphite
String Pattern
18 Mains / 20 Crosses

Babolat RDC Ratings

Score
Grade
Flex Rating
58
Range: 0-100
Swing Weight
331
Range: 200-400
Prokennex Black Ace 98 Scores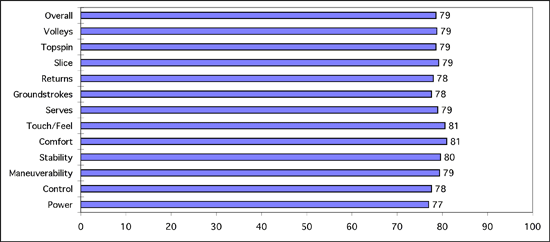 (Scores are determined by averaging individual play test scores)
Chris' Scores
Power
7.7
Serves
7.9
Control
7.7
Groundstrokes
7.8
Maneuverability
7.8
Returns
8
Stability
7.8
Slice
7.8
Comfort
7.9
Topspin
7.8
Touch/Feel
8
Volleys
7.8
Overall
7.8
Danny's Scores
Power
7.9
Serves
8
Control
7.6
Groundstrokes
7.8
Maneuverability
7.9
Returns
8
Stability
8
Slice
7.8
Comfort
8.1
Topspin
7.9
Touch/Feel
7.8
Volleys
7.8
Overall
7.7
Kana's Scores
Power
7.5
Serves
8
Control
7.5
Groundstrokes
7.5
Maneuverability
7.5
Returns
7.5
Stability
8
Slice
8
Comfort
8
Topspin
8
Touch/Feel
8
Volleys
8
Overall
7.8
Tiffani's Scores
Power
7.5
Serves
7.5
Control
8
Groundstrokes
7.8
Maneuverability
7.5
Returns
7.4
Stability
8
Slice
7.6
Comfort
8.2
Topspin
7.6
Touch/Feel
8.2
Volleys
7.8
Overall
8
Troy's Scores
Power
7.9
Serves
8.3
Control
8
Groundstrokes
7.9
Maneuverability
9
Returns
8.1
Stability
8
Slice
8
Comfort
8.3
Topspin
8
Touch/Feel
8.3
Volleys
8
Overall
8
Playtester Profiles
Chris: 5.0 All court player currently using the Volkl Power Bridge 10 Mid. Chris uses a full-western forehand grip, has a fast swing style and hits a one-handed backhand.
Danny: Open baseline player currently using a Volkl Power Bridge 10 Mid. Danny uses a semi-western forehand grip, a two-handed backhand and has a long swing style.
Kana: 5.0 baseliner with a western forehand and two-handed backhand. Currently using the Yonex RQ iS 1 Tour Light.
Tiffani: 4.0 level baseliner with a semiwestern grip on the forehand and hits a two-handed backhand. Currently playing with the Yonex RDS 003(08 version).
Troy: 4.5 left handed player, hits a two-handed backhand and goes western on his forehand. He is a baseliner and hits with a lot of spin. Currently Playing with the Dunlop M-Fil 300

Review date: October 2009. If you found this review interesting or have further questions or comments please contact us.
All content copyright 2009 Tennis Warehouse.