ProKennex Black Ace 93 Review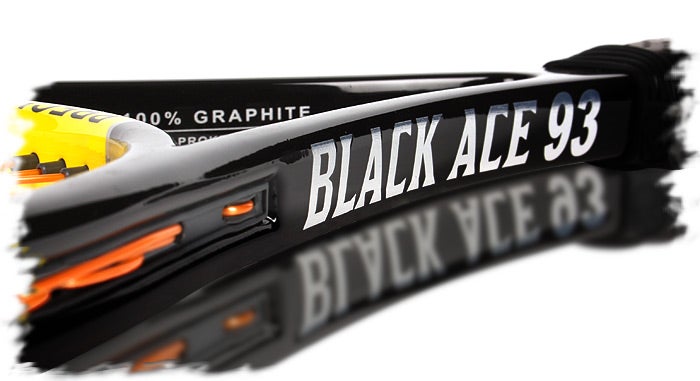 Thin straight beam, midsize head, head light balance, flexible, ProKennex.
When looking at those descriptors, one might think, "Hey, they're talking about the Redondo." Only thing is, we're not. This review is for the Black Ace 93. It's a lot like ProKennex's Type C Redondo, but the Black Ace 93 comes in a lighter package.
The Redondo weighs in at 12.1 ounces strung, while the Black Ace 93 tips the scales at 11.6 ounces strung. We sent our team out to see if this new ProKennex, with its lighter, faster weight and tuxedo paint job, was as sleek and suave as its specs and appearance suggest.
Groundstrokes - Score: 81
The Black Ace 93 offered loads of control and feel for our playtesters from the backcourt. Danny was using the racquet to his full advantage. "My baseline game with the Black Ace 93 was top notch. The 93 square inch head size was a better fit for my game compared to the Black Ace 98. My variety and accuracy were noticeably better with the 93. My short angles, lobs and depth were just as good as with any other racquet that I have tested this year. I might have liked a bit more weight to the racquet for better plow through. Besides that, the Black Ace 93 was one of my favorite playtests of the year, and I would recommend this racquet for players looking for a flexible, solid feel."
For Chris, the Black Ace 93 racquet was good, not great. "I found this to be a very control-oriented racquet from the baseline, but an easy one to use considering it is a mid. I could easily whip it around, yet there was ample stability. The weight and balance were ok and the racquet felt good off both wings, but I actually prefer the more solid and stable feel of the Redondo Mid. I was able to hit with decent pace and spin with the Black Ace 93 both when going for topspin and slice. I wasn't blown away by the performance of this racquet, but I never felt let down by it either. I felt well connected to my shots and was playing with a decent level of confidence."
Kana stressed the racquet's comfort. "The Black Ace 93 felt extremely solid off the baseline for me. The feel was amazing and I got plenty of pop. My slices stayed low to the ground and my angles were sharp. The racquet played best when taking a full swing, and I can't emphasize enough the comfortable feel of taking big cuts at shots."
It was all about control for Troy. "The control was what made this racquet special. This racquet caters to players who generate everything on their own and aren't looking for any additional power. When the ball was in my wheelhouse and I was able to take a full swing I could generate a very heavy ball, especially on my two-handed backhand. The slice backhand was one of my favorite shots with this stick, and I could easily hit it deep into the court, finding the racquet to really dig into the ball. If I was able to consistently generate faster swing speeds from the baseline, this would be a stick that would take my baseline control to another level."
The smaller headsize wasn't a problem for Tiffani. "This was such a pleasant surprise for me. Usually I find the midsize racquets too demanding for me, but I really enjoyed the Black Ace 93 from the baseline. I felt that for the most part I was getting the racquet around well, which was surprising considering how much heavier this racquet is than the racquets I usually hit with. The mass of the racquet was doing its part, giving my shots that added oomph coming off the court. The only difficulty I had, which was the same for the 98, was that I couldn't easily flick at the shots that were deep on the baseline. Overall, though, the Black Ace 93 was just solid, with outstanding feel."
Volleys - Score: 80
Our playtesters were again impressed with the feel at net. Troy let the Black Ace 93 do all the work. "The stability of this stick at net was really impressive. Just getting the racquet behind the ball made volleys easier. Precision was even better than the Black Ace 98, and placement of shots was in full control of the user. To quote Granville, it really possessed that 'scalpel-like' feel. I really had to be on top of my game to consistently find the sweetspot, but when I did, there was a big payoff."
Kana was pleased with the ease of use. "I've played with 93 sq. inch head size racquets and haven't felt as confident at the net as I do with a larger head size. With the Black Ace 93 I felt confident at the net, and I was able to execute volleys cleanly and effectively."
The power level pleased Tiffani. "It felt oh so solid at net for me, and I attribute that to the weight. I generally swing racquets around the 11-ounce range, so the stick I could get from the Black Ace 93 really stood out. Maneuverability was good, and I found myself feeling surprisingly confident with this racquet at net."
Danny was also happy with the racquet. "Not only did I love the Black Ace 93 from the baseline, but my net game with this model was exceptional. When it came to short angle volleys or volleys that needed more stick to them, this wand would work some magic. However, I will point out that most of my volleys had a natural flatness to them."
Chris highlighted the maneuverability and control of the Black Ace 93. "The level of touch and feel impressed me the most at net. I was finding my targets and volleying with consistency. I could get the racquet around quickly and was finding a nice fast feel in reaction situations. I was able to punch volleys with depth and pace with solid technique rather than getting help from the racquet. In other words, I got out what I put in, which is never really a bad thing when it comes to control-oriented racquets."
Serves - Score: 77
The Black Ace 93 received mixed reviews from our team on serve. Kana was impressed with the racquet's performance. "This racquet felt extremely comfortable on serves. I got a crisp pop off the stringbed, and it offered great spin generation."
Chris noted that nothing came for free with the Black Ace 93. "My serving consistency was good with this racquet. The amount of pace and spin I was generating was adequate, but I was not blowing the ball by opponents. Again, I felt connected to the racquet and felt that I got out what I put in."
Danny also found good consistency. "My accuracy and consistency were the most noticeable features when serving with the Black Ace 93. My variety with spins and placement in either court was great."
Troy was looking for his trademark spin. "This is where I felt most uncomfortable with this racquet. I couldn't generate the power or spin that I typically have on my serve. No matter how hard I tried to go for a big first serve, I couldn't generate much pop. I typically don't hit a very powerful serve, but slice and kick are what help me out. I had trouble getting the movement on my serve that typically makes it a weapon. I felt as though no matter what I tried I couldn't get the most out of my abilities when serving. I could see how someone who is taller, or has a longer wingspan, could get some good control out of this stick, but not me."
Tiffani didn't mind losing some spin on her serve. "It was another pleasant surprise for me in this category. This spec is definitely not something I would think fits my game on serve, but I enjoyed my service games with the 93. I wasn't really able to impart much spin, perhaps because I'm not used to the extra weight, but that same mass meant my flat serves had a lot more weight behind them."
Serve Returns - Score: 77

Control again was the standout feature of this racquet. The Black Ace 93 helped Chris immediately go on the offensive. "One of my favorite shots with this racquet was returning serve. I enjoyed taking the pace of the incoming serve and turning it around, with lots of control and feel. I was able to be very aggressive on returns and take a good crack at the ball without over-hitting. Again, not quite as solid as the Redondo Mid, but more maneuverable with just as much feel."
Troy struggled to find his backhand return. "I felt most comfortable returning with my forehand because I was able to get some depth. On backhand returns the racquet felt very stable, but I wasn't able to get as much depth when hitting my two-hander, so I often resorted to slicing the ball back. Once again the control I had was uncanny, allowing me to find the corners of the court on my returns. I had to focus on keeping my eyes on the ball to make sure I found the sweetspot, and I felt like it was too low powered to consistently return the ball deep."
Needing to fine-tune her return game with the Black Ace 93 was Tiffani. "I struggled here more than on groundstrokes. It was a little too much for me to get around in time to return the big serves because my technique needs some fine-tuning. When I properly shortened up my back swing I really loved how I could hit a deep return without much effort. I got plenty of control when taking a decent whack at sitters."
Kana loved the power. "I could easily maneuver the racquet to put my returns where I wanted. Power wasn't sacrificed on the faster serves, as I could use the racquet's mass behind my shots even with a short swing."
Loving the racquet on return was Danny. "Again, the 93 version was my favorite stick when returning. The Black Ace 93 was the best for serve returns of all the playtests I've done this year. I had great success when blocking returns from the big servers and also when forced to take the ball on the rise for high kicking second serves."
Overall - Score: 81
The Black Ace 93 was a surprisingly forgiving player's racquet for our testers. As with most player's racquets, this midsize offered loads of control without offering up too much free power. Where the Black Ace 93 excelled was in the feel and comfort departments. The racquet also proved to be very comfortable, something that seems to be a hallmark of ProKennex racquets. All in all, the midsize Black Ace lived up to the player's frame standard and proved to be a bit more user friendly than the Redondo Mid.
Likes
Danny "I liked everything about the Black Ace 93. From the baseline to the net, offense to defense, this racquet gets two thumbs up for me."
Chris "I liked the consistent response and I enjoyed the feel and control."
Kana "The comfort of the racquet is the first thing I noticed. I love the crisp pop from the racquet, and what surprised me is how comfortable I was at the net with it."
Troy "Precision was this racquet's best attribute. For me, the Black Ace 93 is comparable to the Prestige mid and the KBlade Tour, but with a softer feel."
Tiffani "I felt like I could slice my opponent to death, and the feel was superb."
Dislikes
Danny "If I had to choose a dislike, I would probably want about a half ounce increase in weight."
Chris "I could have done with just a tad more punch and weight off the stringbed. Perhaps a little weight in the head or stringing this one down would get me there, but even as tested it was a very enjoyable racquet."
Kana "There are no negatives here."
Troy "Just not enough power for me at the baseline and on serve."
Tiffani "I had some trouble with the maneuverability on returns and quick pick-ups off the baseline."
Technical Specifications

Length
27 inches
69 centimeters
Head Size
93 square inches
600 square centimeters
Weight
11.6 ounces
329 grams
Balance Point
12.9 inches
33 centimeters
4.8pts Head Light
Construction
19mm Straight Beam
Composition
Graphite
String Pattern
18 Mains / 20 Crosses

Babolat RDC Ratings

Score
Grade
Flex Rating
58
Range: 0-100
Swing Weight
331
Range: 200-400
Prokennex Black Ace 93 Scores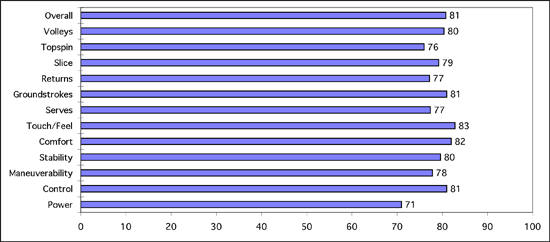 (Scores are determined by averaging individual play test scores)
Chris' scores
Power
7.3
Serves
7.8
Control
7.8
Groundstrokes
8.2
Maneuverability
7.8
Returns
7.8
Stability
7.7
Slice
7.8
Comfort
7.7
Topspin
7.8
Touch/Feel
8
Volleys
7.8
Overall
7.8
Danny's Scores
Power
7.7
Serves
7.9
Control
8.1
Groundstrokes
8.2
Maneuverability
8
Returns
8.2
Stability
8.1
Slice
7.8
Comfort
8.3
Topspin
7.7
Touch/Feel
8.4
Volleys
8.3
Overall
8.3
Kana's Scores
Power
7
Serves
8
Control
8
Groundstrokes
8
Maneuverability
7.8
Returns
8
Stability
8
Slice
8
Comfort
8
Topspin
7.5
Touch/Feel
8.5
Volleys
8
Overall
8
Tiffani's Scores
Power
7
Serves
7.5
Control
8.3
Groundstrokes
7.8
Maneuverability
7.3
Returns
7.3
Stability
8
Slice
8
Comfort
8.5
Topspin
7.5
Touch/Feel
8.5
Volleys
7.8
Overall
8
Troy's Scores
Power
6.5
Serves
7.5
Control
8.3
Groundstrokes
8.3
Maneuverability
8
Returns
7.3
Stability
8
Slice
8
Comfort
8.5
Topspin
7.5
Touch/Feel
8
Volleys
8.3
Overall
8.3
Playtester Profiles
Chris: 5.0 All court player currently using the Volkl Power Bridge 10 Mid. Chris uses a full-western forehand grip, has a fast swing style and hits a one-handed backhand.
Danny: Open baseline player currently using a Volkl Power Bridge 10 Mid. Danny uses a semi-western forehand grip, a two-handed backhand and has a long swing style.
Kana: 5.0 baseliner with a western forehand and two-handed backhand. Currently using the Yonex RQ iS 1 Tour Light.
Tiffani: 4.0 level baseliner with a semiwestern grip on the forehand and hits a two-handed backhand. Currently playing with the Yonex RDS 003(08 version).
Troy: 4.5 left handed player, hits a two-handed backhand and goes western on his forehand. He is a baseliner and hits with a lot of spin. Currently Playing with the Dunlop M-Fil 300

Review date: October 2009. If you found this review interesting or have further questions or comments please contact us.
All content copyright 2009 Tennis Warehouse.