Prince EXO3 White Racquet Review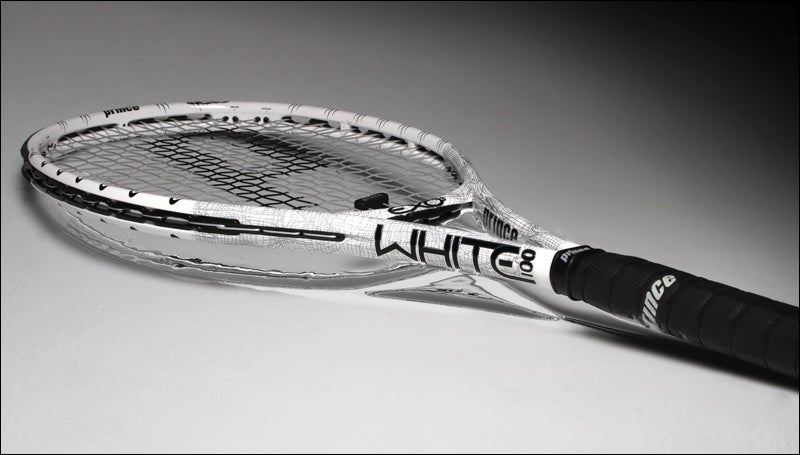 The White series of racquets from Prince has garnered a strong following from club players all the way up to the professional ranks. Perhaps best known as the racquet of choice for WTA touring Pro and former World No. 1, Maria Sharapova, the White racquets have always offered a solid blend of power, maneuverability, comfort and control.
Since its inception, the White has always been available in several versions. With O3 technology, Prince offered the O3 White and the lighter O3 Sharapova White. The evolution into Speedport technology saw the addition of a heavier racquet with a tighter 18x20 string pattern, the Speedport Pro White.
Now, Prince has added its EXO3 technology to the White series. They've also cleaned house and cut the line down to just one model, the EXO3 White.
Not only does the Prince EXO3 White get treated to Prince's Energy Channel and Energy Bridge construction (designed to offer a bigger sweetspot, provide more spin and boost ball control), the EXO3 White is actually the first White to live up to its name. Yep, in a truly pioneering move, Prince has actually painted the racquet white.
Perhaps the most shocking occurrence, though, is Sharapova's move over to the EXO3 Black. Was her switch away from the White series premature? We think so. Read on to see why she may be missing out on the best version of the White yet.
Groundstrokes - Score: 78
The EXO3 White proved to be impressive on groundstrokes. Enjoying the racquet was Tiffani. She said, "The Prince EXO3 White was a fun hit off the ground. It felt surprisingly stable off both wings and offered me some free power. I say surprising stability because I felt differently about the 03 Speedport White, which felt more susceptible to flutter. The EXO3 version felt more solid at impact. I'm not a huge spin player, but I found slice easier to achieve than expected. I usually favor dense string patterns and heavier racquets for cutting slice backhands, but the EXO3 White did a good job even though it didn't have as much weight behind it as a heavier stick. As with the other EXO3s I've hit, this had a muted feel that's a bit much for me. Overall, however, I was impressed."
Chris found some unexpected control. He said, "I was surprised by the response from this racquet off the ground. I expected it to offer a lot of power, however, I was happy to find the power level to max out on aggressive swings. The racquet lacked the mass to produce too much power on fast swings, which was a good thing for me. I was able to swing aggressively and not worry about the ball sailing long on me. On more compact swings the power level enabled me to find easy depth, which was useful when blocking the ball back or when looking to float the ball deep with slice. This was my favorite version of the White off the ground by a long shot."
"I found I was able to generate a lot of spin with this racquet," said Jason, who was impressed with the EXO3 White. "I could really feel the stringbed deform and pocket the ball at impact when I was hitting my topspin shots. Spin was just as impressive on slices. I was pleasantly surprised at how maneuverable it was. It was great on shots hit at my feet, as I was able to quickly put the racquet on the ball and get it back in play. What had me adjusting and shortening my stroke was the power. This stick was much more powerful than what I'm used to, so I had to shorten up my swings to get my shots in play."
Kana felt more comfortable off the backhand wing with the EXO3 White. She said, "When it came to my forehands, I felt a bit sporadic on my control. My shots would consistently drop around the service line or end up loopier than usual. I feel more confident when my forehand shots are consistently deep, but I couldn't produce that depth with this racquet. When it came to my backhands, I was very comfortable. The faster I swung the better my shots became, which was great when executing a put-away. My backhands were consistently faster and stayed extremely low to the ground. It became my favorite shot with this racquet. Overall, the playability was good on groundstrokes, but the feel was a little too muted for my taste. I would have just liked more control on my forehand, as it is usually my stronger shot."
Volleys - Score: 77
At net the EXO White proved to be very maneuverable and offered some nice pop. Perhaps the most impressed was Jason, who said, "The mobility made this racquet quite an asset on my volleys. I liked how I was able to react to each volley and the racquet would be right there with me. There wasn't much lag time. I felt the sweetspot was generous, so even shots I hit near the edge had decent pace and spin."
Jason was not the only baseliner having success at net with the EXO3 White. "This was fairly easy for me to use at net," said Tiffani. "As a baseliner, I tend to lean on a racquet to help me at net, instead of me fully taking control like I do from the back court. The EXO3 White was easy to get into position and offered the pop I needed to get the ball deep into the court. I had better feel with this than with another EXO3 racquet I tested, the Black, and was able to execute some touch volleys."
Finding more punch than touch was Kana. She said, "With my volleys I specifically love a crisp and forgiving feel to produce the untouchable touch shot. I could produce a nice touch shot with this racquet, but I didn't feel as solid on executing punch volleys. It could be that the muted feel of the racquet made touch shots feel forgiving, but my punch volleys felt mushy and my shots seemed to sit up too high."
"This racquet felt very maneuverable at net," said Chris. "I was able to quickly and easily get it into position. There was a nice crispness to the response when strung with a co-poly. I used Topspin Cyberflash for the majority of the review and I was pleased with the control, feel and level of comfort that this string offered in this racquet."
Serves - Score: 77
Our team continued to find impressive spin from the EXO3 White when it came to serving. A combination of spin and accuracy made it a solid choice for Chris when serving in doubles. He said, "I enjoyed some nice spin production on serve. When going for fast paced serves I exceeded the mass of the racquet and found myself wanting for more power. Still, I was serving consistently and with enough pace to be effective. I was very pleased with this racquet during doubles, as I was able to move the ball around the box with spin and set my team up well for the first volley."
"By taking a little off my normal serving pace, I felt I could be very consistent with my serve," said Jason. "It was just so easy to swing. Because it was lacking the mass that I'm used to, I didn't feel I could really crack my flat serves. Again, I was able to generate a decent amount of spin with the open string pattern."
Also finding good spin on serve with the racquet was Kana, saying, "With my height, I have to focus on moving up into the serve or it can easily drop into the net or fly out flat. The weight of this racquet allowed me to maneuver it easier and faster up toward the ball. At the top of the serve I was able to snap it more to create more spin, as this racquet was very spin-friendly. I found this feature most beneficial on my second serve. If I wanted a flat serve, I noticed I could whip it to produce a flatter, lower serve."
Serving was an up and down affair for Tiffani. She said, "I had some good days with this and some bad days as well. Let's focus on the positives first. When I was on, that free power I found from the baseline was helping me zing in some flat first serves. I could also get some slice serves moving pretty well. However, when it came to a bad day, I had to remind myself to snap my wrist or I wouldn't get the racquet around quickly enough. I'll boil this one down to user error on the bad days."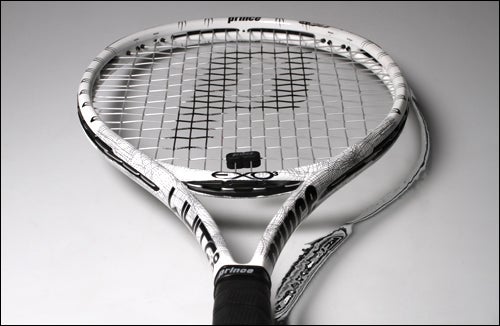 Serve Returns - Score: 78
The combination of spin, maneuverability and power made the EXO3 White a dynamite performer on returns.
"Returns were probably my favorite shot to hit with this racquet," said Jason. "The combination of power, spin, and maneuverability really allowed me to be aggressive with my returns. I especially liked hitting returns cross-court on the deuce side. I felt like I could produce some nice angles if I was able to take the ball early enough. However, there was a serve that gave me trouble, and that was the high kicker. I just couldn't do anything with the ball. I couldn't get any leverage, and there was not enough mass to really attack the ball when it was high to my backhand."
Chris was in agreement, saying, "The power level and maneuverable response made this a good racquet for me on returns. I could block the ball back with ease, as well as take a good cut at the ball without over-hitting. I liked the spin I was getting and was able to drop the ball low and angled in doubles play."
Looking for more mass from the racquet on returns was Kana, who said, "I felt the racquet was a little too light to consistently hit back a solid return when facing hard hitters. "They seemed to float up, which put me in a defensive position, more so on my forehand side. I had to work to get them low and powerful. I was more confident on my backhand side because I was able to produce more power with two hands."
"Returning was a standout feature for me," said Tiffani who was also very impressed with the EXO3 White. "I could easily get the racquet around and take returns early. There was enough mass in the head to hit an effective offensive return. I found my favorite tactic to be the return to the server's feet. The EXO3 White provided enough pace to back the server off the baseline, and I often got the advantage right off the bat."
Overall - Score: 78
The EXO3 White offered enough spin and control to impress all of our testers. From the baseline and on serve, the spin-friendly response allowed our testers to hit consistently and with variety. Probably the standout feature of the EXO3 White is its maneuverability. The fast feel of this racquet came to fruition at net and on returns -- getting rave reviews from our testers in both categories. The racquet is so maneuverable that some stronger players may prefer some additional mass. However, that is a quick and easy fix with some basic weight customization. All in all, we feel this is the most impressive White offering to come from the Prince racquet stable so far, and it's well worth adding to your demo list.
Likes
Chris - "I liked the mobility, spin and control. I also liked the looks of the racquet. I think this is a much better looking stick than its White predecessors."
Jason - "The maneuverability and access to spin."
Kana - "My backhand was my favorite shot with this racquet, because I could produce the most aggressive shot. Another favorite was the forehand slice, which had a very forgiving feel to it."
Tiffani - "The stability of the EXO3 White at impact was impressive, and the sweetspot felt huge."
Dislikes
Chris - "A tad light for me, but that's an easy fix. Nothing else really, as this was a fun playtest for me."
Jason - "I would've liked to have another ounce added to the racquet."
Kana - "I was sporadic with my control, especially on my forehand side. There were many times where I wanted to hit a flat forehand, but ended up hitting loopier or short. I was not able to produce the consistent power I usually find off my forehand."
Tiffani - "I think the only dislike I have is that the feel is a little too muted for me."
Technical Specifications

Length
27 inches
69 centimeters
Head Size
100 square inches
645 square centimeters
Weight
10.9 ounces
309 grams
Balance Point
13.375 inches
34 centimeters
1pt Head Light
Construction
23mm/25mm/23mm Dual Tapered Beam
Composition
Graphite
String Pattern
16 Mains / 19 Crosses

Babolat RDC Ratings

Score
Grade
Flex Rating
67
Range: 0-100
Swing Weight
329
Range: 200-400
Prince EXO3 White Scores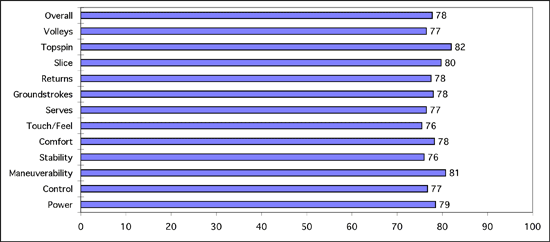 (Scores are determined by averaging individual play test scores)
Chris' Scores
Power
7.6
Serves
7.5
Control
7.8
Groundstrokes
7.8
Maneuverability
8.2
Returns
7.9
Stability
7.4
Slice
7.9
Comfort
7.8
Topspin
8.3
Touch/Feel
7.5
Volleys
7.8
Overall
7.7
Kana's Scores
Power
7.8
Serves
8
Control
7.5
Groundstrokes
7.8
Maneuverability
8
Returns
7
Stability
7.8
Slice
8.2
Comfort
7.8
Topspin
8.5
Touch/Feel
7.7
Volleys
7.5
Overall
7.8
Jason's Scores
Power
8
Serves
7.7
Control
7.9
Groundstrokes
7.7
Maneuverability
8.3
Returns
8.1
Stability
7.5
Slice
8.2
Comfort
8
Topspin
8.2
Touch/Feel
7.8
Volleys
7.8
Overall
7.8
Tiffani's Scores
Power
8
Serves
7.4
Control
7.5
Groundstrokes
7.9
Maneuverability
7.8
Returns
8
Stability
7.7
Slice
7.6
Comfort
7.7
Topspin
7.8
Touch/Feel
7.2
Volleys
7.5
Overall
7.8
Playtester Profiles
Chris: 5.0 All court player currently using the Volkl Power Bridge 10 Mid. Chris uses a full-western forehand grip, has a fast swing style and hits a one-handed backhand.
Kana: Open level baseliner with a western forehand and two-handed backhand. Currently using the Yonex RQis 1 Tour Light.
Jason: 4.0 baseliner with a semi-western forehand and one handed backhand. Currently using a customized Volkl Power Bridge 9.
Tiffani: 4.0 level baseliner with a semiwestern grip on the forehand and hits a two-handed backhand. Currently playing with the Yonex RDS 003 (08 version).

Review date: December 2009. If you found this review interesting or have further questions or comments please contact us.
All content copyright 2009 Tennis Warehouse.