Prince EXO3 Black Racquet Review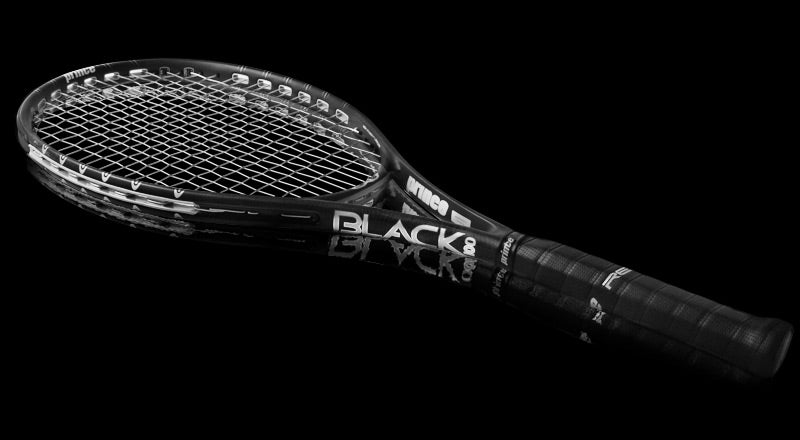 On the heels of the successful O3 Speedport Black and the successful introduction of EXO3 technology, anticipation of the EXO3 Black can finally come to rest, as Prince is "Back in Black." EXO3 Black, that is.
With essentially the same specs as the Speedport Black, the EXO3 Black echoes its predecessor's versatility on paper -- an effective stick from all areas of the court. From power and spin on serves to penetrating groundstroke to put-away punch at net, the EXO3 Black adds an all-new Energy Channel technology to its already proven Speedport predecessor. Prince claims its new Energy Channel technology directs more energy back into the ball upon rebound, creating more power with less effort.
The EXO3 Black playtest was highly anticipated by our staff, so we had them take it out for a three-week test drive. Read on to see what they thought.
Groundstrokes - Score: 78
There was plenty of power to be found in the EXO3 Black when hitting from the baseline.
"Groundstrokes are where I noticed the most improvement over the 03 Speedport Black," said Sean, taking note of the large sweetspot. "Though still a bit inconsistent, I enjoyed this racquet for its solid feel at impact, which I felt wasn't the case with the 03 Speedport Black. Shots that I hit off-center still had great feel and power. Compared to similar racquets, I was surprised that I didn't need to crush the ball to find the power I was seeking. The racquet provided a ton of power and I actually had to adjust my swing to let the racquet do some of the work."
Jackson was happy with the comfort he found, saying, "I liked the EXO3 Black better than the 03 Speedport Black, although I still experienced some of the same downfalls. The feel of the racquet seemed dampened due to a combination of the stiffness and free-movement string design. Both the Speedport and EXO3 technologies definitely reduced vibrations from off-center shots, which was nice for my arm. I was also able to get some really good pace when I did hit the sweetspot. Flattening out the racquet to smack sitters became way too easy. I'm sure I frustrated my hitting partners when I put a sitter away after a few shots just because it felt so good. I wasn't as impressed with this stick on slice shots, though. Slice backhands just didn't really feel good, and the ball also fell short."
Enjoying the effortless power of the racquet was Chris. He said, "I was impressed by the easy power I found off the ground. I was able to hit with depth and pace, using little effort. I was also able to completely relax and use the powerful response, which allowed me to maneuver the ball around the court and play steady tennis. That same power also came in handy when I was in a defensive position. On the flip side, I found very little in the way of feel. I normally use drop shots and angles frequently when playing, and I was having a really tough time finding my depth and placement. Basically, my touch felt very heavy handed, which is unusual for me."
Chris was not the only one left looking for feel. "Though the power in this stick was evident from the first hit, it took awhile to get used to the feel," said Spencer. "It offered a large sweetspot, but I felt the ball seemed to get a little lost in the stringbed. In match situations, I found myself often hitting tentatively from the baseline to avoid hitting balls deep. 'Hitting out' was always a gamble for me. On backhands, I was more consistent coming over the top of the ball. The results when slicing the ball were very inconsistent. I couldn't seem to get a feel for that particular shot, which was unfortunate as I usually hit about half of my backhands with slice."
Tiffani was in agreement, saying, "Off the ground, the first thing I noticed was the power. I could either flatten out my shots, which is typical of my playing style, or easily add some topspin. I felt a little less comfortable with slice. The ball didn't float on me, but I didn't feel that knifing sensation. Speaking of feel, the muted feel from the EXO3 Black was difficult to get used to. I didn't mind it when hitting through the ball, but I struggled when it came to touch shots."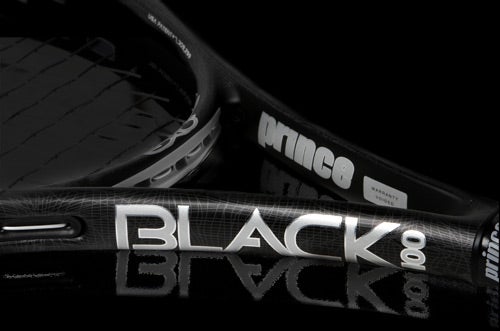 Volleys - Score: 79
The EXO3 Black's large sweetspot and ample power provided the playtesters with plenty of punch when at net.
"Volleys came off the racquet very crisply," said Jackson, enjoying the solid feel when volleying. "The stringbed provided ample pocketing and the stiffness added the pop to hit ball with authority. The maneuverability probably wasn't as good as I would have liked if I spent a lot of time at the net, but for an all-court game this stick got the job done."
Chris enjoyed some solid versatility at net, saying, "I found better feel for the ball at net. I was able to punch volleys away with pace and authority, and hit soft drop volleys. This racquet does not offer much in the way of a buttery response, but it is crisp and offered me point-and-shoot accuracy."
"I liked the combination of headsize and maneuverability when at net," said Spencer, who was happy with the put-away power. "I was able to get to a lot of balls and get good punch on them. Sitters were great for put-away shots, though I did struggle if trying to hit a delicate volley. There wasn't much feel or consistency when the shot required more placement and accuracy."
The maneuverability and pop stood out for Tiffani. She said, "As a baseliner, I was pleasantly surprised with my comfort level using the EXO3 Black at net. I played some doubles with the racquet and felt the mobility was great. I had no problems staying quick with back-and-forths at net, and the extra pop was helpful in putting the ball away."
Sean was thrilled with the forgiving stringbed and depth of his volleys. "As with the groundstrokes, my volleys felt really solid. I was able to find great depth on most balls with the power this racquet provided. Even off-center shots found their way to my intended target. I was less impressed with the touch and feel on finesse shots. However, connecting with a firm volley offered great put-away potential."
Serves - Score: 80
Our testers found the EXO3 Black provided impressive power on serve. The consensus was a solid blend of power and control, with the open string pattern providing excellent spin.
"I thought the serve was one of the strongest areas for this racquet," said Spencer. "The combination of power and spin made it easy to be effective. Flat serves were easy to hit with velocity as the racquet moves through the air quickly. I also thought that the open string pattern offered nice bite on the ball for hitting kick serves."
Chris was happy with the solid results he found, saying, "I served very consistently with this racquet. Both pace and spin came in decent quantities. I felt very confident on my second serve and was able to go for a lot of pace and be aggressive with my targeting, without missing. On first serves I wasn't getting the weight and pace I get from my Volkl Power Bridge 10 Mid, but was enjoying the consistency of the EXO3 Black."
Taking advantage of the power on flat serves was Jackson, who said, "Serving was a breeze with this racquet. Once I got used to the increased swing-speed and matched the balance to my motion, every serve felt like time was slowing down. When hitting a flat serve I could really feel the ball sinking into the strings and rocketing out. Directing the ball to the corner or down the line was easy, too."
Tiffani felt the EXO3 Black helped her in both the power and spin categories. She said, "I've been working on smoothing out my serve lately, and the EXO3 Black helped me along. I could generate some decent racquet head speed, which provided some nice spin. Here again, I found the power level to be a nice addition."
Also finding the racquet to be very effective on serve was Sean. He said, "As with most racquets with open string patterns, I found the serve to be one of my favorite shots. Spin was easily generated, which provided some great confidence when hitting my second serves. I found that a serve and volley tactic, following a nice kick serve, proved especially effective with this stick."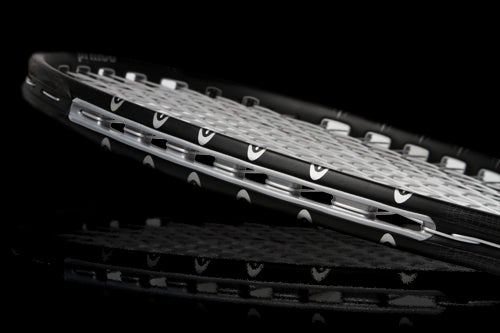 Serve Returns - Score: 80
Returning was a mixed bag, as some of our squad felt this racquet was versatile and aggressive when returning serve while others found a lack of control.
"The power, spin and maneuverability I found with the EXO3 Black made it a solid choice for me on returns," said Chris. "I was taking a good rip at the ball. I was able to hit solid returns, both with depth and on short angles with topspin. I had success both driving returns and dropping them low during doubles, as well as rolling returns deep during singles."
Looking for better maneuverability was Jackson. He said, "If a serve came into my strike zone I just started to prepare myself for the next point. The racquet seemed to just absorb the power and redirect it back across the net for a winner. Again, I found the maneuverability the only thorn in my side on this shot. If the ball jumped or if my preparation just wasn't quite there, then getting the racquet moving fast enough became more of a challenge."
"I felt that the power inconsistency really affected my ability to control my returns," said Sean. "I usually enjoy taking good cuts at returns when I have the chance, but most of my returns sailed long when I tried to be aggressive. I was forced to play more defensive shots on the return, which sometimes put me on my heels to start the point. After a few sessions I was able to find the range on my returns and became more consistent."
Tiffani agreed, saying, "I felt like I was getting the racquet around fairly well and was able to block back some of the bigger serves. However, this is the area where I struggled with control. I found that I was sending the ball long just a little too often, and I couldn't play an attacking return game."
Spencer preferred blocking back most serves to stay in the points. He said, "While I enjoyed the maneuverability when returning, my returns were a bit erratic. At times the balls I hit felt solid, but depending on where in the large sweetspot I hit, I couldn't tell if shots were sailing long or staying within the court. I felt myself holding back on most returns to ensure the ball would stay in play."
Overall - Score: 78
Our playtest team found the Prince EXO3 Black to offer plenty of power in a forgiving stringbed. The sweetspot proved generous, delivering plenty of pace and depth on off-center hits. Whether hitting groundstrokes, punching volleys or hitting serves, this stick offered impressive power. On the flip side, the combination of power with a very dampened response made touch shots harder to dial in. Comfort was very impressive and the response was plush with either a multifilament or a co-poly string installed. All in all, the Prince EXO3 Black proved to be effective from all areas of the court, making it a good choice for the power player in doubles as well as singles.
Likes
Chris "Both serves and returns were strong for me, making this a great doubles stick for me. I also found easy power from the baseline for singles play."
Spencer "The power and maneuverability."
Jackson "Power and pocketing in the sweetspot. What this stick lacked in feel it made it up for with my ability to really flatten out the ball or hit with heavy topspin. Stringing with poly amplified this point."
Tiffani "The racquet was easy to swing, and it was easy to generate topspin."
Sean "A solid feeling racquet that I really enjoyed hitting with. Spin and power were easy to come by, and with some improvements over the Speedport version, this racquet is definitely worth a try."
Dislikes
Chris "I needed more feel. Even with a soft multifilament string I felt a bit lost going for touch shots."
Spencer "The lack of feel."
Jackson "Again, the dampened feel really prevented me from liking it as much as I would expect from the specs."
Tiffani "The feel is too muted for me, and I was seeking a bit more control on returns."
Sean "I found that some of my groundstroke shots were inconsistent, and finding the right depth was a more difficult than I would have liked."
Technical Specifications

Length
27 inches
69 centimeters
Head Size
100 square inches
645 square centimeters
Weight
11.3 ounces
320 grams
Balance Point
13 inches
33 centimeters
4pts Head Light
Construction
22mm Straight Beam
Composition
Graphite
String Pattern
16 Mains / 19 Crosses

Babolat RDC Ratings

Score
Grade
Flex Rating
71
Range: 0-100
Swing Weight
328
Range: 200-400
Prince EXO3 Black Scores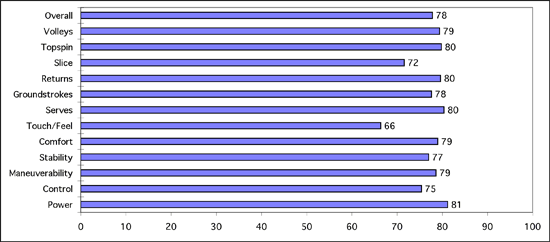 (Scores are determined by averaging individual play test scores)
Chris' Scores
Power
8.3
Serves
8
Control
7.7
Groundstrokes
7.9
Maneuverability
8
Returns
8.3
Stability
7.7
Slice
7.8
Comfort
8
Topspin
8.2
Touch/Feel
6
Volleys
7.8
Overall
7.7
Jackson's Scores
Power
8.3
Serves
8.2
Control
8.2
Groundstrokes
7.9
Maneuverability
7.7
Returns
8.3
Stability
7.5
Slice
6.8
Comfort
7.8
Topspin
8
Touch/Feel
6.5
Volleys
8.2
Overall
8.1
Sean's Scores
Power
8
Serves
8.2
Control
7.4
Groundstrokes
7.7
Maneuverability
7.8
Returns
7.9
Stability
8
Slice
8
Comfort
8.4
Topspin
7.9
Touch/Feel
7.5
Volleys
8.2
Overall
8
Spencer's Scores
Power
8.2
Serves
8.2
Control
7.2
Groundstrokes
7.7
Maneuverability
8
Returns
8
Stability
7.8
Slice
6.2
Comfort
7.6
Topspin
8
Touch/Feel
6.4
Volleys
7.7
Overall
7.6
Tiffani's Scores
Power
7.8
Serves
7.6
Control
7.2
Groundstrokes
7.6
Maneuverability
7.8
Returns
7.3
Stability
7.5
Slice
7
Comfort
7.7
Topspin
7.8
Touch/Feel
6.8
Volleys
7.8
Overall
7.5
Playtester Profiles
Chris: 5.0 All court player currently using the Volkl Power Bridge 10 Mid. Chris uses a full-western forehand grip, has a fast swing style and hits a one-handed backhand.
Jackson: 4.5 All court player currently using a Babolat Pure Drive Team. Jackson uses a semi-western forehand grip, and hits with a two-handed backhand.
Sean: 4.5 baseliner using the Babolat Aeropro Drive Cortex. Sean has a semi-western forehand, 1 handed backhand.
Spencer: 4.5 Baseline player currently using a Wilson K-Blade Tour. Spencer uses a semi-western forehand grip, and hits with a one-handed backhand.
Tiffani: 4.0 level baseliner with a semiwestern grip on the forehand and hits a two-handed backhand. Currently playing with the Yonex RDS 003 (08 version).

Review date: December 2009. If you found this review interesting or have further questions or comments please contact us.
All content copyright 2009 Tennis Warehouse.