Babolat Pure Control Tour+ Racquet Review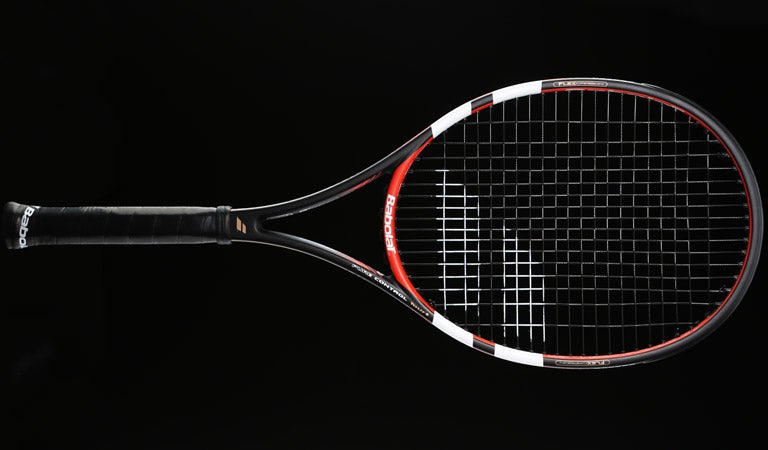 Babolat Pure Control Tour+ Scores
Power
90
Comfort
81
Touch/Feel
81
Serves
85
Groundstrokes
80
Returns
67
Slice
86
Topspin
85
Volleys
79
Overall
77
Upsides
Plow through
Power
Spin
Feel
Downsides
Extended length can feel sluggish
Summary
Because the new Pure Control Tour is one of our favorite recently reviewed racquets, we couldn't wait to hit with the extended length version, the Babolat Pure Control Tour+. We were rewarded with the same plush, comfortable feel that the standard length version offers, and the same excellent response that leaves you feeling connected to each ball as it leaves your strings. The added length provided some serious power and plow through, but it also created some maneuverability issues, and a couple of the playtesters found the Pure Control Tour+ cumbersome and difficult to swing. A one-handed backhand or an aggressive return of serve required extra focus to time just right. Despite the maneuverability issues, we found the Babolat Pure Control Tour+ to be one of the better extended length racquets on the market, and it should be a viable option for intermediate to advanced-level players.
Groundstrokes - Score: 80
The Pure Control Tour+ offered some really nice power and plow through for our playtesters, making it easy to be aggressive and effective with our groundstrokes. "I am now a convert to extra length frames!" Mark exclaimed. "Maybe it's an age thing, but I loved the extra power this Pure Control Tour+ afforded me. My slice backhand became one of my favorite shots almost immediately, and although I did have to choke up a bit on some shots, this racquet was amazing for me for any sort of groundstroke."
Chris benefited from the extra heft on some shots, but he found the racquet a bit difficult to maneuver on others. He explained, "I immediately noticed how much more racquet it felt like I had to swing compared to the standard length version. While I had to put more effort in, my efforts were rewarded with more power. I was hitting a very penetrating shot and found it pretty easy to get the ball away. What took more work was my preparation. I had to be cognizant of getting the racquet back a little earlier -- especially on my topspin backhand. I much preferred the response on my forehand and my backhand slice. I was better able to put the added length to work on those shots, whereas initially it felt like it was getting in the way on my topspin backhand. Once adjusted, I felt much better with this racquet, and I was actually playing some really good tennis with it toward the end of the test. I could generate a lot of spin, get lots of pace and play very aggressively."
Andy didn't have the same level of success that he had with the standard length version of this racquet. He offered comparisons, saying, "For as much as I liked the standard length version, I was surprised when I didn't like this Plus version nearly as much. It packs a serious punch and has much more power than the standard version (close to a Babolat Pure Drive or AeroPro Drive in power). However, it felt cumbersome, and I had a hard time controlling the direction and depth of my shots. On most shots I felt like I was just slugging away and hoping I'd generate enough spin to keep the ball in the court. There was a lot of power and a solid feel, but not enough control and maneuverability for me."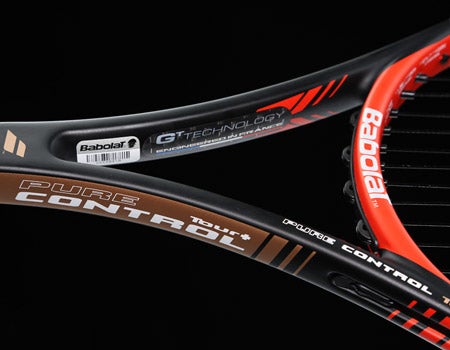 Volleys - Score: 79
The extra half-inch of length on the Pure Control Tour+ afforded our playtesters extra reach and pop on their volleys. Chris was in total command around the net. He raved, "I liked the power and punch I could give my volleys with this racquet. I also found ample feel on touch volleys. The added length felt much better at net, and I had no adjustment issues. I really enjoyed that added reach when I was at full stretch or picking up a low volley! The racquet felt very comfortable, and I felt very in control of the ball. I can't ask for much more than that!"
Mark was also covering the net exceptionally well. He said, "With the Pure Control Tour+ I could reach volleys that were previously none of my business. It was more maneuverable than I thought it was going to be and every bit as stable as I expected it to be."
On the other hand, the racquet didn't work out quite as well for Andy. He found it harder to get around, and he thought it lacked the same precise feel as the standard length version. He critiqued, "The Pure Control Tour+ felt difficult to maneuver at net and not quite as solid and plush as the standard length version. The heft made it easy to punch a volley back deep in the court, but as I found from the baseline, I had trouble controlling the depth and direction of my shots. This made going for a finesse volley a little more difficult."
Serves - Score: 85
Our playtesters were serving big with the Pure Control Tour+, and once again they benefited from the added length and heft. Andy got that little extra boost on his serve to help him win his service games more easily. He explained, "Serving was where I had the most success with this racquet. The added length gave me much more power and spin than normal, and I was able to hit down in the service box with better angles than normal. I also had enough control when serving, which I didn't have on other shots. Extended length racquets typically allow me to hit better serves than usual, and this one was no exception."
Chris was also getting good power, spin and control on his serves. He offered, "I enjoyed some added pace on my serves with this racquet. The level of spin I was getting was pretty solid, too. I wasn't getting the ball to curve and kick like I can with my Wilson Six.One 95S, but there was enough spin to get the job done. I hit some good slice serves and was able to stay on the gas without losing control."
Mark was able to serve effectively after a brief adjustment period. He said, "It did take some time to dial in the serve (still dialing it in), but I benefited from the extra length. The Pure Control Tour+ never felt any more unwieldy on my serve late in a match than any of the other racquet I play with."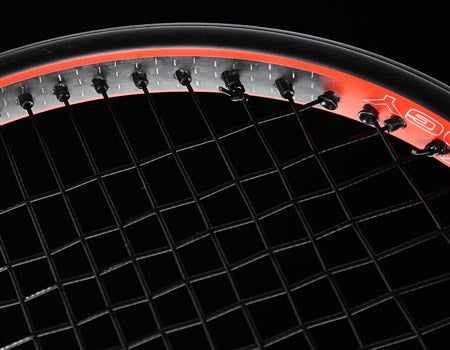 Serve Returns - Score: 67
Our playtest team had mixed feelings when it came to returning with the Pure Control Tour+. There was some added pace and easy depth, but there was also some issues with maneuverability. Chris was able to control his returns once he adjusted to the racquet. He explained, "I was happy hitting forehands and my slice backhand return felt great with this racquet. I had some maneuverability issues on my topspin backhand returns, and it took some time to adust. I got everything dialed in toward the end of the test, but it didn't feel as instantly natural as the Pure Control 95+, which just came around much faster and easier on my backhand. I returned pretty well once everything was firing on all cylinders. There was great access to pace, yet I also felt in control."
Returning serve was the one area where Mark struggled. He offered, "I was challenged a bit with the return of serve. The backhand slice return was very effective and reliable, but the forehand wing was where I had a bit of trouble maneuvering the racquet."
Andy just never got completely dialed in. He said, "The lack of maneuverability and control made this a difficult racquet for me to return with. I could definitely hit big, offensive returns, but only when I timed my swing just right and caught the ball out in front. I found myself being late a lot when I played against bigger servers, and I had trouble placing my return consistently. The Pure Control Tour+ was nice for blocking back chip returns or for reaching wide serves, but I just never got completely dialed in and comfortable with it."
Overall - Score: 77
Likes
Chris - "I liked the spin, control, power and plow through I got on my shots with the Pure Control Tour+. I also thought the racquet offered lots of comfort and a nice feel at contact."
Andy - "The Pure Control Tour+ packs a big punch, which was great for producing heavy groundstrokes and serves. It has plush, responsive feel as well."
Mark - "Although I don't normally lean toward extended length racquets, this would have to be my favorite of them all. Nice power and spin, but controllable, too."
Dislikes
Chris - "The added length took some adjustment. My timing was a little off, and this felt like a lot of racquet to get through contact when I was returning a ball that landed near my baseline with pace."
Andy - "Not enough control, and it was tough to maneuver."
Mark - "None."
Comparing it to other racquets they've used, our testers said:
Chris - "I found a similar level of power and spin from the Pure Control Tour+ as I did with the Prince Classic Graphite Longbody. Both feel great when I'm set up and taking a crack at the ball. However, I struggle to dig out shots landing near my baseline with both. Also, the added length was great when I had to stretch wide but tough when the ball got behind me."
Andy - "This thing packs a much bigger punch than the standard length version or the Pure Control 95+. It's almost more Babolat Pure Drive or Babolat AeroPro Drive-like in that regard. Its plush feel and power feels similar to the Volkl Organix 10 325g."
Mark - "I have to compare the Pure Control Tour+ with the Pure Control 95+, but I found it easier to generate pace, spin and depth with the Pure Control Tour+. I guess you have to throw in the Babolat Pure Drive Roddick Plus and the Babolat AeroPro Drive Plus, too, because there are not too many high quality player's frames with that extra half-inch of length. However, those two frames are much stiffer than the Pure Control Tour+."
Technical Specifications

Length
27.5 inches
70 centimeters
Head Size
98 square inches
632 square centimeters
Weight
12 ounces
340 grams
Balance Point
12.63 inches
32 centimeters
9pts Head Light
Construction
21.5mm / 21.5mm / 21.5mm
Composition
Graphite/Tungsten & Flex Carbon
String Pattern
16 mains / 20 crosses

Babolat RDC Ratings

Score

Grade

Flex Rating
61
Range: 0-100
Swing Weight
330
Range: 200-400
Scores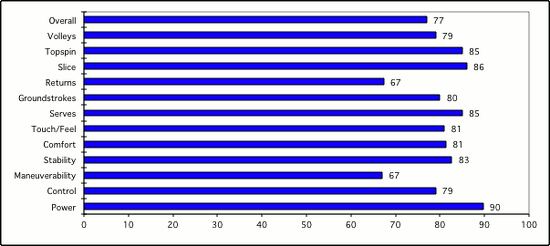 (Scores are determined by averaging individual play test scores)
Chris' Scores
Power
8.6
Serves
8.5
Control
8.2
Groundstrokes
8
Maneuverability
7.6
Returns
7.7
Stability
8.3
Slice
8.5
Comfort
8.4
Topspin
8.5
Touch/Feel
8.3
Volleys
8.2
Overall
8
Andy's Scores
Power
9.3
Serves
9
Control
6.5
Groundstrokes
7
Maneuverability
5
Returns
5
Stability
7.5
Slice
8.3
Comfort
7.5
Topspin
8
Touch/Feel
7
Volleys
6.5
Overall
6.6
Mark's Scores
Power
9
Serves
8
Control
9
Groundstrokes
9
Maneuverability
7.5
Returns
7.5
Stability
9
Slice
9
Comfort
8.5
Topspin
9
Touch/Feel
9
Volleys
9
Overall
8.5
Playtester Profiles
Chris: 5.0 all-court player currently using the Wilson Six.One 95S. Chris uses a full-western forehand grip, has a fast swing style and hits a one-handed backhand.
Andy: Open level all court player with a semi-western forehand grip and a two handed backhand. Andy currently using a Wilson Blade 98 18x20.
Mark: 5.0 lefty all-court player with a one-handed backhand. He currently plays with the Wilson Steam 99S.

Review date: May 2014. If you found this review interesting or have further questions or comments please contact us.
All content copyright 2014 Tennis Warehouse.