Prince Classic Graphite 100 Racquet Review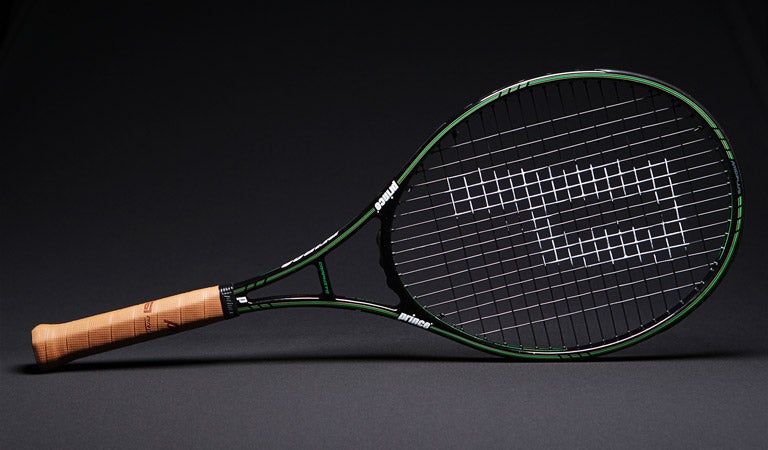 Prince Classic Graphite 100 Scores
Power
73
Comfort
84
Touch/Feel
84
Serves
81
Groundstrokes
84
Returns
83
Slice
80
Topspin
80
Volleys
81
Overall
82
Upsides
Classic feel
Control
Spin
Downsides
Nothing we could agree on
Summary
If the Prince Original Graphite Mid was a bit too small for you, and the Oversize was a tad too large, this 100 square inch Midplus could very well be just right. One of the most iconic frames of all time is back in a headsize that may be more appealing than ever. This "blast from the past" offers a responsive, classic and rock-solid feel that's hard to come by in an age when racquets keep getting stiffer and are filled with space-age materials. Our playtesters felt in complete control from all areas of the court with this racquet and were able to access their full array of shots with ease. While the Graphite 100 won't be as powerful and forgiving as some of the more modern midplus frames, it's going to offer a solid feel, control and responsiveness that may be unmatched on the market today.
Groundstrokes - Score: 84
The Graphite 100 offered a responsive, solid feel that wasn't watered down with modern technology. Once he added a bit of lead tape to it, Chris felt so confident with it that he was able to go compete. He offered, "I loved the response of this racquet from the baseline. I found a ton of feel and control. I also found this to be a very easy racquet to hit spin with. I was able to roll angles and lobs with lots of topspin. I liked the amount of spin and pace I could get on my forehands and backhands when driving the ball. The racquet was a tad light for me in stock form, so I weighted one up. I liked the response of it so much I played a tournament with it the very next weekend. I was crushing the ball with this racquet and getting all the control and spin I could want."
Andy was taken back a decade or two, channeling one of his all-time favorite players as he dialed in his shots from the baseline. He explained, "This is a classic ball-striker's racquet from the baseline. It's got great control, feel and plow through off both sides. There's a great blend of maneuverability for whippier, longer strokes, and heft for two-handed backhands and slices. I found that when I shortened up my strokes, took the ball early and let the racquet do the work for me (a la Agassi of the '90s), I was able to pound groundstrokes with great precision, spin and power. It's not as forgiving as some of the other 100 square inch racquets on the market today, but it has a more old-school feel to it."
Brittany was also reminded of her past when she took the court with this resurrected classic, and she was able to have exceptional command of her groundstrokes. She said, "My very first racquet was a Prince, and I played with several different Prince racquets for 5 years of junior tennis, two years of high school and half of my college career. With more than nine years of Prince loyalty I was very interested to try out this latest racquet collection from Prince. After a couple of hits with this racquet I recognized the classic Prince feel that this racquet offered. I felt this racquet was slightly easier to maneuver and stiffer than the Longbody. The racquet offered a ton of control, and I enjoyed using the pace of my opponent and effortlessly redirecting the ball back to them. Just like the Longbody, I enjoyed hitting slices with the Graphite 100, and they stayed low and penetrating."
Even though it was a bit of a departure from the type of racquets she normally enjoys, Michelle could also appreciate the classic, solid feel from the baseline. She said, "This racquet has that classic Graphite feel that is so unique in today's realm of 100 square inch modern player's racquets. I enjoyed how solid it felt off the baseline. With all of the new gimmicks and spin technology these days, this was a fun playtest of a simple, classic, all-around great racquet. It felt crisp off the ground, and it also made me feel like my game wasn't being compromised by any added technology. Basically, the racquet did what I asked it to and I didn't have to worry about frills or features. This racquet complemented my bigger, flat groundstrokes, so I could just play my game."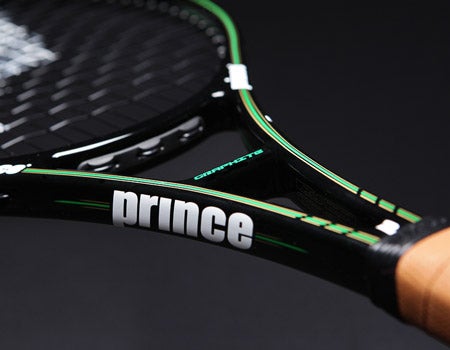 Volleys - Score: 81
The classic, responsive feel of the Graphite 100 translated perfectly for aggressive net play, and all our playtesters were in total command of their volleys. "The racquet felt solid and stable around the net, with enough heft to block volleys back deep in the court and enough feel to put drop volleys right where I wanted them," said Andy. "There's such a great response off the racquet that I just felt in total control over the ball when I hit it. If I made contact outside the sweetspot the frame did twist a bit, but for the most part there was lots of stability and feel for the net rushers out there."
Chris' variety was on full display. He said, "Solid yet fast, this was a great racquet to volley with. I loved the feel and control I got on my volleys with this racquet. I felt like I could put the ball on a dime; the racquet just felt that precise. The feel was crisp, yet plush and comfortable at the same time. As from the baseline, I thought the blend of power and control was spot on. When punching volleys deep I was able to control the depth perfectly, while finding a smooth power delivery that always had me feeling in control. Again, the weighted up version felt even better because the specs were perfectly matched to my tastes."
Michelle felt discomfort when she made contact toward the edges of the frame, but for the most part she was able to be assertive and aggressive around the net. She said, "I found my volleys to have a solid and crisp feel at the net. It wasn't the most comfortable feeling when I hit off center, but it wasn't painful or jarring. This racquet was easy to maneuver into place at net, and I could be aggressive with the volleys I hit."
The Graphite 100 was less maneuverable than Brittany is used to, but she enjoyed it at net nonetheless. She said, "This racquet had a nice crisp feel up at net. I was very confident hitting volleys and enjoyed playing with this racquet in doubles. I liked being able to place my volley anywhere I wanted. The racquet felt stable with every ball that was hit at me, from a hard flat return to a pesky slice that dropped below the net. I had to make one small adjustment to my volleys, and that would be getting my racquet in place early. I struggled hitting reflex volleys because the racquet wasn't as maneuverable as my usual racquet."
Serves - Score: 81
Serving was easy with the Graphite 100, and our playtesters felt like they had total command of any serve they wanted to hit. There were no surprises for Michelle when she toed the line to start a point. She said, "I found this racquet pretty easy to use when serving. It wasn't that there was ample access to power or spin, but it was precise and did what it was supposed to do. If I wanted to hit a flat first serve, the flat first serve was what I got; if I hit a kicker, kick was what I got. Nothing fancy, in my opinion, but it was easy to use and serve well with."
Chris enjoyed the lively, yet controlled, feel of the racquet on serve. He explained, "I could accelerate this racquet easily through the hitting zone, which made it easy to serve with pace and spin. The string pattern is fairly open on this racquet and provided a lively response. I was pleased with the pace of both first and second serves. The open pattern also made it easy to hit with spin. I was getting some nice slice out wide to the deuce court. On kick serves I was getting enough topspin to keep the pace high, and I was serving aggressively."
Andy was using placement and spin like Cy Young-winner Greg Maddux to hold serve. He said, "I had a little trouble going totally flat when I was trying to bomb a serve, but I was using all kinds of spins and locating my serves well, with plenty of pace. I was placing slice serves out wide on the deuce side and kick serves wide on the ad side, and getting them to dive off the court with ease. I was hitting heavy serves with control quite frequently."
Brittany was able to find nice pace, particularly on flat serves, but after a long hitting session the heft of the racquet fatigued her a bit. She offered, "I was really impressed with this racquet on serves. With a tiny bit of extra work I felt I could hit my serve anywhere I wanted. I loved hitting my first serves out wide on the ad side and down the T on the deuce side. I did have a slight problem with my second serve. At the beginning of a match or practice I had no problem going up and after my second serve. When I get tired I don't always swing through as aggressively, and this racquet didn't help that. As soon as I stopped going after my serve completely the ball was dropping into the net. While this forces me to keep going after the ball, my shoulder was getting tired sooner than normal."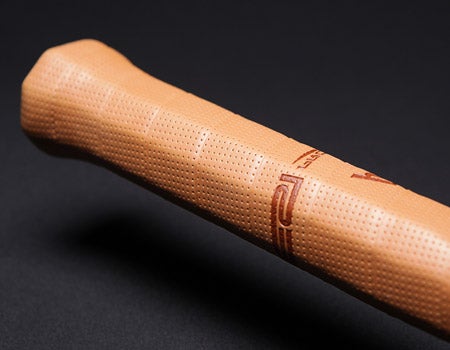 Serve Returns - Score: 83
Our playtesters had mixed results when returning serve. The team was split by gender. Chris once again felt like all his options were available to him when returning serve. He said, "Offering a good blend of maneuverability and a solid feel, this was a good racquet for me on returns. I was able to get the racquet moving quickly through the hitting zone and that resulted in plenty of pace and spin. I was finding my targets on drive returns and getting great angles when cutting a ball cross court. I also liked the response of this racquet on my slice return. I was hitting my slice heavy and low, getting good skid off the court and making my shot a tough ball for my opponent to dig under. All in all, I felt like I had a lot of options when returning with this racquet. I felt very dialed in on all of my shots and I was swinging away with confidence."
Andy knows what he likes in a racquet when returning serve, and the Graphite 100 fit the bill. He offered, "Returning serve is my favorite element of the game, and the Graphite 100 was a dream to return with. It has everything I look for in a racquet when returning serve: It's maneuverable, it's stable and it provides lots of control. I felt like I could be aggressive and take the return early or block chip returns back deep, both with relative ease and confidence."
While the guys returned serve with ease, Brittany thought there wasn't enough maneuverability to allow her to return the way she likes. She said, "Like the Longbody version, the return was probably my least favorite stroke with this racquet. I struggled with maneuverability and felt like I was late most of the time when returning serve. I'm normally an aggressive returner, and I like to stand on the baseline and step into the court to hit returns. To give myself more time I stood a couple steps behind the baseline on first serves, and I didn't feel I could be as aggressive. My returns were more defensive to start the point."
Michelle also felt like something was missing. She said, "My return experience varied through this playtest. To enjoy this racquet when returning against bigger servers I had to keep a short backswing and deflect the pace back to start the point aggressively. At times, on a weaker serve, I really had to swing through the return and accelerate to get the aggressiveness I was looking for."
Overall - Score: 82
Likes
Chris - "I loved the control, feel, spin, crisp response, maneuverability and stability, and the way the racquet came through contact. This truly is an old-school racquet that happens to be a perfect fit for the modern game."
Brittany - "I liked the classic feel and control this racquet offered. I also enjoyed serving with it (especially my first serve)."
Andy - "Exceptional control and feel from all areas of the court. It was easy to swing, while at the same time it provided plenty of stability. It felt great on virtually any shot I tried with it."
Michelle - "A classic racquet in a 100 square inch head, what's not to like? This racquet just complements your game. It kind of molds to whatever kind of player you are, which I enjoyed. It was easy to use."
Dislikes
Chris - "In stock form it was a little too light for me. However, once I weighted one up it felt absolutely perfect."
Brittany - "Due to my game style I look for a little more power and maneuverability in my racquet."
Andy - "Just my personal taste, but I'd go with something just a bit stiffer and livelier. I also preferred the plow through of the Longbody over the standard length version."
Michelle - "I didn't dislike it, but the flex of this frame was something I had to get used to."
Comparing it to other racquets they've used, our testers said:
Chris - "More forgiving than the Prince Original Graphite Mid and more control-oriented than the Graphite Oversize, this one seems to offer the best of both worlds. I think it stacks right up there against the best of the current midplus player's racquets, yet brings some needed old-school feel and touch to the mix. This is the best midplus racquet I've ever hit from Prince."
Brittany - "I preferred playing with the Graphite 100 over the Longbody. I thought the racquet was slightly more maneuverable, and I preferred the slightly stiffer feel. While I enjoyed volleying more with the Longbody, I enjoyed the overall performance of the Graphite 100, especially when hitting serves and groundstrokes."
Andy - "It has that old-school control and feel of a Head MicroGel Radical MP or Wilson BLX Six.One 95, but it's more forgiving with its 100 square inch head. Mostly, though, it just feels like that classic Prince Graphite that's been so successful for so long. The classic is back!"
Michelle - "This racquet can only be compared to the original Prince Graphite. I can honestly say there really isn't anything on the market today that feels like this racquet."
Technical Specifications

Length
27.0 inches
69 centimeters
Head Size
100 square inches
645 square centimeters
Weight
11.7 ounces
332 grams
Balance Point
12.75 inches
32 centimeters
6pts Head Light
Construction
19mm Straight Beam
Composition
100% Graphite
String Pattern
16 Mains / 18 Crosses

Babolat RDC Ratings

Score

Grade

Flex Rating
62
Range: 0-100
Swing Weight
319
Range: 200-400
Scores
(Scores are determined by averaging individual play test scores)
Chris' Scores
Power
8
Serves
8.4
Control
8.9
Groundstrokes
8.6
Maneuverability
8.2
Returns
8.6
Stability
8
Slice
8.3
Comfort
8
Topspin
8.6
Touch/Feel
8.4
Volleys
8.6
Overall
8.6
Brittany's Scores
Power
7
Serves
7.8
Control
8.2
Groundstrokes
8.3
Maneuverability
7.1
Returns
7.2
Stability
7.6
Slice
8.3
Comfort
7.5
Topspin
7.6
Touch/Feel
8.5
Volleys
8.5
Overall
7.8
Andy's Scores
Power
7
Serves
8
Control
9
Groundstrokes
8.5
Maneuverability
8
Returns
9.5
Stability
8
Slice
7.5
Comfort
8.5
Topspin
8
Touch/Feel
8.7
Volleys
7.5
Overall
8.5
Michelle's Scores
Power
7
Serves
8
Control
7.5
Groundstrokes
8
Maneuverability
7.5
Returns
8
Stability
7.5
Slice
7.8
Comfort
7.8
Topspin
7.8
Touch/Feel
7.8
Volleys
7.8
Overall
7.8
Playtester Profiles
Chris: 5.0 all-court player currently using the Volkl C10 Pro 2012. Chris uses a full-western forehand grip, has a fast swing style and hits a one-handed backhand.
Brittany: Open level player with a semi-western forehand and a two-handed backhand. She currently plays with the Yonex V-Core 100S.
Andy: Open level all court player with a semi-western forehand grip and a two handed backhand. Andy currently using a Wilson Blade 98 18x20.
Michelle: Open level baseline player with a semi-western forehand and a two handed backhand. She currently plays with the Babolat Pure Drive Roddick.

Review date: October 2013. If you found this review interesting or have further questions or comments please contact us.
All content copyright 2013 Tennis Warehouse.