Babolat Pure Control 95 Racquet Review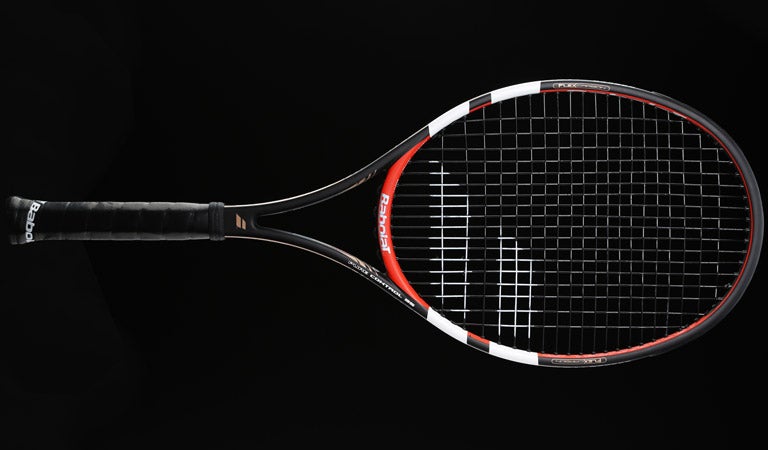 Babolat Pure Control 95 Scores
Power
69
Comfort
86
Touch/Feel
87
Serves
77
Groundstrokes
79
Returns
78
Slice
84
Topspin
78
Volleys
82
Overall
80
Summary
Just like the rest of the Pure Control line, this Pure Control 95 improves on its Pure Storm predecessor (in this case, the Pure Storm Ltd) by providing enhanced feel and responsiveness. FlexCarbon technology in the frame makes it a little more comfortable and helped our playtest team feel more connected to the ball. With its low weight and smaller head size, this racquet certainly lives up to its name, providing loads of maneuverability and control for the fast swinging player. Not only did our team find this racquet easy to swing, they also felt totally confident going for shots that required pinpoint precision. While it's big on control, the Pure Control 95 is low on power, and it got pushed around at times by bigger hitting opponents. However, it is ideal for stringing at low tensions. If control and maneuverability are your priorities, and you enjoy a soft, plush feel, then the Pure Control 95 may be the racquet you've been waiting for!
Groundstrokes - Score: 79
Our playtest team loved all of the control and easy maneuverability the Pure Control 95 offered from the baseline, but the testers struggled with a lack of power. Chris was consistently hitting his spots, but he had trouble hitting the ball past his opponents. He explained, "I loved the feel of this racquet off the ground. It felt silky smooth and loaded with control. I felt very dialed in when hitting my backhand slice and when hitting drop shots. I was able to find my targets with pinpoint precision. I felt immediately connected to where my shots were going and just loved the plush feel. However, I had some issues putting the ball away with this racquet. I wasn't getting enough power on my shots, and I would need to string the Pure Control 95 very low and/or switch to a multifilament string or natural gut to get some added pop. I was reminded of the low-powered response of the old Wilson ROK. I loved the feel and was putting the ball where I wanted, but it kept coming back! I was able to put the ball away with the Pure Control 95+ and the Pure Control Tour, and it took less effort to win points. With this racquet I loved the feel, but I had to work too hard to win points."
Jason also found that it took a lot of effort to produce a heavy ball. He said, "It's actually a much easier racquet to swing than the 12 ounce weight suggests. I found it to be pretty maneuverable and was able to generate a good amount of racquet head speed. I really enjoyed it on my backhand slice because I felt like I was able to really knife them more than usual. The problem for me was the lack of power. I was having to swing all out on every shot to get the ball moving with some depth and pace. My arm was quite fatigued by the end of an hour hit."
Karly really liked the low-powered, ultra precise feel, but she felt the racquet lacked stability on off-center shots. She said, "The Pure Control 95 made it clear that if you didn't swing very hard, the ball wasn't going very far. I had to swing harder if I wanted to hit a powerful shot. However, I didn't mind that at all, and it's actually a characteristic I like. It allowed me to have complete control over my shots. As soon as I made contact I knew where the ball was going to land and how hard it was going back over the net. The racquet also felt comfortable with its very stable, yet dampened feel. Contact felt solid, but I never thought the racquet was too stiff or felt too hard on my arm. The only minor drawback for me was that the racquet made it a little tough to drive through the ball. It could be because there wasn't enough weight in the head, but the lack of plow through made it even harder to produce power."
Like Karly, Troy appreciated the low-powered response but wished for a bit more plow through. He said, "I was finding a lot of maneuverability and maximum control on my shots form the baseline. I felt that the control of this racquet, similar to my Six.One 95 18x20, allowed me to be precise with my shot placement. The low-powered feel allowed me to swing freely and be aggressive without fear of the ball flying long. The low-powered control made me feel as though I could take big cuts at the ball and hit a consistent rally ball, but I felt that it was hard to hit through the court. I found that this racquet lacked put-away power due to the low flex rating and the lower swingweight. I enjoyed the feel and control on the backhand slice, although with the lack of plow through I wasn't finding easy depth."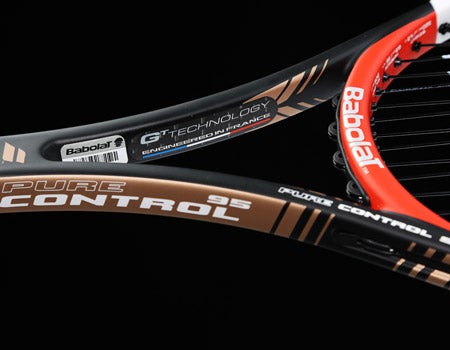 Volleys - Score: 82
The Pure Control 95 impressed our playtesters at the net. They felt very connected to the ball and in control of their volleys and overheads. Jason enjoyed the comfortable feel, saying, "Even though the headsize was smaller than I'm used to, I enjoyed hitting volleys with this racquet. It provided a plush feel, and I felt very connected to my shots. Sure, it was a bit more unforgiving than I like, but the mass of the racquet helped it absorb pace well."
Chris was completely dialed in, and he really liked the exceptional precision and feel. He raved, "I loved the feel and control of this racquet at net. I hit some really precise touch volleys, and my touch felt completely dialed in. I also liked the blend of maneuverability and stability. There was ample mass for a solid feel and to provide some punch to low volleys and tough gets. I also found enough pace on my overheads and had success punching volleys deep. Again, the feel from this racquet was just superb. I felt completely connected to what was happening. I knew how much pace and depth I was getting the instant I hit the ball. On drop volleys it felt as if I were holding the ball on the racquet longer. I was able to feather the ball precisely to my target, bleed all of the pace off it and make it an impossible get for my opponent."
Karly appreciated the maneuverability and control the Pure Control 95 offered, and she didn't feel the lack of pop inhibited her volleys much at all. She said, "My favorite thing about volleying with this racquet was the maneuverability and the solid feel on contact. I could easily move the racquet into position with its nice mobility, yet the racquet didn't flutter in my hands like a fast, lightweight racquet normally would. Then there was all that control, which boosted this racquet even more in my eyes. It was definitely a more control-oriented racquet, so it was very easy to place the ball where I wanted. I still had to work for power, although I found it came easier at the net. The racquet felt livelier on volleys and the lack of plow through wasn't an issue like it was at the baseline. With its firm and stable feel, I could stick the ball with good precision and pop. No complaints from me about using this racquet at net!"
Troy also found it easy to get the racquet in position around the net, but he prefers a heftier frame for more stability. He offered, "I enjoyed the response of this racquet on my volleys. The maneuverability made it easy to get the racquet in place when reacting to fast shots hit at me. The stability of this racquet was surprisingly good for how whippy it is, but the lack of mass in the head of the racquet made it more difficult to get depth on my volleys than I would have liked. I found enough feel and touch to hit drop volleys with confidence."
Serves - Score: 77
There were mixed feelings from our playtest team when it came to serving with the Pure Control 95. They all enjoyed the excellent precision, but there wasn't enough power for some of them. Troy was able to locate his serve very consistently. He said, "I was able to serve well with this racquet. I found the fast, whippy feel let me get a lot of kick on my spin serves. My flat serves down the middle were consistent, and I found plenty of control and easy racquet head speed for pace. This racquet was lacking the power that some modern racquets can offer me on serves, although I prefer the control of this racquet for consistency and placement."
Chris used the precision of the Pure Control 95 to hurt his opponents. He said, "I liked the response of this racquet on first serves. The feel was great and very, very comfortable. I wasn't blasting serves, but when I hit my targets with pace I was effective. I was hitting a solid slice serve into my opponent's body with this racquet. On second serves I found decent spin and lots of control. When I missed with the Pure Control 95 I missed short and into the net. I found that focusing on staying on the gas worked best on both first and second serves. Again, getting pace took a little more effort, and I serve much, much bigger with the Pure Control Tour and the Plus length version of this racquet."
Karly continued to love the control the Pure Control 95 offered, but she just got too fatigued throughout the course of a match when trying to serve with power. She said, "Once again, control was the standout attribute, which I loved. It was so easy to place the ball where I wanted. Since there was hardly any power, I felt connected to the racquet and knew exactly where the ball was going once I made contact. However, because it was so low-powered, serving was the area that wore my arm out the fastest. The maneuverability was good, but I was spending most of my energy trying to hit a powerful serve."
Jason also struggled to get completely comfortable serving with the Pure Control 95. He offered, "I couldn't really get in a groove with this racquet on serve. I was hitting a lot of serves into the net so I overcompensating and started serving long. It was a racquet that forced me to serve with more racquet head speed than I'm comfortable with because of the low power and tight string pattern."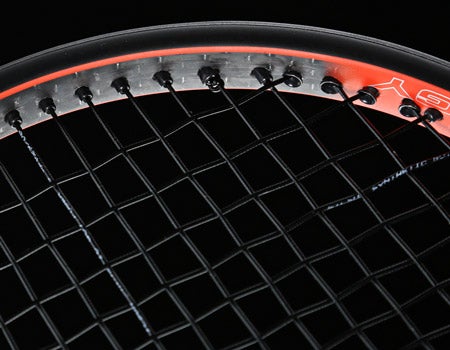 Serve Returns - Score: 78
Precision and maneuverability were the standout features of the Pure Control 95 when returning serve, and our playtesters could place the ball anywhere they wanted in the court. However, a lack of plow through was also apparent. Karly felt a little more weight would have helped keep the racquet a little more stable at impact. She said, "The great thing about returning with the Pure Control 95 was the combination of control and maneuverability. It was very fast and very easy to bring around, all while providing exceptional control. If my vision was good enough to see a needle on the other side of the court, I had the confidence with this racquet to think that I could hit it. The only time I got into trouble was when I was returning against a hard server. The lack of plow through made me feel like I had to push through my stroke on contact or my shots would have no depth. Since its swingweight is so low a little more mass at the top of the hoop wouldn't slow this racquet down too much, and it would help with the plow through."
Troy also felt in command of his returns, but a little more weight would've helped him on his defensive chip returns. He explained, "The 'pure' control of this racquet was allowing me to take aggressive cuts at the ball on returns. I found that anytime the serve was in my wheelhouse I could rip my return deep to either corner of the court and get into an offensive position early. The struggle that I had with this racquet on returns was that I felt it lacked enough plow through for me to chip my returns deep when I couldn't take a swing at the ball. I liked the control I could get when I hit out on my backhand return, but the slice return wasn't landing deep enough or penetrating through the court."
Chris felt like he could consistently put the ball where he wanted when returning, but he didn't have the put away power for attacking slower serves. He said, "The control-oriented response worked well on returns. I felt very confident taking a good crack at the ball and I had great control on my defensive returns. Getting depth wasn't an issue because I could use the pace of the incoming serve. I also liked how I could slice a backhand return low and force my opponent to hit a tough shot. The control I needed was there when I was looking to hit angles, but again, much of the time I wasn't getting enough on the ball to prevent it from coming back."
Echoing everyone's sentiments was Jason, who loved the control but wished for more pop. He said, "Directional control was at a premium here, but again, it lacked the power I wanted. I felt like I was able to hit returns cross court or down the line with ease, so even though I couldn't necessarily hit outright winners, I could place my return where I wanted to move my opponent around."
Overall - Score: 80
Likes
Chris - "I loved the silky smooth feel, superb control and sublime touch I found with this racquet."
Jason - "The softest, most arm-friendly Babolat racquet I've hit with. Really nice, plush feel. Great control."
Troy - "The control and feel of this racquet is, as Mark would say, 'top notch.' I like the low-profile cosmetic as well."
Karly - "I loved how predictable the Pure Control 95 was. When I made contact I knew exactly where the ball was going to land and how fast it was going to get there."
Dislikes
Chris - "Not enough free power for me. I would string this one down in the mid-40s with a poly and high 40s with a multi to get some easier access to depth. I think some added weight would assist with some additional power, too."
Jason - "Too underpowered for my game. Not enough spin."
Troy - "It lacked plow through and put-away power. I prefer the leather grip that came stock with the Pure Storm Ltd."
Karly - "There wasn't enough weight in the head of the racquet, and I felt pushed around when playing against harder hitters."
Comparing it to other racquets they've used, our testers said:
Chris - "This racquet played very similarly to the Pure Storm Ltd racquets, as well as the old Wilson ROK. All of these racquets place a huge emphasis on control over power. If you swing big and want to up the control and feel on your shots, this is an ideal option. Those who like a little help on the power front will need to pay attention to string choice/tension and perhaps add some weight."
Jason - "A softer, less powerful Dunlop F2.0 Tour."
Troy - "I found the feel and responsiveness of the Pure Control 95 to be much better than the Pure Storm Ltd. that it replaces, although I still found the lack of plow through to be evident. Other racquets that come to mind are the Dunlop Aerogel 100 and the Fischer X Feel Pro 90 Vacuum. All of these racquets provided great feel but made it hard for me to end points due to the low-powered response."
Karly - "I thought the Pure Control 95 had similar characteristics to the Volkl Organix 10 Mid. Both are extremely control-oriented, swing faster than their actual weight and are very stable on contact. To me, the only major difference is the feel. The Organix 10 Mid feels much more flexible than the Pure Control 95 so the ball seems to stay on the racquet longer, whereas the Pure Control 95 feels stiffer and the ball pops off the stringbed faster."
Technical Specifications

Length
27 inches
69 centimeters
Head Size
95 square inches
613 square centimeters
Weight
11.9 ounces
337 grams
Balance Point
12.63 inches
32 centimeters
7pts Head Light
Construction
19mm / 19mm / 19mm
Composition
Graphite/Tungsten & Flex Carbon
String Pattern
18 mains / 20 crosses

Babolat RDC Ratings

Score

Grade

Flex Rating
58
Range: 0-100
Swing Weight
313
Range: 200-400
Scores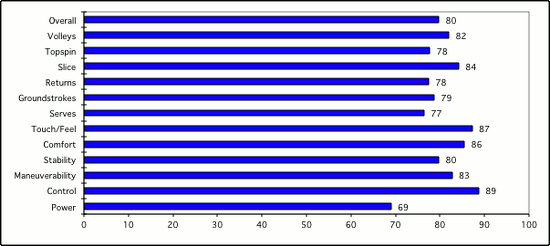 (Scores are determined by averaging individual play test scores)
Chris' Scores
Power
6.9
Serves
7.9
Control
8.9
Groundstrokes
8.2
Maneuverability
7.8
Returns
8.4
Stability
7.8
Slice
9
Comfort
8.8
Topspin
8
Touch/Feel
9.8
Volleys
8.5
Overall
8
Jason's Scores
Power
6.8
Serves
7
Control
8.3
Groundstrokes
7
Maneuverability
8
Returns
7.2
Stability
8
Slice
8.1
Comfort
8.2
Topspin
7.7
Touch/Feel
8.2
Volleys
7.9
Overall
7.5
Troy's Scores
Power
6
Serves
8
Control
9.5
Groundstrokes
8
Maneuverability
9
Returns
7.5
Stability
8
Slice
8.5
Comfort
9
Topspin
7.5
Touch/Feel
8.5
Volleys
8
Overall
8.1
Karly's Scores
Power
7.9
Serves
7.7
Control
8.8
Groundstrokes
8.3
Maneuverability
8.3
Returns
7.9
Stability
8.1
Slice
8.1
Comfort
8.2
Topspin
7.9
Touch/Feel
8.4
Volleys
8.4
Overall
8.3
Playtester Profiles
Chris: 5.0 all-court player currently using the Wilson Six.One 95S. Chris uses a full-western forehand grip, has a fast swing style and hits a one-handed backhand.
Jason: 4.0 baseliner with a semi-western forehand and two handed backhand. Currently using a Yonex EZONE Ai 100.
Troy: 5.0 lefty all-court player with a full Western Forehand and a two-handed backhand. Troy currently plays with a Wilson BLX Six.One 95.
Karly: 4.0 baseline player currently playing with the Volkl Organix 10 Mid. She hits with a semi-western forehand grip and uses a two handed backhand.

Review date: May 2014. If you found this review interesting or have further questions or comments please contact us.
All content copyright 2014 Tennis Warehouse.