Babolat Pure Control Racquet Review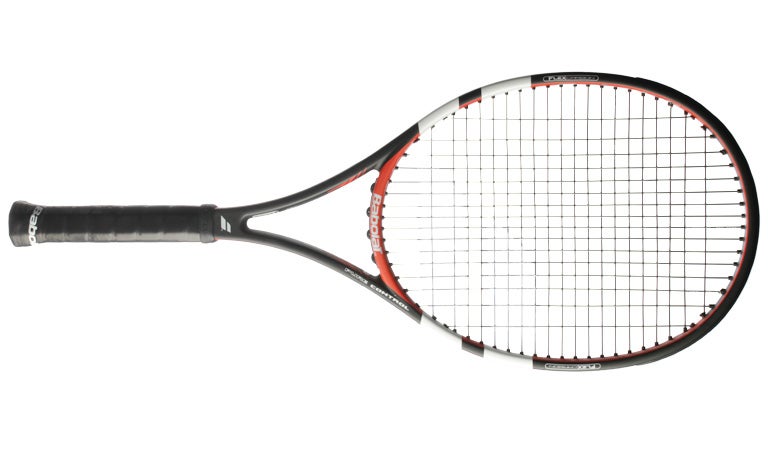 Babolat Pure Control Scores
Power
83
Comfort
78
Touch/Feel
80
Serves
81
Groundstrokes
88
Returns
83
Slice
74
Topspin
81
Volleys
77
Overall
83
Upsides
Control
Maneuverability
Stability
Downsides
Nothing we could agree on
Summary
Babolat looked to the past for inspiration for the Babolat Pure Control. While the racquet shares the name of the racquet line from the early 2000s, it plays very, very differently. The racquet will, however, play more similarly to the Pure Storm line that it replaces. The main difference between the two is the new Flex Carbon material that was added to the Pure Control. Flex Carbon reduces the number of carbon fibers from 6,000 to 3,000, and as a result offers a more flexible response. Our TW playtesters enjoyed the solid feel of this racquet and the increase in maneuverability. Our playtesters enjoyed the Pure Control the most from the baseline, where they could really crank the ball while still maintaining control and access to spin. With the Pure Control, Babolat adds the precision and classic feel of a traditional player's racquet to its lineup.
Groundstrokes - Score: 88
Our Tennis Warehouse playtesters found an excellent combination of power and control from the baseline with the Pure Control. Sean raved, "From the first hit, the Pure Control was one of the better all-around racquets that I've had the pleasure of testing, and it all started at the baseline. I was really impressed with how solid and stable this racquet performed, even when faced with penetrating groundstrokes from my opponent. Whether I was on the defensive or trying to take control of the point, I was able to hit the shots I needed with great precision. Even with a slightly lighter static weight this racquet felt control driven and maneuverable, which fit well with my game."
Karly was also impressed, saying, "Its name may be Pure Control, but boy, it can also produce a whole lot of power. Personally, I thought it offered more power than control, but I could direct my shots well enough that I never felt like I was overhitting the ball. The racquet was so stable that I could use the weight of the racquet to drive through the ball for a really powerful shot. The racquet did feel stiffer than its actual RA rating and was harder on my arm than most, but I like the feel of a more solid racquet so I didn't mind it that much. My arm was just a little more sore than usual after a hit."
Echoing the thoughts of his fellow playtesters was Connor. He said, "This racquet was great off the ground from the start of the playtest. I found it to be very easy to control points off both wings with this racquet. I thought the standout features of this racquet on groundstrokes were its maneuverability and power. I really have zero complaints from the baseline, I give it a 10 out of 10!"
"I loved that I could hit big and still find precision with this racquet. I wasn't sure what to expect and was pleasantly surprised," said Michelle. "It was light and whippy, yet still soft and solid. It didn't mute my power and didn't add too much power, either. I playtested both this and the Pure Strike 18x20 at the same time, and right off the bat I really enjoyed the way this Pure Control felt off the ground, and I preferred the feel over the Pure Strikes. The Pure Control just feels all around solid! It is stiffer than the Pure Strikes but not so stiff that it will hurt your arm. I found it to be really maneuverable and fast off the baseline, and I had added control and precision that I enjoyed while going for big groundstrokes. I could hit big and flat consistently and change direction easily with this racquet in my hands!"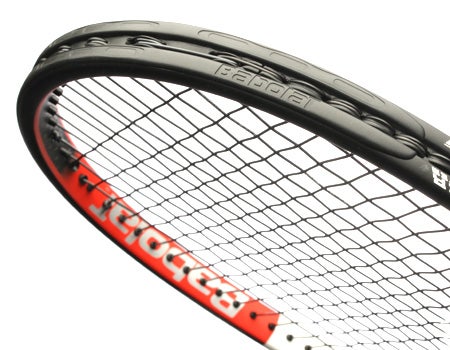 Volleys - Score: 77
The Pure Control offered our playtesters a solid feel and excellent maneuverability up at net. Michelle found this racquet to be adequate when volleying. She explained, "It was easy to volley with this racquet, and I enjoyed hitting crisp, deep, well-placed volleys at the net. I found the same precision on my volleys that I had on my groundstrokes."
Karly thought the maneuverability was better up at net than at the baseline. She remarked, "The Pure Control cut through the air pretty easily, so I could get the racquet on the ball quickly. The stability also shone through with volleys. I loved the solid feel up at net and got some really nice pop if I hit the sweetspot just right. The only real drawback with volleys was the forgiveness. When I missed the sweetspot my shots didn't feel consistent. It wasn't terrible, but I did notice it the most up net."
Struggling with put-away volleys, Sean offered, "My net game felt somewhat scattered with this particular racquet. I had great success hitting finesse shots that required precision, mostly thanks to the maneuverable feel and quick response, but it was difficult to generate my own power when I needed to put the ball deep or hit a put away volley. For some reason, the racquet reacted better for me when I was using my opponent's pace, which typically isn't the game style I'm used to playing."
Like Sean, Connor also had some issues up at net, especially when it came to stability. He explained, "I had mixed feelings with this racquet up at net. I found it to be a little unstable, and I felt as if the racquet could use more weight in the head. It was good overall, though; the Pure Control made it easy to transition from the baseline to closing out points at the net."
Serves - Score: 81
Pace and control were prevalent while serving with this racquet. Sean was pleasantly surprised with the amount of stability and accuracy this racquet brought to the court. He commented, "Despite its lighter weight, I found that this racquet really allowed me to go after my first serves without losing control. Its precision really gave me the confidence to hit out on my second serves, which gave me the upper hand during my service games. My first serves seem to improve anytime I feel confident going after my second serves, as does the rest of my game."
Karly offered nothing but praises, saying, "I couldn't be happier with the combination of power and control the Pure Control offered. I could get more power than control, yet there was enough control to where I knew which side of the service box I was going to hit. The racquet was lively, and the ball jumped off the strings. It felt like I was hitting with a ton of power, not to mention the impressive amount of spin I could get on my second serve. I had no issues getting my serves to kick up high, making it tougher for my opponent."
"I could really dial in my serve with this racquet," said Michelle. "I could consistently pick my targets and hit them, especially on big first serves. I was worried that I wouldn't find good access to the kick on my second serves, but it really wasn't a problem. Slice serves were great as well, and accuracy was spot on."
On the other hand, Connor struggled at times, saying, "My serves were mostly good, but as with my volleys, I felt that the racquet head was unstable on off-center hits and could use a bit more weight."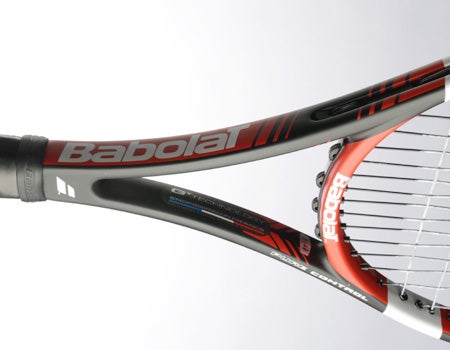 Serve Returns - Score: 83
While some testers liked the control they found when returning serves, others found the racquet to be slightly lacking in stability and maneuverability. Connor found returning to be a highlight of the playtest. He said, "I really enjoyed returning serves with this racquet. I was able to hit place the ball accurately to start the point on the offense. The racquet was also very comfortable to return with, and I didn't experience any jarring sensation when I hit outside the sweetspot."
Michelle agreed, adding, "This was one of the shots that I really enjoyed hitting with this racquet. Because of the more controlled response I could attack returns and rely on the racquet to add some control. This racquet was perfect for blocking returns back when I couldn't take a rip at them, even when returning against big servers."
Sean had some issues with his returns. He explained, "Returns were the only area where I found myself really noticing the lack of mass. This racquet was fairly low powered, which I loved in all other areas, but it didn't react as well as I had hoped against serves. Like my volleys, if I had a hard serve to work with I could redirect it back with some pace. When I had to stretch or play a defensive shot I would have benefited from some extra weight to drive the ball deeper in the court."
Karly found herself hitting the ball later than she would have liked. She said, "Even though it wasn't a problem for me in other areas of the court, the maneuverability was tough for me when returning. The faster I needed to react the slower the racquet felt. The swingweight was average, but I found myself hitting a lot of returns later than I'd like. On the bright side, with its good power and control I was able to hit a decent shot back as long as I got the racquet on the ball. I just wish it were quicker to swing so I could position myself for more aggressive returns."
Overall - Score: 83
Likes
Sean- "A great counter-punching racquet with a stable feel and fantastic performance from all areas of the court."
Karly- "I was pleasantly surprised with all the power I got from the Pure Control, yet I still felt like I had good control over where I was placing my shots."
Michelle- "Great precision and stability. I was able to hit big and have an impact on points, which is what I've struggle with when I've used other 'control' racquets. Loved this one on first serves and returns."
Connor- "I liked the maneuverability, power and control that this racquet offered."
Dislikes
Sean- "None!"
Karly- "The racquet felt stiffer than its actual RA rating, which made my arm feel sore faster than usual."
Michelle- "Not too much. Didn't really love this one when slicing - sometimes the slice was there, sometimes it really wasn't."
Connor- "I found mild instability when volleying and serving."
Comparing it to other racquets they've used, our testers said:
Sean- "The last racquet I tried with high marks in every category was the Dunlop F5.0 Tour, which I enjoyed from all areas of the court. The Head Graphene Radical Midplus was also similar, in that it excelled from the baseline and performed well at net, as well as on serve."
Karly- "With the stability, power and control, the Babolat Pure Control reminded me a lot of the older Wilson nCode Tour, a racquet I loved playing with for years. I'd say the biggest difference between the two was the maneuverability. I thought the Pure Control was easier to swing, but played similarly to the nCode."
Michelle- "To be honest, I never spent much time with the original Pure Controls or Pure Storms because I was preoccupied with my Pure Drive (don't be surprised!), so I am not familiar enough with those to compare them. I actually think Pure Drive users will enjoy the Pure Control because it has a bit more precision but is still just as easy to swing big with. If I had to choose between the Pure Strike and the Pure Control, I would stick with the Control because of the stiffer, solid feeling frame -- I'm not a big fan of flexible frames."
Connor- "The only other racquet I have tested is the Prince Pro Tour 100, but I liked the Pure Control more across almost all categories. Spin potential is the only area in which I prefered the Pro Tour 100."
Technical Specifications

Length
27 inches
69 centimeters
Head Size
98 square inches
632 square centimeters
Weight
10.9 ounces
309 grams
Balance Point
13.12 inches
33 centimeters
3pts Head Light
Construction
21.5 Straight Beam
Composition
Graphite/ Tungsten & Flex Carbon
String Pattern
16 Mains / 20 Crosses

Babolat RDC Ratings

Score

Grade

Flex Rating
62
Range: 0-100
Swing Weight
313
Range: 200-400
Scores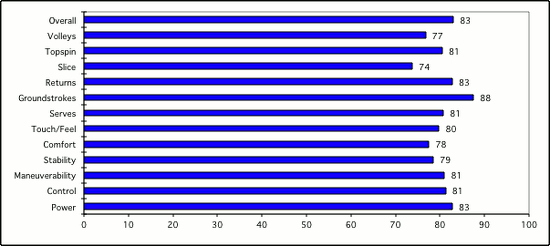 (Scores are determined by averaging individual play test scores)
Sean's Scores
Power
7.7
Serves
8.2
Control
8
Groundstrokes
8.2
Maneuverability
7.6
Returns
7.5
Stability
7.8
Slice
7.8
Comfort
8
Topspin
7.7
Touch/Feel
8.1
Volleys
8
Overall
8
Karly's Scores
Power
8.4
Serves
8.1
Control
8
Groundstrokes
8.3
Maneuverability
7.8
Returns
7.8
Stability
8.1
Slice
7.7
Comfort
7.5
Topspin
7.9
Touch/Feel
7.8
Volleys
8
Overall
8.2
Michelle's Scores
Power
7.5
Serves
8.5
Control
8
Groundstrokes
8.5
Maneuverability
8
Returns
8.8
Stability
8.5
Slice
7
Comfort
8.5
Topspin
8
Touch/Feel
7.5
Volleys
8
Overall
8.5
Connor's Scores
Power
9.5
Serves
7.5
Control
8.5
Groundstrokes
10
Maneuverability
9
Returns
9
Stability
7
Slice
7
Comfort
7
Topspin
8.5
Touch/Feel
8.5
Volleys
7
Overall
8.5
Playtester Profiles
Sean: 4.5 baseliner using the Head YOUTEK Prestige Pro. Sean has a semi-western forehand, 1 handed backhand.
Karly: 4.0 baseline player currently playing with the Wilson nCode nTour. She hits with a semi-western forehand grip and uses a two handed backhand.
Michelle: Open level baseline player with a semi-western forehand and a two handed backhand. She currently plays with the Babolat Pure Drive Roddick.
Connor: 5.0 baseliner with a semi-western forehand and two-handed backhand. His current racquet of choice is a customized Prince Diablo Mid.

Review date: January 2014. If you found this review interesting or have further questions or comments please contact us.
All content copyright 2014 Tennis Warehouse.