One Strings Turbine 300g Racquet Review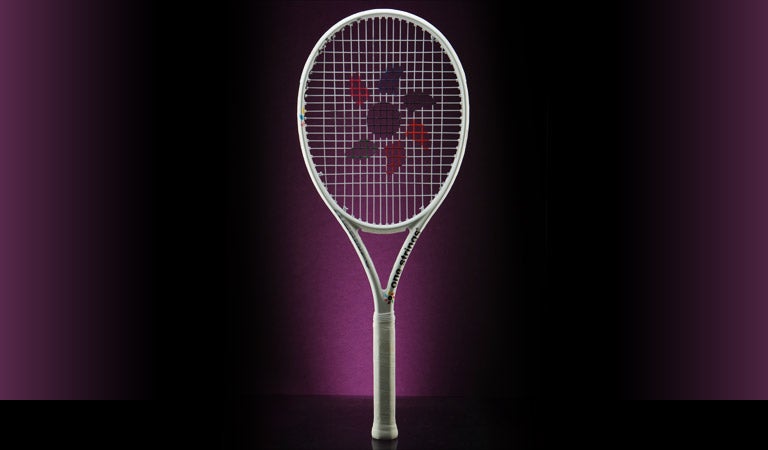 One Strings Turbine 300g Scores
Power
83
Comfort
74
Touch/Feel
75
Serves
77
Groundstrokes
82
Returns
83
Slice
75
Topspin
82
Volleys
79
Overall
79
Upsides
Lots of power
Plenty of spin on tap
Easy to swing
Downsides
Jarring outside of sweetspot
Summary
In the mood to try something a little different and obscure? If you're looking for an easy to use racquet with a crisp, modern feel, the One Strings Turbine 300g won't disappoint you. As soon as our playtesters took the court with the Turbine 300g they were reminded of a stripped down Babolat Pure Drive (without the Active Cortex technology). The Turbine 300g has the crisp and lively feel that most modern tennis players have fallen in love with, and there isn't a whole lot of dampening technology packed into the racquet, leaving you very connected to the ball as it leaves your strings. The flip side to the crisp feel is the harsh vibrations our playtesters felt when they made off-center contact. That didn't stop them from enjoying the playtest, though, and players looking for something that's fast through the air and very user-friendly should definitely give the Turbine 300g a try!
Groundstrokes - Score: 82
There were positive feelings from our playtesters about the One Strings Turbine 300g from the baseline, and all of them really enjoyed the easy power and maneuverability. The Turbine 300g is very similar to what Michelle normally likes, so it was no surprise that she was finding success with it on her groundstrokes. She explained, "This racquet plays very similar to a Pure Drive. The specs are almost identical, so knowing that, I knew this racquet was right up my alley. I found it fit well with my game, and I could easily hit with lots of power and depth with my flatter strokes. Despite not having tons of technology, it wasn't as stiff as I was expecting. It was stiff, but my arm didn't suffer. There is a lot of power potential in this racquet, and I did find that I could overhit, which is one of my weaknesses. I felt like I could hug the baseline and easily deal with deep groundstrokes hit at me, as the Turbine 300g was quick and maneuverable, and I was also able to hit with enough spin to minimize my errors into the net. Overall, this was a very easy racquet for me to be successful with!"
Karly found the Turbine 300g extremely easy to use, but she would have liked a bit more control and comfort. She said, "The Turbine 300g was easy to use from the very first hit because of its power and maneuverability. I loved how simple it was to hit a hard shot without swinging very hard. I could keep up with harder hitters because I could set up for a shot quickly and send the ball back with just as much pace. It also offered good access to spin, so I could add variety to my shots with ease. The only downsides for me were the harsh feel and lack of control. The racquet didn't absorb shock well and lacked any type of dampened feel, so after playing with it for a while my arm became sore noticeably faster than usual. I also prefer racquets that make it easier to control my shots, and this racquet doesn't. I had to increase my margin for error and not aim as close to the lines as I normally do."
Andy enjoyed the power, control, spin and maneuverability that he got from the Turbine 300g, but his shots lacked penetration at times. He offered, "I really enjoyed this racquet from the baseline! It's easy to swing, so I could generate tons of spin on my shots with little effort. There was a surprising level of control given its crisp, lively feel. Furthermore, the racquet had some nice touch, and I felt totally connected to the ball as it left my strings. However, because it's so light my shots didn't seem to penetrate through the court that well. Anything I didn't hit cleanly would just sit up for my opponents to tee off on."
Jason had all his groundstrokes working well, but like Andy, he wanted just a bit more heft. He said, "The Turbine 300g was a versatile racquet that did a lot of things well. It was easy to hit shots cross court, and there was enough mass and control for me to switch it up and pull shots down the line. I really enjoyed the ball pocketing and feel. There was very easy access to spin on both topspin and slice shots. I would add a slight bit of weight to the 3 and 9 o'clock areas to help with stability, but not much."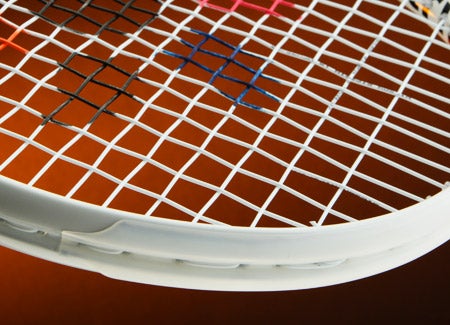 Volleys - Score: 79
Once again, ease of use and maneuverability were the shining aspects of the Turbine 300g at net. Andy volleyed effectively with it, and was surprised at the amount of precision and stability the racquet offered. He raved, "I really liked volleying with this racquet! The feel was crisp and clean, and once again, I was totally connected to each shot as it left the strings. Considering how light it is, the stability at net surprised me. The Turbine 300g stayed rock solid on stretch volleys, and it helped me get them back deep with ease. The maneuverability made it easy to get the racquet in place, too."
Karly was even more comfortable at net with the Turbine 300g than she was at the baseline, where she was already finding success. However, she continued to struggle with the harsh feel on her arm. She said, "I thought I had more control on my volleys than my groundstrokes, so naturally I liked using the racquet the most up at net. Power and mobility were still the standout features of this racquet, but I had an easier time placing the ball from the net than I did from the baseline. I didn't have to put much energy into moving the racquet back and forth, and the ball naturally popped off the stringbed on contact. Because of the stiffer feel and instability, I had to make sure to make contact in the center of the stringbed because the feel was just too harsh on my arm when I missed the sweetspot."
Michelle was using her full array of volleys with confidence. She said, "I found it easy to put balls away at the net whether I was hitting a deep punch volley or a swinging volley. I didn't find a whole lot of touch from this racquet, but it was responsive enough that I could get what I wanted out of it."
Jason, who isn't the most comfortable player at the net, wasn't made any more at ease with this lightweight racquet. Although he could maneuver it easily, it was simply too unstable for him. He said, "There was more noticeable torsional instability up at net. Since I couldn't mask my off-center shots with racquet head speed like I can on groundstrokes, I could really feel my mishits. However, I did appreciate the touch and maneuverability on my quick reaction volleys and overheads."
Serves - Score: 77
Our playtesters were finding easy power from the Turbine 300g on serve, but some were struggling with control. It did work well for Jason's style of serving. He explained, "I was able to get some nice pop on my serve with this racquet, and I could really notice the extra power when I strung it up with a softer poly. The spin I was putting on my slice serves was above average, which is great for me since I hit slice on the majority of my serves."
It look little effort for Karly to produce some effective serves, but she struggled to hit her spots at times. She said, "I found it easy to generate power on my serves, and it was great being able to depend on the racquet to provide most of that power for me. I knew I didn't have to swing very hard to hit a fast serve, especially when my shoulder was feeling tired. However, all that easy power was hard to control. I had a harder time placing the ball where I wanted with confidence, and I wasn't going for too big a serve because it was so easy to send the ball long."
Michelle enjoyed the easy power, saying, "There was a lot of power here. I enjoyed hitting flat first serves or pulling my opponent out wide with my slice. The Turbine 300g was quick and easy to swing. I didn't really feel like I was getting a ton of movement on my kick serves, but it wasn't horrible, and I could still hit some pretty big first and second serves."
Andy had a tough time serving with the 300g. He liked the spin the racquet offered but couldn't find consistent power and control. He explained, "Serving was one shot I had a little trouble with. The maneuverability made it easy to get lots of spin on my kick and spin serves, but the lack of weight also made those spin serves sit up for my opponents to tee off on. My serves just didn't seem like they were going through the court and hurting my opponents. In addition, I felt like I would lose control of the tip of the racquet at times and lose precision. The Turbine 300g felt good, but I had trouble consistently serving effectively with it."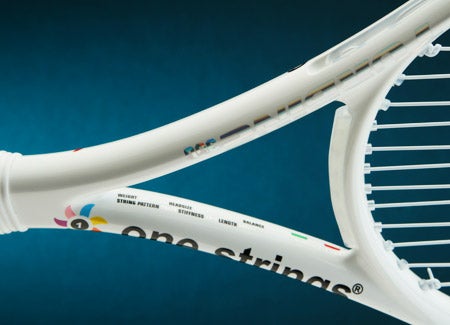 Serve Returns - Score: 83
The maneuverability and easy power of the Turbine 300g came in handy for our playtesters on their returns. Karly loved the power, but she had to reel in the excitement a bit to get enough control. She said, "With all the easy power it didn't take much effort to get on the offensive quickly. As long as I got my racquet out in time I could hit a hard, aggressive shot back. However, I had to be careful not to go for too much because then I had absolutely no control over my returns. All the power on contact was overwhelming, especially against fast servers, so I had to focus on keeping the ball in play on returns."
Michelle found the Turbine 300g easy to swing on her returns, and she was taking the offensive early and often in points. She said, "I enjoyed returning with this racquet because I could accelerate quickly and get some good power. I was able to get around the ball pretty quickly because it was so maneuverable, and I could get the right amount of spin on my balls to generate the type of returns I like to hit. It was easy to be offensive right off the bat."
Also finding nice success with his returns was Andy, who said, "This racquet was super fun to return with! It offers great maneuverability, control and feel, which are the three things that are important to me in a racquet for returning. It was easy to get the racquet in place on hard hit serves, and I could redirect them to the corners with relative ease. The lightweight hoop would get away from me a little bit when I got carried away and went for too much, but for the most part I was having some nice success with my return of serve."
Echoing the others' sentiments was Jason, who offered, "I felt like I was returning serves with more pace and with more depth than I usually do with an 11 ounce racquet. I could also put plenty of spin on my shots so that they would drop in, even when I took a full cut at the ball."
Overall - Score: 79
Likes
Jason - "Easy to use. Good access to spin, nice power and ball pocketing."
Andy - "I was surprised I enjoyed this racquet as much I did. Great feel and control, easy maneuverability and surprisingly stable from all areas of the court."
Karly - "The Turbine 300g was easy to swing, and I hardly had to put any effort into generating power. The Turbine 300g provided most of the power for me."
Michelle - "Easy power in a fast, maneuverable racquet."
Dislikes
Jason - "Off-center shots made the racquet more torsionally unstable than I expected."
Andy - "While they felt good, most of my shots weren't moving through the court that well due to the light weight. Also, I never got my serve completely dialed in."
Karly - "The instability and harsh vibrations when I hit outside of the sweetspot."
Michelle - "Too much power at times."
Comparing it to other racquets they've used, our testers said:
Jason - "It's as close to a Babolat Pure Drive as any racquet I've tried in quite some time."
Andy - "The feel of the Turbine 300g reminded me a lot of the Head IG Extreme Pro 2.0. It feels crisp, lively and spin-friendly, kind of like a stripped-down Pure Drive. It's much lighter and easier to maneuver than those two, though, but at the same time it doesn't quite pack the same punch as the Extreme Pro and Pure Drive."
Karly - "The Turbine 300g and Babolat Pure Drive can't get much closer in specs! The only difference in my opinion is the feel -- the Turbine 300g feels livelier on contact, whereas the feel of the Pure Drive is slightly more muted."
Michelle - "It's pretty much identical to a Pure Drive or a Wilson Juice 100 - lots of free power and a stiff beam. The RA is slightly lower, but to me, the Turbine 300g doesn't feel that much more flexible."
Technical Specifications

Length
27.1 inches
69 centimeters
Head Size
100 square inches
645 square centimeters
Weight
11.1 ounces
315 grams
Balance Point
13 inches
33 centimeters
4pts Head Light
Construction
23mm / 25.5mm / 23mm /
Composition
Graphite
String Pattern
16 mains / 19 crosses

Babolat RDC Ratings

Score

Grade

Flex Rating
68
Range: 0-100
Swing Weight
306
Range: 200-400
Scores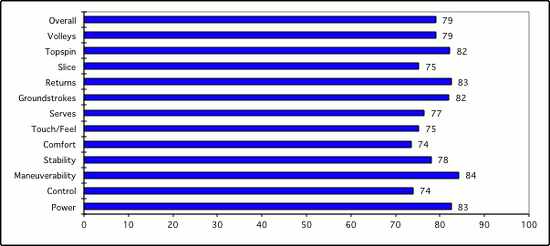 (Scores are determined by averaging individual play test scores)
Jason's Scores
Power
8.1
Serves
8
Control
8
Groundstrokes
8.4
Maneuverability
8
Returns
8.4
Stability
8
Slice
8.2
Comfort
7.9
Topspin
8.5
Touch/Feel
8
Volleys
7.8
Overall
8.1
Andy's Scores
Power
7.5
Serves
6.5
Control
7.5
Groundstrokes
8
Maneuverability
9.5
Returns
8.5
Stability
8
Slice
7
Comfort
7
Topspin
9
Touch/Feel
8
Volleys
8
Overall
7.5
Karly's Scores
Power
8.4
Serves
7.8
Control
7.6
Groundstrokes
8.2
Maneuverability
8.2
Returns
8.1
Stability
7.2
Slice
7.9
Comfort
7.1
Topspin
8.1
Touch/Feel
7.6
Volleys
8.3
Overall
8
Michelle's Scores
Power
9
Serves
8.3
Control
6.5
Groundstrokes
8.2
Maneuverability
8
Returns
8
Stability
8
Slice
7
Comfort
7.4
Topspin
7.3
Touch/Feel
6.5
Volleys
7.5
Overall
8
Playtester Profiles
Jason: 4.0 baseliner with a semi-western forehand and two handed backhand. Currently using a Wilson Steam 99 S.
Andy: Open level all court player with a semi-western forehand grip and a two handed backhand. Andy currently using a Wilson Blade 98 18x20.
Karly: 4.0 baseline player currently playing with the Volkl Organix 10 Mid. She hits with a semi-western forehand grip and uses a two handed backhand.
Michelle: Open level baseline player with a semi-western forehand and a two handed backhand. She currently plays with the Babolat Pure Drive Roddick.

Review date: May 2014. If you found this review interesting or have further questions or comments please contact us.
All content copyright 2014 Tennis Warehouse.