One Strings Turbine 275g Racquet Review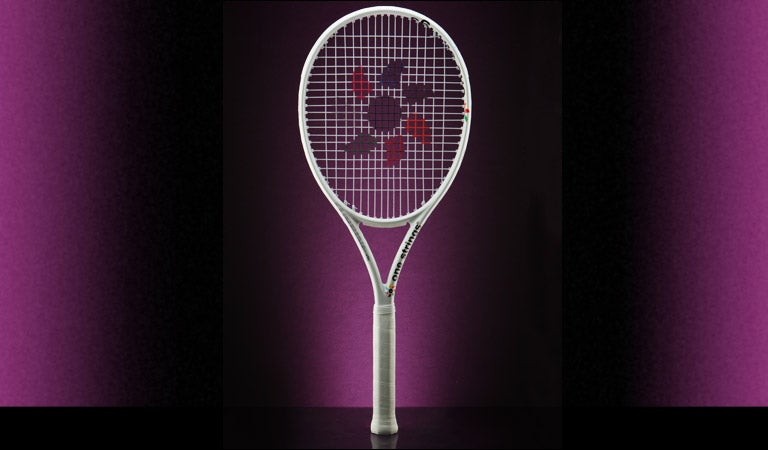 One Strings Turbine 275g Scores
Power
81
Comfort
76
Touch/Feel
78
Serves
78
Groundstrokes
80
Returns
77
Slice
77
Topspin
84
Volleys
79
Overall
78
Upsides
Swings fast
Plenty of power
Easy access to spin
Summary
Loaded with maneuverability, the One Strings Turbine 275g treated our playtesters to a crisp response and lots of power. This racquet played insanely fast, so fast that some playtesters had to adjust their timing slightly because they were hitting the ball too early. Although they found a bit of instability outside of the sweetspot, our team was able to get some spin out of this racquet from the baseline while drilling balls deep into the court. Our playtesters struggled slightly at the net with this lighter racquet, but they did like how well they could block back hard hit balls. When serving, our team was able to pull more power out of the Turbine 275g and start the points off offensively. With a 16x19 string pattern, this racquet is versatile enough to satisfy a wide range of players, from counter punchers to attackers. We feel the Turbine 275g will work best for beginners to intermediate players looking for a comfortable, light racquet that can blast balls from the baseline.
Groundstrokes - Score: 80
This very fast and easy to swing racquet rewarded our playtesters off the ground, and they had no issues generating pace or spin. Chris found a lively response that helped him with depth and pace. He began, "As with the Spin Deeper racquets from One Strings, I found the Turbine 275g to be a great option for attacking the ball with spin. I was able to generate a lot of swing speed on my topspin shots and that had them kicking nicely. I was getting lots of spin when hitting slice, too. While this racquet lacked the mass I like to drive a slice through the court, I was able to get enough spin to keep the ball skidding low. I was also able to get some nice spin on drop shots to help make them spin back toward the net. I liked the crisp and precise feel and felt like I could rally consistently as well as inject pace when I wanted. The faster I swung the more I liked this racquet because the added tip speed made it feel more solid."
The first thing Tiffani noticed about this racquet was how fast it cut through the air. She explained, "It actually took me a few minutes to adjust to the Turbine 275g because of how quickly it swung. Once I got my timing down I really appreciated how easy it was to flick this racquet around. I could use it to my advantage by cutting shots off early to get some nice angles. The stringbed is responsive and offers some nice pace and access to topspin. However, I didn't feel like my shots had much power to them due to the relatively light static weight, and I struggled to hit effective slice shots."
Mark, who normally plays with a racquet loaded with spin technology, expected the Turbine 275g to be pretty lively for the groundstroke portion of this playtest. He said, "A full set of a poly strung in the mid-50 lb. tension gave me what I expected -- an easy to maneuver, yet powerful, setup. Everything from the inside out backhand to the down-the-line forehand worked great. However, I didn't get the sort of grip on my backhand slice that a heavier racquet with a denser string pattern affords me."
Brittany was interested to see how she would play with the Turbine 275g. She said, "This racquet met my expectations, but it also surprised me. I noticed how fast and whippy this racquet was after just a few groundstrokes, and I enjoyed the responsive feel. I could generate a ton of racquet head speed, which led to a lot of power, or I could use the racquet head speed to create spin to keep the ball from flying into the back fence. As I had anticipated, I was missing a little plow through, which was mostly noticeable on the slice. However, the racquet was more stable from the baseline than I expected for being so light."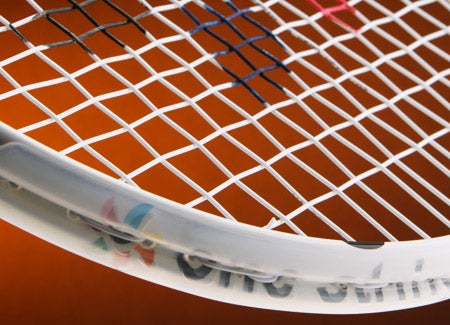 Volleys - Score: 79
The Turbine 275g made it easy to block back volleys and put away sitters at the net. Although our playtesters did notice some slight instability at the net and a bit of an erratic response outside of the sweetspot. Tiffani was amazed by the racquet's quickness at net. She said, "I didn't think it was possible, but I actually found myself ahead of shots at the net. That's how fast this Turbine 275g is. I'm usually the type of player who makes an easy volley look like a stretch volley because my anticipation isn't the best. Unfortunately, being quick at the net didn't mean I was always hitting in the sweetspot. This racquet wasn't super stable outside the sweetspot, and I could feel it twist in my hand on hard hit shots."
Again, this racquet was easy to maneuver for Chris. He had no problems getting it into position, but he would have liked more mass for blocking back hard hit balls. He said, "The feel was very crisp, and the response was firm, but not uncomfortable. I found my best results when punching the ball, since a block volley lacked the tip speed to keep the racquet feeling solid. I had some issues on volleys when I was caught deep near the service line and on touch volleys. In both instances I found some instability at contact and was left wanting for additional mass in the racquet. When punching through my volley, though, I found this to be a point and shoot racquet. The ball consistently went on target, and I enjoyed the crisp feel very much."
The maneuverability of the Turbine 275g was also the highlight for Brittany at the net. She commented, "I could get this racquet into place easily no matter what was hit at me. I enjoyed the feel of my volleys when I hit the sweetspot, but shots outside the sweetspot felt unstable, and at times I could feel the racquet twisting in my hand when I tried to volley heavier shots."
Mark thought the maneuverability of this One Strings racquet made it feel like a "hot rod" at the net. He was surprised that it was reasonably stable against excessive pace, but he added, "It did not feel as stable as I would have hoped outside the sweetspot."
Serves - Score: 78
The Turbine 275g is a lighter spec than what our playtesters normally play with, and they took advantage of the speedy frame to get their serves moving fast. Mark felt his serve was pretty effective, and said, "My confidence grew the more I served with this racquet."
Brittany loved the amount of racquet head speed and power she was able to produce with little effort. She offered, "This racquet allowed me to play around with my serve by trying to add different spins. I loved hitting a variety of serves, from out wide on the ad side to down the T on the deuce side."
"I was able to get enough pace and action on my serves to serve and volley with this racquet," began Chris. "I was serving well and forcing some weak returns. My flatter serves had good pace, and I was finding my targets pretty well. I was getting enough action on my spin serves to move my targeting around the box. I left the ball hanging at times since the racquet lacked the mass I need to get the ball to really push through the court. Still, I served well and felt I could consistently hit a fast ball on target."
Tiffani was the one playtester who struggled finding enough power from the Turbine 275g. She explained, "When racquets are on the lighter side I notice it the most on my serve. I like heftier racquets when I serve to help me with power. The Turbine 275g offered me plenty of spin and an easy swing, but there wasn't much power to help me put opponents on the defensive. I tried to use spin and placement to start points with this racquet."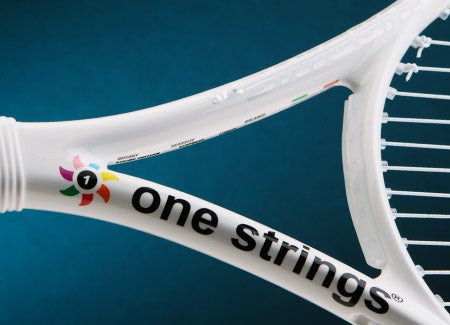 Serve Returns - Score: 77
The Turbine 275g continued to play light and fast for our team when it came to returns, and most of our playtesters enjoyed ample spin and pace. Because this racquet was so quick, Brittany found herself ahead of the ball at times when returning serve. She said, "Being early wasn't a bad thing, just something I needed to adjust to so I would hit the ball in my optimum contact zone. Like some of my other strokes, I found a lack of stability at times when the ball hit outside the sweet spot, and I noticed some twisting in my hand."
Chris returned well with this racquet and enjoyed swinging aggressively at most serves. He said, "Getting pace and spin on returns was very easy. While this racquet didn't offer quite the monster spin of the Spin Deeper models, I got pretty close with it. I was able to hit some nice angles and drive the ball deep. Again, keeping some speed in my swing felt best so I punched through slice returns rather than blocking them. When making contact outside of the sweetspot the response got a tad firm, but then again, this is a very light racquet to have a poly based string in, and we had it strung with poly for the entire test."
"The maneuverability is definitely an asset here," added Tiffani. "It was easy to move the Turbine 275g into position and get my racquet on most serves hit at me. I liked the responsiveness of this racquet, and it was easy to take advantage of weaker serves. However, when I was facing heavy spin serves the racquet just couldn't handle the power or weight of the incoming ball."
Mark echoed the team, and said, "Again, very maneuverable, and for the most part, my return was effective, but I wasn't able to gain confidence on my backhand slice, and big first serves were not as easy to get a hold of with this lighter racquet."
Overall - Score: 78
Likes
Chris - "I liked the maneuverability, spin, crisp feel and cosmetics."
Tiffani - "The Turbine 275g, like the Spin Deeper racquets, has a really responsive feel. The Turbine was easier for me to control with my flatter groundstrokes. I also liked the maneuverability."
Mark - "My initial impression of the performance was positive, which grew the more I played with it. I feel like this is a very versatile frame, with its combination of weight, balance, string pattern and firm beam. Due to the almost stiff beam type, I preferred it with either a full set of low tensioned poly or a hybrid setup."
Brittany - "I liked the power, maneuverability and feel that this racquet offered."
Dislikes
Chris - "The Turbine 275g lacked stability on block volleys and returns."
Tiffani - "It's a bit uncomfortable outside the sweetspot."
Mark - "If I had to change anything about the One Strings Turbine 275g, it would be the color scheme; although distinguishing, I do prefer darker colors over lighter ones."
Brittany - "There were some stability issues at times, and I felt I was missing just a tad bit of plow through (most noticeably on slices)."
Comparing it to other racquets they've used, our testers said:
Chris - "This racquet reminded me of the Babolat Pure Drive Lite and AeroPro Drive Team. The Dunlop Biomimetic M5.0 is also right in there. All offer a very light and fast feel, which translates into easy access to spin and pace for me. All are also pretty crisp feeling, and they're probably best played with a multifilament string to up the level of comfort since there simply isn't enough mass in the racquet to help absorb a lot of shock."
Tiffani - "The Turbine 275g is like a lighter weight Pure Drive, so the Babolat Pure Drive Lite is an easy comparison. There's good pace and a quick swing. Spin is easy to create, but it's just as easy to hit flatter shots."
Mark - "This frame is similar to and will favorably compete against the likes of the Babolat Pure Drive Lite, Wilson BLX Juice 100L, Head Graphene Speed S, Babolat Pure Strike 100, Dunlop Biomimetic M5.0, Yonex Ai 98 Lite and Volkl Organix 6."
Brittany - "The Turbine 275g felt like a lighter version of the Babolat Pure Drive or the Head Radical S. All three are light and maneuverable racquets with lot of available power (maybe even a little too much!). They also had some stability issues because of their light weight."
Technical Specifications

Length
27.1 inches
69 centimeters
Head Size
100 square inches
645 square centimeters
Weight
10.4 ounces
295 grams
Balance Point
13.13 inches
33 centimeters
3pts Head Light
Construction
23mm / 25.5mm / 23mm /
Composition
Graphite
String Pattern
16 Mains / 19 Crosses

Babolat RDC Ratings

Score

Grade

Flex Rating
64
Range: 0-100
Swing Weight
293
Range: 200-400
Scores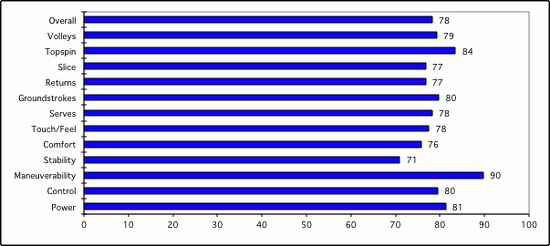 (Scores are determined by averaging individual play test scores)
Chris' Scores
Power
8.4
Serves
8.2
Control
7.8
Groundstrokes
8
Maneuverability
9.5
Returns
7.7
Stability
6.8
Slice
8.2
Comfort
7.4
Topspin
8.8
Touch/Feel
7.5
Volleys
7.4
Overall
7.8
Tiffani's Scores
Power
7.8
Serves
7.8
Control
8
Groundstrokes
8
Maneuverability
8.7
Returns
7.8
Stability
7.2
Slice
7.7
Comfort
7.6
Topspin
8.3
Touch/Feel
7.8
Volleys
8
Overall
7.9
Mark's Scores
Power
7.5
Serves
7.5
Control
8
Groundstrokes
8
Maneuverability
9
Returns
7.5
Stability
7.5
Slice
7.5
Comfort
7.5
Topspin
8.5
Touch/Feel
8
Volleys
8.5
Overall
7.8
Brittany's Scores
Power
8.8
Serves
7.8
Control
8
Groundstrokes
7.9
Maneuverability
8.7
Returns
7.7
Stability
6.9
Slice
7.3
Comfort
7.8
Topspin
7.8
Touch/Feel
7.7
Volleys
7.8
Overall
7.8
Playtester Profiles
Chris: 5.0 all-court player currently using the Wilson Six.One 95S. Chris uses a full-western forehand grip, has a fast swing style and hits a one-handed backhand.
Tiffani: 4.0 level baseliner with a semiwestern grip on the forehand and hits a two-handed backhand. Currently playing with the Donnay Formula 100.
Mark: 5.0 lefty all-court player with a one-handed backhand. He currently plays with the Wilson Steam 99S.
Brittany: Open level player with a semi-western forehand and a two-handed backhand. She currently plays with the Yonex EZONE Ai 100.

Review date: May 2014. If you found this review interesting or have further questions or comments please contact us.
All content copyright 2014 Tennis Warehouse.