Nike Vapor 9.5 Tour Men's Shoe Review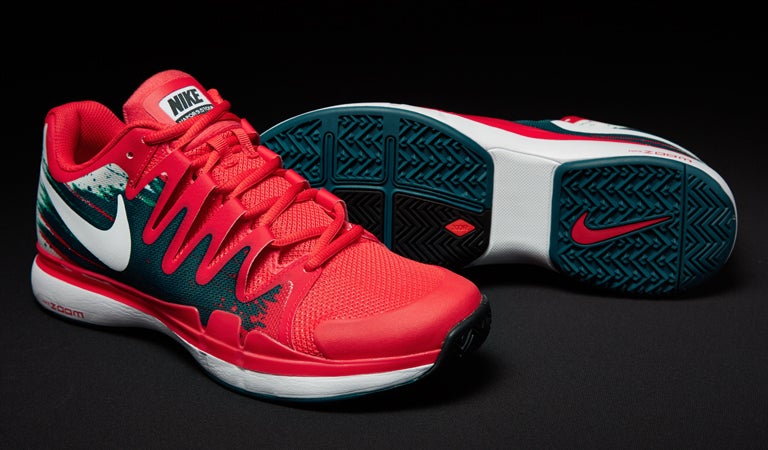 Nike Vapor 9.5 Tour Men's Shoe Scores
Comfort
4.9
Ventilation
4.3
Arch Support
3.2
Foot Support/Stability
4.8
Overall Sole Durability
2.0
Toe Durability
3.5
Traction
4.7
Weight
4.6
Overall
4.6
Upsides
Light and fast
Comfortable
Good traction
Summary
The Roger Federer inspired Vapor 9 Tour quickly turned into many players' favorite shoe when it was released two years ago. Now, Nike has taken another step forward with the introduction of the Vapor 9.5 Tour. Don't worry, everything you loved about the previous version is still there, like the Adaptive Fit lacing system and the fast, low-to-the-ground feel. You're still going to get that perfectly customizable fit that offers tons of support and stability, too. Now, the newly designed upper hugs your foot in a seamless design for an even faster, more comfortable feel. The durability issues are still there, so this may be a shoe best saved for competition purposes, however, in our opinion, there may not be a better option out there for match day!
Comfort - Score: 4.9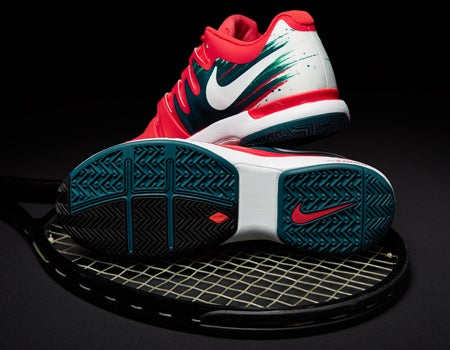 Our playtesters raved about the comfort of the Vapor 9.5 Tour. "Oh man, these are comfy!"exclaimed Andy, who's often seen walking around town in his pair. "Right out of the box you feel the plush cushioning, and the Adaptive Fit technology just cinches it all up in a perfect, customizable fit. Make no mistake, these are some of the most comfortable tennis shoes on the market -- so much so that on top of being an excellent performance shoe, they are my favorite tennis shoes to wear casually off the court."
It doesn't get any better than this for Chris, either. He said, "I loved the comfortable fit of this shoe. From the first wear to the last, my feet were rewarded with a very comfortable ride. I scored the shoes top marks since I do not require any more comfort than provided here. The level of cushioning was perfect. I loved the comfortable ride, yet thought the shoe felt responsive enough for court speed. Thanks to the Adaptive Fit lace system the fit was always perfect. My feet were comfortably and securely locked in. The supple upper materials also meant I never had to worry about any pinching or poking from any part of the shoe."
Ventilation - Score: 4.3
Both of our playtesters felt the Vapor 9.5 Tour had more than enough ventilation to keep them cool and comfortable on court. Chris enjoyed the breathability, and offered comparisons, saying, "My feet run cooler in these compared to the the SL version of the Vapor Tour 9. I like that they used mesh in the vamp of the shoe because it felt like it let out much more heat. Even on hot days my feet felt comfortable in these shoes. I was also able to wear them after a hit without feeling the need to immediately take them off -- often not the case with hotter feeling shoes."
Andy liked the breathability as well. He also attributed it to the use of mesh in the upper. He said, "No issues here! Ventilation was good and my feet never got too hot during the playtest. The use of mesh on top of the foot and in other key areas really helped keep my feet cool and dry."
Arch Support - Score: 3.2
Our playtesters had mixed feelings when it came to the arch support of the Vapor 9.5 Tour. Chris, who has been a fan of the more recent Vapor series, had no problems with the arch. He explained, "I had no issues with arch support in this shoe. I was able to move comfortably around the court and not have to worry about any undue stress to my arches. There was enough stability from the shank to support my feet during both aggressive lateral and forward sprints. The shoes flexed in exactly the right spot, so my arches were never put under any undue stress."
On the other hand, Andy didn't get enough support through the arch, which was similar to his experience with the previous version. He said, "This is an area where the shoe didn't work as well for me. There was a slight improvement over the previous version, which straight up hurt my arches when I played in them, but the 9.5 still had a fairly low arch that caused some discomfort at times after some long hours on court."
Foot Support/Stability - Score: 4.8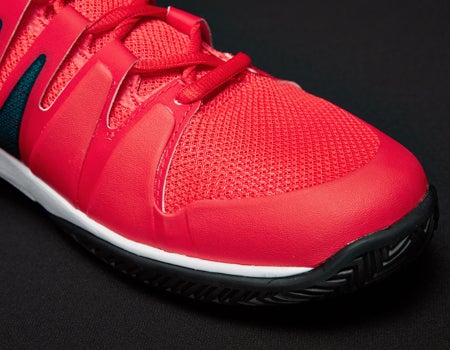 Another area where the Vapor 9.5 Tour really impressed our playtesters was its support and stability, which allowed both players to move around at top speeds with confidence. "I was extremely impressed by the amount of support and stability that the shoe offered given its lightweight, slipper-like comfort," Andy said. "I was moving around at full speed and sliding aggressively on the hard courts with full confidence that the shoe would support every move I made. This is a real strength of the shoe and a big reason why it works so well for the elite player."
Chris was hard pressed to find another shoe that offered this kind of support. He said, "This shoe gets away with not being ultra stiff by offering amazing support. It wrapped my foot so well that I felt completely locked in. On court it felt like the shoes were moving with my feet, almost like we were one. When I came to a quick stop, had a tough landing or made an aggressive cut, the shoes supported my feet perfectly. I never felt the need for any additional stiffness in the chassis of the shoe or any stiffer upper materials. I never felt even remotely close to rolling an ankle and never felt any undue strain on my feet -- just a perfect blend of support and flexibility. The only shoe I've worn that performs this well, and perhaps even a tad better, would be the new Lunar Ballistec."
Overall Sole Durability - Score: 2.0
This was where the Vapor 9.5 Tour struggled, not impressing our playtest team nearly as much as it did in other categories. Chris had to ration his use of this shoe to make it through the entire playtest. He said, "Every version of the Vapor has lacked durability, and the trend continues here. If I'm playing every day in these shoes I'll go right through the outsole in less than two weeks. While that might seem shocking to some, I'm tough on shoes and have worn out other brands in hours, not days. As is typical for me, I started to wear a hole through the forefoot area of the outsole under the big toe of my right foot. I like these shoes so much that I'm now very picky about when I wear them, as I want to save them for match play. They're simply not a shoe for long, grinding practices. I'm best served just keeping these at the ready for when I need their light and fast feel the most."
Andy also went through his pair very quickly. He offered, "Unfortunately, in the case of this playtest, good things do come to an end rather quickly. Within the first five hours of the test I had worn the tread down to a smooth rubber, and after 10 hours I was all the way through to the midsole. This was the least durable shoe I've tested for Tennis Warehouse."
Toe Durability - Score: 3.5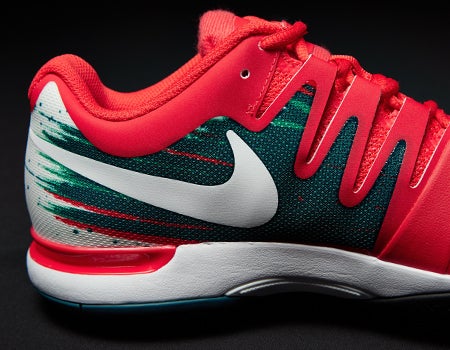 The lightweight, speed-oriented Vapor 9.5 Tour didn't quite have the level of durability in the toe area that our resident toe-dragger Chris requires. He explained, "The toe bumper held up well during my test, however, at times the mesh part of the vamp finds contact with the court and that leads to rapid wear. If you get very low to the ground on wide lunges and let the rear foot drag, less durable parts of the upper around the toe can come into contact with the court, and that is an issue. Again, this is an extremely light and fast shoe, and there seems to be a minimal amount of durability built in. I'm fine with that and will train in something more durable, like the Air Max Cage, and then rock these during tournament play."
Andy doesn't drag his toes much and didn't really put very much wear on his pair. He said, "The toe area has some added rubber for more protection, and it held up well during the test. I don't think I'd be wearing through the toe before I wore out the outsole."
Traction - Score: 4.7
Nike's signature XDR rubber compound on the outsole of the Vapor 9.5 Tour offered an exceptional level of traction. Andy raved, "Traction was spot on in this shoe, and I was getting the perfect amount of give and grip on the hard court. It allowed me to slide aggressively with confidence, and then it gripped the court when I needed to make a quick move back to the middle of the court. The traction, along with the weight and stability, was a big reason why I felt extremely fast in these shoes."
The traction also worked very well for Chris, who said, "There was a nice balance of grip and give from these shoes. I could rely on them to give me enough traction to make an aggressive lateral cut and found too much slide only when I was pulled wide onto the dustier extremities of the court. When coming to a quick stop I could control a slide or load more weight on the shoe for a more abrupt stop. I felt like I could control the amount of give I wanted from the outsole easily, as the level of traction felt very predictable."
Weight - Score: 4.6
Another one of the strengths of the Vapor 9.5 Tour is its low-profile, speed-oriented design. "I found a very light and fast feel from these shoes," Chris said. "Part of that comes from the simple fact they don't weight that much. The other part of that fast feel comes from the flexibility of the shoes. They move very well with my feet and flex perfectly. I found it very easy to totally forget about these shoes and just focus on my playing. That is the highest compliment I can give a shoe, and it speaks volumes as to how natural they felt to compete in."
These shoes felt even lighter than the previous version to Andy. He explained, "Like I said previously, this shoe feels super light and fast on court. In fact, it has a lighter and faster feel than the previous version. The materials in the upper are a little less substantial (in a good way), providing lightweight and seamless comfort throughout. A strong point of the shoe for sure!"
Overall - Score: 4.6
Likes
Chris -"I love the updated cosmetics, which are more aggressive. I found the fit and feel (all of which I loved in the previous version) to still be there. This update was subtle, but this shoe is still one of the best out there and is only challenged by the Lunar Ballistec."
Andy -"Extremely comfortable and lightweight, perfect traction and very stable, allowing me to feel my fastest on court. I also love the cosmetic!"
Dislikes
Chris -"The lack of durability means I have to save them for match play only."
Andy -"Not enough support through the arch for me and not durable enough."
Comparing this shoe to other shoes they've worn our testers said:
Chris -"It has a very similar fit and feel to the previous version. If you are looking for a fast feeling shoe, this is right at the top of my list. Others to consider would be the Asics Gel Solution Speed 2, Nike Lunar Ballistec and adidas adizero Feather III."
Andy -"It's lighter, faster and more comfortable than the previous version, and I felt like it was an overall improvement. The Vapor 9 was already a great shoe, but the Vapor 9.5 is even better. It's also similar to the Asics Gel Solution Speed 2, and although the Vapor may be a little more cushioned and comfortable, it's not as supportive or durable. The adidas adizero Feather III also comes to mind, but the Vapor is once again, more comfortable."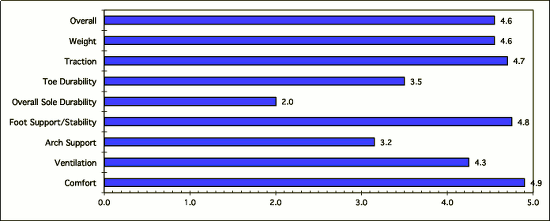 Playtester Foot Types:
Chris - Narrow width / Medium arch
Andy - Medium width / Low arch

Review date: April 2014. If you found this review interesting or have further questions or comments please contact us.
All content copyright 2014 Tennis Warehouse.