Wilson NXT 16 String Review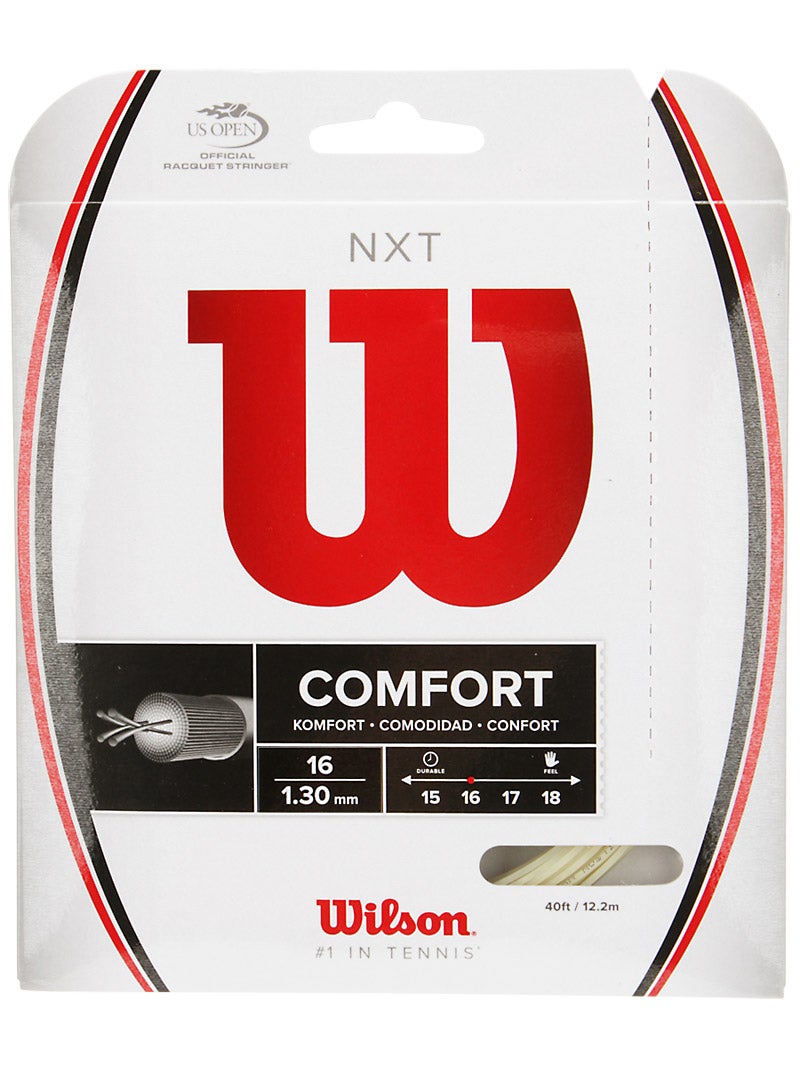 Wilson NXT 16 String Scores
Power
86
Spin
74
Comfort
89
Control
76
Touch
79
String Movement
72
Playability Duration
65
Durability
64
Overall
85
Upsides
Comfort
Touch
Feel
Playability
Summary
Over the course of our playtest the incredible feel of Wilson NXT was never in doubt, nor was the outstanding comfort. This is partly because NXT, a classic multifilament with a loyal following, is constructed with an army of 1,600 fibers, all of which worked overtime to create the cushioned response reported by our playtest team. Along with comfort and feel our team discovered power, and loads of it. While the extra pop caught some of our big hitters off guard, the majority of our team settled into a groove and appreciated the easy depth. Spin potential, though adequate, left a few of our players longing for the bite of their favorite monofilament. Regarding the big picture, it's clear from the overall score and abundance of positive comments that NXT is more than the sum of its parts. Unlike niche strings that excel only in one area and target a small group of players, NXT delivers the kind of performance that, like natural gut, cuts across ability levels. Perhaps this is why, for our team, the all-around playability and responsiveness prevailed in the end.
Power - Score: 86
Wilson NXT proved to be very generous in the power department. This kept Siobhan and her big strokes honest. She said, "My long and fast strokes fit better with polys or hybrids, so I came into this playtest not expecting magic, but I was pleasantly surprised. Despite some issues with the high power level, I found NXT to be very playable from all areas of the court. To some extent the power kept me honest because I had to control it with a lot of spin, and I couldn't get away with slapping the ball. When I switched from the Babolat Pure Drive to the less powerful Mantis 315 everything came together and I didn't feel like the power of this string was as consuming."
Though a slight adjustment was required, Tiffani appreciated the easy power. She said, "Though I prefer multifilaments, our playtest racquets are usually strung with some sort of poly. It was nice to get back to a string that helps out in the power department, though it did take an adjustment period since I hit with poly so often. At first I was having some trouble pulling the shots down into the court, with several of my baseline shots sailing long."
The added pop suited Brittany's game. She said, "There was a fair amount of power with this string. At times there was almost too much power, but I adjusted, and I thought it suited my stroke style. Taking big rips with this string resulted in some very powerful shots. The effortless power turned out to be a big positive for me."
"I thought Wilson NXT offered a lot of pop to my shots," said Karly, who found power added more to her offensive game. "When I strung my racquet at a higher tension, for more control, I still received plenty of power. I would definitely consider this one of the more powerful multifilaments."
Spin - Score: 74
Wilson NXT doesn't have the bite of a Solinco Tour Bite or the snapback of an RPM Blast. This is fine with Siobhan, who reminds us that spin starts with the stroke. She said, "With my fast swing the spin was very free and easy to find. Pocketing was great. Spin definitely was an important aspect of this string because it helped me reign in the power. I was able to hit heavy spin or flat at will, and my slice was equally dialed in and comfortable."
Tiffani had just enough spin to hit her shots. She said, "I found this string to be only moderately spin friendly for me. I could hit just enough spin, and as a player who hits pretty flat, this fit my game just fine. I could achieve both topspin and slice, though nothing along the lines of what generally is the case with a polyester. It is very comparable to similar multifilaments, though."
"This was not the most spin-friendly string I have ever used," said Brittany, who had a little trouble bringing the ball down. "There were times when I wasn't able to generate the amount of spin that I needed to keep the ball in play. This was especially noticeable when I was on the run and stretched out. My ball would sail long a lot due to the lack of spin."
Karly also could have used a little more bite. She said, "The spin factor of Wilson NXT was below average for me. I was still able to get a little bit of spin on my shots, but I wouldn't describe this as a spin-friendly string compared to some other strings out there. Overall, the spin level was just so-so for me."
Comfort - Score: 89
While nothing can duplicate the comfort, feel and resilience that comes from natural gut, it's clear from the responses of our team that Wilson NXT definitely brings the nylon multifilament universe a step closer. Tiffani was impressed. She said, "I enjoy the combination of arm-friendliness and feel that NXT offers. It is soft enough that it doesn't jar the arm, but at the same time it manages to maintain ball feel. Sometimes a string setup can be too soft for me. I need just enough feedback coming off the string to help me with touch and placement."
Brittany's arm was very happy with NXT. She said, "I found this to be a very comfortable string that was very easy on the arm. While I like to think I can hit the ball in the sweet spot every time, there are times when I hit off center. With this string, if I hit outside the sweet spot it was still very comfortable, and I experienced zero vibration."
No matter where on the stringbed she hit the ball, Siobhan had a comfortable response. She said, "Absolutely comfortable on all strokes. It even felt really good in a stiffer racquet. There was less vibration and shock than I've felt in a while, even when my contact wasn't clean."
Agreeing wholeheartedly with the other playtesters was Karly. She said, "Along with the power came comfort. I think NXT is one of the more comfortable strings available. It is extremely easy on the arm and very soft to play with. I had no complaints with the comfort."
Control - Score: 76
On the spectrum between power and control, Wilson NXT definitely lies on the side of power. This can sometimes lead to control problems for big hitters like Brittany. She said, "While I liked the power, I thought the control was a little lacking on my fastest swings. Since I'm an aggressive baseliner who hits flat strokes I need all the control I can get to keep my ball in the court. My ball wasn't going exactly where I wanted it to go with this string, and I had to play a little more cautiously."
For Karly, NXT had slightly more control than its multifilament peers. She said, "I wouldn't necessarily say it's a control-oriented string, though I thought it offered more control than other soft multifilaments. The control of the string was average for me."
Tiffani found a groove after a slight adjustment period. She said, "Again, I struggled because I've been playing with poly, so initially I saw the ball going long because of the added power. I found good directional control once I settled back in with the NXT. I liked the combination of power and control, though I wouldn't label this a control-oriented string."
Siobhan used spin to control the power of NXT. She said, "Sometimes I find really powerful strings can lack control, but I didn't have that issue so much with NXT. I just found that I had to use spin and racquet speed more than I would with a poly to increase the control."
Playability Duration - Score: 65
Like all strings, Wilson NXT loses tension and playability over time. This wasn't much of a problem for Siobhan, but she did need to concentrate more. She said, "Playability was never really an issue for me, as I could still hit all my shots, although as time passed I needed a tad more concentration to keep the control. This was not too much of an issue over time though, as I snapped the string within a week and a half so it was a matter of small adjustments."
After a few hard hitting sessions Brittany definitely noticed some changes. She said, "The first two times I hit with this string it was perfect. There was a good combination of power, control and spin. After the second hit (about three hours of playing), I started to notice a slight drop in play. After about the fourth hit I felt the power and comfort levels decrease. After about six-plus hours of play I found a noticeable difference in performance that affected my game."
Karly had adequate playability and comfort after the tension dropped, but she did notice some durability issues. She said, "Durability wasn't the best feature of this string. I noticed the string frayed easily, especially when it was strung at a lower tension. I think the string had good playability, as the power and comfort didn't change too drastically, but the string lacked durability."
When it came to tension loss, NXT held no surprises for Tiffani. She said, "As the string loses some of its tension there is more string movement, but it's right in line with what I expect from a multifilament. There was also some fraying as the string neared the end of its life."
Overall - Score: 85
Likes
Siobhan - "All around enjoyment, particularly comfort, power and spin."
Brittany - "I enjoyed the combination of power and feel, and the comfort was an added bonus."
Karly - "The feel, comfort and power were great."
Tiffani - "I like NXT as a comfortable string that offers solid all-around performance. When I'm looking for a string to compare other string to, or to use on demo racquets, I like NXT for its reliability. I get good power and comfort with enough spin and control."
Dislikes
Siobhan - "I require higher durability, but for a multi it was good."
Brittany - "The playability duration lasted me about two to three days. I also thought the durability was on the lower side."
Karly - "I require higher durability, but it was good for a multi."
Tiffani - "The string isn't the most durable out there, but that's not a huge dislike for me."
Comparing the string to others they've tried, our testers said:
Siobhan - "Tecnifibre NRG2 comes the closest in terms of comfort and feel."
Brittany - "I would compare this to Tecnifibre NRG2. I found the feel and touch to be comparable. I also thought the comfort was very similar. With both strings I was able to find good power and depth."
Karly - "I thought NXT had a similar feel to NRG2, however I'd say NXT offered more feel and pop, whereas NRG2 provided more control."
Tiffani - "I would put NXT up there with other popular multifilaments. Its good mix of power and comfort is comparable to Tecnifibre NRG2 or Babolat XCel."
Scores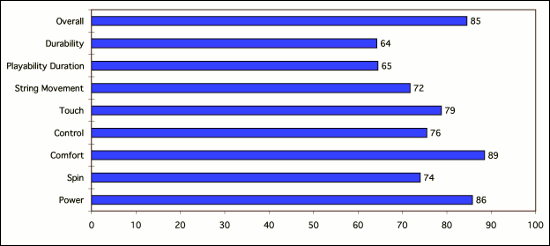 (Scores are determined by averaging individual play test scores)
Siobhan's Scores
Power
8.5
Playability Duration
6
Spin
8
Durability
6
Comfort
9.3
Control
7.5
Touch
7.5
String Movement
6
Overall
8.8
Brittany's Scores
Power
8.6
Playability Duration
5.6
Spin
7.6
Durability
6
Comfort
8.5
Control
7.5
Touch
8.1
String Movement
7.6
Overall
7.8
Karly's Scores
Power
8.7
Playability Duration
6.7
Spin
6.5
Durability
6.7
Comfort
8.8
Control
7.5
Touch
7.8
String Movement
7.8
Overall
8.7
Tiffani's Scores
Power
8.5
Playability Duration
7.5
Spin
7.5
Durability
7
Comfort
8.8
Control
7.7
Touch
8.1
String Movement
7.3
Overall
8.5
Playtester String Setups

Review date: October 2012. If you found this review interesting or have further questions or comments please contact us.
All content copyright 2012 Tennis Warehouse.