Nike Lunar Speed 3 Women's Shoe Review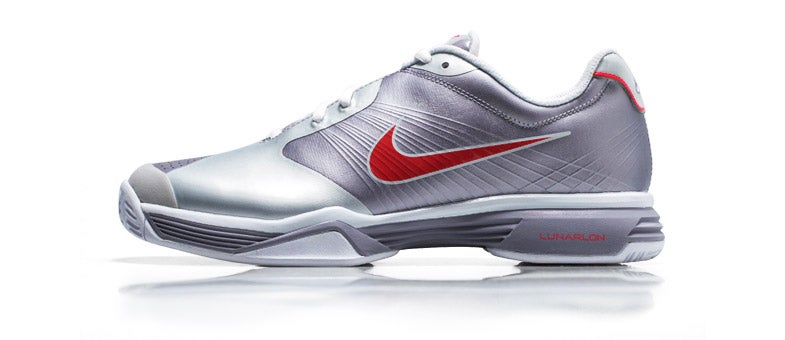 Nike Lunar Speed 3 Women's Shoe Scores
Comfort
3.8
Ventilation
3.9
Arch Support
4.3
Foot Support/Stability
4.2
Overall Sole Durability
4.0
Toe Durability
4.0
Traction
4.2
Weight
4.6
Overall
3.9
Upsides
Lightweight
Durable
Excellent traction
Support
Cosmetics
Downsides
Long break-in
Laces are short
Summary
The saying goes, "Third time's a charm," and it seems the Lunar Speed 3 is Nike's best Lunar Speed shoe yet. Our testers found the shoe offered the positives of the previous models -- lightweight, excellent traction, good support, good durability and exciting cosmetics, with one noticeable improvement, fit. With the previous two models, our testing team noted the shoe ran extremely narrow -- good for some but not for most. The Lunar Speed 3 offers a wider, true to medium fit that's most noticeable in the forefoot. This change opens up the Lunar Speed to more players, not just those with narrow feet. Our testers did have one note of caution, however: The Lunar Speed 3 requires a break-in of about a week to be fully comfortable. WIth its fast feel and great traction, this shoe could be your next match day shoe. We just recommend you wear it around to get it loosened up before you hit the courts.
Comfort - Score: 3.8
With Lunarlon cushioning and Flywire support technology, the Lunar Speed 3s were sure to be a lightweight shoe. What took our testers by surprise was how long it took to break them in. Brittany said, "While breaking this shoe in I could definitely feel some rubbing on the outer sides of my feet. However, after the initial break-in I found an ample amount of comfort. I felt the cushioning was just right, especially around the heel and forefoot."
Carol, too, settled into the shoes. She offered, "I thought this shoe was really comfortable after the initial break-in period of 5-7 hits. I felt that the toe box was too deep and provided too much room for my toes, but wearing thick socks solved this problem for me."
Also finding comfort in the long run was Tiffani. She said, "By the end of the playtest the Lunar Speed 3 was pretty comfortable, but there was a definite break-in period of about five hours for me. I needed the material of the shoe to stretch so it would flex with my feet more comfortably. Of the Lunar Speed series, this third edition is the easiest for me to wear. I have wide feet and the previous two were too narrow. The Lunar Speed 3 is a squeeze to get on, but once I do, and now that it's broken in, it's not constricting in the forefoot, and I like the low feel of the cushioning."
Ventilation - Score: 3.9
The uppers and mesh panel worked together to offer average ventilation, according to our testers. "I thought the ventilation aspect of this shoe was great," said Carol. "My feet never felt overheated in this shoe."
Tiffani gave the shoe passing marks, saying, "I didn't notice the shoes running overly warm, but they were not as cool feeling as I expected. The mesh panel on the medial side doesn't ventilate like I thought it would."
Brittany was comfortable on court. She said, "I didn't have any problems with ventilation on the court, but I did notice that as soon as I was done playing tennis for the day I needed to take the shoes off, as I felt my feet start to overheat."
Arch Support - Score: 4.3
The arch support in the Lunar Speed 3 is medium height and was a good fit for our range of testers. It took some break-in time for Tiffani, though. She said, "Part of the break in time for me had to do with the arch support. I have low arches, and these were too high for me until I compressed them."
Brittany used previous models as a comparison. She offered, "I felt the arch support was just a little lower compared to the previous version. This benefited me, and I felt very comfortable with the support in these shoes. Also, and very importantly, the support hit my arch in just the right place."
With medium heigh arches, Carol was pleased. She said, "The arch support this shoe had was just right for me."
Foot Support/Stability - Score: 4.2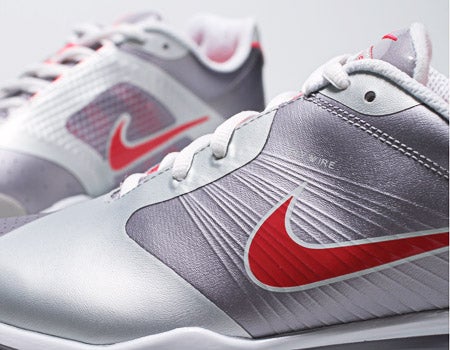 Not all lightweight shoes can provide adequate support for tennis. The Lunar Speed 3 impressed our playtesters with its Flywire and carbon fiber shank. Brittany said, "Since the fit is more on the narrow side, I felt this shoe held my foot like a glove. My foot was not sliding around at all in the shoe, which made for very comfortable movement on the court. The one negative I have with this shoe is that the laces are too short. When tying the laces all the way up for added stability I had trouble tying them in a bow."
"This shoe provided a lot of support to me," said Carol. "I felt very comfortable with the quick stops and goes and changes of direction. I never had to worry that the shoe wouldn't support me in these moves."
Tiffani noted the low-to-the-ground feel, saying, "This shoe feels so lightweight, yet there is great stability. Even with my wide feet I could lock in my forefoot for good support. Plus, I enjoy low-riding shoes. I feel like there's less chance of rolling an ankle when shoes sit low to the ground, and the Lunar Speed 3 does. My only complaint here is the heel area. It seemed to open up when my foot flexed, so I had to use the extra eyelet at the top of the lacing system to keep my heel from slipping out. This wouldn't normally cause me to raise an eyebrow, but the stock laces are almost too short to do this."
Overall Sole Durability - Score: 4.0
Our testers played on hard courts for a month and were happy with how the XDR outsole held up. Carol said "I usually wear out my tennis shoes near the toe, but no wear and tear has happened yet."
Brittany saw minimal wear. She offered, "For how lightweight of a shoe this is, I found it to be extremely durable. After the month-long playtest there was only some smoothing in the medial forefoot area of the outsole. The durability held up well for me, especially compared to other shoes in its category."
Tiffani echoed those thoughts, saying, "In my experience, lightweight shoes don't stand up well to hard court tennis. The Lunar Speed 3, however, handled the wear and tear pretty well. At 20 or so hours in I am just beginning to see the tread go smooth. Maybe the lower weight is helping me be light on my feet? Trust me, I've never been accused of that before!"
Toe Durability - Score: 4.0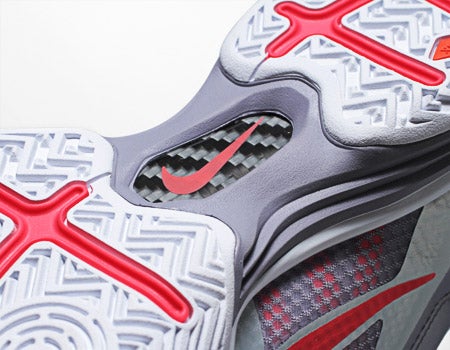 Our toe dragging testers came back with positive results for the Lunar Speed 3. "Again, I'm impressed with durability," said Tiffani. "I did hardly any damage to the toe area, and I liked how the toe bumper doesn't add too much bulk to the look of the shoe."
Brittany agreed. She added, "I was pleasantly surprised with the toe bumper on this shoe.  Being an avid toe dragger, I felt the shoe held up extraordinarily well. The added toe protection started to show some balding, but didn't damage the cosmetic of the shoe in any way."
Traction - Score: 4.2
The modified herringbone tread pattern was a good fit for the hard courts our testers played on. The traction was long-lasting for Brittany. She said, "The modified herringbone tread pattern Of the Lunar Speed 3 held up nicely on hard courts. I felt very confident moving around the court, especially when making quick changes of direction. The shoes gripped the court and I was able to stop and start quickly, especially when I was chasing down drop shots or lobs and had to recover quickly to get back in to position."
Carol never had any doubts. She noted, "As mentioned in Foot Support/Stability, this shoe did very well with traction. I felt very confident that the shoe would perform well in all movements on the court."
"I didn't have to think about whether I was going to slip or not," said Tiffani. "I could move around the court confidently and know the Lunar Speed 3 was going to get me there safely. Pair the traction with such a lightweight feel, and it's easy to figure out why the shoe played incredibly fast."
Weight - Score: 4.6
There are not many shoes in the sub-11 ounce weight range (size 8.5), but that's where the Lunar Speed 3 resides. Tiffani said, "Shoes can't get much lighter than this for tennis and remain stable enough -- at least with the current technologies. It really doesn't feel like I'm wearing shoes they feel so light."
"My favorite part of the shoe," said Brittany. "The Lunar Speed 3 is super lightweight at only 10.8 ounces. I felt extremely quick on the court and felt like I wasn't even wearing shoes. I felt the ratio of weight, stability and durability was right on cue for a great tennis shoe."
Carol was pleasantly surprised. She said, "Even with the extra arch support, I feel that the shoe was pretty lightweight. I expected it to be much heavier in weight."
Overall - Score: 3.9
Likes
Brittany - "I loved the sleek and colorful cosmetics and light weight!"
Carol - "I really liked the support and traction level this shoe provided. Durability has been really good so far. Ventilation is very comfortable and my feet never felt overheated."
Tiffani - "The weight-to-durability ratio is impressive."
Dislikes
Brittany - "I did not like the long break-in period and the short shoelaces."
Carol - "The break-in time was long for me. This is not a shoe I would recommend taking out of the box and playing a match in. My toes also had a little more room than I like up and down in the toe box, but this was corrected by wearing thicker socks."
Tiffani - "The break-in was not fun, and I would need to buy new laces because the stock ones are too short."
Comparing the Lunar Speed 3s to other shoes they've worn, our testers said:
Brittany - "Obviously, very similar to the previous Lunar Speeds but fit a bit wider, especially in the toe box. Another similar shoe would be the New Balance 851. The New Balance 851s are very similar in the weight and traction departments."
Carol - "In comparison to other shoes, this shoe is definitely topping my list. I prefer this shoe to most of the other shoes I have tested with Tennis Warehouse in its category. It provides a lot of support, which all players need, and doesn't have the heavy weight that can drain a player. My one warning is to allow a few days break-in time."
Tiffani - "The closest shoes to the Lunar Speed 3 are the previous Lunar Speed shoes. With each edition, the Lunar Speeds keep getting wider in terms of fit, which is good for me, but the performance aspects remained the same. The New Balance 851 is similar in weight, but performs much differently. It is more comfortable out of the box, but it isn't as stable."

Playtester Foot Types:
Brittany - Narrow width / Medium arch
Carol - Medium width / Medium arch
Tiffani - Wide width / Low arch

Review date: January 2012. If you found this review interesting or have further questions or comments please contact us.
All content copyright 2012 Tennis Warehouse.