Nike Air Max Mirabella III Women's Shoe Review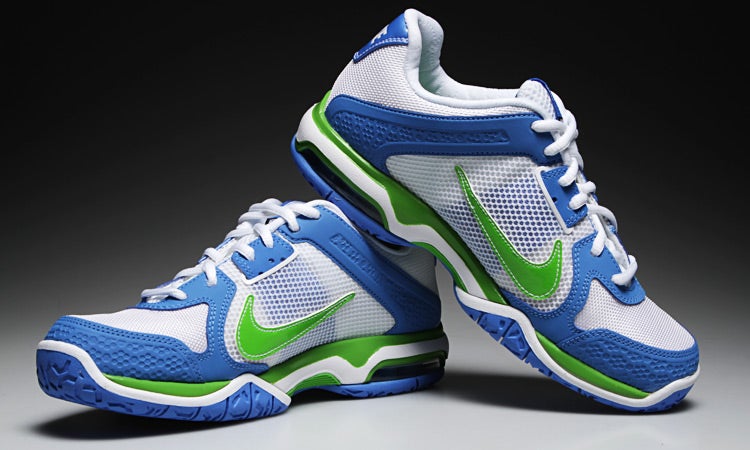 Upsides
Traction
Comfort
Styling
Lightweight
Wide fit
Nike Air Max Mirabella III Shoe Scores
Comfort
4.4
Ventilation
4.3
Arch Support
4.4
Foot Support/Stability
4.4
Overall Sole Durability
4.0
Toe Durability
3.6
Traction
4.2
Weight
4.3
Overall
4.5

Initially designed to meet the needs of one of the most dominant female tennis players in the world, Serena Williams, the Nike Air Max Mirabella series of shoes has proven itself on the tennis court, just like its inspiration.
Now in its third version, the Air Max Mirabella continues to evolve. At 12.5 ounces, compared to the 13.2 ounces of the Mirabella II, it's now ready to fly around the court. In addition to less weight, the Air Max Mirabella III has been updated to Nike's true fit for a generous medium fit in the forefoot.
As with previous versions, Max Air cushioning provides maximum impact protection and an XDR outsole provides lasting durability on all court surfaces.
So how did the Nike Air Max Mirabella III fare with our playtesters? After a month-long playtest, here are the results.
Comfort - Score: 4.4
The Air Max Mirabella III earned high marks in comfort with all of our playtesters. Brittany said, "These shoes were comfortable. Although I did have a short break-in period (around 3 hours), I had an easy transition into these shoes. They had great cushioning in the heel, thanks to the Max Air technology. I do have a narrow foot and found the shoes to be a bit roomy."
Suzie agreed, saying, "The shoes were very comfortable, even though my feet had extra space. They fit a little wide, but not to the point where I was sliding."
Katy was impressed. She said, "I have embarrassingly wimpy feet, and I get blisters every time I try a new running or tennis shoe. The Air Max Mirabella III was the exception! I played in them with no blisters, hot spots or any other discomfort. There is a lot of volume in the forefoot, but not enough to make it feel sloppy."
The same was true for Ilene, who offered, "These shoes are surprisingly comfortable. I am not a big Nike fan, but these are comfortable all around, and definitely the most comfortable Nike tennis shoe I have worn. There was no pinching or rubbing. I found cushioning in all the right places, but not so much that it made it hard to feel the ground. I wore the shoes to play in and often kept them on for hours afterward, and they felt great on my feet. I have a very average foot width. Sometimes I need to tie laces extra tight, but not with these shoes. The material was soft and flexible, which I liked. I did not feel any pressure on my toes or any rubbing around my ankles, and I found them very easy to run in."
Kana had some trouble with the width. She said, "Right out of the box they felt a little tight, but they were the widest shoe from Nike I've tried. After about an hour and a half of hitting they loosened up and molded to my feet. I usually take off tennis shoes right after play, but the cushioning was so comfortable I could wear them afterward for the whole day."
Ventilation - Score: 4.3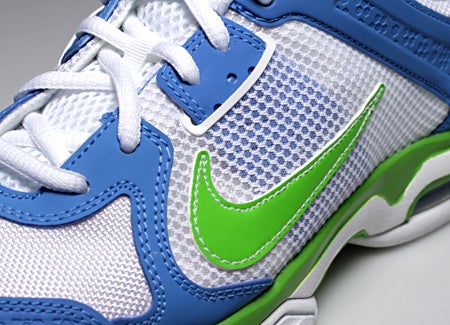 With plenty of mesh and performance synthetic leather, the Air Max Mirabella III didn't overheat our playtesters' feet. Kana said, "They were extremely breathable. The mesh in the upper midfoot section really helped keep my feet cool."
Ilene was pleased as well. She said, "The mesh material allowed for very good ventilation. My feet never felt sweaty or unpleasant."
Brittany was in agreement, offering, "The mesh in the upper gave me plenty of ventilation. Even though the mesh was thick, I felt I had good breathability, and my feet never overheated."
"These shoes felt very breathable," said Suzie. "I really liked the mesh system, and it was great on the court and off the court for hours at a time. I never sweated through my socks, even during vigorous workouts."
Katy was surprised, saying, "The mesh is very tight, so it is not the extreme ventilation you might think you would get with this shoe. Having said that, my feet never got overheated during play."
Arch Support - Score: 4.4
Our playtesters had nothing but positive comments about the low fit through the arch of the Air Max Mirabella III. Ilene said, "The arch support was perfect for me. I have a medium height arch, and this shoe was always comfortable while playing. I could run and stop often without any discomfort, and I felt very agile in them."
Katy had no problems. She said, "I have pretty forgiving arches and rarely have any issues. The Air Max Mirabella IIIs were no exception."
"The arch support was just right," said Kana. "It was nearly perfect, and helped keep my low arches supported while not being so high my arches would get sore."
Suzie enjoyed the feel, saying, "I didn't have any problems with the arches, and the shoe had a low-to-the-ground feel, which I really liked."
Also pleased was Brittany. She said, "I normally don't have a problem with arches, and the arch support in this shoe met my standards. I felt the arch was hitting the right spot on my foot, and I didn't feel any pain while playing. "
Foot Support/Stability - Score: 4.4
Our playtestests were generally impressed when it came to support and stability. Kana said, "I would not hesitate to play in a heavy battle with this shoe. The comfort and cushioning molded to my feet, while the midfoot strap in the lacing system offered a customizable fit for a more supportive feel. Even though the upper seemed to be mostly made of mesh, Nike did a great job using synthetic leather in just the right places to provide heel and forefoot support. The shoe felt like a part of my foot."
Ilene liked the fit. She said, "I had no rolling issues or sliding inside the shoes. I was able to stop and go while playing and never experienced any instability on any part of my feet. My toes never hurt or felt pressure, and my ankles felt stable and secure when stopping abruptly and moving side to side. I used them for both doubles and singles without any issues."
"Any time I see a mesh shoe the support and stability are immediate concerns for me," said Katy. "But, because the upper is made of such a tight mesh with ample overlays, I never felt like my feet were sliding around. The outsole was wide enough, and the shoe sits low enough to the ground to make the Air Max Mirabella IIIs feel quite stable."
Having to tie her laces tighter was Brittany. She said, "When I first started playing with these shoes my feet were slipping inside the shoes when moving. Because I have a narrow foot, I fixed that problem by tying the lower laces tighter, especially where the strap comes across the upper. This fixed the problem. I had complete confidence in the TPU shank for stability."
Suzie was left wanting a little more. She said, "Even though there was extra room in the toebox, my foot did not slide around. I felt really good moving laterally, up and down, and all over the court. However, if I had to change anything, I would have liked more support around the ankles."
Sole Durability - Score: 4.0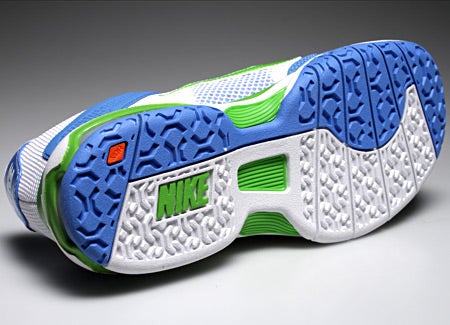 The Air Max Mirabella IIIs feature an XDR outsole for durability. Our playtesters found it held up to their standards. Suzie said, "I found the XDR outsole to be very durable. After hours of hitting I have not worn down the soles. They look and feel brand new."
Comparing the shoe with the adidas Barricade adilibria, Katy said, "I didn't see any abnormal wear on the outsole. I always wear the instep out before any other part of the shoe, and I started to see wear in that area before any other. It isn't quite as durable as the Barricade, but considering the weight and the price difference, it's a pretty durable outsole."
Brittany saw an average amount of wear. She said, "I did start seeing some wear on the outsoles of the shoes. However, this is normal for my shoes in certain areas. I did play a lot in these shoes, and the wear doesn't seem above average."
Kana agreed, "They seem about average for durability. I'm not typically hard on outsoles, and these held up very well."
"I found the outsoles to be very durable and long lasting," said Ilene. "I did not notice the soles wearing out in any specific areas, unlike my Nike Mystify sneakers, which showed extensive wearing on the ball of the toe within weeks. I sometimes wear my sneakers for hours after playing, and I have noticed that the sole does not indicate much wear from either playing or casual wear."
Toe Durability - Score: 3.6
Durability in the toe received mixed reviews from our toe-dragging playtesters. Suzie said, "These shoes really are good for toe draggers. I do not have a dent in the toe guard, and I normally wear those down first."
Ilene agreed. She said, "The toe area seems to be durable and has held up well for me."
Brittany had a different opinion, though. She said, "This was probably the shoes' biggest negative for me. The toe drag protection strip took a beating. I managed to rub through the seams and took a chunk out of the strip on both shoes."
Traction - Score: 4.3
The modified herringbone tread pattern and flex grooves are engineered for all court surfaces, and received high marks from all the playtesters. Ilene said, "The shoe grips the court very well, making it very easy to stop, start and change directions, even at very fast speeds. I did not experience any sliding on the court. I tend to run down every ball, and I always found enough traction and grip on the court. I even wore the shoes on a wet court a couple of times and traction was great."
Brittany said, "I found a high level of grip, and I had no problems moving in all directions on the court, comfortably and quickly."
Kana put a good amount of time on court in these shoes. She said, "I wore the shoes for more than 20 hours, and the traction was still good. The shoes were playable right out of the box in terms of aggressive movements both front to back and side to side. I didn't experience any stutter-steps because of too much traction or sliding because they were too slick."
Traction was a standout feature for Suzie. She said, "I was really pleased with the traction I found in these shoes. My changes of direction felt great. I was moving better than ever, and I had no problems with stopping and starting."
Katy was also pleased. She said, "Absolutely no issues here. I had total confidence stopping and starting up again, both laterally and up and back."
Weight - Score: 4.3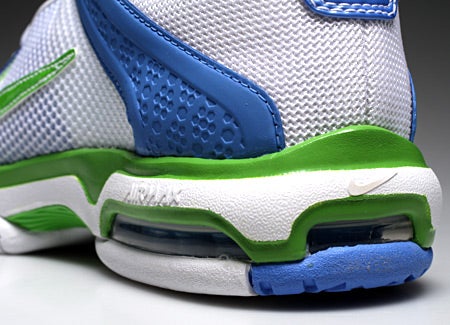 Weighing in at 12.5 ounces (size 8.5), the Air Max Mirabella IIIs impressed our playtesters with a lightweight feel. Kana said, "Even though the weight is listed heavier than most of the shoes I've playtested, everything worked to where the shoe felt like it was a part of my foot, so it was easily maneuverable."
"The shoes felt lightweight, which I loved," said Suzie. "They felt much lighter than my Barricade shoes. The weight was impressive considering the level of durability and support."
Brittany enjoyed the fit. She said, "I am a big fan of lighter shoes, and while this isn't the lightest shoe I have played in, I definitely felt light and quick in them. I could cinch the laces down to get the shoes to contour to my feet, allowing me to move smoothly around the court, and hiding their weight somewhat."
The weight impressed Katy, who said, "I don't know what the shoe actually weighs, and maybe it is the mesh playing tricks with me, but they felt and played very light. However, they didn't play so light as to seem flimsy."
Ilene agreed. She said, "The shoes felt lightweight and comfortable on my feet. I dislike heavy shoes. These felt light enough, yet were also very supportive."
Overall - Score: 4.5
The Nike Air Max Mirabella IIIs scored high in all aspects of our review. Our playtesters liked the immediate comfort they found, and the shoes offered a low arch and plenty of ventilation, which proved popular with our crew. The playtesters did note that the fit was on the wider side, especially for a Nike shoe. Even though the shoes were a tad on the heavy side, they provided a lightweight, stable feel on court. All in all, the Air Max Mirabella IIIs excelled in all areas, and have become a favorite among our playtesters.
Likes
Brittany - "Comfort, stability, weight and cosmetics."
Kana - "These are currently my favorite shoes. I liked everything about them!"
Suzie - "I really liked these shoes, especially how well I moved in them, the low-to-the-ground feel, the durability and the overall look."
Katy - "Comfort right out of the box, aesthetics (I get compliments every time I wear them!), price and support."
Ilene - "First, I like that the shoes were comfortable immediately. No break-in period was necessary for me. The shoes never felt stiff and I was able to keep them on many hours at a time."
Dislikes
Brittany - "The toe protection strip did not hold up to my toe dragging."
Kana - "They needed to be broken in for my wide feet."
Suzie - "The shoes were pretty wide fitting for me and I had extra room, which was a bit different. I also would have liked more support around the ankles."
Katy - "Nothing! I liked pretty much everything about these shoes."
Ilene - "I really cannot say I dislike anything, other than the looks. Although I have gotten many compliments while wearing the shoes, the cosmetics didn't work for me."
Comparing the Air Max Mirabella IIIs to other shoes they've worn, our testers said:
Brittany - "They are definitely up there as one of the better shoes I have worn. I liked the weight, ventilation and support of these shoes. They were also similar to the Asics Gel Resolution 3s in both comfort and fit."
Kana - "I've always had a hard time playing in Nike shoes as it seems their target audience has a narrower foot. This is the first Nike shoe I would play in, and ranks among the highest scoring shoes I've playtested."
Suzie - "This is the first Nike shoe I have ever played in. I have always been an adidas girl, but I was pleasantly surprised. I liked the lightweight feel, the movement on the court, and the durability. I am honestly considering a switch to Nike after these shoes!"
Katy - "My 'go to' shoe has been the Nike Women's Ballistec 2.3 for a long time, but I honestly think this replaced it -- and that says a lot!"
Ilene - "This is one of my favorite tennis shoes to date (except for the color). I have been a little disappointed with the sole durability of some of the Nike shoes I have used over the years (Nike Mystify, Breathe Free II). I like the Lacoste Repel Pearl a lot, as well as the Head Prestige. I find the Air Max Mirabella IIIs to be more comfortable than the adidas Barricade Vs that I often wear. The break-in period was far shorter than the adidas. I also found them to be far more comfortable and flexible on my feet, especially around the toe area. Overall, I love the flexibility and comfort they provided for my feet."

Playtester Foot Types:
Brittany - Narrow width/Medium arch
Kana - Wide width/Low arch
Suzie - Wide width/Medium arch
Ilene - Medium width/Medium arch
Katy's - Medium width/Medium arch

Review date: March 2011. If you found this review interesting or have further questions or comments please contact us.
All content copyright 2011 Tennis Warehouse.