New Balance WC851 Women's Shoe Review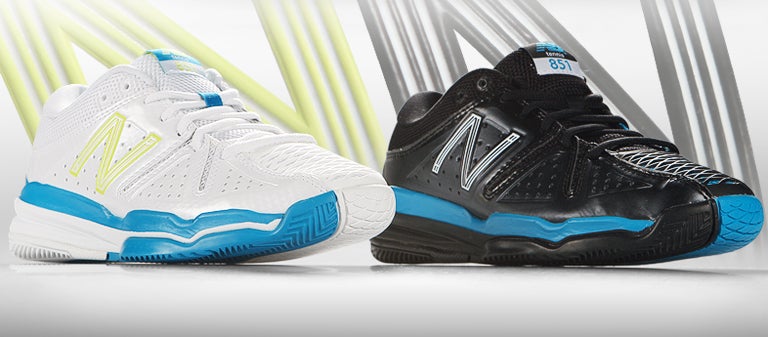 New Balance WC851 Women's Shoe Scores
Comfort
4.2
Ventilation
4.3
Arch Support
4.4
Foot Support/Stability
3.4
Overall Sole Durability
4.2
Toe Durability
4.0
Traction
4.6
Weight
4.8
Overall
4.1
Upsides
Comfort
Lightweight
Traction
No break-in
NDurance guarantee
Downsides
Questionable support/stability
Summary
It's going to be tough to find something to play tennis in lighter than the New Balance 851 that also offers enough support, stability and durability. The 851 is playable right out of the box, offering slipper-like comfort. That slipper-like feel, though, while offering comfort, led to some questions about the support level of the 851. Our testers were able to wear them for competitive play, but some felt they had to hold back, as the shoe pushes the limits of lightweight support. Though the 851 may not be best suited for grinding days of training, this is a lightweight shoe that could be an asset for competitors who are looking for maximum speed come match day.
There are heavy tennis shoes and there are light tennis shoes. There's no question which category the New Balance WC 851 falls into. Weighing a mere 10.4 ounces (size 8.5), this is one of the lightest tennis shoes on the market.
A big challenge for lightweight shoes is providing tennis players with the support and lateral stability they need and the durability they want. The 851 features a nylon shank to increase the support and stability of the uppers, which are made of a synthetic leather and mesh combo. The outsole features New Balance's signature Ndurance outsole, which is backed by a durability guarantee.
Would this be enough? We sent out a team of playtesters to see if the 851 could withstand the rigors of hard court tennis.
Comfort - Score: 4.2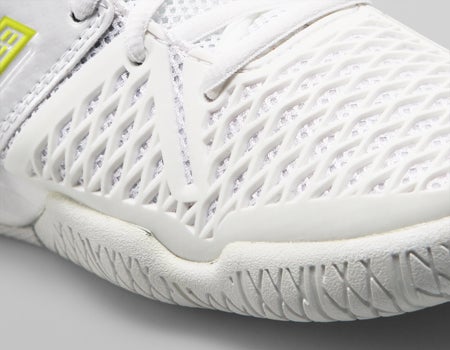 The flexibility of the upper materials and the Acteva Ultralite Compound cushioning pleased our playtesters' feet. Brittany said, "I felt immediate comfort when I put my foot in this shoe right out of the box. There was absolutely no break-in period for me. The shoe had just the right amount of cushioning. not too much, but enough in my heel for me to feel comfortable. I enjoyed the glove-like fit and the low-to-the-ground feel."
Agreeing, Carol added, "These shoes felt like slippers. They were very light and hugged my feet. There was no break-in period needed; they were ready to play in."
Eileen said, "The cushioning was good. There wasn't super thick cushioning, so I felt pretty close to the ground. I didn't feel poked, pinched or rubbed, just a low-to-the-ground feel in this shoe."
Tiffani noted New Balance's width options. She said, "This shoe is so supple right out of the box there was zero break-in time required for me. It's also a plus that New Balance offers shoes in widths, and I was able to test the D width to fit my wider forefoot. For me, the comfort came from the flexible uppers, lightweight feel and D width toe box. It's rare for a shoe to not feel too narrow. I felt there was enough cushioning for this style of shoe, but it's not the super cushioned feel that I've experienced in other New Balance court shoes."
Ventilation - Score: 4.3
The 851 has plenty of mesh in the upper beneath a lightweight plastic cage structure. For Eileen, this offered enough ventilation. She said, "I always felt comfortable and dry during and after playing."
"Ventilation was a non-issue for me in this New Balance shoe," said Brittany. "I never felt like my foot was overheating or I was sweating through my sock. The mesh in the upper really helped the breathability of this shoe."
Tiffani agreed, saying, "My feet were pretty comfortable in the 851 shoes. Even when testing the black colorway in the summer months, my feet didn't feel excessively sweaty or hot. The mesh added a nice pop of color and provided enough airflow."
Arch Support - Score: 4.4
The arch support sits slightly lower than medium, but managed to please our testers. Tiffani said, "My arches are fairly flat so I'm usually satisfied with the arch if I don't feel pain. With these, I had to wait for the arch to compress a little bit before I was fully comfortable, but that only took one outing, and it was never overly uncomfortable."
The support was adequate for our testers with medium height arches. Carol noted, "It was just right for me." While Eileen offered, "The arch support was just right for my medium arches."
Brittany, who also has medium height arches, countered, "The arch on this shoe was a little low for my liking. However, it did not affect my foot or movement at all on the court. I didn't feel any pain or soreness with this shoe."
Foot Support/Stability - Score: 3.4
One of the dangers of taking too much weight out of a tennis shoe is compromised support and stability. The 851 precariously walks the line between being light or too light. Carol felt on the edge at times, saying, "My foot never slid around in the shoe because the shoe really fit well. I was a little concerned, because of the close fit around my foot, that the support level would be lacking. I still am a little concerned, but nothing has happened yet."
Tiffani said, "The 851s are super light, so I wasn't expecting adidas Barricade-level stability out there on the court. At first I found enough support, as the shoes were hugging my feet. I was also getting enough stability because of this streamlined fit. However, as the test wore on, the ankle collar stretched too much. If I didn't retie my shoes to tighten them back up there was too much movement in the ankle area, compromising support. I had to knock them a few points because of this."
Also having concerns was Brittany, who said, "The stability was just so-so for me. Because of the lightness of this shoe, there is a trade-off with stability. I never felt like I was going to roll an ankle, but I did feel a slight lack of stability when I aggressively went after a ball. However, I had zero issues with ankle problems with this shoe."
Eileen took time to adjust to the fit, but offered, "The ankle support felt lower than the shoe I usually play in. The first time on the court I had to get used to the shoe hitting lower on my ankle and trust the support the shoe offered. It has plenty of support for starting, stopping and going side to side. I just needed to get used to the fit of the shoe. Once I adjusted I loved the feel of this shoe."
Sole Durability - Score: 4.2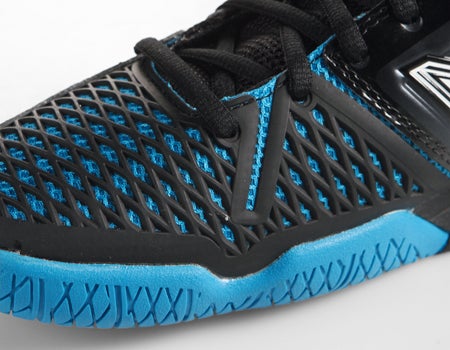 Durability isn't a typical hallmark of lightweight shoes, but our testers were impressed here. Our testers were even more pleased by the inclusion of a durability guarantee. Brittany noted, "The outsole held up well for me. I only saw slight wear in the toe area, and it lasted a lot longer then some other shoes I have worn. I definitely like the NDurance durability guarantee that comes with this shoe."
Eileen got a lot of use from her shoes. She said, "I've spent many hours in these shoes on the court and in the gym, the sole shows no wear at all."
Not seeing much wear on her shoes, Carol offered, "I usually wear out my tennis shoes near the toe, but no wear and tear has happened yet, and I've spent about 40 hours on the court with these."
"For such lightweight shoes I was quite pleased," said Tiffani. "Their durability was on par with the New Balance 1187, which I felt was designed more for the grinding style of player. I have to admit, though, after a couple of scares with ankle stability I wore the 851s sparingly."
Toe Durability - Score: 4.0
Our team of toe draggers was pleased in this category. Tiffani said, "The cage-like design was adequate for my toe dragging, which occurs mostly on my backhand stroke. I didn't see much wear in that area."
Brittany agreed, saying, "The toe bumper of this shoe held up well to my dragging. It came up high enough that when I did drag my toe there was no damage to the shoe and only a slight smoothing of the toe bumper."
Traction - Score: 4.6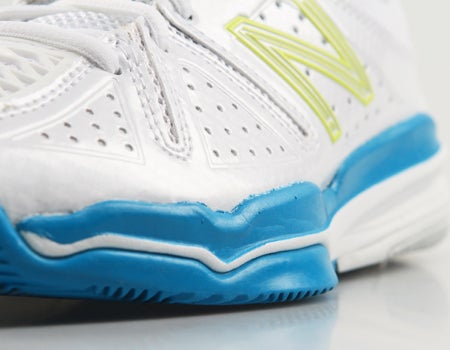 The NDurance outsole, with a mixed herringbone tread pattern, provided good traction for our testers. "I felt extremely light and quick in this shoe," said Brittany, who plays an aggressive baseline game. "I had no problems moving, whether it was side to side or up and back. The traction allowed me to stop and start with ease."
Carol thought the shoe's grip might be too good, saying, "Because the shoe is so light it's very easy to move around in. I did find it difficult sometimes to change direction, especially on a slower court, but I think the shoe made up for it with its lightness."
The 851s helped Eileen with her movement. She said, "This was one of the best features of this shoe for me. I could take off or change directions so much easier and quicker in these shoes. I felt so quick chasing down shots!"
Tiffani, too, gave a thumbs up to traction, saying, "The shoe's outsole had very good stick. There was just the right amount of grip for easy movements on the court. I never slipped when starting, stopping or making quick lateral movements. The traction was easily one of my favorite aspects of the shoe."
Weight - Score: 4.8
The 851s are easily among the lightest shoes available at Tennis Warehouse, and our playtesters took notice. It was like walking on air for Tiffani, who said, "Wearing the 851s honestly felt like I wasn't wearing shoes at all. They are so light. The shoes just move with you. Sometimes shoes feel light but they have a clunky feel, so you're aware of the shoes as you move. These are feather light and fit like a glove, so the feel was as close to going barefoot on court as I have ever felt."
Carol concurred. She said, "It's like you're not wearing the shoe."
Another fan was Brittany, who said. "This was my absolute favorite feature of the shoe. It's one of the lightest shoes I have ever played in. At around 10.4 ounces, it feels like I am not even wearing shoes, more like socks or slippers."
Eileen thought the shoe was a great blend of features. She offered, "The 851 is really lightweight, but also very durable."
Overall - Score: 4.1
Likes
Brittany - "I absolutely loved the weight of this shoe and the cosmetic options! Yay for women's shoes in a black colorway!"
Carol - "Again, I loved the fact that they were so light. A lot of shoes can weigh you down and you can feel that weight wear on you the longer you play, but this shoe does not do that. It's like playing in your slippers or playing barefoot. Easy to move in and durable so far."
Eileen - "I liked everything about this shoe after getting used to the fit."
Tiffani - "The lightweight feel and traction were my favorite performance aspects. Wearing the black/blue color, I loved the cosmetics, too."
Dislikes
Brittany - "The stability was a little shaky at times."
Carol - "I think the support could present an issue if the situation arose. It's a hard trade-off with this shoe because it is so light; it takes away from lateral support."
Eileen - "If anything, maybe the color I tested. I've never worn a black shoe before, but once I put it on I liked the change up from the traditional white shoes I'm used to wearing. Not a real dislike, just something different than I'm used to."
Tiffani - "The ankle collar opened up over time, and the support level dropped with that. Also, I wished New Balance would have used the same notched laces that are on the 1187 shoes. My laces on the 851s required a lot of retying."
Compared to others:
Brittany - "The fit and cushioning remind me of a Nike Lunar Speed shoe, very glove-like with just the right amount of cushioning. Durability was similar to the KSwiss BigShot."
Carol - "This shoe is definitely a top 5 shoe for me. Again, it's the lightness I love."
Eileen - "I wear adidas Barricades and will probably switch to this shoe. I like the lower ankle height and the lighter weight the New Balance offers. It felt much easier to take off after shots in this shoe. I felt lower to the court, but it still had great cushioning without any bulk. The sole durability is amazing, too, for its weight."
Tiffani - "I am reminded of a couple of shoes when I put these on, the Lotto Syn Vanity and KSwiss Ultra Natural. All are very lightweight and supple, being built for speed and comfort. The 851s are far superior in the durability department when compared with the Syn Vanity, and the 851 has the leg up on the Ultra Natural because it is offered in widths. The Ultra Natural was too narrow for me, and the arch support was high, unlike the 851."

Playtester Foot Types:
Brittany - Narrow width / Medium arch
Carol - Medium width / Medium arch
Eileen - Narrow width / Medium arch
Tiffani - Wide width / Low arch

Review date: October 2011. If you found this review interesting or have further questions or comments please contact us.
All content copyright 2011 Tennis Warehouse.