Mantis Tour 305 Racquet Review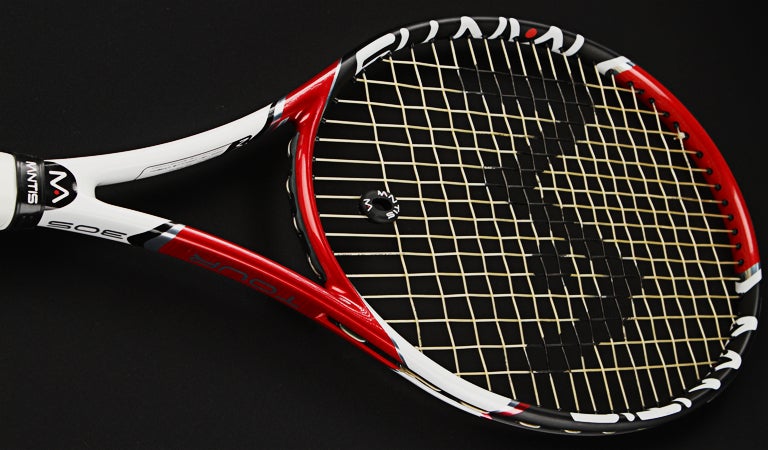 Mantis Tour 305 Scores
Comfort
82
Touch/Feel
81
Serves
80
Groundstrokes
80
Returns
84
Slice
82
Topspin
83
Volleys
80
Overall
82
Upsides
Maneuverable
Spin-friendly
Comfort
Feel
Good for weight/balance customization
Summary
While our playtesters rarely agree on everything, they most certainly agree on this: the Mantis Tour 305 is loaded with maneuverability and control. The low swingweight (304 RDC) and head light balance made for effortless positioning and easy acceleration. The speedy response enabled aggressive spin from the baseline, and it offered a fast feel on volleys and service returns. The tricky part with racquets that invite bigger swings is control, and this is where the Mantis Tour 305 really shone. The 95 square inch head provided both a heightened feel for the ball and a very low trampoline effect. The result was each player feeling more plugged-in to the shot's pace and trajectory. Taken as a whole, the specs of this racquet add up to confident tennis. As with any maneuverable racquet, stability is a concern, especially for advanced players who prefer some heft when playing against pace. While most of our testers would have gladly accepted a little more mass, they all walked away impressed by the range of strokes they could squeeze out of the Tour 305.
Groundstrokes - Score: 80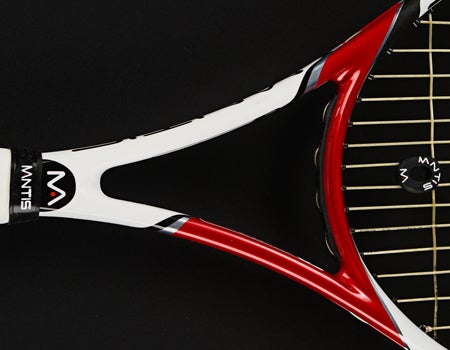 From the baseline, the swift feel of the Mantis Tour 305 produced easy shot making and high enjoyment. Reaping the benefits was Chris. He said, "I found this racquet to be very fast and spin-friendly from the baseline. I could really whip it around, and I felt like I had excellent directional control. I also found I could easily add some extra spin to shots at will. This racquet came through so quickly I could add a little tip speed to increase the spin or pace of my shot at the last moment. Being able to change-up pace or spin allowed me to catch my opponents off guard at times, either drawing a quick error or allowing me to seize control of the point. I also liked the way I could whip this racquet through contact on the full run and still find ample pace and depth. I loved hitting both topspin and slice with it. This racquet is a lot lighter than my preferred spec, but I found myself really liking it, even in its relatively light stock form."
While not always getting enough depth, the manageable weight and excellent feel gave Spencer confidence on big swings. He said, "From the first hit with this racquet I was extremely happy with the response off both wings. it's very versatile, and I really enjoyed hitting groundstrokes with it. It was very easy to whip the racquet through the strike zone, and the stringbed was quite forgiving, particularly for a 95 square inch head. Because of that, I felt very confident coming over the top of my backhand, and I could be aggressive because of the increased consistency. I also liked the consistency on my forehand, but I struggled at times to get good depth, as the lack of mass didn't help in penetrating the court. I didn't feel I could drive the ball well enough on my slice backhand to get a low to the ground, skidding response."
"This racquet provided my game a lot of control and confidence," said Carol, adding, "I felt very connected with the ball on both forehands and backhands. From this connection I was able to be aggressive and really get the ball to penetrate the court. The power level was adequate, but this racquet will not blow someone off the court in a baseline rally. Defensively, I had to make some adjustments, but sometimes the ball felt dead on the stringbed, resulting in some weak replies by me."
Though preferring a little more weight and power, Siobhan used the lower swingweight to whip up some nice spin. She said, "I really liked the spin production. The first thing I noticed was the spin and feel. I have a few things I didn't like as much about it, but overall it was a really nice racquet to play with. Being picky, power wasn't really where I like it, but it was nice to hit with spin and get some really great rhythm. It was easier to be consistent, but I couldn't always access power like I wanted, and I had to try a lot harder to get the ball deep. The comfort level was good most of the time, but things got a little unstable when I hit a little late or the ball came too hard at me. Aside from that my arm felt great with the Tour 305. Referring back to the spin, it's like my shots had a lot of spin on them but without much weight I really had to hit it deep for them to be threatening. Despite my hesitations, it was a nice racquet to hit with."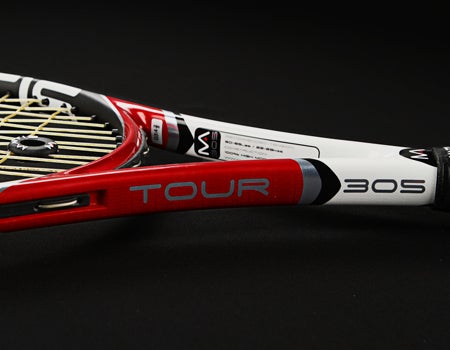 Volleys - Score: 80
The controlled response of the Mantis Tour 305 paid some real dividends at net. Finding effortless precision and stability was Carol, who said, "The volley felt very solid. It's a very stable frame that kept errors to a minimum. I could change the pace of the ball or just rally with little effort."
Agreeing with Carol, Chris found that magic combination of stability, speed, and control. He offered, "Fast, crisp and clean is how I'd describe the feel of my volleys with this racquet. I was able to snap away high volleys. The open string pattern offered a lively response, comfortable feel and healthy sweetspot. I felt very well connected to my targets and was volleying with confidence. Since there wasn't a whole lot of mass to put behind the ball I was surprised at how much punch I could put on my volleys, and I never struggled with stability."
Though Siobhan could have used a little more mass, she was no less impressed by the mobility and precision. She said, "This racquet felt good at net. My swing was so much shorter and everything was sharper, and I was able to take pretty good cuts at my volleys. It felt easy to maneuver, although it would have been nice to have a little bit more weight behind the ball. I was picking up balls great and rallying well, but I had a little harder time putting the ball away."
While also preferring more mass-based stability on volleys, Spencer found his targets. He said, "Maneuverability and directional control were where this racquet shone for me at net. I could get the racquet into position easily, allowing me more time to place the ball. I would have liked a little more mass, for more stability and penetration, but its strengths made up for it."
Serves - Score: 80
Given the head speed this racquet offers, it's no surprise that our testers enjoyed serving with it. Siobhan was impressed, saying, "Spin production was great, I could slice and kick the ball really easily. Power was decent, but I wouldn't say great. I wouldn't really call my serve a weapon, but I did like the light weight on serve. It was just really easy to get this racquet into position, and I felt really comfortable hitting serves."
Excited about the control and spin was Carol, who said she simply, "loved the serve!" Adding, "Again, the control was fabulous here. I was able to move the ball around to any target with pace and spin. I also felt the speed of my swing was much higher, which resulted in me taking a more offensive position in the court."
Finding surgical precision and good action, Chris continued to get a lot out of this racquet. He said, "As from the baseline, I was impressed with the spin and pace I found. I could snap the racquet through contact to add a little juice to serves. I usually serve best with heavy racquets, as I like the way they push through the ball to add pace and penetration to my serves. However, with this racquet I found I could get the ball away with good pace and spin without the weight. In that aspect it reminded my of the old Head Liquidmetal Instinct. I didn't feel like I was hitting the heaviest serve, but I was finding my targets out wide, and with all the pace and spin I getting, that made it difficult for the returner."
Spencer definitely wanted a little more pop, but like our other testers, he was able to achieve good results. He said, "Control and spin were excellent. I liked how I could mix up my serves with both placement and spin. There was some power to be had, but not a ton. Again, a little more weight in the hoop would add some more oomph."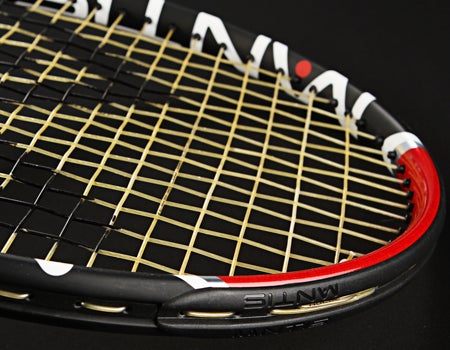 Serve Returns - Score: 84
Few strokes in tennis reward a maneuverable racquet more than the service return. Spencer said it best, "This was one of my favorite shots with this racquet. Because of its good mobility and forgiving sweetspot, I could take some healthy cuts at serves. I felt comfortable hitting a variety of shots, and felt this racquet offered good consistency, which enhanced my confidence."
Like Spencer, the Tour 305's control allowed Carol to stay aggressive. She said, "Given how I approach this stroke, I require a lot of control from my racquet. I like to go for targets with my return of serve and this racquet really complimented that. I wouldn't say the power level worked to my advantage, but the ease of placement really allowed me to be aggressive."
Chris discovered comfort and a surprising amount of stability, and there was little he couldn't do with this racquet on returns. He said, "I liked how quickly I could get this racquet around on returns. It felt very comfortable, yet I never felt disconnected from my shots. On the contrary, I felt very dialed in with it. I was able to take a good cut at most serves and send them back with pace, spin and accuracy. This was one of the more stable racquets I've hit in this weight range, and it definitely played with the comfort of a heavier racquet. I felt like I was getting some extra tip speed on my swings, and I'm not sure if that helped with the surprising stability and power I was finding."
"I just wish there was more weight to allow me to dominate a bit more," said Siobhan, noting this racquet's only downside. "As with baseline play, this was a very user-friendly racquet on service returns."
Overall - Score: 82
Likes
Siobhan - "Spin potential -- I could really whip it when I wanted to."
Spencer - "The overall playability of the racquet. It's very versatile and easy to hit."
Carol - "I really liked the control aspect to this racquet. All around, this is a great racquet that really allowed me to move the ball around the court and take the offensive on more occasions. The serve was the shot that I liked the most. I don't have a big serve, so I really have to depend on placement, and this racquet complimented that."
Chris - "I liked the spin, control, power, feel, comfort, maneuverability and how solid this racquet felt considering its light weight and low swingweight. I also really like the cosmetics."
Dislikes
Spencer - "A little on the light side. I would have preferred a little more stability."
Carol - "I don't really have any dislikes for this racquet. All around, I think this is a great option, but it doesn't provide a lot of pop on the ball. One of the aspects I like most about this racquet is the control. I think if Mantis tried to add some power it would only take away from the control that I love."
Siobhan - "I'm not a fan of heavy racquets, but this one felt like there was something lacking, making the racquet feel a little too flimsy on some shots."
Chris - "Nothing. Just by the specs I thought I'd prefer the Tour 315 by leaps and bounds over this one, but that wasn't the case. What this racquet lacked in mass- it made up for in spin, control and feel."
Comparing the racquet to others they've tried, our testers said:
Spencer - "The versatility reminds me a bit of the Wilson BLX Pro Staff Six.One 95. They're both a bit low powered, with good control."
Carol - "I haven't playtested previous versions of this racquet. In comparison to others I have playtested, I think this racquet really ranks up there as a top 5. It reminded me a little of my current racquet, the Wilson BLX Six.One 95, but this racquet is much faster and provided a little more snap."
Siobhan - "In terms of spin only, it reminded me of the Volkl Organix V1 MP."
Chris - "While this racquet is much softer and more comfortable, its ability to feel light and stable reminded me of the Babolat AeroPro Drive. The similarities end there, though, and the response is more like that of the Tecnifibre TFight 305 VO2 Max and the slightly crisper feeling Tecnifibre Rebound Pro. The fast feel also reminded me of the Volkl Organix 10 295, but this racquet felt more stable and solid."
Technical Specifications

Length
27 inches
69 centimeters
Head Size
95 square inches
613 square centimeters
Weight
11.2 ounces
318 grams
Balance Point
12.8 inches
33 centimeters
5.6pts Head Light
Construction
20mm / 20mm / 21mm Tapered Beam
Composition
High Modulus Carbon
String Pattern
16 Mains / 18 Crosses

Babolat RDC Ratings

Score

Grade

Flex Rating
67
Range: 0-100
Swing Weight
304
Range: 200-400
Scores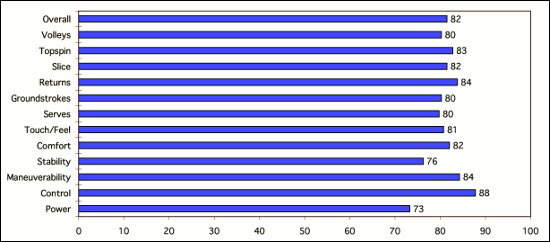 (Scores are determined by averaging individual play test scores)
Spencer's Scores
Power
7.3
Serves
7.6
Control
8.5
Groundstrokes
8
Maneuverability
8.5
Returns
8.6
Stability
7
Slice
7.5
Comfort
8.4
Topspin
8.5
Touch/Feel
8.2
Volleys
7.8
Overall
8
Carol's Scores
Power
6.1
Serves
8.5
Control
9.8
Groundstrokes
7.2
Maneuverability
8.2
Returns
8.2
Stability
8.2
Slice
8.2
Comfort
8.2
Topspin
7.1
Touch/Feel
7.5
Volleys
7.8
Overall
8.1
Siobhan's Scores
Power
7.8
Serves
7.5
Control
8.5
Groundstrokes
8.7
Maneuverability
8.5
Returns
8.5
Stability
7.5
Slice
8.5
Comfort
8
Topspin
9
Touch/Feel
8.5
Volleys
8.5
Overall
8.3
Chris's Scores
Power
8.1
Serves
8.3
Control
8.3
Groundstrokes
8.2
Maneuverability
8.5
Returns
8.2
Stability
7.8
Slice
8.4
Comfort
8.2
Topspin
8.5
Touch/Feel
8.1
Volleys
8
Overall
8.2
Playtester Profiles
Spencer: 4.5 baseline player currently using the Prince EXO3 Tour 100 16x18. Spencer uses a semi-western forehand grip, and hits with a one-handed backhand.
Carol: Open level baseliner currently using a Wilson BLX Six.One 95 (16x18). Carol is an aggressive player who uses an eastern forehand grip and a two handed backhand.
Siobhan: Open level player with a semi western forehand and a two-handed backhand. She currently plays Wilson KBlade Team.
Chris: 5.0 all-court player currently using the HEAD Youtek IG Prestige Midplus. Chris uses a full-western forehand grip, has a fast swing style and hits a one-handed backhand.

Review date: June 2012. If you found this review interesting or have further questions or comments please contact us.
All content copyright 2012 Tennis Warehouse.