MSV Focus Hex 1.18 String Review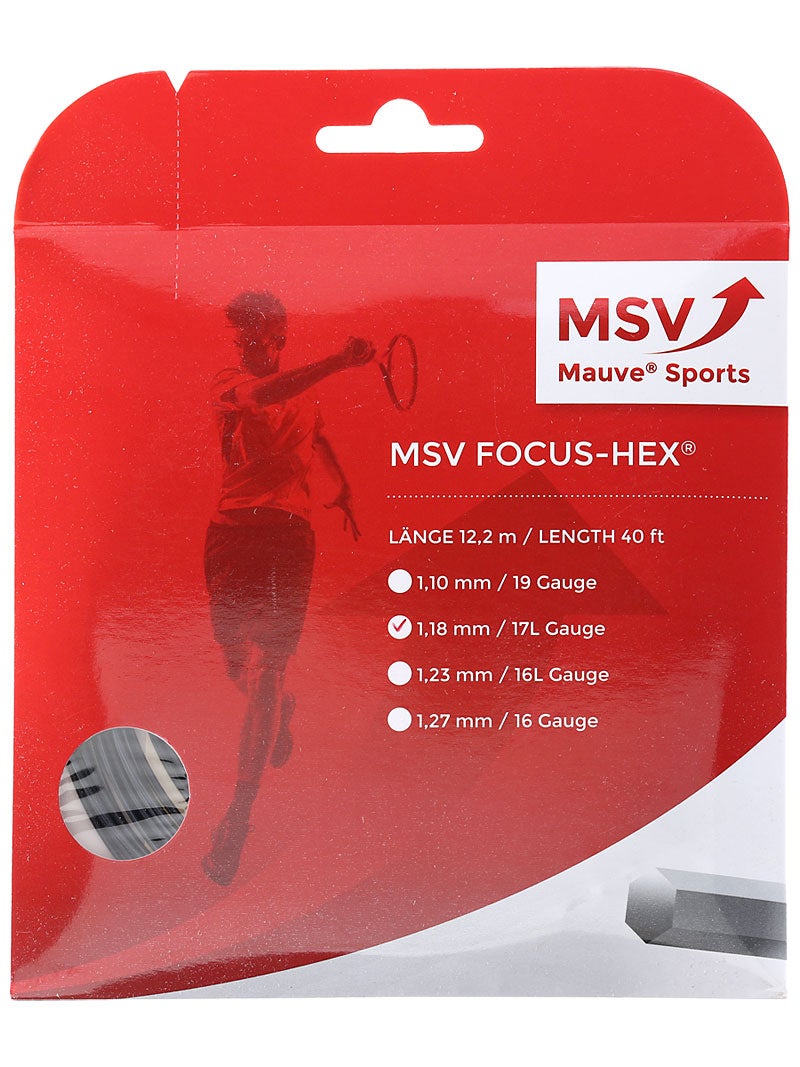 MSV Focus Hex 1.18 String Scores
Power
69
Spin
80
Comfort
77
Control
85
Touch
85
String Movement
92
Playability Duration
78
Durability
93
Overall
79
Downsides
Too firm and underpowered for beginners
Summary
MSV Focus Hex is a shaped co-polyester that has quietly developed a loyal following in the poly community. The appeal of Focus Hex comes partly from its excellent control, which our playtest team discovered immediately. The testers also found their ideal power level: not too dead, like some traditional polys, nor too springy, like the most elastic co-polys. With its sharp edged profile MSV Focus Hex gave our two playtesters more than enough spin, though neither got quite the grab or snapback he experiences with his typical setup. We had absolutely no complaints about comfort, which is a great sign for a firm string that errs on the side of durability and control. Another feature that impressed our team was how well MSV Focus Hex held up over time. This string remained quite playable even after the typical tension loss. Ultimately, while MSV Focus Hex didn't break any scoring records, it also didn't have any real downsides. With its low price and extremely predictable response, this string is a very solid option for poly players.
Power - Score: 69
Our team found the power level of MSV Focus Hex to be decidedly medium for a co-poly. This worked quite well for Chris. He said, "I found the power level to be pretty middle of the road for a co-poly string. It was definitely not one of the most powerful co-polys, nor was it especially underpowered. What I liked the most about the power level was that it felt very consistent. I always knew what I was going to get from this string, and that is what I look for in a poly or co-poly."
Andy also found the moderate power level to be just right. He said, "Power in a poly string is, for me, about finding a perfect balance. There is a certain response that you expect from a stringbed. If a string is either too soft and powerful or too stiff and dead then you're not going to get the right feel. This string's average power struck the perfect balance for me because the ball did what I expected it to do off the strings."
Spin - Score: 80
With its shaped profile and thin gauge MSV Focus Hex gave our team decent bite, but it didn't quite make Andy's "A list." He said, "The hexagonal shape of the string allowed for good ball pocketing and good spin production. However, compared to other shaped strings (Volkl Cyclone, Solinco Tour Bite), it doesn't grab as much or generate as much spin. Maybe the surface of the string doesn't produce as much friction with the ball on impact, or it doesn't slide on itself as well. The spin potential was still good, but not up there with the best."
Chris also found spin to be adequate. He said, "Again, I found this string to be pretty middle of the road. I didn't get quite the spin I find with Luxilon 4G, Volkl Cyclone or the very spin-friendly Babolat RPM Blast even though I've hit those in thicker gauges. That being said, the spin I was finding was decent, and I was happy with the way I was hitting the ball. I found enough grip on the ball to put it exactly where I wanted, and the level of spin definitely helped me with control. I liked the bite I was getting on both topspin and slice shots, and I was getting enough spin to take a good crack at the ball."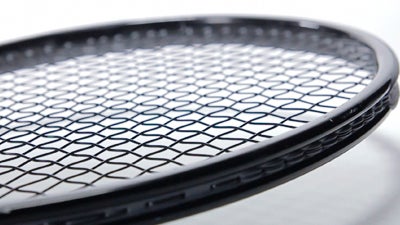 Comfort - Score: 77
Unlike some of the stiffer polys we've tested, MSV Focus Hex passed the comfort test with flying colors. "I never once thought about any comfort issues with this string," said Chris, who appreciated the absence of harsh feedback. "The soft feel was adequate, and I never noticed any untoward jarring or shock. Off center shots felt predictably firmer, but not excessively so. While comfort is never going to be a strong point of any poly based string, this one is definitely an improvement over traditional polys and is right in the mix with most modern co-polys."
For Andy, the feel of MSV Focus Hex struck the right balance between stiff and soft. He said, "I found Focus Hex to be comfortable without feeling overly soft. If a string is too soft and comfortable it can feel mushy, and the ball can fly. If a string is too stiff then there won't be enough pop and it can hurts your arm. This string finds a happy medium."
Control - Score: 85
MSV Focus Hex gave our team exceptional control. Chris was able to swing big without worry. He said, "The highlight of the test for me was the level of control I had with this string. I really enjoyed its predictable response, and I was surprised to get this much control from a thin gauge string. I felt very confident going for my shots and found I could stay on the gas without fear of hitting the ball long. I liked the level of control it brought to the lively stringbed of my Volkl C10 Pro, and it gave me more confidence in the racquet. I've also hit it in more powerful racquets and think it adds superb control to racquets like the Babolat AeroPro Drive, etc."
Andy had no trouble hitting his mark. He said, "Because it has average stiffness, the control is pretty standard for a polyester string. On balance, I was able to be precise and put the ball where I wanted. The excellent bite also helped me generate enough spin to control the ball and put it where intended."
Playability Duration - Score: 78
Despite the expected tension loss, MSV Focus Hex performed well over time. In fact, Andy was able to keep it in his racquet longer than usual. He said, "I actually left this string in my racquet for quite a while, and when I went back a few weeks later to hit it again it still felt fine. It's playability duration has been excellent, right now about three weeks."
Chris noticed some minor changes in the response but remained quite satisfied with the overall playability. He said, "This string lasted me my requisite two weeks of hitting. I thought the tension drop was gradual, and that allowed me to easily adjust to the changes in the string and be happy with its performance for the entire two weeks."
Overall - Score: 79
What type of player would you recommend this to?
Andy - "Just like all the other polyester strings, I recommend this to players with longer, faster strokes who are looking for lots of control. If you're already a poly user then this is a great string for the value. It's not going to be the best performing string, but at less than $8 a set it's definitely worth a try if you're on a budget."
Chris - "I think this is a solid option for the advanced level player looking for a string that adds control to a big swing."
Likes
Andy - "This string's performance was pretty average in every aspect, but that's not necessarily a bad thing for a string. It was comfortable, had the right blend of power and control and allowed me to generate a goodly amount of spin. It's also durable and maintained its tension and playability."
Chris - "I liked the control, the spin was solid and the string stayed playable long enough to be a very good value."
Dislikes
Andy - "It didn't grab the ball as well as some other shaped strings I've tried. I would have liked just a little bit more ball pocketing."
Chris - "None. I'd like to hit it in a thicker gauge and also in black, both of which could deaden the response and make it even more control/spin oriented. I hit it in the red color."
Comparing the string to others they've tried, our testers said:
Andy - "This string feels a lot like Volkl Cyclone, and it's at the same price point. I'd say they are very similar. Cyclone might be a little stiffer and have a little more ball pocketing (and spin), while Focus Hex is slightly more comfortable and has a bit more pop."
Chris - "Weiss CANNON Mosquito Bite is the only other thin gauge co-poly I've played extensively, and I preferred it over MSV Focus Hex. Mosquito Bite felt crisper and more spin-friendly. This string reminded me of Volkl Cyclone Pink, which isn't quite as sweet as the black version. I think it is right in there with strings like Gamma Zo Magic as well. I would put it at the head of the middle of the road co-polys. Better than Prince Beast, but not quite up to the level of a Tourna Big Hitter with the understanding that we are splitting hairs here, as the performance variables across all of those strings are pretty tightly grouped."
Scores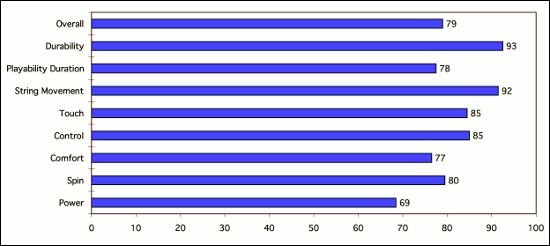 (Scores are determined by averaging individual play test scores)
Andy's Scores
Power
7
Playability Duration
8
Spin
7.5
Durability
9
Comfort
7.5
Control
8
Touch
7.5
String Movement
8.5
Overall
7.5
Chris' Scores
Power
6.7
Playability Duration
7.5
Spin
8.4
Durability
9.5
Comfort
7.8
Control
9
Touch
9.4
String Movement
9.8
Overall
8.3
Playtester String Setups
Andy:
Racquet: Prince TT Warrior MP
Playtest Tension: 52 lbs
Usual String: Babolat RPM Blast 17
Chris:
Racquet: Volkl C10 Pro
Playtest Tension: 55 lbs
Usual String: Volkl Cyclone 16

Review date: October 2012. If you found this review interesting or have further questions or comments please contact us.
All content copyright 2012 Tennis Warehouse.