Lotto Raptor Ultra IV Women's Shoe Review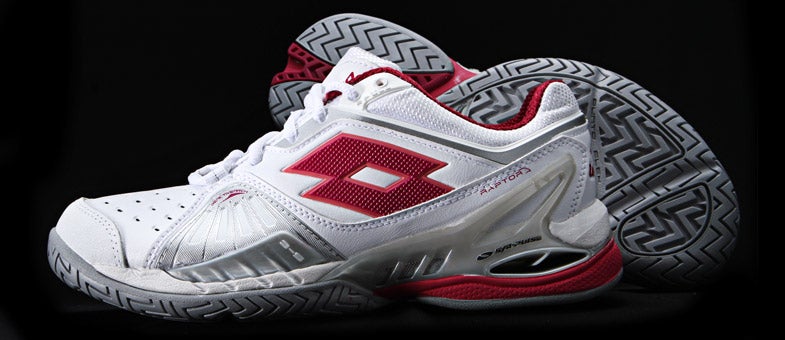 Lotto Raptor Ultra IV Women's Shoe Scores
Comfort
3.8
Ventilation
3.7
Arch Support
3.8
Foot Support/Stability
4.1
Overall Sole Durability
4.3
Toe Durability
3.9
Traction
4.4
Weight
3.5
Overall
4.0
Upsides
Lightweight
Ventilation
Cushioning
Wider Fit
Downsides
Fit was Too Wide for Narrow Foot Types
Summary
Offering solid performance in all areas, the updated Lotto Raptor Ultra IV impressed our entire team. Durable and supportive, this shoe also felt fast on court. Perfect for any quick mover, the Raptor IV was comfortable without being overly cushioned. Our testers found lasting traction from the Raptor IV's six-month durability guaranteed outsole. Not only did our testers love the on court performance, the included lace and insole color options helped maintain a feminine touch on the court.
Comfort - Score: 3.8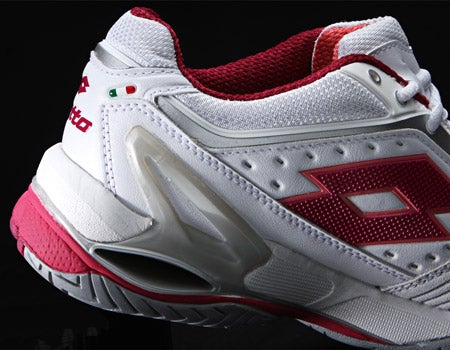 In true Lotto style, this shoe offers a clean and classic look with ample support and comfort. While the comfort in this shoe is not plush or pillowy, like some of the newer tennis shoes we have seen on the market, the Raptor Ultra IVs have efficient comfort for any quick court coverer. For Karly, the comfort improved after a break-in period. She said, "At first they were stiff and took a few hours to break-in, but it wasn't too harsh. The padding helped prevent any blisters or pain during that time. The only downside for me with comfort was the insole. I've never experienced this before with other shoes, but the texture of the insole was grippy. My feet would stick to the bottom of the shoes, which I didn't care for. It's a good thing insoles are easily replaceable."
Michelle found the shoe to perform dynamically for her. She said, "This shoe was a solid shoe for me, but it didn't really stand out as being an overly cushioned shoe, which is ok for me. I don't usually expect my shoes to be overly cushioned and these shoes were definitely comfortable. There were no issues with discomfort. The fit was true to size for me and I didn't have any problems with any part of the shoe being too big or too small."
Out of the box comfort was what Brittany found in the Raptor Ultra IVs. She said, "They were comfortable from the moment I put them on. I found the cushioning to be more on the supportive side versus having a pillow-like or plush feel. I also did not have any issues with any pinching or rubbing."
Carol missed the plush feel and found the cushioning in this shoe to be simply adequate. She critiqued, "I experienced pinching and rubbing in the outer toe box area and around the outside of my foot. I think the cushioning around the heel of the shoe was the best, but this feature was neglected in the remainder of the shoe. The insole was a bit on the hard side and didn't provide a foamy feel that could mold to my foot shape."
Ventilation - Score: 3.7
At first glance, our playtesters were unsure how the Raptor Ultra IV would do with ventilation and air flow on the court. While these shoes didn't prove to be extreme in ventilation, they weren't necessarily hot, either. Brittany stated, "There are several perforations on the upper and on the medial side. And when I played in these shoes I didn't have any problems with overheating. The shoes had just enough ventilation to keep my feet from getting hot or overly sweaty. I even kept them on several times after I played tennis to go work out in the gym."
Karly felt that Lotto could improve on the ventilation in the next version of the Raptor, but it didn't bother her when playing in these shoes. She said, "The temperature was okay. A little warm, but not enough to be distracting. It was how damp they left my socks afterwards that bothered me the most. Once the hit was over, I wanted to take them off immediately."
"My feet didn't feel overheated in this shoe, but they also didn't experience a great degree of breathability while playing," added Carol.
The breathability of this shoe wasn't spectacular for Michelle, but it wasn't bad either. She said, "The uppers have ventilation, but I wouldn't say the cooling of this shoe was a standout feature, although it never interfered with my tennis. Just like Brittany said, I didn't mind keeping these shoes on after I got off the court."
Arch Support - Score: 3.8
Across the board, the arch support seemed to work for all of our playtesters. With her medium arch, Carol found the arch support to be "just right" for her foot, even with the shoe feeling a bit longer than normal.
Karly said, "The support wasn't bad for a shoe with low arches. They landed lower than most shoes on my feet, but it didn't cause any soreness for my arches."
"The arch felt slightly low for my higher arch," said Michelle, "but I didn't mind and didn't have a problem with it because the shoe fit so well."
Having no problems at all with the arch support was Brittany and her medium arch. She said, "I can generally get away with wearing almost any shoe. Even with this shoe having a slightly lower arch support, I felt my arch was fully supported and the support was in the correct place."
Foot Support/Stability - Score: 4.1
One of the best features of this shoe was the support it offered to our playtest team. Despite their different playing styles and foot shapes, they all felt the support from this shoe and were confident moving around the court. Brittany said, "After playtesting this shoe for several weeks, the one thing I noticed was that this shoe was solid in every category, stability and support included. I felt very safe and secure moving around the court and my ankles were fully supported. I never once felt like I was going to roll an ankle, as the ankle collar hit my ankle at the perfect height. Another thing I was impressed with was how secure my foot felt in the shoe while I was moving. The shoe runs a tad narrow, which is perfect for my narrow width foot. Even though the length was a tad long I never felt like I was moving back and forth in the shoe, nor was my toe slamming into the front."
Also finding great support and secure movement in this shoe was Michelle. She said, "I felt completely stable and supported in these Raptors. They felt low to the ground to me and the laces tied perfectly to ensure a stable fit for my foot."
Carol may not have found ideal comfort in this shoe, but the support she found in the Raptor was definitely exactly what she wanted. She explained, "I felt very secure in this shoe and never felt the sensation that I was going to roll an ankle. The shoe held my foot in place very well."
Karly also thought that these shoes fit a bit long on her foot, but not enough to size down. She explained her issue with foot support by saying, "Because of that extra room I experienced a little bit of sliding within the shoe, but even with that sliding I thought the stability was there. I loved the amount of support the shoes offered, especially around my ankles. I could make aggressive cuts without the least bit of worry about hurting myself. I think it's saying something when a shoe doesn't fit ideally yet still offers superb stability."
Sole Durability - Score: 4.3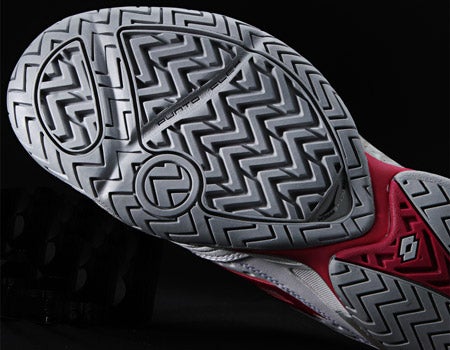 Backed by a 6-month warranty, the outsoles of the Raptor Ultra IV were down right impressive. Michelle went into her playtest with every intention of wearing the sole out. She said, "Just looking at the shoe I didn't think it would hold up for very long, so I decided to really try and put it to the test. Every time I got off the court I would inspect the outsole, looking for wear. After 15 hours the sole is still intact, no bald spots or even places where I've worn through. But, I'm going to keep trying and see if I can get them worn out in under 6 months!"
Carol's shoes still look new after her extensive playtest. She said, "I barely notice any scuff marks or wear and tear. I understand why Lotto added the 6-month outsole durability guarantee."
"Talk about a hardy outsole!" exclaimed Karly, "There has hardly been any wear at all to the sole. The extra weight of the Raptors is well worth it, as they were designed to last. There are no concerns here about wearing through the shoe."
"I have to say these shoes are more durable than I expected," Brittany agreed. "After twenty plus hours of playtesting there is little to no wear on the outsole. I was very impressed with the durability and even more impressed when I saw that there is a six-month durability guarantee that comes with the shoe. I have nothing but positive things to say about the durability of this shoe."
Toe Durability - Score: 3.9
The only real negative of this shoe for Brittany was the toe durability. Being an extreme toe-dragger, she can really tear up the front of her shoes. With the toe bumper only going about half way up some of the toe-drag area is exposed. She said, "The material above the toe bumper was textured to provide some durability, but I can already see some smoothing. I also noticed that the material got dirty pretty quick (after one hitting session)."
Karly found herself dragging her toes more with these shoe because they fit her longer. She found the durability to hold up, though. She said, "My shoes got caught on the court a few times when I was going for short balls. However, I have yet to experience any significant wear to them."
Traction - Score: 4.4
The traction of this shoe features a performance-oriented grip for the speediest of movers. All four of our playtesters agreed this was a standout component of the Raptor Ultra IV shoe. Carol felt very controlled in her movements around the court and never had the sensation of sliding around. "The grooves and traction really complimented the way I like to move around the court," she said.
"Traction, for me, was the stand out feature of the shoe," offered Brittany. "I absolutely loved moving in this shoe. The traction more than made up for the shoe being a little on the heavier side. I could move in any direction, front to back and side to side, with zero problems. I had just the right amount of grip on the court. It wasn't too sticky and had just the right amount of give."
Karly agreed, saying, "This shoe offers some of the best traction I've seen. The grip on the court was prefect. I loved how tacky the outsoles were, while still offering enough give so that I didn't feel stuck to the ground. I felt connected to the court without ever worrying about sliding. I give nothing but high marks for traction. Good job, Lotto."
Like the rest of the playtesters, Michelle enjoyed the grip and outsole pattern of this shoe. She said, "It's my favorite part of this shoe. I'm not always the most graceful mover, so I enjoy the extra traction and grip this shoe offered, especially when I was pulled wide off the court and needed to recover."
Weight - Score: 3.5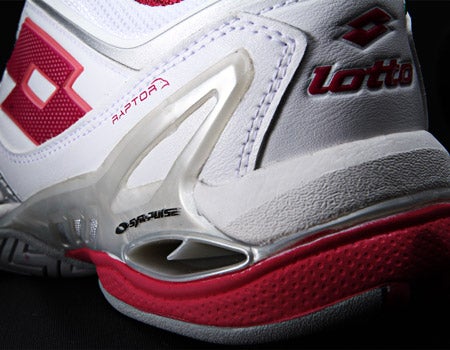 Durable shoes are usually fairly heavy. These Lotto shoes are no exception, though some of our playtesters thought they played lighter than their true weight. Michelle found the weight to be about average, saying, "They never felt bulky or too heavy for me."
Brittany was surprised to find that her size 8.5 shoe weighed over 13 ounces, and expected this shoe to be heavy and clunky. To her surprise, she was happy with how light it played and how easy it was to move on the court. She said, "While it is not the lightest feeling shoe, it certainly does not feel its actual weight to me while on court."
This shoe wasn't the heaviest shoe that Carol has playtested this season, but it was the shoe that felt the heaviest to her on the court. She explained, "I felt weighed down by this shoe and my legs felt as if I was carrying extra weight. I wasn't able to run down balls that I usually would be able to reach, and I grew a bit more tired toward the end of my hitting sessions."
"These Raptors were on the clunky side for me," said Karly. "They made it harder to be light on my feet and I felt like I was moving a lot louder than usual because of it. Their actual weight is a little heavier than most shoes and that was very apparent while playing in them. I had to put more effort into moving faster with these shoes on."
Overall - Score: 4.0
Likes
Michelle Ð "These are all around great shoes. Nothing is bad, which is probably my favorite thing about them. I really love the tread and outsole. It's a clean looking shoe (although I'd love to see more color like Lotto has on the men's side)."
Brittany Ð "This shoe did everything remarkably well. If I had to pick one characteristic that stood out, it would be the traction."
Karly Ð "The traction and stability shone in my eyes."
Carol Ð "I really enjoyed being able to customize the shoe with the insoles and laces, as I think this shoe looked like a player's shoe with a little flare. The support and traction were my favorite two qualities."
Dislikes
Michelle Ð "I don't really understand why there are color options for the insoles, but if that's my biggest complaint then I guess these shoes are pretty legit!"
Brittany Ð "There wasn't a whole lot that I didn't like, but I would say the lack of toe durability, and the shoe was a tad on the heavier side for me."
Karly Ð "The weight kept me from moving at my fastest."
Carol Ð "I wasn't very comfortable in this shoe, other than around the heel. I had pinching sensations around the outside of my foot, which may have been because the shoe fit slightly big in the toe box. Also, my socks slid down in the shoe and I was constantly having to adjust."
Compared to others:
Michelle Ð "These shoes aren't as cushiony as the Wilson Rush Pro. The fit and feel of this shoe does remind me of the Gel Resolution 5, just less color."
Brittany Ð "This shoe played a lot like the Asics Gel Resolution 4 and 5. They had similar fit, high durability and traction, and similar weight. I would say that the cushioning is plusher in the Resolutions but the ventilation was slightly better in the Lotto."
Karly Ð "The Raptors felt a lot like the KSwiss BigShot IIs. Their weights and ventilation make them somewhat clunky, hot shoes to play in, but boy, do they excel in support! There were no worries of rolling ankles in either shoe. They have an extremely similar feel if you ask me."
Carol Ð "Traction was the standout feature for me, along with the fun customizing I was able to do with this shoe. Other than that, I think I would still prefer the Asics Gel Resolution 5 for this season."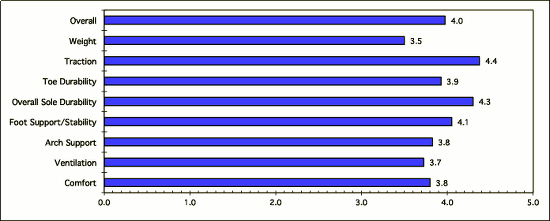 Playtester Foot Types:
Michelle - Medium width, High arch
Brittany - Narrow width, Medium arch
Karly - Medium width, Medium-low arch
Carol - Medium width, Medium arch

Review date: June 2013. If you found this review interesting or have further questions or comments please contact us.
All content copyright 2013 Tennis Warehouse.