Luxilon Savage String Review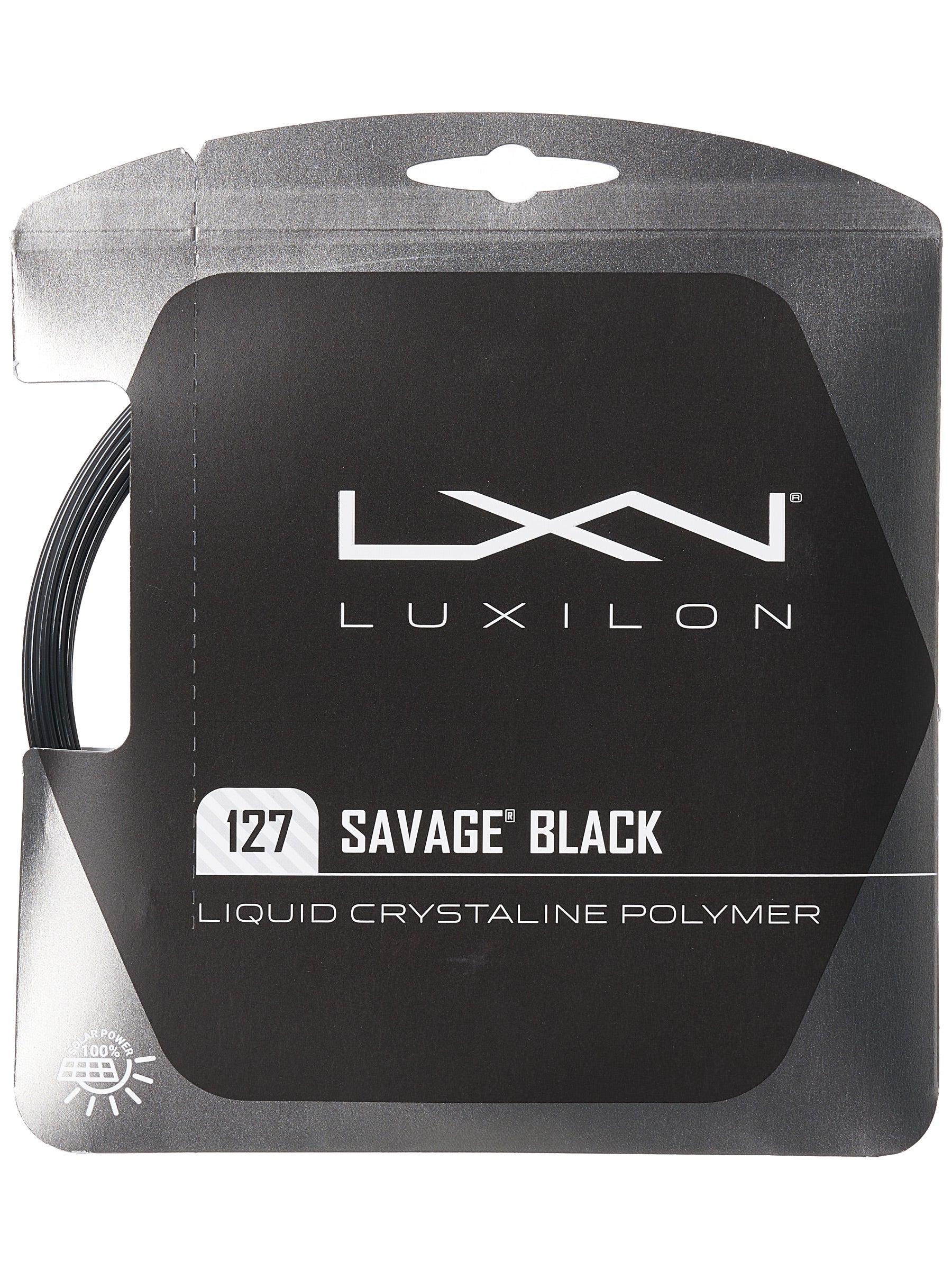 Luxilon Savage String Scores
Power
37
Spin
83
Comfort
56
Control
88
Touch
85
String Movement
94
Playability Duration
63
Durability
88
Overall
81
Downsides
Too firm and low powered for beginners
Summary
Luxilon Savage is a co-poly loaded with spin-friendly bite and low-powered control. It comes in three versions; Lime, White and Black, each of which offered our playtest team subtle variations in playability. One of the first things we noticed about Savage was the impressive spin potential, aided in no small part by this string's six edges. In addition to those "grabby" edges, Savage offered an extremely controlled and predictable response on big swings. This predictability translated into aggressive stroke patterns punctuated by sharp angles and ambitious targets. Given its relatively high stiffness level, our team was impressed by this string's feel and comfort. The smooth response was achieved partly through a Liquid Crystalline Polymer, one of the many successful additives Luxilon uses to build some of the best feeling co-polys on the market. Ultimately, while Savage might be overshadowed by its more famous siblings, like ALU Power and Big Banger Original, we think it definitely deserves a prominent spot in the Luxilon lineup.
Power - Score: 37
Though not as dead as a traditional poly, all three colors of Savage were designed to let the player supply most of the power. In other words, it proved perfect for a big hitter like Andy, who said, "I would put Savage in the low-to-mid power range, with the Black color having the 'crispest' feel and the least power. It has a soft, dead response that enables you to ratchet up the racquet head speed. It's soft and dead, similar to a Polyfibre TCS or Luxilon ALU Power Ice."
Finding each color to have a slightly different response, Chris said, "I found the power level of this string to be about average for a co-poly. There are definitely more powerful co-polys on the market, and the Savage Lime is closer to those in playability than either the Black or White versions. Both the Savage White and Savage Black played with lower power for me. I liked the power level of the Black version the most since it felt low powered yet pocketed the ball well. I was confident taking a good cut at the ball with all three versions, but the Black had me the most dialed in. I was definitely getting more jump off the stringbed with the Lime and my shots had noticeably more zip. The White had a pretty crisp feel but didn't pocket like the Black version, even though the power level was similar."
Spin - Score: 83
With its low power and sharp bite, Savage allowed Andy to swing big and generate all the spin he needed. He said, "Loads of spin potential with this one! This string was unique to me in that it was a soft and dead feeling string, but with its hexagonal shape it grabs the ball really well and allows for tons of spin. Combine the hexagonal shape feature with the lower powered response and you can swing hard to get as much spin as you want."
"Getting bite on the ball was not an issue with this string," said Chris, who again noticed some differences between the different colors. He continued, "I preferred the black version again, simply because it was deader so I could swing faster, and it pocketed the ball well. With lots of racquet head speed and good bite from the strings, I was getting lots of spin. My topspin shots had a little more kick through the court with the Lime, and I found I could hit a penetrating shot with it. However, I was not as confident staying on the gas when inside the court with the Lime, and the lower tip speed of the racquet had me finding just a tad less spin. The White color lost out a little here for me. Spin was solid, but I felt like I was getting slightly more consistent spin with the Black and more powerful spin with the Lime."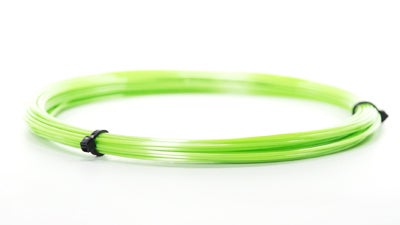 Comfort - Score: 56
As a firm poly-based string, Savage does not deliver the pillowy plush feel of a multifilament. Even so, Chris was impressed by the comfort. He said, "Savage did not play like a very soft poly, but I found it comfortable nonetheless. Considering I had this string in a very stiff racquet, the comfort level impressed me. Comfort was solid from all the colors, with the Lime being the most forgiving. I liked the way both the Lime and the Black pocketed the ball, but the added power of the Lime meant I didn't have to work as hard, making it the most comfortable. Regardless of color, I could definitely go higher in tension with this string, as I felt there was a long way to go before the stringbed would feel too stiff."
Andy also found Savage to be quite comfortable, saying, "Savage's softer feel makes it quite comfortable for a co-poly. It isn't the softest one around, but it's definitely on the softer side when it comes to comfort and feel. It's noticeably softer than most of the Luxilon strings I've hit with in the past."
Control - Score: 88
Savage was designed to let big hitters take full cuts at the ball without losing control. According to Andy, the design works. He said, "The lower powered response allowed for great precision off the stringbed. I had total confidence that the ball was going where I was aiming, and I wasn't going to lose it with an unpredictable response off the strings."
Chris also had outstanding control. He said, "The high point of the test for me was the control I found from this string. I liked the very consistent response of this string. I was feeling very dialed in on my shots and swinging with confidence. When using the Lime version I was a tad more careful on approach shots due to the added power, but even then the level of control was high. All in, the Black color was my favorite. Like the White, it felt crisp, but it pocketed the ball better and also played slightly deader than the other two, making it an extremely control oriented string. I really liked the level of control I found from the Black version of this string and would put it up there against any other co-poly on the market."
Playability Duration - Score: 63
Poly-based strings tend to lose tension quicker than other string materials. According to Chris, however, Savage didn't get that memo. He said, "Savage lasted impressively well for me. I was able to play into a third week with this string and still find enough control and feel to enjoy the playability. I found the string to retain comfort better than I expect from a co-poly and I felt confident with the string even towards the end of the test. The tension drop felt pretty average, and also more consistent than with other strings -- there was no dramatic drop off in playability, just a gradual decline."
For Andy, the tension maintenance of Savage was more in line with a typical poly. He said, "A noticeable downside to Savage was its somewhat speedy drop-off in playability. I felt like in a little over a week it started losing its feel and going even more dead than it feels right off the stringer. Someone like Chris, who likes a dead string, may favor this, but for me it lost a little too much power too quickly."
Overall - Score: 81
What type or player would you recommend this to?
Andy - "This is a great string if you want to really swing out and generate all your own power, but you also want something softer and easier on the arm. Like most polys, this is for players with longer, faster strokes who don't have a history with arm problems."
Chris - "This string is a solid option for the player looking for a control-oriented poly based string. I thought it played better than average in every category, and that all added up to a very enjoyable playtest. The three colors also give the player the option to get a slightly different feel and response. I also think it would be fun to hybrid the Lime and the Black to get the best from both colors (it would look cool, too!)."
Likes
Andy - "I really liked almost everything about this string. I thought the combination of the soft, dead feel and the spin potential was great and very unique."
Chris - "I liked the control, the spin and the consistency over the test period. I also liked the fact the string comes in different colors, allowing the player to choose the one that best fits his or her game. Overall, this was a very solid playing string."
Dislikes
Andy - "I would've liked the playability to have lasted a little longer than it did. Otherwise, awesome string!"
Chris - "Nothing for me to really dislike since I scored the string above average in every category."
Comparing the string to others they've tried, our testers said:
Andy - "It has the power level and feel of Polyfibre TCS or Luxilon ALU Power Ice, but with the spin potential of Volkl Cyclone or Weiss Cannon Black5Edge. Of the different colors, I thought the Black played the crispest, and the Green and White were pretty similar in terms of softness and comfort."
Chris - "The Black version gets pretty close in response to Babolat RPM in that it offers lots of control and pockets the ball decently. For those reasons, I found the groove with it very quickly. The Lime played with a bit more zip; Tourna Big Hitter comes to mind as does Weiss Cannon Black 5 Edge. Overall, I don't like this string as much as ALU Power Rough, as it was not quite as spin-friendly, but it was not far off and is a little more affordable."
Scores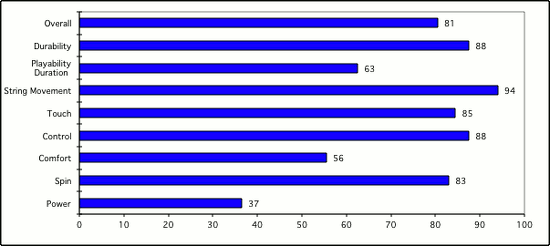 (Scores are determined by averaging individual play test scores)
Andy's Scores
Power
3
Playability Duration
5
Spin
8.5
Durability
8
Comfort
5
Control
8.5
Touch
8.5
String Movement
9
Overall
7.8
Chris' Scores
Power
4.3
Playability Duration
7.5
Spin
8.1
Durability
9.5
Comfort
6.1
Control
9
Touch
8.4
String Movement
9.8
Overall
8.3
Playtester String Setups
Andy:
Playtest Racquet: Wilson Blade 98 (18x20)
Playtest Tension: 54 lbs
Typical String: Head Sonic Pro Edge 17
Chris:
Playtest Racquet: Babolat Pure Drive Roddick
Playtest Tension: 55 lbs
Typical String: Volkl Cyclone 16

Review date: July 2013. If you found this review interesting or have further questions or comments please contact us.
All content copyright 2013 Tennis Warehouse.