Lotto Raptor Ultra IV Speed Men's Shoe Review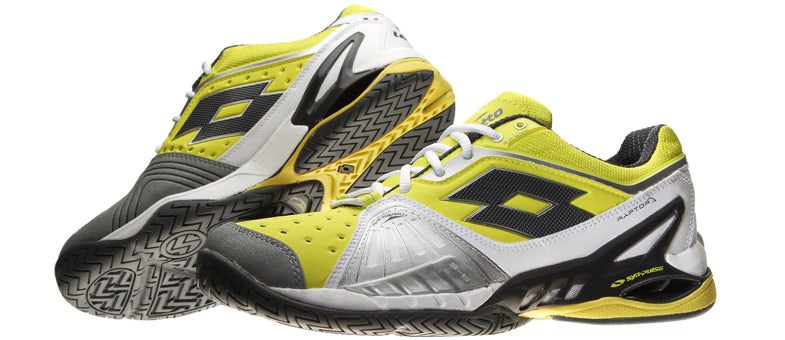 Lotto Raptor Ultra IV Speed Men's Shoe Scores
Comfort
4.4
Ventilation
3.6
Arch Support
4.0
Foot Support/Stability
4.6
Overall Sole Durability
4.2
Toe Durability
3.8
Traction
4.5
Weight
4.4
Overall
4.4
Upsides
Comfort
Stability
Durability
Traction
Summary
Enjoying a popular following in Europe, the Lotto Raptor line has featured a number of excellent-performing shoes. The Ultra Raptor IV Speed carries on that tradition, with our playtesters ranking it amongst the best around! Right out of the box our entire playtest team loved the comfort, feel and performance of this latest Lotto offering. The support and stability were exceptional, yet the shoe still felt light and fast. We had total confidence moving around at top speed in them. Because of how much we loved this shoe and how often we wore them, we definitely put the durability to the test, and they held up just fine. Lotto continues their tradition of exceptional all-around performance with the Ultra Raptor IV Speed. Hopefully, with the bright new cosmetics the world will finally take notice of one of the better shoes on the market.
Comfort - Score: 4.4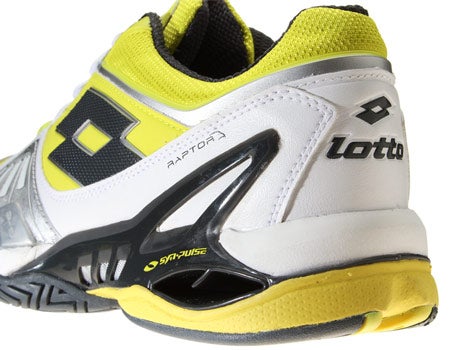 Our whole playtest team found a great, comfortable fit right out of the box. Spencer has worn previous versions of the shoe, and this update lived up to his expectations. He said, "There were no surprises here. Being that there hasn't been many changes from previous iterations, I wasn't shocked to find the excellent comfort I'd experienced in prior models. These shoes fit my feet well, and right away I got that hugging, supportive comfort that I could play in from the get-go. Sizing was perfect and there was no break-in whatsoever."
Granville also enjoyed the feel of the shoe, especially the unique midsole technology. He offered, "This Ultra Raptor IV Speed feels good right out of the box. Sizing was spot on. Not only is it comfortable on the feet, it's comfortable on the eyes. From the first step on the court I could feel the crisp, defined cushioning of the Syn-Pulse technology. These Raptors do not have that "mushy" feel, like you are walking on marshmallows. It feels more like springs under my feet - I think I can jump higher wearing these."
Troy loved the fit, saying, "This shoe was a good overall fit for my foot type, providing plenty of comfort. I never experienced pinching or rubbing because this shoe fit like a glove on my feet. Even though I didn't feel that this shoe was as soft and plush as the Asics Gel Resolution 5, I found the comfort to be right up there with some of my favorite shoes of all time. I don't remember ever thinking about my feet when playing in these shoes, which is a good sign that I can trust in the shoe."
Echoing the sentiments of the team was Andy, who offered, "They aren't the most cushioned shoe in the world, but it certainly fits the foot great. They felt ready to go right out of the box, and on court they are very comfortable. They don't have the same plush cushioning as the Gel Resolution 4 or the Wilson Rush Pro, but the fit is almost perfect."
Ventilation - Score: 3.6
Breathability never proved to be an issue in the Ultra Raptor IV Speed, but it wasn't a standout feature of the shoe either. Andy had little problems with the ventilation, as he offered, "There isn't a whole lot of exposed mesh around the upper, so heat and moisture is retained a little bit inside the shoe. But with that said, I never really had any overheating issues. I do tend to sweat a lot, and I never felt like my shoes got exceptionally damp or uncomfortable. Breathability isn't a strength of this shoe, but it's plenty adequate."
There was enough ventilation for Granville, who's standards for breathability aren't too rigid. He said, "The shoe has adequate venting so my feet never felt hot on the court, inside or out. I suspect Lotto could put some mesh over the toe box for a better vent - but ventilation is low on my list of priorities when it comes to performance tennis shoes."
Ventilation was middle of the road for Spencer, who said, "There isn't a ton of mesh in the upper so breathability wasn't the best. However, I didn't notice any extra heat or sweat because of it."
There was enough breathability for Troy, who also saw the benefits from not covering the shoe in mesh. He explained, "I found the ventilation of this shoe to be average amongst shoes of this mid-weight class. I don't feel this shoe was designed to provide maximum ventilation, which in the climate that I typically play in wasn't necessarily bothersome. The lack of mesh throughout the shoe limits its breathability, but I felt it made this shoe more stable and supportive."
Arch Support - Score: 4.0
Most of our playtesters felt the Ultra Raptor IV Speed offered plenty of support through the arch. Troy's focus stayed on his tennis, not his arches. He explained, "The arch support of this shoe was a pretty standard fit, which provided plenty of support for my arch type. I felt enough support to keep my arch from collapsing, as well as enough width so that my arch area did not feel cramped. As I mentioned in the comfort section, I didn't have to think about my feet while wearing this shoe, which was a good thing."
Spencer didn't notice any discomfort either, as he said, "Nothing in the arch caught my attention before, during or after play, so yes, the arch was good!"
Andy didn't have any arch issues either, adding, "I found the fit to be almost perfect for my foot, and this includes the arch support. It felt medium to slightly lower than medium to me, which is just the level of support I need."
Granville, who normally uses more supportive insoles while playing, didn't feel any exceptional support from these shoes. He said, "I usually wear arch support in-soles in my tennis shoes, but decided to try these without, using only the provided insoles. I never thought about it on the court or off, but a little more support would've been nice. I will be replacing the stock insole with my Superfeet insoles."
Foot Support/Stability - Score: 4.6
Our whole team loved the support and stability the Ultra Raptor IV Speed provided on court. Andy had full confidence cutting and sliding in them. He said, "Support and stability were the shining attributes of this shoe to me. I felt so secure and confident moving around the court in them. I was using aggressive slides on the hard courts, which I only do when I'm fully trusting my shoes. I was tying them all the way up to the top eyelet, which gave me great support around the ankle as well."
Spencer found more than enough support for himself, and thinks it would hold up for a world-class speedster, too. He said, "I really felt locked in with the Raptor. The fit and hugging support kept my feet happy while the lateral stability allowed me to play without worrying about rolling an ankle. These shoes perform at a high level, as I'm sure David Ferrer will attest!"
Troy would put these shoes up against most any on the market in terms of stability. He explained, "I found the support and stability of this shoe to be excellent. The low-to-the-ground profile of this shoe made me feel that I could change directions aggressively with no fear of rolling my ankles. I found a secure, snug fit in this shoe, and I didn't experience any sliding around within this shoe. I found the support and stability of this shoe to be in the same realm as the Nike Air Courtballistec 4.3 and the Asics Gel Resolution 4, which are at the top of my list."
They were just right for Granville too, as he offered, "This is the perfect shoe for me and my game. The upper and overall construction feel a bit stiff in my hand, but not on my feet. On the court that stiffness translates to a VERY solid feel. Stable, never a thought of 'roll-over'... a perfect blend of technology and performance."
Overall Sole Durability - Score: 4.2
The Ultra Raptor IV Speed held up just fine for the entire duration of the playtest for all our players, and it is also backed by a six-month outsole durability guarantee. Granville thought the unique concave-shaped technology Lotto utilized on the outsole contributed to it's durability. He offered, "For such a 'sticky' outsole, the Raptor has remarkable durability. The deep cut outsole tread can take a lot of punishment and still maintain traction. I enjoyed the ReactiveArch technology too, and found it added to both durability and traction. Again, a nice match of technology and performance."
Troy would put this shoe up against the best shoes around in this category, too. He explained, "The overall durability of the outsole was above average for me. Although this shoe is low profile, the Longlast 40 rubber compound seemed to be pretty tough, considering I spent most of my test hours on the super-gritty Tennis Warehouse court. I didn't notice any unusual wear compared to other shoes in its weight class. I would say it has similar durability to the Asics Gel Resolution 4 and the Nike Air Courtballistec 4.3, but it wasn't as durable as the adidas Barricade 7.0."
Andy didn't notice any unusual wear, saying, "I put the durability to the test because I enjoyed this shoe so much and wore it a lot, and they held up fine. There is some balding under the big toe, which is normally where I wear out my shoes, but nothing excessive. They don't have the durability of a Barricade or a Rush Pro, but I think they have more than enough for even the most elite players and aggressive movers."
In agreement was Spencer, who said, "I'm not a big toe dragger, nor am I too harsh on my shoes, but I basically had the usual wear I will see under the big toe on both shoes. The wear wasn't premature, and it was what I would expect out of a durability guaranteed shoe."
Toe Durability - Score: 3.8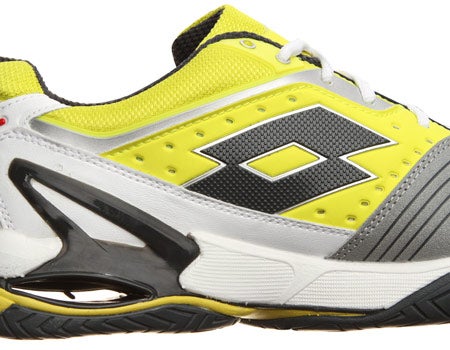 Our toe-dragging playtesters had mixed feelings about how well the reinforced leather piece on the toe held up. Granville saw some wear but couldn't get all the way through it. He said, "I can see where I'm losing some rubber at the toe, but it only gets up to about half the height of the the toe reinforcement (where the tread wraps up to the tip of the shoe). I suspect this shoe is a good choice for even the most aggressive abusers."
Troy didn't find anything exceptional about the toe durability, saying, "The toe durability was mediocre for me. I didn't completely wear a hole through the outsole where it wraps the toe, which I typically do on most lightweight shoes. There was a decent amount of wear to the toe area of my left foot, but I felt it was average wear for the amount of rubber near the toe-guard."
Traction - Score: 4.5
Traction was another element of this shoe that our team fell in love with. With speed and agility as an integral part of his game, Troy found that this shoe held up to his demands. He said, "I felt in control of my movement, especially during aggressive lateral cuts, which is an important part of my baseline game. I found the outsole to grip the court well, allowing me to stop and start under control. I felt fast, low-to-the-ground, and in control of my movement."
Spencer always felt sure-footed too, offering, "Much like the other attributes of this shoe, the traction performed at a high level. I didn't experience any untimely slips or slides throughout the playtest. The outsoles are reliable."
Andy liked how the unique shape of the outsole helped him get the court response he needed for all types of movements. He explained, "I felt enough confidence in these shoes to move around as aggressively as I could, and the traction plays a big role in that. It lets me slide when I need to slide, and it grabs the court when I need it to. The concave-shape to the outsole, known as Lotto's ReactiveArch technology, also gives the shoe great court feel and traction."
Granville also really enjoyed how well the shoe gripped the court, saying, "This is one of the 'stickiest' tennis shoes on the market. I found excellent traction at every corner of the court. I can pivot, change direction, and move up and back without a moment's hesitation. It feels very clean on contact with the court, with no lost energy while preparing for the shot."
Weight - Score: 4.4
Though it weighs in on the heavier end of the scale, the Ultra Raptor IV Speed still felt extremely fast on court, as its name would indicate. Spencer was flying around the court in them, saying, "I would have guessed they are lighter than the listed weight of 15.7 ounces (size 10.5), based on my movement. I thought the weight offered a nice stability without feeling heavy. That's what we all look for, don't we?"
Andy never noticed any excessive weight, either. He offered, "Like any great tennis shoe, you can't feel any of the weight in these Raptors, which makes you light and fast on the court. I don't think it's one of the lightest shoes we've tested, but it certainly feels low-profile in design. There's a great blend of support and speed features."
Troy thought the shoe played much lighter and faster than others with similar heft. He explained, "This shoe felt light and fast, even though the weight of this shoe comes in at 15.7 ounces (size 10.5). As soon as I put these shoes on I felt like I could move with ease. They didn't feel bulky like the Nike Air CourtBallistec 4.3 and the adidas Barricade 7.0 did out of the box."
The Ultra Raptor IV Speed also passed Granville's test, as he said, "This shoe comes in under my "pound per shoe" guideline, and I never gave the weight a thought on the court. Excellent weight to performance ratio."
Overall - Score: 4.4
Likes
Spencer - "Everything. Particularly the color!"
Granville - "Solid, stable, great traction, good fit right out of the box. Looks good and is durable. What's not to like here?"
Troy - "Just about everything! The bright yellow was a bit much for me at first, but it grew on me as the test went on."
Andy - "One of the best all-around performance shoes on the market. Tons of support and stability, great fit, and great low-profile design."
Dislikes
Spencer - "Nothing."
Granville - "Insole is an afterthought, so an upgrade is recommended. The Raptor is so well built that it takes a bit of extra time to get it on and off the foot. Minor, I know, but I had to put something here."
Troy - "The only knock I had on this shoe was the average toe durability. It wasn't bad, but I've seen better."
Andy - "I maybe would've liked a little more breathability, but that's about it!"
Comparing this shoe to other shoes they've worn our testers said:
Spencer - "Lotto has kept the Raptor essentially the same over the past 5 years, making little changes here and there, but not sacrificing its assets. I was reminded of why I like the Raptor so much as soon as I put them on. The new colorways? Awesome!"
Granville - "This shoe is really a standout and beats anything I've worn in quite a while. It is my new favorite shoe."
Troy - "I liked this shoe almost as much as I liked the Asics Gel Resolution 4, which had similar characteristics in its low profile and comfort. The Ultra Raptor IV Speed are low to the ground like a Nike Vapor 9, but they have a glove-like fit and are durable like the CourtBallistec 4.3."
Andy - "Similar all-around performance to the Nike Air Max Cage or Wilson Rush Pro. It's a stable, durable shoe that feels lighter and faster than it actually is. This is one of the best shoes on the market right now. I recommend you try them now!"

Playtester Foot Types:
Spencer - Medium width / Medium arch
Granville - Narrow width / Low arch
Troy - Narrow width / Medium arch
Andy - Medium width / Low arch

Review date: May 2013. If you found this review interesting or have further questions or comments please contact us.
All content copyright 2013 Tennis Warehouse.