KSwiss Ultra Express Women's Shoe Review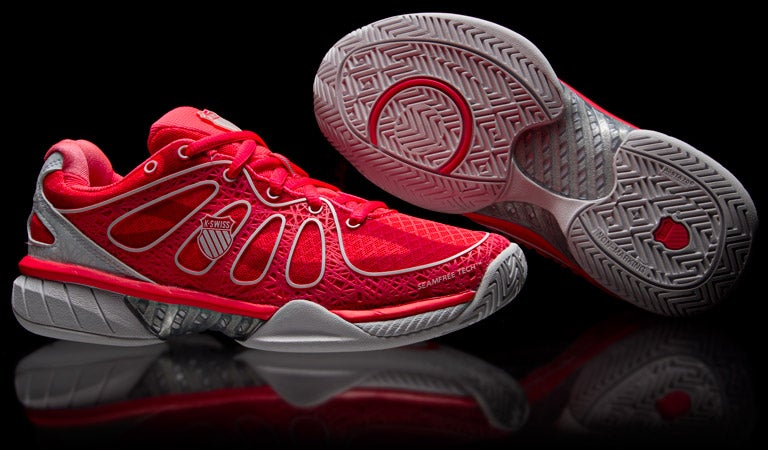 KSwiss Ultra Express Women's Shoe Scores
Comfort
4.7
Ventilation
3.9
Arch Support
3.9
Foot Support/Stability
3.4
Overall Sole Durability
4.0
Toe Durability
4.0
Traction
3.6
Weight
4.6
Overall
4.2
Upsides
Lightweight
Cushioning
Comfort
Durability for its weight
Summary
Stylish, comfortable and lightweight … what more can you ask for in a premier tennis shoe?! Maybe you want some stability and durability thrown in there, too? No problem! And under $100? You got it!
It's your lucky day, because what you want is exactly what you get with the KSwiss Ultra Express! Our playtesters were excited to slip on these ultra-cute shoes because of their flashy design. They were immediately rewarded with tons of plush cushioning, a trait that has become somewhat of a signature of KSwiss shoes. The ladies of TW also found more stability and durability than they were expecting. After spending a lot of time in these shoes on the court and in the gym, our team believes they're an excellent option for players of all levels who enjoy comfortable, quick shoes that work perfectly for tennis and training.
Comfort - Score: 4.7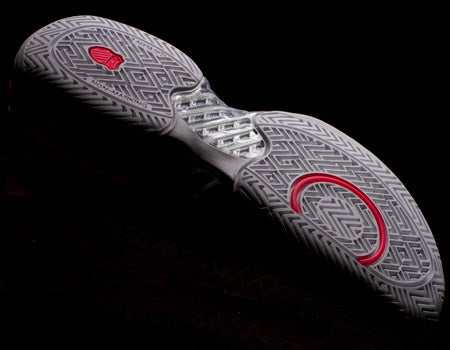 Our team welcomed the ample amount of comfort they found in the Ultra Express. The cushioning of this shoe exceeded our testers' expectations from first wear. Brittany began, "As soon as I slipped these shoes on my feet I felt a lot of plush cushioning underneath my foot. There was no need for any sort of break-in period. I liked the comfortable tongue because I tie my shoes tightly, and I didn't feel any pinching when doing so. The upper was soft and instantly molded around my foot for complete comfort."
Of all the shoes Karly has tested over the years, this offering from KSwiss is easily one of the most comfortable. She raved, "I have yet to experience an upper quite as soft as this one. And it wasn't just the uppers -- the cushioning of the insoles absorbed any shock, and the padding felt plush throughout the entire shoe. They were so comfortable that I wasn't just using them on the tennis court, I was also wearing them to the gym or just to walk around in."
Michelle found consistent comfort from this shoe throughout the playtest, and she enjoyed them on the court and in the gym. She said, "These shoes were very comfortable from the very first wear to 20 hours into the playtest. With no break-in period, I found them to be plush throughout and enjoyed the fit. I didn't have any issues with rubbing. The materials in this shoe keep it super soft, and I enjoyed wearing them off the court and into the gym. The seamless technology and the Superfoam makes this shoe easy to wear and unnoticeable on the tennis court, which let me focus on my game and footwork." She only had one small critique, adding, "The laces were a bit too short for me, and once I was off the court I had to untie them, otherwise they were a little too tight, but that's my only small knock on comfort."
This shoe goes after comfort from all directions, which is exactly what Tiffani needed for her to give the Ultra Express a perfect score in this department. She explained, "First, there is the soft KSwiss cushioning I expect underfoot, and then there's the super pliable mesh uppers. Together, these features make the Ultra Express ultra comfortable. I'm not typically a person who likes to wear tennis shoes for more than tennis, but this is one of the rare few that I will wear to the gym or casually to run errands, and the comfort is a significant factor in that. I have to say that all this cushioning took me a bit by surprise. From outward appearances, this looks to be a minimal shoe that wouldn't be cushioned, but it's pillowy and light. Who knew this combination even existed?!"
Ventilation - Score: 3.9
With an upper made from breathable mesh, the Ultra Express continued to receive high scores when it came to ventilation. Tiffani wasn't surprised that she felt pretty cool in these shoes. She said, "There's marshmallow-type cushioning underfoot, which heated things up ever so slightly. So there were times that the bottoms of my feet felt warm but the tops of my feet were cool. It was an odd sensation, but honestly it wasn't something I would have noticed if I wasn't writing a review of the shoe."
The ventilation was just fine for Karly, who offered, "Actually, they were more breathable than I was expecting. They kept my feet cool and dry enough to not be distracted by their temperature while playing -- which is all I could ask for!"
Continuing with the high marks was Michelle, who added, "I love the mesh on this shoe. The material is not only light, but also really breathable. Since we have been playtesting some hotter shoes, it was nice that these breathed well and could be worn for hours after I played in them."
Brittany gave this shoe an above average rating in the ventilation department, explaining, "While this isn't the coolest shoe I have worn, it kept my feet at a comfortable temperature. The mesh upper allowed for some air circulation, and I never found a need to take the shoe off. In fact, I continued to wear the shoe to the gym or on a run."
Arch Support - Score: 3.9
The arch support of the Ultra Express sat pretty low, but it still seemed to fit all of our playtesters' arches. Karly was really happy with how the arch fit her foot. She said, "The insoles were slightly lower than in most shoes, but they were so cushioned that they molded to my feet nicely and offered enough support to prevent my arches from aching."
Like with many shoes, Brittany's medium arched foot had no problems with the lower arch support this shoe offered. "I could feel the arch support hitting the right place at the right height. My arches were never sore or in pain."
"I can't say that I ever even noticed the arch support," said Tiffani. "Super flexible, light shoes often lack sufficient support for me and are just too flexible, but I was happy with the support level of the Ultra Express."
Michelle found the arch support noticeably low, but it wasn't a problem for her high arches. She said, "It wasn't really an issue at all, but I did notice that there wasn't an exorbitant amount of support here."
Foot Support/Stability - Score: 3.4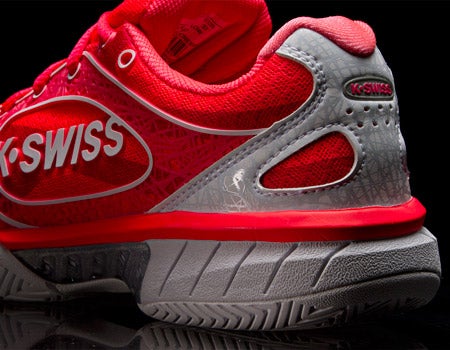 Our playtesters agreed that the support and stability were the weak links for the Ultra Express. Karly said that even though the shoes offered more support than she was expecting, the plush nature of the shoes just wasn't enough to provide complete support. She elaborated, "The uppers were just too soft to provide good stability, and they lacked the solid, stable feel most tennis shoes offer. I thought of them as comfortable lightweight shoes for training or wearing to the gym rather than for moving aggressively on the tennis court. I noticed the instability the most when making lateral movements. Running forward and backwards was fine, but when I had to move side to side or make quick stops I felt like I had to slow down my footwork so I wouldn't hurt myself."
Michelle was unsure about the support and stability that these shoes would offer when she first saw them, and she expected the support to be pretty low. She said, "While they weren't the most supportive and stable shoes I've worn, they were much more supportive and stable than what I expected. Also, we've been playtesting some pretty stiff shoes lately, and this was a nice break from those rigid, overly supportive shoes. There were a few times when I was unsure of my movement, but this shoe kept me supported and held up to my aggressive movements."
Tiffani was also somewhat skeptical of the support and stability of the Ultra Express when she opened the box. She said, "They do look rather wimpy in the support and stability categories because of the mesh construction. I wasn't sure what to expect when it was time to head to the courts, but I was happily surprised that the Ultra Express offered some decent support and good stability. The support was outstanding for me on forward/backward movements, but there was slightly less support moving side-to-side. When I planted my foot on wide shots my foot would continue moving sideways inside the shoe, pushing the mesh upper to the side. I had to wait for my foot to come to a complete stop before picking up to move the other direction. It wasn't dangerous, as I've experienced in some other shoes, but this shoe wasn't quite up there with the likes of a Nike Vapor 9 Tour in terms of lightweight support. Still I feel comfortable training on the court in these. I do recommend using all the eyelets for added support on the court, however."
"I would say there was some stability offered in this shoe, but I definitely wanted a little bit more," added Brittany. "I was fine in my forward and backward movements but had issues moving side to side. The soft upper and wide fit caused my foot to move around quite a bit inside the shoe, and I wasn't 100 percent confident moving in it."
Overall Sole Durability - Score: 4.0
Our playtesters have come to expect average durability in quick shoes, so they were quite happy with what the outsoles on their Ultra Expresses looked like after this month long playtest. Michelle, who put well over 20 hours on the shoe, offered, "I'm shocked with how well the outsole is holding up. There is some wear, but not the kind of wear I expected from a lighter weight shoe that doesn't have an outsole guarantee. Plus, the traction is holding up really well!"
The durability of the outsole blew Karly's expectations out of the water. She said, "I cannot believe how tough this shoe is, especially considering how little they weigh. I've worn them for over 15 hours, plus some time in the gym and off the court, and I have yet to see any serious wear to the outsole. Take another shoe with the same lightweight feel and you would not get the same results! It's rare to find a shoe as light and durable as this one."
The overall sole durability was the most surprising characteristic of this shoe for Brittany, who raved, "Being such a lightweight shoe, I was expecting the durability to be average to below average. I was pleasantly surprised that the Ultra Express has plenty of hours of life left after our playtest. There was smoothing starting to occur in the usual spots, but nothing unusual."
Initially, Tiffani wore these primarily for her gym workouts because she feared ruining them. She said, "I loved them so much that I didn't want to wear out the outsole or tear up the upper on the hard courts, so I stayed off the court in them. As it turns out, I really didn't need to reserve these shoes for the gym. I've now put some in hours on the court in them, and I'm seeing some wear, but not much. I'm happy with how well such a light shoe is holding up."
Toe Durability - Score: 4.0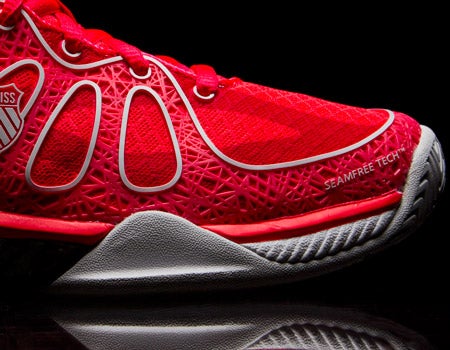 Our team was also surprised with how well the toe durability of the Ultra Express. "I was a little worried going into this playtest because the toe bumper stops short of the upper," began Brittany, who usually can cause some serious damage to the toe guard on her shoes, "but the KSwiss Durawrap technology held up to my toe dragging. The toe bumper was thick, and the only negative I can give is that the white colorway got dirty pretty quickly."
"As I already mentioned, I feared that the court would eat the mesh on these shoes. However, even the toe area is holding up pretty well for me. There is a material over the mesh in the toe area that's helping keep the shoe intact," stated Tiffani.
Traction - Score: 3.6
The traction of the Ultra Express helped our team move fast and aggressively on the court. The traction was good on this shoe, but it could have been beefed up a bit to give our team the ultimate amount of confidence. Similar to what she had to say when it came to support and stability, Brittany wished for just a little bit more traction. She said, "The shoes felt slightly high off the ground due to the amount of cushioning underfoot, and I never felt fully connected to the court. There were times when I wasn't gripping the court as much as I wanted to. It wasn't a big issue, just something I noticed every now and again."
Tiffani showed off her footwork by darting everywhere in the Ultra Express. She exclaimed, "For me, the traction was spot on. Combine the traction with the lightweight feel, and I felt like I could sprint for any ball and have a shot at getting to it. I was comfortable with the grip, whether I was stopping or taking off. Traction is another positive point for this shoe."
Karly found great traction the first few times she hit in this shoe. She explained, "I felt connected to the court with the grip the outsoles offered. I could start and stop easily, without worrying about slipping or feeling stuck to the ground. I did notice that the outsoles smoothed out a bit over time, but it was never a problem. However, my movements weren't as aggressive in general because of the lack of lateral stability. The loss of traction wasn't an issue for me because I was already moving cautiously to prevent slipping."
"The traction of this shoe offers a good blend of give and grip, with a bit more give in my opinion," stated Michelle. "At times I was craving just a bit more grab to the court, but that's just my personal preference. This outsole is great for speedy players. I did experience a couple of 'slips' in these shoes, but it was never detrimental."
Weight - Score: 4.6
Considering how much technology and plush cushioning KSwiss loaded into the Ultra Express, our playtesters were thrilled with the weight. Michelle was amazed at how light they felt, saying, "The weight of these shoes made it easy to wear them for hours on end on the court. I never felt sluggish, and I was light on my feet and really quick. I could really key in on being faster, and I felt like I could work on my footwork when wearing them."
The Ultra Express managed to stand out in the crowd for Tiffani. She said, "Light shoes aren't hard to come by these days, but it's rare to find a light weight shoe so well balanced with the other aspects a performance tennis shoe needs. Sometimes a light shoe isn't stable enough for tennis or isn't durable at all, but the Ultra Express is light, stable and durable."
"I couldn't be happier with the weight of the Ultra Express," exclaimed Karly. "Its lightweight feel was hands down my favorite thing about this shoe. This is one of the lightest shoes I've played in, and I felt so quick on the court with it on. I don't think a shoe can feel lighter or play faster than this!"
Brittany loved the quickness this shoe offered when she was moving around the court. "What stood out about this shoe was the combination of the light weight and plush cushioning. I thought KSwiss did an excellent job combining the two to create a really unique feeling tennis shoe."
Overall - Score: 4.2
Likes
Brittany - "I liked the comfort (especially the plush cushioning), the lightweight feel and the surprising durability."
Karly - "I liked the ultra lightweight ride and comfortable padding throughout the entire shoe!"
Michelle - "Love the bright cosmetic! I got a lot of compliments on this fun, bright shoe! I also love the weight and durability."
Tiffani - "The Ultra Express is light, comfortable and stable enough. I also love that these have a really colorful cosmetic that I feel comfortable wearing off the court."
Dislikes
Brittany - "I would have liked a little bit more stability, especially on side to side movements, as well as a tad more traction."
Karly - "I wish they offered more support. I thought of them more as a training shoe, or a shoe I'd take to the gym, rather than a competitive tennis shoe."
Michelle - "I just wanted a bit more stability and traction. Also, the laces were a little on the short side for me."
Tiffani - "Although I found them stable enough to play in, I would use a different shoe for matches because the extra give in the uppers slows my side to side movement slightly, and I want to be my fastest during match play."
Comparing this shoe to other shoes they've worn our testers said:
Brittany - "I would compare them to the Nike Vapor 9 Tour. They are both comfortable and lightweight shoes that I can wear on the court or working out in the gym. However, the Ultra Express is not as stable as the Vapor 9, and the traction is not as good."
Karly - "I can't help but think of the adidas Tempaia shoes, both of which are extremely fast and lightweight, with a slightly wider fit. The biggest difference that sets the Ultra Express apart is the padding. The Ultra Express offers a plush, pillowy feel whereas the Tempaias are more minimal with padding and cushioning."
Michelle - "These reminded me slightly of the Wilson NGX. They are speedy, yet plush, and both are light."
Tiffani - "To me, the Ultra Express is a tennis trainer. I love it, but it may not be something I would wear on match day. In that regard, it reminds me of the adidas CYD Reflex. This long discontinued shoe was meant to do the same thing, but it wasn't as stable as the Ultra Express. The lightweight feel that's designed for the court but works well off court, too, reminded of the New Balance 996 and the earlier New Balance 900."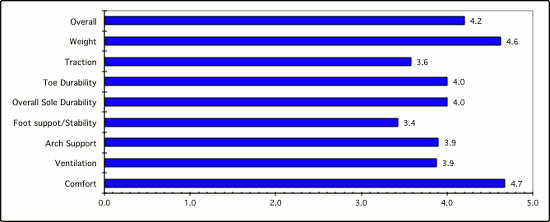 Playtester Foot Types:
Brittany - Narrow width, Medium arch
Karly - Medium width, Medium-low arch
Michelle - Medium width, High arch
Tiffani - Wide width, Low arch

Review date: May 2014. If you found this review interesting or have further questions or comments please contact us.
All content copyright 2014 Tennis Warehouse.