KSwiss Tubes Tennis 100 Men's Shoe Review

KSwiss Tubes Tennis 100 Men's Shoe Scores
Comfort
4.5
Ventilation
1.6
Arch Support
4.1
Foot Support/Stability
4.1
Overall Sole Durability
1.8
Toe Durability
3.9
Traction
4.5
Weight
4.3
Overall
3.6
Upsides
Comfort
Cushioning
Traction
Support
Stability
Summary
This shoe represents a completely fresh direction that goes completely against the classic KSwiss tradition of conservative styling and lasting durability. With the Tubes Tennis 100, KSwiss brings a new level of cushioned comfort to every step. The Tubes simply work. Our testers found excellent protection from the hard courts on tough landings, yet the cushioning also provided a very responsive and lively feel -- perfect for speedy court movement. Our testers also loved the stylish uppers and the way the Tubes are exposed in the midsole. Need more convincing on how good these shoes look? Well, consider this, even the members of our motley playtest crew were receiving compliments while they walked around in them. On court our testers were impressed with the excellent traction, support, stability and comfort. The only downsides were found in the durability and ventilation. The sticky outsoles, with their excellent traction, simply did not hold up on the hard courts, and those stylish uppers seemed to be layered so that the mesh underlay could not do its job, making the shoes feel hot both on and off the court.
To Tube or not to Tube?
That is the question we ask here in our review of the KSwiss Tubes Tennis 100.
Aggressive styling and innovative cushioning make the Tubes Tennis 100 different from other KSwiss tennis shoes, and make them an attractive option for the modern tennis player. To further distance them from KSwiss' other offerings, the Tubes Tennis 100s offer a slightly narrower fit than we typically find from KSwiss.
With a brand new cushioning system under our feet and a glove-like upper showing off some aggressive styling, we sent our testers out for a month-long playtest of the Tubes Tennis 100 shoes. Read on for their full report.
Comfort - Score: 4.5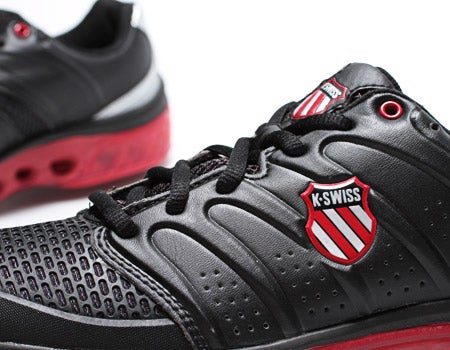 The all-around comfort of the KSwiss Tubes Tennis 100 really impressed our playtesters, including Chris, who said, "I loved the cushioning and the supple uppers of these shoes. They required no break-in and were very comfortable to walk around in. The cushioning did an excellent job of providing a comfortable ride, while feeling responsive on court. I liked the padding around the ankle collars, and the shoes also flexed in all the right places."
Jason agreed, adding, "From the soft uppers to the Tubes cushioning, this shoe was very comfortable. I was able to hit the courts immediately with this shoe with no problems. The toe box was a bit narrow for my foot at first, but as I continued to play it opened up nicely. The Tubes technology really seems to work, absorbing harsh landings without feeling mushy."
The comfort was immediate for Spencer. He said, "Reminiscent of the feel of the BigShots, the Tubes Tennis 100 offered out of the box comfort. There was ample cushioning for protected landings, while the synthetic and mesh upper was soft enough to mold well to the fit and flex of my feet. The comfort, though good at the start, got even better as I played more, as they seemed to mold more to my feet. Looking back, there wasn't one time during the playtest that I had to even think about my feet."
"There was great comfort right out of the box, just like every KSwiss shoe I've owned thus far," said Sean, who had no criticisms. "I found impressive feel with the addition of Tubes in the midsole of the shoe, which seemed to do a great job of providing a comfortable ride through all of my playing sessions. It's definitely a solid shoe for anyone playing on hard courts who is looking for great cushioning."
Ventilation - Score: 1.6
Our team found the shoe trapped heat both on and off the court. Giving some low marks was Chris. He said, "These shoes were hot. My feet got hot in them even when I was wearing them casually. I loved how they felt when walking around, as they were so comfortable, but the fact that my feet got hot prevented me from wanting to wear them for long periods. I preferred playing in them, as I didn't notice the heat as much until I was done."
Sean felt the breathability could've been improved. He said, "The Tubes offered very little ventilation, especially in the black colorway, and it was really noticeable playing in warm conditions. I found myself actually noticing my shoes while playing because of the heat my feet were feeling. On most occasions I would take the shoes off immediately after play to cool down, which is something I've never done."
"I was not a happy camper with how the shoe breathed, or rather, didn't breathe," said Jason. "After every hitting session I had to take them off as soon as I got off the court because my feet were being suffocated. This is definitely not a shoe I'd take to any place over 70 degrees."
Spencer didn't mind the heat too much, but had other issues. He said, "Though I didn't notice my feet heating up on court, the ventilation wasn't all that good. There seems to be plenty of mesh in the upper to accommodate a cool feel, but I did notice unpleasant odors on occasion if I didn't get them off my feet shortly after playing."
Arch Support - Score: 4.1
Even with their varied arch heights, our playtesters enjoyed the support of these KSwiss Tubes Tennis 100 shoes. The low arch support was a good fit for Jason. He said, "I noticed the arches were already pretty low to begin with, but the more I used them, the flatter they got, which was great."
Even with a higher arch, Chris was satisfied with the amount of support. He said, "My arches felt pretty safe in these shoes. The chassis offered some nice support through the arches, and I felt confident sprinting around in them. It only took a couple of wears for the insoles in the shoes to mold to the shape of my feet. After that, the arch support felt just right."
Sean agreed. He said, "With an arch of just below medium height, I first thought I might have a little trouble adjusting. I have a medium arch, but with the superior cushioning of this shoe it seemed to mold to my foot within an hour or two of play."
The arch was higher than Spencer would've liked. He said, "I thought the arches ran a tad higher than medium, but being placed right anatomically, they didn't cause any discomfort. To the contrary, my arches felt well supported."
Foot Support/Stability - Score: 4.1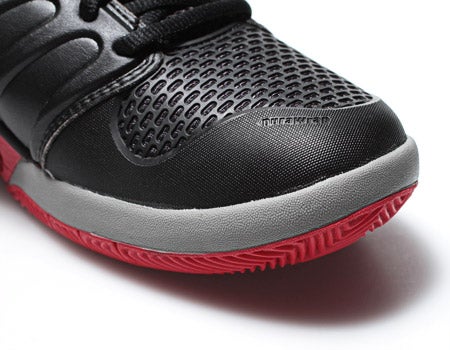 Our playtesters felt confident in their movement thanks to the high level of support this shoe provided. "To start with, the shoe fit my foot very well," said Spencer, who was running with confidence. "I didn't experience any slipping or sliding inside the shoe, allowing for some good foot hugging support. When moving laterally I could go full speed in one direction and feel confident about being able to stop quickly and go the opposite direction. The shoes did their job in being stable in this regard. Though there was enough cushioning, the shoes had a locked in, lower to the ground feel. I never felt in jeopardy of rolling over."
The support was right on the mark for Sean. He said, "The amount of support this shoe provided was just what I was looking for. Not so stiff as to cause discomfort, but enough support to allow me to play an aggressive style of tennis without fear of injury. Unlike some shoes, after a lot of use the insole didn't lose its cushioning, and the comfort was consistent from first to last wear."
The shoe ended up being more than meets the eye for Chris. He said, "I was really happy with the support and stability I found in these shoes. The fit was nice and supportive, without being restrictive in any way. The shoes felt stiff and stable where needed, yet flexed with my feet for quick movement. The chassis offered some nice rigidity, preventing any rolling or unwanted flex. Cosmetically, I didn't think the shoes looked stable as the Tubes cushioning makes the heel look elevated. However, on court the shoe surprised me by offering a very stable ride."
Jason experienced no issues. He said, "Once I had my laces tied up tight, these shoes made me feel very comfortable while moving aggressively on court. There were no instances where I felt like the shoe was going to give way and my ankle would roll over. I would've preferred a lower to the ground ride, but this shoe still performed very well and the stability was there for lateral cuts."
Overall Sole Durability - Score: 1.8
The Aosta 7 rubber compound used on the KSwiss Tubes Tennis 100 shoe was not nearly durable enough for our playtesters. Sean said, "Although I didn't have as much time to test these shoes as I would have liked, either a 6-month guarantee or some added life on the outsole would have helped. I could tell that with a lot of use on hard court surfaces the softer outsole wouldn't have a chance to hold up as long as expected."
The outsole wore out quickly for Jason, too. He said, "When I can wear down an outsole in a matter of a couple of weeks, I know there's a problem. It was at about the 10-hour mark when I started noticing some significant balding in the outsole, especially on the medial forefoot. My problems weren't nearly as bad as Spencer's or Chris', but the damage I was able to do in such a short period of time was still somewhat unsettling."
The durability was shocking to Spencer. He said, "This area was by far the most disappointing part of the shoe. After 12 hours of court time I had significant wear on the left shoe under the ball of my foot and big toe. It's not normal for me to show this much wear on a tennis shoe in such little time. At hour 15 I was losing rubber on court, literally. Small pieces of the outsole were coming off the bottom of my shoe as the outsole started to come apart."
Chris did a lot of damage in a short period of time as well. He said, "Durability was a huge issue for me in these shoes. I put only six hours of on court hitting time in them before I had worn a hole through the outsole. At the end of the test I was through most of the soft EVA midsole material and the shoes were becoming unplayable -- especially under the big toe of my right foot. The soft outsole rubber showed wear even in areas I don't typically see."
Toe Durability - Score: 3.9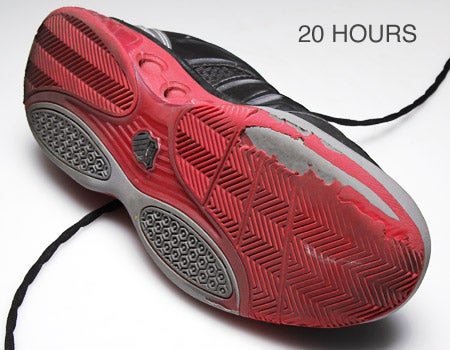 Both toe-dragging playtesters were happy with the amount of toe protection on these shoes. Chris noted the solid durability. He said, "The upper and toe durability was excellent. Unlike the outsoles, the tip of the shoe resisted abrasion very well. The rubber bumper and drag protection material over the mesh did a great job in protecting the uppers."
Sean felt the same way. Adding, "I saw normal wear on the areas of the toe box that I usually have trouble with. I definitely made use of the extra reinforcement around the toe box, but it held up well, unlike the outsole. Serious toe draggers might have some problems, but the bumper handled typical wear pretty well."
Traction - Score: 4.5
The playtesters were all in agreement that the shoe provided excellent traction on hard courts. Jason had zero complaints. He said, "I was thoroughly impressed with the tackiness of these shoes. Because the shoe flexed in the right places, maximum contact was made with each step. Once the outsole started to wear down I started to notice more slippage. Although, I will say that the slippage, even toward the end of the playtest, was minimal."
Spencer gave this shoe high marks. He said, "The traction I experienced was top notch. It's right up there with the best of 'em. The outsole material felt soft, which worked wonderfully for traction, though not so good for durability."
"I was very impressed by the traction I found in these shoes," said Chris, who put the traction to the test. "Even when the outsole had worn down the rubber continued to hook up with the court surface to provide ample grip. I felt very confident moving both side to side and sprinting and stopping in these shoes. The grip was much improved over the BigShot, which we have also tested."
The tackiness was perhaps a bit too much for Sean. He said, "This shoe sported some serious grip on hard court surfaces. I always felt connected to the court, and I was able to move with a lot of confidence to every ball. If you like to do some sliding on hard courts, like I do, to get to a tough shot, I would try to avoid it with this shoe due to its grippy outsole."
Weight - Score: 4.3
At 15.5 ounce (size 10.5), our team had no issues with the weight. Finding the shoe to be quite an asset was Jason. He said, "What's great about this shoe is that, even though it's not super lightweight, it doesn't feel sloppy and/or inhibiting. The weight distribution is great, so I felt like I could move around the court with ease. As the other playtesters will tell you, I need all the speed help I can get."'
Spencer had similar sentiments. He said, "This is not a speed shoe per se, but the shoe's weight distribution helped me feel fleet of foot around the court. They didn't feel heavy or restrictive. I was quite happy with my movement when hitting in the Tubes Tennis 100s."
Once on his feet, the shoes were an afterthought for Chris. He said, "I never noticed the shoes feeling heavy or bulky. They fit my feet well so it was easy to lace them up and just forget about them. Just as they were more stable than they looked, they also played lighter than the styling would suggest."
Sean said, "The overall weight of this shoe fit me really well. I like some support, but for the most part I like shoes that are lightweight and agile. I never felt like this shoe was heavy or clunky, and my movement around the court was natural. I'm always wary of these comfort-oriented shoes feeling like bricks because of their weight, but I was more than impressed with this shoe's mobility."
Overall - Score: 3.6
Likes
Chris - "I loved the cushioning, support, stability and the fast feel of the shoe on court. The traction was also very impressive."
Jason - "The comfort was outstanding! I also thought the traction and stability stood out."
Spencer - "Comfort and traction stood out for me. I was also happy with the stability."
Sean - "Great all court shoe with good traction and excellent comfort all around."
Dislikes
Chris - "I could live with the heat, but not the lack of durability."
Jason - "Hot, hot, hot! These were one of the hottest shoes I've ever playtested. Durability was also an issue."
Spencer - "The durability on the outsole was very poor."
Sean - "Not much ventilation on hot days. Lack of outsole durability for aggressive players."
Comparing the Tennis Tubes 100 to other shoes they've worn, our testers said:
Chris - "Compared the to BigShots, these were better shoes for me in every category except durability and ventilation. It's a shame they wore down so quickly, as this could be a go to shoe for me. However, playing five days a week, if only for just an hour each day, would make these shoes toast within a week and a half. Such a lack of durability is just unacceptable. On the upside, the fit, support, cushioning and comfort were all top notch. I really hope KSwiss continues with the Tube cushioning in tennis and put it in a more durable shoe."
Jason - "The comfort and cushioning are similar to the Prince T22 or adidas adiPure Pro. Comparing it to another KSwiss shoe, the BigShot, this shoe fit narrower and wasn't as great a fit because of my wide feet."
Spencer - "From the look and materials, as well as the comfort, they remind me of the KSwiss BigShots. I felt the Tubes Tennis 100 had a snugger fit in the forefoot, enabling me to feel more secure. The traction was better as well."
Sean - "Similar to the Kswiss BigShot in fit. An all-around shoe that reminds me of the Prince T22."

Playtester Foot Types:
Chris - Narrow width / Medium arch
Jason - Wide width / Low arch
Spencer - Medium width / Medium arch
Sean - Medium width / Medium arch

Review date: October 2011. If you found this review interesting or have further questions or comments please contact us.
All content copyright 2011 Tennis Warehouse.