KSwiss Ultra Express Men's Shoe Review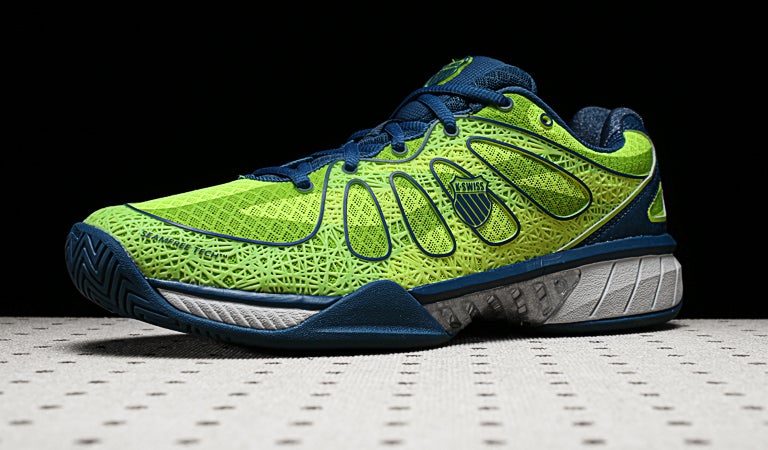 KSwiss Ultra Express Men's Shoe Scores
Comfort
4.8
Ventilation
4.5
Arch Support
4.1
Foot Support/Stability
3.8
Overall Sole Durability
3.3
Toe Durability
3.4
Traction
4.0
Weight
4.6
Overall
4.2
Upsides
Light
Fast feeling
Comfortable
Well ventilated
Summary
Talk about a shoe that far surpassed our expectations! We figured the KSwiss Ultra Express would be comfortable, but we questioned how stable and supportive it would be on court because it looks more like a stylish running shoe or trainer than a tennis shoe. But, boy, were we proved wrong! Our concerns were put to rest as soon as we hit the courts, where the Ultra Express provided more than enough support and stability for even our most aggressive movers. Comfort and cushioning were excellent, and the lightweight design had us moving at top speed. Our only knock would be the durability, which was about average. The level of wear wasn't terrible, but there are definitely more durable shoes on the market. While the durability may be so-so, these shoes do look great, feel great and offer great support. They're absolutely worth a try!
Comfort - Score: 4.8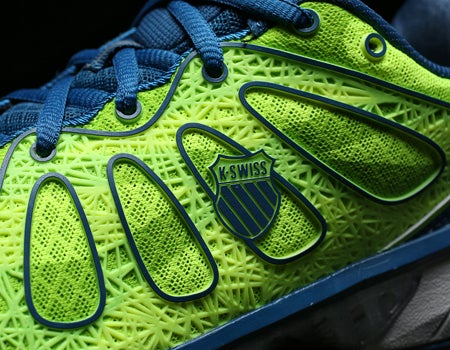 Our playtesters raved about the comfort of the Ultra Express. The shoes offered plenty of cushioning and a perfect fit for everyone. "I scored these shoes top marks for comfort," said Chris. "From the first wear to the last, these shoes felt great. The uppers were very soft and pliable. The shoes flexed perfectly with my feet, and I never felt any discomfort. The level of cushioning was also spot on. The ride was very plush and comfortable without leaving me feeling too elevated or distanced from the court. The shoes also managed to support my feet without any poking or pinching from the upper materials. When it came to comfort, I was hugely impressed."
Also extremely pleased was Jason, who said, "What an absolutely comfortable shoe to wear! The cushioning was plush and on point. The uppers have plenty of mesh and supple materials so there was zero pinching. Even the tongue and the ankle collar are well padded. I could wear this shoe before, during and after a match, it's that comfortable!"
Troy was also extremely impressed. He said, "The comfort of this shoe was exceptional. They felt plush and the uppers contoured to my feet as soon as I slipped my feet into them. The seamless design of the upper provided a nice feel to the inside of the shoe, even when I was wearing a thin sock. Compared to other KSwiss shoes that I have tested in the past (Defier miSOUL, Tubes Monfils, Stabilor SLS), this shoe had the most glove-like fit for my medium-narrow foot. The other models I tried before were a bit too roomy for my taste."
Andy had no issues with the comfort. He offered, "These are very comfortable shoes! Right out of the box they fit great and felt super soft and cushy. They continued to feel great on the court -- the uppers stayed soft, the cushioning through the midsole was good and there was no pinching or rubbing at all. They were so comfortable that they quickly became my go-to shoes just for kicking it off the court."
Ventilation - Score: 4.5
The breathability of the Ultra Express also really impressed our playtest team, and there were no issues with excessive sweat or over-heating. Jason's mind was blown. He wisely stated, "Sometimes seeing is believing, and when you see how much mesh is used you'll believe how breathable this shoe really is."
Andy puts the ventilation of any shoe to the test, and this one passed with flying colors. He offered, "The uppers have a lot of exposed mesh, which made the shoe very breathable. My feet never got too hot or sweaty, even during tougher practice sessions."
Troy felt the ventilation was another strength of the shoe. He explained, "This shoe provided good breathability. In the climate we live in the ventilation isnŐt much of an issue, but it is always nice to have the cooling effect when playing. I found that the mesh upper really allowed for good ventilation, especially around the toes. The comfort and breathability of this shoe were huge benefits for me during this playtest."
Echoing everyone's sentiments was Chris, who said, "My feet stayed nice and cool in these shoes. The uppers offered great breathability. Ventilation is not a high priority for me, and with this shoe is was a total non-issue. My feet were able to breathe and stay comfortable."
Arch Support - Score: 4.1
The Ultra Express offered plenty of support through the arch for all of our playtesters. Troy was extremely pleased, and he didn't even need to use the aftermarket insoles that he normally puts in his shoes. He explained, "The arch of this shoe seemed to be just right for me. The arch was slightly lower than medium, and more importantly, the width of the midfoot contoured well with my foot shape. On the last couple of shoes I tested, the New Balance 996 and 1296, the arch was causing some discomfort because the height and width didnŐt match my foot type. With this Ultra Express I had no issue with the arch support, so I didn't have to use my aftermarket Superfeet Insoles."
After a bit of break-in, Chris and his higher arches felt more than enough support. He said, "The arch support felt great after break-in. I have high arches, so I couldn't really feel the support until the insoles had molded to the shape of my feet. More importantly, the midfoot shank did its job, offering the support I needed to sprint around the court without any strains or pains. The Ultra Express flexed up under my toes perfectly, and my arches felt well protected even when I was moving at full speed."
Jason's low arches also felt great right from the get go. He raved, "The arch support is already a bit low to begin with, and with the soft midsole material I was really enjoying the fit. It only took a few hours for the arches to squish down to where I like them for my flat feet."
Andy had no issues either. He said, "The support underneath the arch was good but not great. However, I never worried about it or thought about it while playing, which means the support was more than sufficient."
Foot Support/Stability - Score: 3.8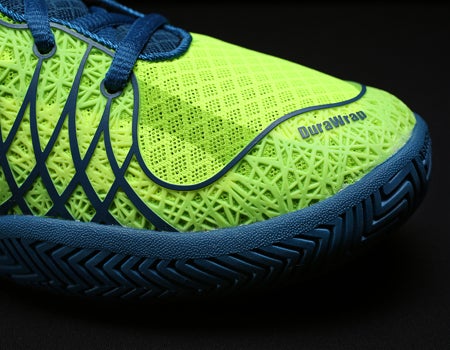 The soft and supple uppers on the Ultra Express had our playtesters wondering if there would be enough stability. However, our concerns disappeared as soon as we put them to the test. "With all the mesh in the upper I was a bit unsure how the stability would be," said Jason. "But after my first session on the court I was no longer worried. I was able to move aggressively and make my cuts as usual, and the shoe was able to handle it. Is it as stable as an adidas Barricade? No, but for a lightweight shoe it certainly delivers. I did find that I needed to lace up my shoes to the last eyelet to get the secure fit I like, but once I did my feet felt locked in, and there was no sliding around inside the shoe."
Troy was also surprised, and extremely happy, with the lateral support and stability. He explained, "To my surprise, I felt secure enough to move aggressively and take these shoes into match play. I liked how I could comfortably cinch the laces tightly for a secure feel. I also felt low to the ground, so I felt secure and was moving to the best of my ability on aggressive changes of direction. The glove-like fit felt great, which isn't typical of KSwiss shoes for my foot, and I didnŐt experience any rubbing or pinching."
Andy was flying confidently around the court at full speed. He offered, "Stability is certainly not a strength of the shoe, but it actually was more supportive than I originally thought it would be when I first opened the box. The uppers are very soft, and they did give a little bit when I was making lateral cuts, but I never felt like I was in danger of rolling an ankle when moving aggressively on the hard courts. The midfoot shank also did a good job preventing the shoe from twisting. Once I got over my initial fear of the uppers being too soft, I was able to move around and slide at top speed with pretty much full confidence."
The support and stability worked extremely well for Chris, too. He praised, "For being such a light, fast and flexible shoe, these offered a lot of support. The chassis of the shoe had a perfect level of stiffness to it. It was stiff through the heel and midfoot, but flexible up in the forefoot. The combination of flex and stiffness allowed me to feel locked in where needed, yet the shoes felt light and fast thanks to the forefoot flex. I liked the support I got from the uppers. These shoes moved well with my feet and held my feet in place when the going got tough. It's not easy to make a light and flexible shoe supportive, but KSwiss absolutely nailed it with this one. Again, I was very impressed."
Overall Sole Durability - Score: 3.3
In its weight class, the Ultra Express proved to be about average for durability, but it could not stack up against heavier, beefier shoes that are built to last longer. Chris didn't expect a ton of durability because they're so light, so he wasn't terribly disappointed with the results. He said, "It did not take me long to put a dent in the outsoles. I started to see wear under the big toe area of the outsoles after just a couple of wears. I'm very hard on shoes in that area and found this one to wear like most speed-oriented shoes. I thought the durability was about the same as the Nike Lunar Ballistec, Vapor 9.5 Tour and adidas CC Feather III. If I wore these shoes every day for tennis I'd be through them in about two weeks. That isn't out of the ordinary for me, and it's what I expect from such a light and fast shoe."
Troy also put a decent dent in the outsole over the course of the playtest. He said, "The sole durability was average when compared to other lightweight shoes. With that being said, most lightweight shoes donŐt quite hold up to my standards of durability. The traction was not affected much, but I did experience balding in the ball of the foot and toe region. I played for roughly 7-8 hours per week for about 3 weeks, and the sole was nearly worn through to the midsole in my high-wear areas."
The Ultra Express lasted longer than Andy anticipated. He said, "Once again, the Ultra Express surprised and delighted me with the level of durability it offered. It's starting to show some wear in the usual area for me (under the big toe), but it's nothing out of the ordinary. They aren't going to be the most durable shoes on the market, but they will still hold up nicely for anyone who isn't completely thrashing their shoes during play."
Jason found more than enough durability from the outsole to get through the playtest. He said, "For a lightweight shoe, it's excellent. I felt like the outsole held up pretty well even for a non-lightweight tennis shoe. Even after 13 hours of use there was plenty of tread left. I'm not the harshest playtester on my shoes (that would be Andy or Chris), but I was still impressed."
Toe Durability - Score: 4.2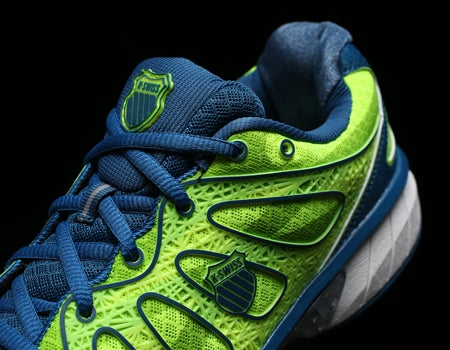 Most of our playtesters found the toe area of the Ultra Express to hold up well during the test. Chris, who can absolutely destroy the toe area of shoes over the course of a playtest, couldn't put a dent in these. He said, "Unlike the outsoles, the toes of these shoes were made to last. I can be very abusive to the toes of my tennis shoes, but these took the beating and kept on going. The DuraWrap material proved to be very durable. I drag the upper of my left shoe when lunging to hit a wide slice backhand and often blow through it. However, these shoes held up very well and the materials used proved to be very durable."
Andy also had no issues with the toe durability. He noted, "The DuraWrap protection on the toe held up well during the test. I'm not the biggest toe dragger, but I can usually do enough damage over the course of a playtest to tell if it's going to hold up for more aggressive toe draggers. This shoe passed the test."
Traction - Score: 4.0
The excellent traction of the Ultra Express scored highly with our playtesters and contributed to their confidence on the court. Troy was very pleased, saying, "The traction of this shoe made me feel confident in my movement around the court. I was aggressively changing directions with ease. I found a good balance of stick and give with the outsole, so I could stop and start without the outsole causing an ankle roll."
Jason also had no problems with the traction, offering, "The tread pattern is a pretty standard modified herringbone, but the traction was very good. The Aosta II rubber provided plenty of grip on the hard court I played on, even when it was slightly covered in tennis ball fuzz and dust."
Chris gave the highest marks of the group, raving, "I found plenty of grip when sprinting around the court in these shoes. The rubber compound definitely felt softer and more traction inspired, rather than being firm and durable. I liked the way these shoes grabbed the court and allowed me to take an aggressive first step without any fears of slipping or sliding. I also found enough traction to stop quickly and change direction. I scored the shoes highly here because the great traction accentuated the fast feel of these shoes perfectly. It also felt like the shoes flexed enough to allow the rubber to stay in contact with the court even during an aggressive lateral cut. All in all, I was impressed."
Andy actually found the Ultra Express to be a bit slick, which allowed him to slide aggressively on the hard courts. He said, "There's more slick than stick, but I liked the traction and felt confident moving around in them. There were a couple of times when I was spinning my wheels while trying to accelerate quickly, but I usually had a good feel for when the shoe was going to give and when it was going to grip. This allowed me to slide on the hard courts nicely."
Weight - Score: 4.6
The lightweight feel of the Ultra Express may be what impressed our playtesters the most. Andy raved, "The running-inspired design felt very light and fast on court. I felt like I could move at top speed! What weight there was in the shoe was distributed nicely and never inhibited my movements in any way. This was definitely a strength of the Ultra Express."
Could the lightweight design of the shoe provide Jason with superhero speed and strength? Maybe! He said, "Not only was this shoe lightweight, but the ride also provided a fast, light feel. I felt like my feet sat well within the shoe rather than on top of it. With them on, I had the confidence to get to almost every shot. Whether I could or not is a whole other story."
Chris was also extremely impressed with the low-profile design. He explained, "I felt very fast in these shoes. They felt very light on the court. I was impressed by the support and comfort they provided considering how light they felt. The shoes flexed very well, and I found the transition from heel to toe to be excellent. Everything about this shoe seemed geared to making it light and fast. The Ultra Express is so light and comfortable that it has become one of my favorite shoes to not only play in, but also to just wear around."
Troy will definitely be recommending this shoe to anyone seeking a speed-oriented offering. He said, "For those seeking a lightweight shoe, this is a great option. At roughly 13 ounces, this is nearly the lightest shoe I have worn to date. I felt fast in this shoe, and I never experienced any of the sluggishness that heavy shoes sometimes cause me during long sessions."
Overall - Score: 4.2
Likes
Chris - "I loved the comfort, traction, fit and feel, and how light and fast these shoes were. I also really liked the bright color and overall style of the shoes."
Jason - "Pretty much everything."
Troy - "Super comfortable and surprisingly excellent support for being so lightweight."
Andy - "Super lightweight and comfortable right out of the box. Surprisingly stable and durable. They look great, too! I liked the Ultra Express so much that I was wearing them around town quite often."
Dislikes
Chris - "The outsole durability means I have to save these for sets and working out in the gym. If I practice on court in them I blow through the outsole too quickly."
Jason - "Just a slight knock on needing to use all the eyelets to get a secure fit. I can see durability being an issue for aggressive players."
Troy - "Durability is the only real issue I had."
Andy - "I'd like a little more stability and traction to feel totally confident taking them into competition."
Comparing this shoe to other shoes they've worn our testers said:
Chris - "The Ultra Express is very comparable to the Nike Lunar Ballistec, Vapor 9.5 Tour and adidas CC Feather III. The Ultra Express is more comfortable than the CC Feather III, yet it feels just as fast and supportive. For me, the ride quality was right up there with the two Nike shoes I listed, which makes this a very, very impressive offering from KSwiss. It is by far my favorite KSwiss shoe so far. While not as durable as an Si18 or Ultrascendor, this shoe felt fantastically comfortable, light and fast."
Jason - "The light weight and super all-day comfort are like the Asics Gel Solution Speed. The Ultra Express is more durable, though."
Troy - "The only shoe that I recall feeling this light and comfortable with decent support was the Nike Vapor 9. Durability was about the same for me between these two shoes. If I had to use either of these in a tournament I would go with the Vapor 9, although I felt a bit more all-around comfort from the Ultra Express."
Andy - "These shoes were awesome, and I loved this playtest. They felt similar to the Ultrascendor II, but the Ultra Express were more stable and durable. The New Balance 996 would be the most similar, but to me they feel more like a running shoe than any other tennis shoe on the market."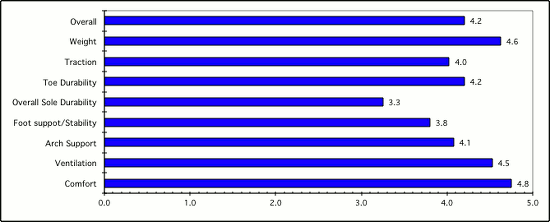 Playtester Foot Types:
Chris - Narrow width / Medium arch
Jason - Wide width / Low arch
Troy - Narrow width / Medium arch
Andy - Medium width / Low arch

Review date: June 2014. If you found this review interesting or have further questions or comments please contact us.
All content copyright 2014 Tennis Warehouse.