KSwiss Tubes Monfils Mid Men's Shoe Review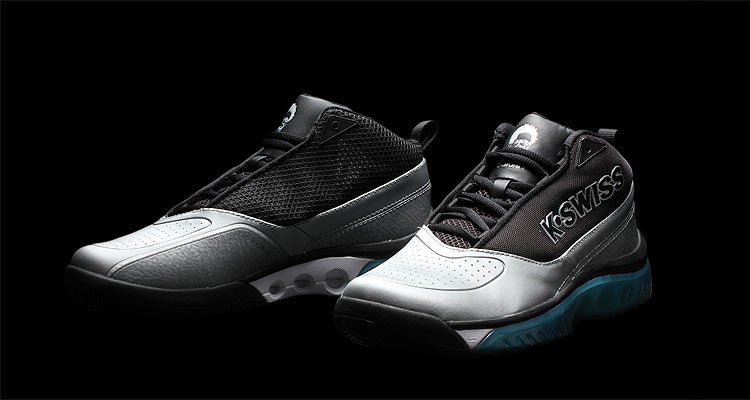 KSwiss Tubes Monfils Mid Men's Shoe Scores
Comfort
4.4
Ventilation
2.4
Arch Support
3.8
Foot Support/Stability
4.5
Overall Sole Durability
1.3
Toe Durability
1.3
Traction
4.6
Weight
3.5
Overall
3.5
Upsides
Minimal break-in
Cushioning
Support
Traction
Downsides
Poor ventilation
Lackluster durability
Heavy
Summary
A high performance shoe in a sharp looking cosmetic, the KSwiss Tubes Monfils delivers comfort and responsive cushioning. With minimal to no break-in needed for this shoe, our playtesters found the KSwiss Tubes to be high on comfort. With its mid-cut design, this shoe protects both your feet and ankles on aggressive movements. Traction levels were also very high, and impressive grip was enjoyed by all of our testers. While arch support brought some mixed reactions, most playtesters enjoyed the support and found their arches to be comfortable in the shoe. Our testers had some complaints, though. Across the board, they noted a lack of breathability, and durability did not live up to expectations, especially since the shoe carries the name of one the game's most aggressive movers. The Tubes Monfils, in the end, was a shoe that is nearly all there. There's superb cushioning, support and traction, but the lack of durability was disappointing.
Comfort - Score: 4.4
Our playtesters found the KSwiss Tubes Monfils to be a well cushioned and comfortable shoe with minimal break-in required. Jason was impressed with the fit of the shoes, saying, "I thought this shoe was quite comfortable in all aspects. Once again, the Tubes cushioning system impressed me with its responsive, yet cushioned ride. And the fit was great for me! The toe box seemed to be slightly wider than normal, and the arch was slightly lower than medium. Great for my wide feet and low arches."
Troy found the shoes comfortable right out of the box. He said, "The upper of the shoe had a fair amount of cushioning, which made it nice and padded when I laced them up tightly. The toe box of this shoe contoured to my foot well, so I never experienced any uncomfortable rubbing or pinching. The cushioning of this shoe was nice and soft and reminded me of a basketball shoe."
Breaking the shoes in quickly was Chris, who said, "They only took about 30 minutes, which impressed me for a mid-cut shoe. As with the Tubes Tennis 100 we previously tested, I really enjoyed the cushioning. The Tubes system really works. For me, it took all the sting out of tough landings yet felt responsive and fast at the same time. The uppers did a good job of holding my feet securely. With two pairs of socks I was able to fill the shoes out for a good fit, even though I have narrow feet."
Spencer found the shoes needed a bit of a break-in period before they fit him properly. He said, "It's been a while since I've worn a mid. It took me a little bit of time to get these broken in. It wasn't harsh, but the uppers felt a little stiff, and they needed some court time to soften up and form to my feet better. Once there, I enjoyed them and the extra support I felt around the ankles. These shoes got better and better as the test went on."
Ventilation - Score: 2.4
Our playtesters found the ventilation in the KSwiss Tube Monfils to be lacking. Troy thought the ventilation was mediocre, saying, "Most of the time the ventilation was not a problem for me, but there were times when I felt that my feet were getting hotter than usual. This time of year it doesn't get hot enough for ventilation to play a big role in the judgement of shoes, so it wasn't an issue. I feel that the design of this shoe, especially the toe area, wasn't aimed at creating good ventilation."
The ventilation features were not effective for Spencer. He said, "This one's not the most breathable. There are some perforations and some mesh, but I didn't feel they were all that effective."
Jason found the breathability to be below expectations, saying, "These shoes were hot, hot, hot! Even on a cooler day I had to take them off as soon as I finished playing because my feet felt like they were going to overheat. This was the one real big downside of this shoe for me."
Chris agreed, adding, "This is simply not a well ventilated shoe. My feet got hot and sweaty in them during play, and they felt hot when wearing them before going on the court."
Arch Support - Score: 3.8
Most playtesters enjoyed the support and found their arches to be comfortable and stable in the shoe. Spencer liked the arch support, finding it to be really supportive. He said, "It felt like a medium height arch support and it was placed in the right spot for my arch. I felt plenty of support and had no discomfort, whatsoever."
Jason was also big fan of the height of the arch support. He said, "It was nice and low, so I didn't have any soreness. It was a great fit for me from the very first time out 'til the last."
Needing some extra support was Chris. He said, "The arch support was too low for my arches (on the higher side of medium). I took the stock insoles out and replaced them with Superfeet Orange insoles to improve the arch support and the width fit for my feet. Despite the height being low with the stock insole, the midfoot shank felt solid and it pushed the flex point to the correct position under my toes. The shank also made the midfoot of the shoe feel very stable.
Despite feeling a lower arch support than he was used to, Troy thought the support was comfortable. He said, "I could tell from the first time I tried this shoe on that the arch was lower than most other shoes that I've tried. With this in mind I felt that the arch support did not cause any problems for me when on court. The arch area of this shoe was roomy enough that when I cinched down the laces I still found good comfort."
Foot Support/Stability - Score: 4.5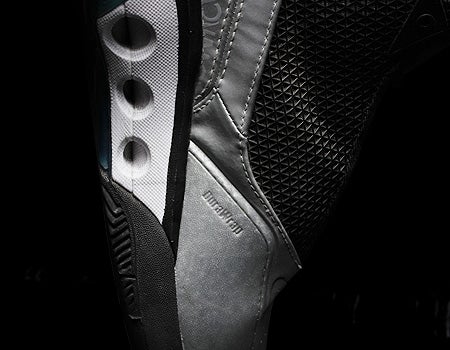 Both feet and ankles are protected with these mid-cut shoes. Continuing his positive feedback on comfort was Spencer. He said, "I was extremely happy with the support and stability of this shoe. As I stated in the comfort section, as the test wore on these shoes molded to my feet and felt better and better. Though the mid top helped with the lateral stability, the chassis of the shoe was sturdy enough to be stable even if it was a low cut shoe. Suffice it to say, I had no concerns with hard plants and changes of direction."
Troy found the stability of this shoe to be better than he had expected. He said, "I found the forefoot to be low to the ground, and I never felt like I was going to roll my ankles. This shoe supported me during many changes of direction, and I felt that I could move laterally with a lot of confidence."
Jason liked the support for his feet and ankles. He said, "The upside of playing with a heavier, mid-cut shoe is right here. With my laces tied up tightly it felt almost like I was playing with ankle braces on. I felt very confident in my movement and the shoe delivered. Because my wider foot filled out the slightly wider fit, there was no sliding around for me."
Chris was impressed with the KSwiss Tubes in this category, saying, "I thought the support and stability was great. The uppers held my feet very securely. The uppers were supportive where needed, yet flexed in all the right places to allow me to move quickly. The chassis of the shoe provided nice stability and I felt very secure sprinting around the court in them. I've always enjoyed mid cut shoes and the support they offer, and this shoe was right up there with my expectations of what a mid cut shoe should provide. They were a little wide for me, but I fixed that by upgrading the insole to a thicker unit and by wearing two pairs of socks. From then on, support was great.
Overall Sole Durability - Score: 1.3
Sole durability did not live up to expectations, with even our least aggressive movers complaining of excessively quick wear. Troy thought the durability of this shoe was probably the lowest among all the shoes he's tried in the past five or six years. He said, "The problem that I found was the outsole layer was very thin, and it didn't take long (roughly 5 hours) for the midsole to start showing. Overall durability was a disappointment, especially for such a comfortable shoe."
Surprised at the amount of wear and tear was Jason. He said, "I am not the type of player who wears down shoes, so when I saw that I had gone all the way through to the midsole in about 12 hours of testing, I was shocked. The most wear and tear happened on the medial forefoot, but there was also significant balding in the heel area. This is definitely an area of concern for me."
Chris had never seen an outsole wear out as quickly. He said, "I was more than shocked to put a hole clean through the outsole in 1.5 hours of play. I like to scamper about the court with the best of them, but I'm no Monfils. What I do to the outsole pales in comparison to a pro level player. Monfils must get through these things in 20 minutes. I had to use two pairs to do the test and I went through the outsoles in both pairs with a total on court time of only 4 hours. I'm not sure what KSwiss is thinking here. An average of two hours is simply ridiculous for outsole durability."
Spencer agreed, saying, "This is the downfall of this shoe. This has the same outsole as the Tubes Tennis 100, and the same wear pattern for me. I can't recall wearing out another outsole so quickly. For a high-end tennis performance shoe, I was sorely disappointed. The shoe wore in great, and as I stated earlier, seemed to get better as the test wore on. Unfortunately, because of the lack of durability, as soon as I felt the shoe was at its best in comfort and performance I had worn both outsoles down to the midsole."
Toe Durability - Score: 1.3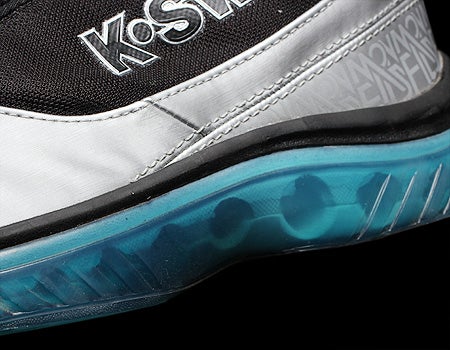 For our toe-draggers, toe durability was also not up to par. Chris disliked the quick wear. He said, "The silver toe tip is neither durable nor attractive once it has been scuffed. It took only minutes for me to scuff up the toes of the shoes. The silver material wears quickly. With the silver worn off, the toes of the shoes quickly look battered and abused."
"Being that I wear my shoes the fastest in the toe area, I wore out the toe area of the outsole within about three 2 hour hitting sessions," said Troy. "The upper silver part of the toe began to wear and discolor. Another area that wore out fast was the mesh upper, which began to detach from the lateral side of the shoe. Just like overall durability, toe durability was probably the lowest of the shoes I have tried in the past."
Traction - Score: 4.6
Despite fast wear on the sole, the playtesters liked the traction and grip of the shoe. Sole traction was praised by Spencer. He said, "These shoes performed extremely well when it came to traction. No slips or awkward sticking on court. The perfect amount of tack allowed me to move with good efficiency and expectancy. This is certainly what I would expect from a top performance tennis shoe. Well done."
Jason thought the outsole material gripped the TW court really well. He said, "I guess the converse of having an outsole that isn't durable is that it's soft enough to grip the court with every plant and step. I just felt like I was getting great contact as I tried to stop and change direction. It was when I started wearing down the outsole that I noticed that I started slipping a bit more than usual. Still nothing to be too concerned about, but it was noticeable."
"The level of traction was great," added Chris. "I was able to sprint hard around the court and the outsoles did a great job of hooking up and grabbing the court. Likewise, when coming to a quick stop, the level of traction was spot on. There was also just enough give to the outsoles to allow them to slide slightly when needed, which helped take some strain off my ankles. I thought traction was very close to perfect in these shoes."
Troy initially found the traction to be superb. He said, "I found that the rubber outsole was soft and grippy, but not durable. I was moving laterally with aggression and confidence…until the outsole began to wear out. Once the midsole began to appear in the toe area the traction started to decrease. For the first few hitting sessions the traction was great, but then declined as the outsole wore out."
Weight - Score: 3.5
Our playtesters noticed the extra weight of this shoe, but most of them were not distracted by it. Jason found the weight to be something that he needed to adjust to. He said, "The first few times out on the court I felt like these shoes were clunky and overly heavy, but I just wasn't used to a mid-cut shoe. Once I got acclimated it wasn't nearly as bad as the first impression, but I still would've preferred a lighter shoe."
"I knew there would be added weight with a mid-top," said Spencer. "But even with that, I felt my mobility was good. I liked the balance of weight throughout the shoe, as it gave me enough weight to offer good stability and support without hampering my movement."
Troy thought the weight of the shoe was good for a mid-cut. He said, "I was pleasantly surprised to find that this shoe felt light on the court even though it is a mid. Most of the mid-cut shoes I have tried feel too bulky, and therefore hinder movement. With this shoe I felt like my feet were light, and the weight only benefited my movement."
Chris felt these shoes were heavy. He said, "I would be willing to forgive the feel of all that weight if they offered excellent support, stability and durability. These shoes almost got there, but durability let them down. Outsoles are heavy, so I expect durable shoes to weigh a little more. This shoe should be more durable considering its weight. I'm guessing the weight must be in the cushioning system as the outsole was paper thin."
Overall - Score: 3.5
Likes
Jason - "The fit was great for my foot type, and I loved the stability and overall comfort."
Chris - "I liked the comfort, traction, support and stability. I also liked the style of the shoes and was excited to test a mid-cut shoe again."
Spencer - "The comfort, support, stability and traction."
Troy - "One of the most comfortable shoes I have played in right out of the box. They were light for a mid."
Dislikes
Jason - "Two major things stuck out for me: the lack of ventilation and outsole durability. Would be nice to see the shoe shed some weight for the next version."
Chris - "The durability was simply unacceptable on the outsoles. The toe durability wasn't much better."
Spencer - "The durability was atrocious, and as much as I like 'different' in a cosmetic, I never warmed to the look of this one."
Troy - "The durability was poor, which bothered me a lot because I liked this shoe in every other category. If durability had been sufficient I would have considered using this as a go-to shoe."
Comparing the shoes to others they've tried our testers said:
Jason - "Feels and performs like a mid version of the KSwiss Tubes Tennis 100."
Chris - "There aren't many mid-cut shoes on the market right now. I recently tested the Prince T22 Mid, and that shoe offered a wider fit and much better durability, but not quite the locked in support of this shoe. My favorite mid was the Reebok Match Day Pump. Like this one it ran hot and heavy, but it lasted better and did everything else slightly better, too. If this shoe offered better durability it would be my go to shoe since I can't get Match Day Pumps anymore."
Spencer - "These are very much like the Tubes Tennis 100 in regards to comfort, ventilation and durability."
Troy - "As far as comfort goes, this shoe was right up there with one of my all-time favorites, the Reebok Match Day Pump. Durability was the lowest that I can recall other than the adidas ClimaCool Feather. Overall a pretty unique shoe, with durability being its one downfall."

Playtester Foot Types:
Jason - Wide width / Low arch
Chris - Narrow width / Medium arch
Spencer - Medium width / Medium arch
Troy - Narrow width / Medium arch

Review date: May 2012. If you found this review interesting or have further questions or comments please contact us.
All content copyright 2012 Tennis Warehouse.