Wilson K Blade Racquet Review
The 2008 Australian Open men's final was an all KBlade affair.
Hot favorite Novak Djokovic cut through the draw with his all new KBlade Tour - a new midsized offering in the Blade line-up.
On the other side of the net the surprise of the tournament, Jo-Wilfred Tsonga, had been equally devastating with his KBlade 98.
In a rematch of that Aussie Open final, we put the KBlade Tour and KBlade 98 to the test here. Our TW playtesters hit the courts for a month-long test to find which Blade would help them cut through the opposition.
We didn't review the KBlade Team as we felt it was too far removed from the performance and feel of the Mid and Midplus versions.
The KBlade 98 review immediately follows the KBlade Tour review.
K Blade Tour
Groundstrokes
From the baseline, our team was impressed with the solid feel and the amount of control they were finding with the K Blade Tour. Spencer's skepticism concerning the Mid headsize was quickly set aside after a few groundstrokes on the court. "Weighing in at 11.8 ounces strung, along with the leather grip, the KBlade Tour felt very good in my hand. Good in the hand doesn't always transfer well to actual hitting, though in the case of the KBlade Tour, it most certainly did. This racquet provided a crisp, solid feel on both forehands and backhands. The weight was ideal for me, in that it was beefy enough to provide some mass and stability coming through the ball, yet light enough to maneuver and put a good stroke on the ball. Having enough time and means to experiment with string and tension set-ups, I found a liking to using a soft poly at around mid tension. For my game, this proved to offer plenty of pop and feel, as well as spin. The tight string pattern worked well with that set-up also, as I enjoyed the accuracy of my groundies as well as the provided depth. I was certainly skeptical of what my results would be hitting with a 93 square inch racquet, but the skepticism was quickly set aside when I realized I wasn't being harshly penalized for off-center hits like other player's sticks I've hit with. The KBlade Tour was forgiving, considering its headsize. I was thrilled when hitting from the baseline with this stick."
Amazed with the accuracy of his strokes was Troy. "Right away I noticed that this racquet offered a solid feel when striking the ball. It seemed to have a stiffer feel than some of the player's racquets I have used in the past, which translated into some extra pop. The control I had from the baseline was amazing. When I had the time to set up, I had no problem getting enough depth and having pinpoint precision on my strokes. As the heavier hitting picked up in a rally, I began to find the headsize and weight a little too demanding of me."
Granville was excited with the results of his shots with the KBlade Tour. "I was simply crushing the ball! I could feel the ball sinking deep into the stringbed, offering some extended dwell time and control. I was placing that ball on a dime. I was getting the depth I was expecting without consciously having to think about it. Either down the line or on short angles cross court, this racquet handled anything I threw at it. I was confidently bleeding off pace to throw a drop shot over the net just to see what I had in my hand - butter! But beware; you have to have your game in order to play with this stick. The sweetspot is small, as is the headsize, of course. At 11.8 ounces you will need to anticipate well and prepare early. This racquet can do a lot of the work for you if you have the game for it. (If not - fear not. The KBlade 98 to the rescue.)"
Finding success with precision was Chris. "When I was set up and meeting the ball out in front, I felt like I had the precision of a surgeon's scalpel with this racquet. On many occasions I was able to flirt with the lines and get away with risky tennis. The response from the stringbed was forgiving considering the headsize and string pattern. This racquet was much easier for me to play with compared to other midsize racquets I've recently been playtesting. I was able to find enough topspin and slice to get the job done and felt in control when being the aggressor. The area I had problems with while using this racquet was when I was on the defensive. There's not much free power with this stick - in other words, you get out what you put in. These days I prefer racquets that provide a more powerful response when I'm pushed deep and forced to hit off the back foot."
Tiffani enjoyed the feel and control. "When I was rallying with someone I could get into a groove with, I found the KBlade Tour fun to hit with. I liked the weight it put behind the ball and the control I found. I wasn't hitting winners, but I liked the feel. However, once in a match situation, it became clear that this wasn't powerful enough for me. If I played with someone who provided some pace and spin, I could survive. However, if I had to generate pace on my own, I tended to over swing, and I lost consistency."
Volleys
With our team finding excellent stability and maneuverability, the entire team felt confident at net. Chris was thrilled with how well he could place his volleys. "This is a nice stick to volley with. I found a lot of touch and feel on my shots. The racquet felt maneuverable and I liked the grip I was finding from the stringbed when cutting a slice angle volley. As well as finding my targets on drop and angle volleys, I was able to place the ball well on deep volleys. Again, this stick isn't going to win any power awards, but it did help me find the corners." Impressed so much that he described this stick as a 'scalpel' was Granville. "The soft, flexible response, crisp control AND the mass took any kind of pace my opponent could muster and turned it into an opportunity. If you can get your racquet on the ball, you have a shot at finishing the point with a positive outcome. This Blade easily shares my favorite racquet moniker - a 'scalpel.'"
Troy enjoyed the precision when volleying. "I really enjoyed coming to net with this racquet. The solid feel that this racquet offers really stood out when I hit volleys. The stability I had was great. Just by blocking the ball back, I was able to get good depth on my volleys. Like my groundies, precision is the word that describes how this racquet performed when I came to net. Maneuverability was not as good as I typically like, but the fact that I didn't have to move the racquet much to stick volleys made up for it."
Delighted with the maneuverability and punch was Tiffani. "I was surprised how well I volleyed with the KBlade Tour. I played some doubles with it and found it quite maneuverable. I hit deep volleys most of the time with a little more punch than usual. The racquet was solid and didn't vibrate even on framed shots." Spencer was comfortable at net with this stick. "This was a very stable racquet at net. It offered a nice combination of put away power as well as touch volleys. The mobility was fair, and once again I felt the racquet was forgiving with mishits. I normally feel more comfortable and confident with a larger headed racquet when I'm at the net, which was the case with the KBlade 98, but I still felt at ease when volleying with the KBlade Tour."
Serves
The control oriented response served all the testers well when it came to serving. However, when it came to power, opinions varied on the amount of pace and weight players could generate with the racquet.
Loving the K Blade Tour on serve was Granville. "This is the stroke that put me on cloud nine - I was CRUSHING my serves with the K Blade Tour. I was getting good heat down the middle and enjoying seeing my balls bouncing halfway up the back fence (after going into the service square.) Kickers wide were on target with regularity. I began to practice hitting the same ball spot on the wide serve - and had good luck. This racquet fits my game like a Barricade fits my foot!" Spencer agreed concerning the power. "I found a nice combination of placement and spin when serving with the KBlade Tour. When I put more effort into bringing the heat, the racquet responded. I was impressed with the feel and response when serving."
Chris was mostly impressed with the control. "I served confidently and was able to find my targets with this racquet. Power was all right - not the most powerful mid nor was it particularly underpowered. I found some decent kick and even better slice, but was most impressed with control. I was able to move my serves around the box and felt confident going for the corners. I liked the way the racquet came through the hitting zone and I was able to generate enough rotation on the ball for consistent and steady serving."
Seeking more action on the ball when serving was Troy. "On serve this racquet didn't impress me as much. The main problem I had with this racquet when serving was that I couldn't get the spin that I favor with an open string pattern. Even with the racquet being 8 points head light, I had trouble getting the racquet head acceleration that I typically get with my Dunlop 300. The control I had when placing serves around the box was good, but my serves weren't as effective without the pace and movement I usually have on my serves." Tiffani felt penalized by the lack of power. "I couldn't get power out of this racquet. I felt like I served up quite a few sitters -- and paid for it, especially on second serves. I was comfortable swinging it, but I like stiffer racquets in general because of the power I can get."
Serve Returns
Our testers enjoyed the solid, control oriented feel of the KBlade Tour when returning serves. Control and depth were enjoyed by Troy. "The stability and the heft of the racquet helped me a lot in returning the ball deep into the court. Control was a big factor once again, in that I could easily hit my targets on returns. The maneuverability wasn't as good for me, especially when trying to time the ball against a big server. When the serves sat up, and were in my wheelhouse, returning was great. When I had to stretch out or chip the ball back, the maneuverability didn't allow me to return effectively." Chris also liked the control on returns. "I was finding good control on my returns. The racquet felt pretty stable and I was able to block back returns with accuracy, as well as find my targets when I took a good cut at the ball. I liked punching the backhand slice return with this stick and found excellent control when doing so."
Granville had confidence putting his opponent immediately on the defensive with aggressive returns. "The KBlade Tour is one of those racquets that when you hold it in your hand, especially on serve return, you feel like you are prepared for anything. It's a nice feeling to know that even my opponent's best serve is going back to him. Even better, knowing that if he takes just a hint of pressure off, I'm going on the offensive right from the return. This is the kind of influence a well-matched racquet can make in your game. This is what the KBlade Tour does for me. I can rip a poorly placed served down either side for a winner. If needed I can angle the return low and force my opponent to pop it up - surrendering an easy winner. I can get over it, under it and around it on the return - bring it on!"
Returning with accuracy was Tiffani. "Returning was pretty good for me. I found that the control aspects of the racquet stood out in this area. I could keep the ball low, and if I were dialed in on the ball, I could drive it pretty well. I didn't find the angles as much as I did with the 98, but there was plenty of mobility." Spencer liked the stability. "Though I didn't feel I could go for return winners, I enjoyed how I could hit deep controlled shots back. The stability of the racquet helped keep the ball on target. Once again, the solid feel and stability lent themselves to successful returns."
Overall
The KBlade Tour proved to be a popular stick with our playtesters. Everyone enjoyed the control-oriented response from all areas of the court. As reflected by some of our testers, this racquet favors those who can supply their own power. Those who have the game to bring their own heat will be rewarded with a high level of precision from baseline to net. The midsized head and tight string pattern offered our testers exceptional feel and control. Such control led to plenty of confidence attacking approach shots, put aways and service returns. All in all, an impressive racquet that will find favor with stronger intermediate to advanced level players.
The "Likes" of the racquet.
Chris "I had fun testing this stick. I found as much control as I did with the old Pro Staff Rok, but this one was more forgiving and had more pop. It played great with a co-poly like Luxilon ALU Power Rough or Unique Big Hitter Blue."
Granville "This racquet hits my sweetspot with every stroke at every level. The KBlade Tour has the mass, balance, and flex offered by only the finest performance sticks ever made, including the Wilson 6.0 85 and Head Prestige. Nice to see leather on a grip again! Also nice to see 18 main strings. Perfect spec for my all court game and for adding some heat and shorter angles on the serve."
Troy "I loved the precision of the racquet, as well as the rock-solid, stable feel. Love the cosmetic - sweet looking racquet."
Tiffani "I liked practicing with this one. When I was in a good rhythm, I enjoyed the mass that got behind the ball and the really stable feel."
Spencer "I was impressed with the solid feel of the racquet as well as the seemingly large sweetspot for a midsize racquet."
The "Dislikes" of the racquet.
Chris "Not much to dislike. Just not enough power for me overall."
Granville "My only gripe is that I played with a 4 3/8 grip demo that felt like a 4 1/4."
Troy "The dense string pattern didn't allow for the ball bite that I like on my groundstrokes and serves, and the maneuverability hindered my strokes when I was on the run or off-balance."
Tiffani "For a match stick, I need something with more power. I also can't get used to the feel of a leather grip. With a Wilson Pro White over grip it felt great in the hand."
Spencer "There wasn't anything I disliked about the KBlade Tour."
Technical Specifications

Length
27 inches
69 centimeters
Head Size
93 square inches
600 square centimeters
Weight
11.8 ounces
335 grams
Balance Point
12.5 inches
32 centimeters
8pts Head Light
Construction
20 mm Straight Beam
Composition
100% [K]arophite Black w / X Loop Weave At 3 & 9 o'clock
String Pattern
18 Mains / 20 Crosses

Babolat RDC Ratings

Score

Grade

Flex Rating
65
Range: 0-100
Swing Weight
323
Range: 200-400
Wilson KBlade Tour Scores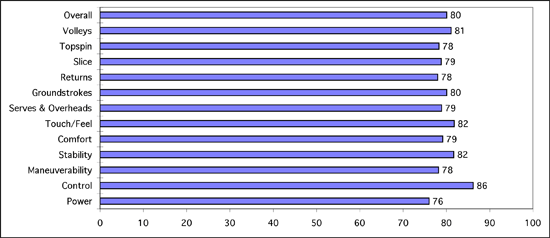 (Scores are determined by averaging individual play test scores)
K Blade 98
Groundstrokes
The KBlade 98 offered impressive comfort and mobility, and a forgiving response from the baseline for our testers. Enjoying the generous sweetspot and maneuverable feel of the racquet was Chris. "I found a nice combination of maneuverability and control in this racquet. I felt like I could whip it around easily, yet I was hitting the ball pretty solidly. The sweetspot felt healthy and I felt in control of my shots. I was finding some nice spin, which helped with control when moving opponents from side to side. I was able to keep my slice approach shots low and I liked the level of feel I was finding from the stringbed." Tiffani was finding her targets both cross court and down the line with the KBlade 98. "This felt great off the ground for me. I got plenty of pop when I needed it for those quick pick-up shots off the baseline, but the maneuverability is what really stood out. I was stepping into the court, taking advantage of shorter balls and really finding the angles off both sides. I also liked taking my two-handed backhand up the line with this one."

Granville was impressed by the comfort and forgiving response he found off the ground. "The KBlade 98 was instantly a bit more friendly. The bigger headsize allowed for some additional comfort and forgiveness. I can still crush the ball, but would miss that "tight" or "crisp" feeling of the more precise Tour version. This racquet plays more closely to my 6.1 95's (although lighter). Some good flex offered a good feel from any corner of the court. I could hit out at will and get good depth without the fear of hitting a ball long." Spencer found the racquet very maneuverable. "A nice sized sweetspot with plenty of power was evident in the KBlade 98. At just over 11 ounces strung, this stick was plenty maneuverable while still having just enough beef to offer some stability. With the good maneuverability it was difficult to tone it back at times, so I would catch myself over hitting."

Finding a somewhat similar feel to his regular stick was Troy. "This racquet felt comfortable to me right away, having specs very similar to my M-fil 300. As soon as I began taking cuts at the ball from the baseline I felt in control, timing the ball accurately and easily finding the sweetspot. I loved the maneuverability I had with this stick, especially when hitting the ball on the run, which is a must for my game. The one downside that I noticed when hitting my groundstrokes was that I wasn't getting as much bite on the ball that I typically like when hitting heavy topspin and slice. Besides that I really enjoyed that I could drive the ball through the court and get a little more pop on my groundies due to the good racquet head acceleration."
Volleys
A combination of mobility, control and power greeted our testers at net with the KBlade 98. Finding some added touch at net was Tiffani. "The K Blade 98 was great for my volleying game. I usually lack touch, but I felt the flex of the racquet was helping me with feel. I could even hit some drop volleys." Troy enjoyed the mobile response of the racquet at net. "As soon as I got to the net I really felt in control when placing my volleys. I enjoyed the pop that I was getting, allowing me to get the ball deep in the court without having to take any swing at the ball. Once again the maneuverability was a big upside for me. I found that when I was stretched out or off balance I could maneuver the racquet and get a little extra flick to get the ball back. The only thing that didn't comfort me was that the racquet was a little unstable when I missed the sweetspot."
Feeling connected to his volleys with the KBlade 98 was Chris. "I liked the feel and control of this racquet at net. I was able to punch volleys deep without issues and felt well connected to my shots. The feel was soft and comfortable. Again, control was impressive and I was finding plenty of grip and bite from the stringbed." Spencer was putting away volleys with power and control with the KBlade 98. "This was a very comfortable stick at net. I loved the mobility of this racquet when volleying, as well as the punch. Putting away volleys seemed to come with ease. I experienced great success at net, particularly when playing doubles. The forgiveness allowed me to be more aggressive."
Finding a good match for his all court game was Granville "I can definitely feel a more "trampoline" response when volleying. Aggressive volleyers will like the power and control offered here. At 3 points head light, and with an 11.1 ounce weight, this racquet is right in the target zone for all court players."
Serves
On serve, some of our testers were impressed with pace, some with control. Finding a solid mix of both power and control was Chris. "I found enough pop and spin on serve to buy some easy points with this racquet. I wasn't serving bombs like I do with my new Boris Becker Pro, but the level of pace I found was decent. My accuracy was solid and I was serving consistently." Continuing to find good pace was Granville. "The KBlade 98 also provided very generous power on serves. The maneuverability enhanced this as I felt I could do just about anything with the racquet. I was handling my big flat serves with greater confidence than my slice serves. Slices were going a bit long."
Troy also found plenty of power serving with the KBlade 98. "I loved the added pop that this racquet offered me on the serve. I felt like I was placing the ball well when hitting either out wide or down the T. However, I wasn't getting the spin that I enjoy from my Dunlop 300 when hitting the slice and the kickers. This was one of my favorite sticks to serve with when going for the flatter serve and trying to bring the heat." Tiffani found some added consistency serving with the KBlade 98. "I felt good with the serve. It had a nice blend of control and power. I managed a set without double faulting, which I usually do at least once. Because the racquet is so mobile I had an easier time of moving the serve around the box as well."
Spencer offered, "Though I was able to serve consistently, I didn't feel the KBlade 98 offered the power I was expecting. I also felt there was some lack in feel."
Serve Returns
The control oriented response of the KBlade 98 leant itself well to returning serve. Hitting with variety was Tiffani. "There was a generous sweetspot and with the control from the tight string pattern, I could take a good, healthy swing without much worry. Especially on weaker second serves, the maneuverability played a big role; I could step in aggressively and direct the ball up the line or crosscourt." Spencer was returning with confidence with the KBlade 98. "The maneuverability of this stick allowed for several options when returning. I felt confident when returning against a big server."
Troy was stepping into returns and hitting with confidence while swinging the KBlade 98. "A big thing for me, when hitting returns, is my timing. I didn't feel like I had to make any adjustments when striking the ball in order dial in my return. I enjoyed the fact that I could flatten the ball out and return deeply into the court, without having to over-swing. This racquet gave me a lot of confidence when stepping inside the baseline to rip returns. Not only did I get my racquet around on time with big serves, but I didn't have to take a long swing to drive the ball deep." Finding enough control to play aggressively when returning was Chris. "I was able to take a good cut at returns with this racquet. The racquet felt forgiving enough for me to stay aggressive in most situations. I liked the level of control and the zip I was getting on down the line returns. When going cross court I was able to generate enough spin to find the angles."
Enjoying the solid response of the racquet was Granville. "I found the racquet to be very solid on returns. There was a bit more of an "open" response, in that targeting seemed to force me to add about 12 inches to my target zone down the line."
Overall
Offering excellent comfort from all areas of the court, our team found the KBlade 98 to be a very arm friendly racquet. With the comfort came a soft response that offered plenty of feel and control. A generous sweetspot allowed our team to find consistent pace and good directional control. The mobile feel combined with adequate bite from the stringbed for plenty of topspin and slice - both on serve and from the baseline. All in all, we found the KBlade 98 to be a solid midplus racquet for intermediate to advanced players. Whether you stick to the baseline, like to rush the net or utilize an all court game, the KBlade 98 is well worth a demo.
The "Likes" of the racquet.
Chris "I liked the control, spin and feel I found hitting with this racquet."

Granville "Good weight and balance. Powerful for a 98. Large sweetspot going to be a bit more friendly to more players. If I were to compare the Blade Tour 93 to the Blade 98, the 93 would be a rifle and the 98 would be a shotgun. Both can do the trick."

Troy " I felt this racquet had a great combination of control, maneuverability and pop. I really enjoyed this playtest and felt that this racquet fit my style of play very well. Love the cosmetic - sweet looking racquet."

Tiffani "The maneuverability was excellent. I found myself consistently hitting angle shots with ease."

Spencer "The forgiveness and maneuverability."
The "Dislikes" of the racquet.
Chris "Not as solid feeling as some of the other midplus player's racquets I've recently tested. I had to work a little harder for depth from the baseline."
Granville "I'd put leather on this racquet, too."
Troy "I would have liked a little more action on the ball for slice and topspin."
Tiffani "This is more flexible than the racquets I tend to play with, so I felt I might have lost a bit of sting when I tried to put away the ball."
Spencer "A lack of heft as well as a lack of feel."
Technical Specifications

Length
27 inches
69 centimeters
Head Size
98 square inches
632 square centimeters
Weight
11.1 ounces
315 grams
Balance Point
13.125 inches
33 centimeters
3pts Head Light
Construction
20 mm Straight Beam
Composition
[K]arophite Black w / X Loop Weave At 3 & 9 o'clock
String Pattern
18 Mains / 20 Crosses

Babolat RDC Ratings

Score

Grade

Flex Rating
64
Range: 0-100
Swing Weight
325
Range: 200-400
Wilson KBlade 98 Scores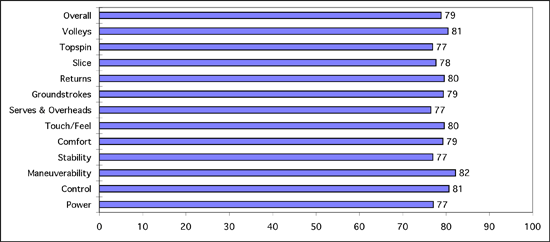 (Scores are determined by averaging individual play test scores)
Playtester Profiles

Chris
5.0 baseline player currently using the Becker Pro. Chris uses a full-western forehand grip, has a fast swing style and hits a two-handed and a one-handed backhand.
Granville
5.5 all-court player currently using a Wilson K Factor Six-One Tour 95. Granville is an aggressive player who uses an eastern forehand grip and goes continental on everything else, hits with a flat swing and a one-handed backhand.
Spencer
4.5 Baseline player currently using a Wilson K-Blade Tour. Spencer uses a full-western forehand grip, and hits with a one-handed backhand.
Tiffani
4.0 level baseliner with a semiwestern grip on the forehand and hits a two-handed backhand. Currently playing with the Babolat Pure Drive Team Standard.
Troy
4.5 Troy plays left handed, hits a two-handed backhand and goes western on his forehand. He is a baseliner and hits with a lot of spin. Currently Playing with the Dunlop M-Fil 300

Review date: March 2008. If you found this review interesting or have further questions or comments please contact us.
All content copyright 2008 Tennis Warehouse.