Wilson Juice 100 Racquet Review

Wilson Juice 100 Racquet Scores
Power
87
Comfort
76
Touch/Feel
74
Serves
81
Groundstrokes
81
Returns
79
Slice
74
Topspin
84
Volleys
80
Overall
82
Upsides
Loads of power
Good spin potential
Easy to hit deep
Generous sweetspot
Summary
There is never anything wrong with adding a little extra "oomph" to your tennis game, and this update to Wilson's Juice line of racquets will definitely do just that. Endorsed by WTA pro Victoria Azarenka, the Wilson Juice 100 is an easy to use racquet with tons of pop and a generous sweetspot. This version includes two technology updates, Amplifeel 360 and Parallel Drilling, for a bigger, more forgiving sweetspot, livelier stringbed and enhanced feel. Our playtesters found plenty of power on their groundstrokes and serves, and they felt the Juice 100 was slightly stiffer than its predecessor, the Juice 100 BLX. At the net, our playtesters found the Juice 100 to be a maneuverable racquet that could help them end points with put-away volleys. Returns were a surprise for our playtesters; many of them found a little extra control that helped them start the point on the offensive. Overall, the Wilson Juice 100 fits a wide range of playing styles and is definitely demo-worthy.
Groundstrokes - Score: 81
Our playtesters found the Wilson Juice 100 to be a powerful weapon from the baseline. Brittany playtested the previous version of the Juice 100 and wanted to see the what improvements/differences there were with the new update. She said, "The specs of the Juice 100 are right in the range of what I like in a racquet. When I started playing I noticed that the racquet still has tons of power off both wings, like the previous version. I also thought the racquet played stiffer than the previous version, and I found myself wishing for a little more access to spin. I wasn't able to hit sharp enough angles to pull my opponents off the court, or hit short angled passing shots in doubles."
Jason also compared the Juice 100 to its previous iteration, saying, "Power, power and more power. I thought the previous version had some nice pop to it, but this update kicks it up another notch or two. There was also a lot of spin to go along with that power, and I had to use it to keep my shots from flying long. I definitely needed to keep my swing speed up to put enough spin on my shots to keep them in play. When I was able to do that, I was winning points much more easily than I have in quite some time. The few times I hit the ball flat my opponents had to dodge to get out of the way."
Michelle loved this racquet on her groundstrokes. She offered, "There was ample power, but not so much that the racquet was uncontrollable. I was able to hit big and keep the ball deep pretty easily, and I could ramp up the MPHs when I put a little more into the shot. Even if I did feel like I was getting too much power, I could add spin to help control my shots. I did struggle a bit on low backhands, and for one reason or another I just couldn't find the spin I wanted. I also struggled slicing balls back. The thicker beam caused a bit of an adjustment period as well. Shanks came a little more often than I am used to, but after a while that wasn't a problem. Despite this being the non-spin version of the Juice, spin was still easy to generate on waist high shots. Also, I liked that it was pretty quick and maneuverable off the baseline; there were times I was hitting big and my opponent would dish out my big shot right back at me, and I could easily get back into position to bang another ball back. I also enjoyed this playtest because the Juice 100 has a slightly stiff feel, which I enjoy and don't mind in racquets that I hit big with. I have been gravitating toward heavier racquets, but this one was just so easy to hit big with that it was fun for a session of drills. However, it probably would need to be customized a bit to add a little mass for me to feel comfortable enough to use it in a tournament."
Mike, a fan of lighter and more powerful racquets, found a more controlled response from the Juice 100. He said, "The Juice 100 had a dampened feel and was very arm friendly when I was hitting groundstrokes, but power was an issue. I had to generate my own power, which isn't a a bad thing, but I was able to unleash on both wings without worrying that my shot was going to go long. Placing my forehand wherever I wanted on the court was easy, and on my backhand I was focusing more on spin."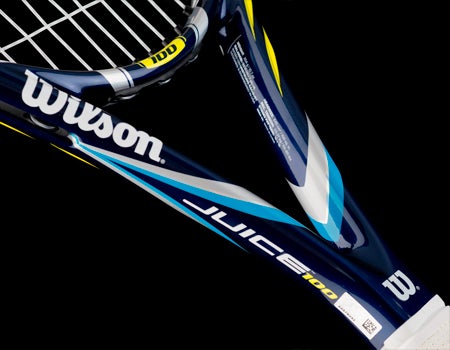 Volleys - Score: 80
Our testers found plenty of maneuverability when volleying with the Wilson Juice 100. Jason raved, "Even with so much pop and power, the racquet was still pretty maneuverable, which, along with the generous sweetspot, was quite nice up at net. I felt like I could hit overheads pretty effortlessly, and hitting sharper angles was easier thanks to the very manageable swingweight."
Brittany turned into a doubles specialist with this racquet. She said, "This racquet actually made me really enjoy coming to the net. There was a perfect blend of everything I needed to be successful at net, including stability, maneuverability and feel. I was surprised at how well this racquet performed when I was playing doubles, and at how many reflex exchanges that I won. I liked having the option to put the ball away ball deep OR short and angled."
"I thought the Juice 100 was pretty solid at net," said Mike. "Some shots felt a little unstable, especially the ones that came at me really fast. It's a very maneuverable racquet, so reaction volleys were easier to get to. Again, it has a very dampened feel, and control was the biggest positive."
Michelle played to her strengths when it came to volleying. She offered, "The thicker beam threw me off initially, but it was pretty easy to volley with. Touch isn't this racquet's forte, but it isn't my game either. Punching deep volleys was easy, but hitting droppers or carving out angles weren't my best options with this racquet. Swinging volleys with this racquet were awesome and easy, and they're one of my favorite shots, so top marks when being aggressive at the net with this racquet."
Serves - Score: 81
The Wilson Juice 100 added tons of power to our playtesters' serves, but not all of them were happy with the spin. Mike said, "We strung our playtest racquet up with Luxilon 4G Rough at 54lbs, which allowed me to generate a lot of spin and focus more on the placement of my serve and not on the power. My spin serve out wide was killer with this racquet. I hit a lot of aces."
Jason agreed, saying, "Yes, the added power was nice on my serves, but I think I liked it even more because of the access to spin. I was able to keep my tip speed up to put maximum spin on my serves."
Michelle wasn't as happy with the spin. She said, "There was ample power to hit big first serves. It was probably mental, but the thicker beam threw me off when going for kick serves. Powerful flat serves were where this racquet worked the best for me, not the slice and kick serves. I had more confidence going for my bigger serves than hitting a second serve."
Like Michelle, Brittany struggled with the spin and second serves. She said, "I was able to get good racquet head speed and add some MPHs to my serve. I would have liked some more access to spin on my second serve because I wasn't as consistent as I would have liked. We playtested the Juice 100 with a multi and a smooth poly, but I think using a shaped/textured poly would make a big difference."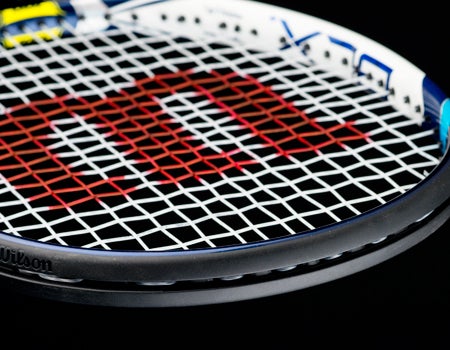 Serve Returns - Score: 79
The Wilson Juice 100 allowed our testers to return serves aggressively, and in some cases, too aggressively. Michelle admits she has a bit of a bad habit when it comes to returning. She said, "I don't have much self-control -- hitting big returns is too much fun for me, and this racquet only aided me in that area. I found myself getting a little too wild and crazy, and I started swinging too big too often. Hitting a defensive return with the Juice 100 in my hands wasn't really an option."
On the other hand, Jason was surprised with the control he had on his returns. He explained, "For some reason, the power was more controllable on returns than on my groundstrokes. I could place my shots with more precision, and my returns had enough depth to keep me from being put on the defensive even when I was slicing or blocking a serve back."
"I loved returning with this racquet," said Brittany. "Whether I was playing singles or doubles, I definitely preferred returning over serving. The maneuverability allowed me to get my racquet into position quickly, and I thought there was enough stability to return even the heaviest serve. I liked the fact that there was enough power to get the ball back deep and enough control to place the ball wherever I wanted."
Mike had only positive things to say when returning. He praised, "Returns were probably my favorite shot with this racquet. It has tons of control, and I was able to hit through the ball and get on offense immediately. Usually, I baby my returns just to get into the point, but with this racquet I was hitting full strokes, and my shots were landing well inside the baseline."
Overall - Score: 82
Likes
Brittany - "I liked the easy access to power and the generous sweetspot."
Michelle -"I found easy power and easy depth. It's maneuverable and quick from the baseline. I like the new graphics."
Jason - "Power! More power! Spin and maneuverability were also good."
Mike - "I liked the control and the soft feel. I found easy access to spin."
Dislikes
Brittany - "The racquet was very stiff, and I'm not a fan of Wilson's flared buttcap."
Michelle - "The beam is thicker than what I'm used to and what I like. I didn't find it to be the most versatile racquet. It caters to the big hitter, but sometimes the big hitter likes to throw in some touch or knife a slice, and I couldn't do that easily with this racquet."
Jason - "Too much power!"
Mike - "Lack of power on some shots. Besides that the racquet felt good."
Comparing it to other racquets they've used, our testers said:
Brittany - "It was slightly stiffer than the Juice 100 BLX, but they're very similar. I will say I liked the feel a tad better on this update. I would also compare this to the Juice 100S in terms of feel. While it doesn't have as much spin potential as the Juice 100S, it had more control and it complemented my game style better."
Michelle - "This plays a lot like a Babolat Pure Drive. I find the Pure Drive to have a more solid feel, with the Juice 100 feeling slightly more hollow. However, I found the Juice 100 to be a tiny bit more maneuverable than the Pure Drive. I also think the Pure Drive has the ability to help execute a wider variety of shots."
Jason - "The Babolat Pure Drive on steroids."
Mike - "The Juice 100 offered me control than the Juice 100 BLX, but the BLX offered me a lot more power. Both were very similar in feel. I prefer the Juice 100 a lot more."
Technical Specifications

Length
27 inches
69 centimeters
Head Size
100 square inches
645 square centimeters
Weight
11.3 ounces
320 grams
Balance Point
12.9 inches
33 centimeters
5pts Head Light
Construction
25 mm / 26.5mm /25.5mm
Composition
Basalt Fibers woven w/[K]arophite Black
String Pattern
16 Mains / 18 Crosses

Babolat RDC Ratings

Score

Grade

Flex Rating
73
Range: 0-100
Swing Weight
318
Range: 200-400
Scores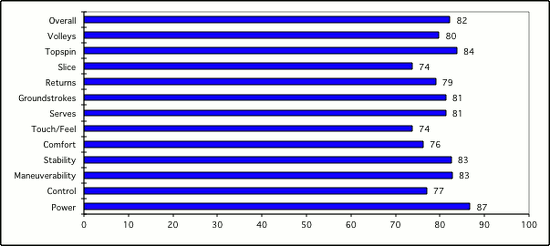 (Scores are determined by averaging individual play test scores)
Brittany's Scores
Power
8.5
Serves
8.3
Control
7.5
Groundstrokes
7.9
Maneuverability
7.8
Returns
8
Stability
8.3
Slice
7.8
Comfort
6.8
Topspin
7.8
Touch/Feel
7.5
Volleys
8
Overall
8
Jason's Scores
Power
9.2
Serves
8
Control
7.8
Groundstrokes
7.8
Maneuverability
8.3
Returns
8
Stability
8
Slice
7.7
Comfort
7.8
Topspin
8.8
Touch/Feel
7.5
Volleys
8
Overall
8
Michelle's Scores
Power
9
Serves
8
Control
7
Groundstrokes
8
Maneuverability
8
Returns
7
Stability
8
Slice
6
Comfort
7
Topspin
8
Touch/Feel
6
Volleys
7.5
Overall
8
Mike's Scores
Power
8
Serves
8.2
Control
8.5
Groundstrokes
8.8
Maneuverability
9
Returns
8.6
Stability
8.7
Slice
8
Comfort
8.9
Topspin
8.9
Touch/Feel
8.5
Volleys
8.4
Overall
8.9
Playtester Profiles
Brittany: Open level player with a semi-western forehand and a two-handed backhand. She currently plays with the Yonex V-Core 100S.
Jason: 4.0 baseliner with a semi-western forehand and two handed backhand. Currently using a Wilson Steam 99 S.
Michelle: Open level baseline player with a semi-western forehand and a two handed backhand. She currently plays with the Babolat Pure Drive Roddick.
Mike: 5.0 baseliner with a semi-western forehand and two-handed backhand. His current racquet of choice is a customized Prince Triple Threat Warrior.

Review date: January 2014. If you found this review interesting or have further questions or comments please contact us.
All content copyright 2014 Tennis Warehouse.