Yonex RDiS 200 Tennis Racquet Review


Until now, we have found the Yonex RDiS racquets to be similarly performing updates to existing models. For instance, the RDiS 100s are similar to the RDS 001s, and the RDiS 300 could be likened to the RDS 003.
This might lead you to believe the RDiS 200 would be like the RDS 002 Tour, but it's not. The RDiS 200 comes in at 11.7 ounces strung, noticeably lighter than the 12.1 ounce RDS 002 Tour. The beam is also thicker on the RDiS 200, but it's not as stiff (61 RA vs. 65 RA) as the RDS 002 Tour.
We sent out some of our playtesters to see where this Yonex fit in the Yonex line up and how it performed on court. Here's what the team had to say after a month of testing with both multifilament and polyester string.
Groundstrokes - Score: 80
At 11.7 ounces strung and 7 points head light, the racquet allowed Chris to create a lot of spin. He said, "I enjoyed hitting with this racquet off the ground. I was getting good spin on my shots, and that helped me control both depth and direction. I was able to generate decent pace, but I wasn't really hitting shots that penetrated the court. When hitting topspin shots, it looked and felt like my shots were sitting up a little bit. I felt like I had to work the ball a little more to win points, rather than just hitting through an opponent. Probably my favorite shot was my backhand slice. I really liked the feel and spin I was getting on that shot. When slicing, I felt like I could hit deep and crosscourt all day. When hitting my two-handed backhand the typically generous Yonex grip length was a really nice feature."
Kana enjoyed the playtest after an adjustment period, saying, "When I first played with this Yonex I felt out of sync. I couldn't keep a rally going, the feel was very different, and I couldn't sense where I was gripping the handle because I am used to the bevels of Volkl racquets. Once I was able to hold a rally I got into a groove where I finally felt comfortable going for shots. I felt I had to tweak my stroke to be more fluid, using the racquet's mass as a natural force through the ball rather than muscling through it. Most of my shots were landing a foot nearer the baseline, and I could get a killer angle on both sides. I usually have a hard time hitting shots above my shoulders, especially on the backhand side, but I felt extremely comfortable moving into the ball and using my body and the racquet's weight to plow through the shot."
Measuring 61 in stiffness on the RDC, the RDiS' flex was out of Sean's comfort zone. "Unlike most racquets, I felt like my groundstrokes were the shots that took me the longest to adjust to with this racquet. After using some stiffer frames the low flex rating of this racquet really took some getting used to, but I was able to find my timing after a couple sessions. The depth I was finding on my shots was consistent, although, if my timing wasn't perfect the ball seemed to spray. Spin potential was good with its open string pattern, but the sweetspot was a little smaller than I had been anticipating."
Tiffani said, "I loved the feel of this racquet, especially on the backhand slice. I think this shot has improved for me, and the RDiS 200 gave me excellent directional control on this shot. When I went for a flat or topspin backhand, I again loved the feel. I got plenty of ball speed from this racquet as well. I struggled at first to find my groove on forehands, though. It took a week for me to dial in this stroke, which admittedly is the weaker of my two sides. I was able to get good depth once I found my rhythm, but I dumped a lot of balls into the net while adjusting."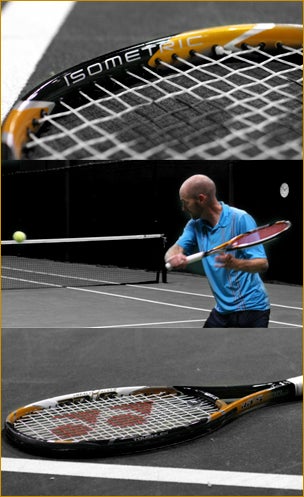 Volleys - Score: 80
The RDiS impressed us with its stability and feel at net. Sean said, "I was definitely impressed with how well this racquet performed at the net, as well as the baseline. It felt very easy to maneuver, especially at net, and I had no trouble keeping volleys deep in the court. What really impressed me with this racquet was how comfortable I was hitting finesse and touch volleys, which isn't exactly my game. All the control and feel I could have wanted on my volleys was there."
For Chris, maneuverability was excellent as well. He offered, "This racquet felt very quick and mobile at net. I really enjoyed the feel, especially from the upper portion of the stringbed. I felt very connected to my shots, with good control and placement. Even on hard hit passing attempts, I was able to take pace off my shots with ease and direct the ball away for a short angle."
The Yonex racquet was a confidence builder for Tiffani, who said, "I found a nice blend of power and touch at net. The feel was great, so I was experimenting with mixing it up. As a baseliner, I tend to try to do enough on the approach that I get an easy put-away volley. However, when I wasn't able to do that the maneuverability of the Yonex RDiS 200 helped me hang in there, and then the feel gave me the confidence to either punch a volley deep or go for a short angle."
Kana said, "I always feel weaker on my backhand side, so whenever I play with a heavier racquet I love the crisp contact and plow through that I normally wouldn't get with lighter racquets. This is what this racquet offered at net. It allowed me to hit a solid deep volley without any effort. The downside to heavier racquets is the lack of mobility on faster shots. I would be comfortable using this for singles, but probably not doubles."
Serves - Score: 79
The maneuverability of the RDiS 200 on serves was a pleasant surprise for Tiffani. She said, "The serve can be my nemesis, but the RDiS 200 was really comfortable for me to swing. I had my worries when I looked at the strung weight because if there's one reason I tend to stay away from racquets that edge close to the 12-ounce line, it's that I struggle to generate enough racquet head speed to serve effectively. The RDiS 200, though, is plenty head light enough for me to maneuver comfortably. I didn't serve any bombs -- but I never do. However, I felt like I got some good pace and enough spin on my serves to start the point on even footing with my opponent."
Sean was pleased with the spin he could generate. He offered, "With a good balance and weight, serving was made pretty easy with this stick. It felt very solid on all serves, whether trying to crank a first serve or kicking a second serve. It was easy to swing for a racquet that's fairly heavy, which kept my arm feeling good throughout longer sessions. Although more of a control-oriented racquet, the open pattern of this Yonex made for some good spin potential on slice and kick serves."
The control impressed Kana, who said, "My favorite serve is down the T, and the RDiS 200 allowed me to serve more aggressively than usual without any extra effort. The feeling was crisp, and it felt like an extension of my arm. The control helped the accuracy of my placement shots."
Chris wanted a bit more mass to hit service winners. He said, "As with groundstrokes, I was getting decent pace, but I was not blasting serves by opponents. The most impressive factor for me on serve was the spin and control I was finding. I was able to hit some solid slice serves out wide on the deuce side as well as kick some nice angles on the ad side. I felt like I could hit my targets with this racquet, and that gave me lots of options when stepping up to serve."
Serve Returns - Score: 81
For Kana, it was easy to return with variety. She said, "I found it easy to flatten my shots out for an aggressive return, and even use the easy access to spin to drop it at the feet of my opponents if they were serving and volleying."
Agreeing, Tiffani said, "There was a good blend of being maneuverable and feeling solid. This racquet sits at the upper end of my comfort zone when it comes to weight, but I had no problems getting it into position. The RDiS 200 allowed me to return with variety. I felt comfortable attacking sitters as well as trying the ol' chip and charge from time to time."
Returning was the best aspect for Sean, who said. "Return of serve was definitely my favorite shot to hit with this racquet. At almost 12 ounces, I found a perfect blend of mass for a solid hit while still feeling that this racquet had a very maneuverable balance to it. I was able to consistently hit returns that were deep in the court, no matter what type of serve I had to handle. In this area I felt the racquet was very control oriented, and I found myself able to hit out on most returns without worrying."
Chris agreed, saying, "I found this racquet to be really at home on returns. It felt fast and easy to get into position, which helped when I had to react quickly. I liked the control I was getting, and that enabled me to stay aggressive much of the time. Again, spin was impressive for me with this one. I was hitting solid returns."

Overall - Score: 79
The RDiS 200 took an adjustment period for some of our testers, for whatever reason, but after they were settled in the racquet impressed with its easy access to spin and feel. The sensation of plow through power depended on the strength of the individual, with the biggest hitters wishing for a bit more weight while the other playtesters were satisfied. Overall, though, the Yonex RDiS 200 was pleasing all around, being maneuverable and forgiving with plenty of access to spin, and with a reasonable strung weight of 11.7 ounces there's room for bigger hitters to add some mass.
Likes
Chris "I liked the spin and feel from the stringbed. A great racquet at net and on slice backhands."
Kana "Once I got into a groove with this racquet, I felt my strokes were one fluid motion. The feel and depth I could achieve was amazing."
Sean "Great blend of power and control for those looking for a spin friendly player's frame."
Tiffani "Comfort and feel were outstanding, and slice backhands were easy to control. With a little work on my mechanics, this is a racquet I could consider making my primary stick."
Dislikes
Chris "I'd probably beef this one up a bit to hit a more penetrating shot."
Kana "When I catch the ball toward the tip of the racquet, I felt too much flex or vibrations in my arm."
Sean "It seemed to be either love or hate when it came to my groundstrokes, and the sweetspot wasn't huge."
Tiffani "For some reason, it took me awhile to find my rhythm with this one, but once there, I didn't have any significant dislikes."
Technical Specifications

Length
27 inches
69 centimeters
Head Size
98 square inches
632 square centimeters
Weight
11.7 ounces
332 grams
Balance Point
12.6 inches
32 centimeters
7pts Head Light
Construction
19mm Straight Beam
Composition
Graphite/HMG/TOUGHFLEX/CS Carbon Nanotube
String Pattern
16 Mains / 20 Crosses

Babolat RDC Ratings

Score
Grade
Flex Rating
61
Range: 0-100
Swing Weight
326
Range: 200-400
Yonex RDiS 200 Scores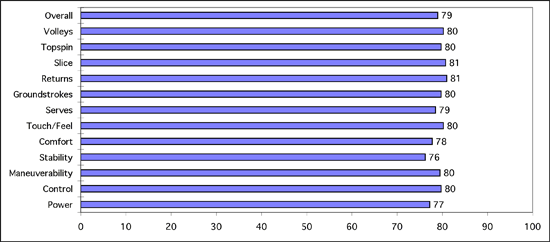 (Scores are determined by averaging individual play test scores)
Chris' Scores
Power
7.8
Serves
8.0
Control
8.2
Groundstrokes
7.9
Maneuverability
8.3
Returns
8.2
Stability
7.7
Slice
8.4
Comfort
7.9
Topspin
8.2
Touch/Feel
8.2
Volleys
8.3
Overall
8
Kana's Scores
Power
8.0
Serves
8.0
Control
8.0
Groundstrokes
8.0
Maneuverability
7.5
Returns
8.0
Stability
7.5
Slice
7.8
Comfort
7.6
Topspin
8.0
Touch/Feel
7.8
Volleys
7.6
Overall
7.8
Sean's Scores
Power
7.4
Serves
7.6
Control
7.8
Groundstrokes
8.0
Maneuverability
8.0
Returns
8.2
Stability
7.5
Slice
7.8
Comfort
7.6
Topspin
7.8
Touch/Feel
7.8
Volleys
8.4
Overall
7.8
Tiffani's Scores
Power
7.7
Serves
7.8
Control
7.9
Groundstrokes
8.0
Maneuverability
8.0
Returns
8.0
Stability
7.8
Slice
8.3
Comfort
8.0
Topspin
8.0
Touch/Feel
8.3
Volleys
7.8
Overall
8
Playtester Profiles
Chris: 5.0 All court player currently using the Volkl Power Bridge 10 Mid. Chris uses a full-western forehand grip, has a fast swing style and hits a two-handed backhand.
Kana: Open level baseliner with a western forehand and two-handed backhand. Currently using the Yonex RQis 1 Tour Light.
Sean: 4.5 baseliner using the Babolat Aeropro Drive Cortex. Sean has a semi-western forehand, 1 handed backhand.
Tiffani: 4.0 level baseliner with a semiwestern grip on the forehand and hits a two-handed backhand. Currently playing with the Yonex RDS 003 (08 version).

Review date: May 2010. If you found this review interesting or have further questions or comments please contact us.
All content copyright 2010 Tennis Warehouse.