HEAD YouTek Radical Midplus Racquet Review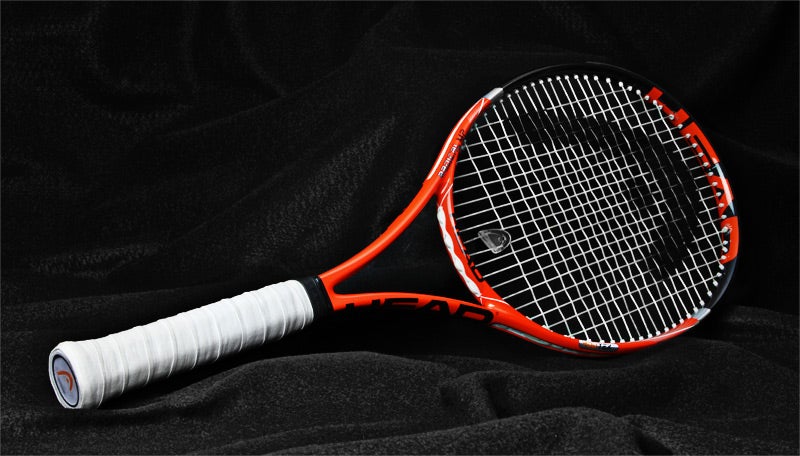 There are players who love the powerful response of a stiff racquet and there are those who love the softer feel of a more flexible racquet. With the new YouTek Radical Midplus, HEAD aims to bring us both power and feel in one racquet.
With an all-new technology called d3o, HEAD introduces a "smart material" that changes its physical characteristics based on the impact between racquet and ball. Swing fast and d3o stiffens with the shock of impact for more power and stability. Swing slowly and the softer impact leaves d3o in a more pliable state for increased feel.
After enjoying our test of the YouTek Speed racquets, we were eager to hit the courts to see what d3o would bring to the Radical line.
Groundstrokes - Score: 79
Our TW Playtesters were impressed with the control and maneuverability of the Head YouTek Radical racquet. Finding tons of control with this racquet was Troy. He said, "I felt comfortable taking large cuts at the ball. The combination of a dense string pattern and low stiffness rating (59 RA) made for a very controlled, yet dampened feel on groundstrokes. I could feel the racquet flex during heavy baseline exchanges, making me think this is an arm friendly stick. The 18x20 pattern enhanced control, allowing me to place the ball from corner to corner. The only downside was that the racquet felt a bit unstable at times, mostly during high-paced baseline exchanges. Adding some lead tape to the 3 & 9 o'clock positions would make this racquet more to my liking. It is a lower powered, more arm-friendly version of my racquet, the Wilson [K]Blade 98."
Danny had a slightly different impression of the racquet's stiffness, but still enjoyed its performance. "The crisp/firm feel is the first thing I noticed when playing from the baseline," said Danny. "I thought the 11oz weight and slightly head light balance was a perfect match for this stick. The YouTek Radical was easy to swing and the control I was able to achieve from the baseline was to my liking. I wasn't able to generate that much spin from the stringbed, but that didn't hurt my consistent and strategic baseline game. I was able to angle and lob the ball at will. I was surprised by how stiff the racquet felt, considering the stiffness rating was only 59 RA. It felt firmer to me. From the baseline, this was my favorite of the 3 YouTek Radicals."
"I liked the fact that I was able to take big cuts at the ball," said Jason. "Even though the racquet is not that head light, I was happily surprised that the racquet was very control oriented. I am very familiar with hitting a tight string pattern, so I was right at home with this stick. My topspin and slice shots still had a decent amount of bite, especially when I used a polyester string. I would have liked a bit more weight. When I was rallying against the bigger hitters it felt like the racquet got pushed around a little."
"I was able to really whip this racquet around off the ground," said Chris, who was impressed by the racquet. "It felt very maneuverable, and all the racquet head speed I was finding definitely helped me generate good spin. I was able to take a good cut at slice backhands and drive them low. When hitting topspin shots, I found plenty of bite to help my fast swing, resulting in lots of spin. This is probably the nicest Radical Midplus I've hit since the Liquidmetal version, and it impressed me with its feel and control. The tighter stringbed wasn't as string sensitive as the Pro version, and I found I could play with a wider variety of strings without the dramatic difference in performance I found with the YouTek Radical Pro. With the tight stringbed, I actually strayed away from my usual poly set up and went with a soft multifilament string."
Needing a bit of an adjustment period was Kana. She said, "The weight of the MP was where I liked it, except the balance was a little too head heavy for me. I prefer head light racquets, so I felt I was shortening up my swing rather than swinging all the way through the ball. This was causing my 'bad' shots to land in the net. After I got used to the balance and adjusted to more of a long, fluid swing, the plow through felt great and the overall feel was solid. There was less spin than with the Pro version, but this one felt more solid on groundstrokes."
Volleys - Score: 81
With a solid feel and impressive maneuverability, the YouTek Radical Midplus was a hit with our playtesters up at net.
Danny had great success with his volleys. Danny said, "I liked the YouTek Radical Midplus the most when I was at the net. The feel at the net was firm, crisp and solid. The crisp feel allowed my volleys to have more stick and natural depth. However, when forced to hit a drop volley, the touch was also there."
Kana said, "In comparison to the Radical Pro, I felt more natural and comfortable when volleying with the Radical MP. Overall, the Midplus felt solid. I could hit deep into the court, while the racquet still allowed me to hit with touch. If I was caught with a volley that was a little out of reach I could stick the racquet out and allow the weight of the head to still generate some power behind the shot."
Finding this stick to be an asset to his doubles game was Troy. He said, "The flexibility of this racquet was more beneficial for me on volleys than on groundstrokes. I was able to play a lot of doubles during this playtest, and I was serving and volleying better than ever. I found a soft and flexible feel when volleying, and no matter how hard the ball was hit at me, I never felt any awkward vibration from the racquet. The flexibility was also beneficial on touch shots such as drop volleys and short angles. Another benefit was that it was very maneuverable for me, which I felt helped my serve and volley game during my doubles matches. When charging the net, if I had to stretch out or react to a hard return, the maneuverability was helpful in making my return volley effective."
Both Chris and Jason would've liked a little more weight at net.
Chris said, "This racquet was very maneuverable at net, but just a tad too light. I prefer a little more mass behind the ball and would add some weight to this one to improve punch and stability. I was most impressed by the feel I had on touch shots and the amount of control I found in general."
Added Jason, "Again, I was pleasantly surprised. Even though the racquet is almost even balanced, it seemed to be quite maneuverable. As my volley game improves, I am more and more aware of how good or bad a racquet is up at net. Additional weight would have been nice because again, with the harder hit shots, the racquet got bullied around more than I wanted."
Serves - Score: 80
The playtesters were delighted with the control of the YouTek Radical Midplus on serves.
One tester wasn't concerned with hitting monster serves with the YouTek Radical Midplus. "Consistency was key on my serves," said Jason. "This certainly wasn't a racquet where I felt I could hit tons of pace, but I felt I could be very consistent with it. I felt like it wasn't earning me any free points, but at the same time, I could do enough with the ball so that I wouldn't get blown off the court with a return. It was easy to get in a groove with this stick."
Kana was able to be offensive with her serve. She said, "What stood out the most was the grip shape. I had to get used to the way I held it, especially if I was changing my grip to achieve more spin or slice. Overall, I usually hit a relatively flat serve, and the weight of this racquet allowed me to execute that in an aggressive way. I needed to use a little more energy on the loop up to the extension because of the head balance, but the use of the mass coming down created a faster, effortless swing."
Our resident spin-doctor also found the racquet to his liking. "I found the maneuverability of this racquet to once again be beneficial when serving," said Troy. "Typically, when serving with a dense string pattern you need to generate a lot of racquet speed to get the ball to slice or kick. Because this racquet was more maneuverable than my stick I was able to generate more spin on my serves. The reason I like an 18x20 pattern on serves is the uncanny control and placement, and this Radical lived up to my expectations for placing the ball within the service box."
"When serving with this racquet I always knew exactly where I was," said Chris, who loved the pinpoint accuracy he found with the racquet. "I didn't feel like I was going to dominate with absolute pace, but I didn't feel I was going to miss my targets, either. Again, I think a tad more weight would have helped me with power, but this was a fine serving racquet even in stock form."
Finding success with both his first and second serve was Danny. He said, "One thing I noticed about serving was the light weight. The YouTek Radical Midplus is 11-ounces, which isn't that light, but it just felt easy to swing when serving. My first serve was surprisingly consistent, and when I had to hit a second serve it was there for me, but with a little less spin than I would have liked."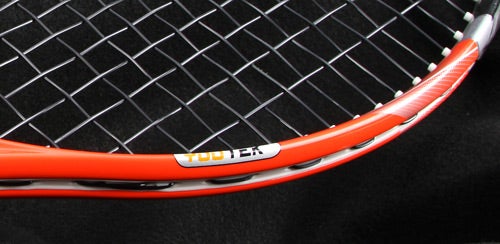 Serve Returns - Score: 75
Our TW testers returned very well with the YouTek Radical Midplus.
Chris was another tester who played lots of doubles during the playtest. "I really liked taking the ball early and cutting it with lots of spin on returns," said Chris. "When playing doubles I was able to cut the ball low and follow it to the net to steal the advantage of the serving team. I also was able to hang back and take a good rip at the ball thanks to the control I was finding."
Danny said, "My serve return was solid and more consistent when I hit crosscourt. For some reason I had more success returning from the deuce court rather than the ad court. If the serve was hit to my forehand in the ad court I was almost 99% accurate with this racquet."
"When taking on a heavy serve I could shorten up my back swing and get a good punch on it with this stick," said Kana. "There was no flutter from the racquet when I was facing a heavier server. I could stay aggressive, even when I was forced to hit defensive returns they landed deep. When I was pulled out wide I noticed I could not snap the racquet as easily as I could with a lighter or more head light racquet. Nevertheless, I was very comfortable returning with this racquet."
Jason had some mixed feelings returning with the YouTek Radical Midplus. He said, "Due to how maneuverable it felt and the control I found, I was able to stay pretty aggressive with my returns. Since it is not possible to aggressively return every serve, I had to block or slice back a few first serves, and that was where I got in a bit of trouble. Blocking the shot back wasn't the problem; the problem was with getting it deep enough to avoid being put on the defensive."
Troy was having similar issues. "On returns, I had trouble returning deep in the court due to the lack of power and plow through," said Troy. "I was forced to take bigger cuts at the ball to gain the same depth as my normal racquet. Stability was also an issue, but is something that can be addressed with the addition of some lead tape. Once again, control was a welcome bright spot. I was able to effectively keep the ball away from the net man during doubles. My slice return was also an effective shot in doubles, allowing me to come in behind my return. I felt the dense pattern gave me a lot of feel and control on this shot, and I was using it more often than I normally do."
Overall - Score: 79
The latest addition to the Radical family really impressed our TW playtest team. The Head YouTek Radical Midplus offered exceptional control from all areas of the court. Head's d3o technology seemed to have given the racquet plenty of feel and feedback without compromising comfort. Our playtesters loved how the racquet performed from the baseline – finding accuracy to be the standout characteristic. The tight, 18x20 string pattern helped our playtesters take full cuts at the ball, imparting more than enough spin on shots to keep them within the lines. The racquet is a great addition to the Radical lineage, offering the same characteristics of past Radicals but with a more solid, responsive feel. As one playtester put it, "This is probably the nicest Radical Midplus I've hit since the Liquidmetal version."
Likes
Troy "The dense string pattern provided a ton of control and the flexibility provided a very responsive feel. Good choice for someone looking for a maneuverable racquet with plenty of control."
Danny "I liked the weight, balance and maneuverability that the YouTek Radical Midplus offered. I thought it was a good combination for this model. I liked this racquet the most when I was at the net."
Jason "I really liked the feel and responsive of the racquet. The maneuverability and control was a pleasant surprise."
Chris "I liked the overall feel of the racquet and how it interacted with the ball. It was nice on the slice and impressive when hitting with topspin, too."
Kana "I felt very solid on my groundstrokes, as it had a buttery feel to it. The plow through felt great, and even a little outside the sweet spot felt forgiving."
Dislikes
Troy "There was too little stability and plow through for my liking. It was a bit underpowered compared to my racquet."
Danny "I didn't like how firm and stiff the YouTek Radical felt. The firm/stiff feel doesn't hurt my game, it's just not the type of feel I prefer. I like a softer, spongy type of feel."
Jason "Lack of weight. I felt it got pushed around when playing against bigger hitters."
Chris "Not much really. A tad light, but that's a simple fix with some lead tape."
Kana "The balance was a little out of my comfort zone, making the racquet feel heavier than its actual weight."
Technical Specifications

Length
27 inches
69 centimeters
Head Size
98 square inches
632 square centimeters
Weight
11 ounces
312 grams
Balance Point
13.25 inches
33.7 centimeters
2 pts Head Light
Construction
21.5mm Straight Beam
Composition
Graphite/d3o
String Pattern
18 Mains / 20 Crosses

Babolat RDC Ratings

Score
Grade
Flex Rating
59
Range: 0-100
Swing Weight
324
Range: 200-400
HEAD Youtek Radical Midplus Scores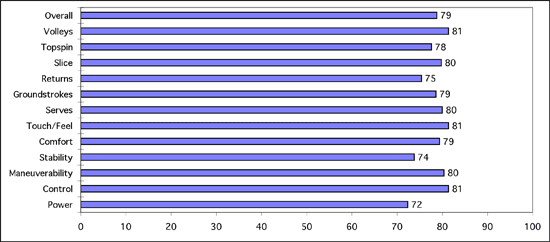 (Scores are determined by averaging individual play test scores)
Chris' Scores
Power
7.6
Serves
7.8
Control
8
Groundstrokes
7.8
Maneuverability
8.3
Returns
7.8
Stability
7.5
Slice
8
Comfort
7.8
Topspin
8
Touch/Feel
8
Volleys
7.8
Overall
7.8
Troy's Scores
Power
7
Serves
9
Control
9.2
Groundstrokes
8.3
Maneuverability
8.5
Returns
7.2
Stability
7.2
Slice
8.5
Comfort
9
Topspin
8
Touch/Feel
9.3
Volleys
8.8
Overall
8.3
Jason's Scores
Power
7
Serves
8.3
Control
8.3
Groundstrokes
8.3
Maneuverability
8
Returns
7.5
Stability
7.5
Slice
7.9
Comfort
8
Topspin
7.9
Touch/Feel
8.1
Volleys
8.2
Overall
8.1
Kana's Scores
Power
7.2
Serves
7.5
Control
7.5
Groundstrokes
7.5
Maneuverability
7.5
Returns
7.5
Stability
7.5
Slice
8
Comfort
7.7
Topspin
7.5
Touch/Feel
7.8
Volleys
8
Overall
7.7
Danny's Scores
Power
7.4
Serves
7.5
Control
7.7
Groundstrokes
7.4
Maneuverability
7.9
Returns
7.7
Stability
7.2
Slice
7.5
Comfort
7.2
Topspin
7.4
Touch/Feel
7.5
Volleys
7.9
Overall
7.5
Playtester Profiles
Chris: 5.0 All court player currently using the Volkl Power Bridge 10 Mid. Chris uses a full-western forehand grip, has a fast swing style and hits a one-handed backhand.
Danny: Open baseline player currently using a Volkl Power Bridge 10 Mid. Danny uses a semi-western forehand grip, a two-handed backhand and has a long swing style.
Kana: 5.0 baseliner with a western forehand and two-handed backhand. Currently using the Yonex RQ iS 1 Tour Light.
Jason: 4.0 baseliner with a semi-western forehand and one handed backhand. Currently using a customized Volkl Power Bridge 9.
Troy: 4.5 Troy plays left handed, hits a two-handed backhand and goes western on his forehand. He is a baseliner and hits with a lot of spin. Currently Playing with the Wilson K Blade 98.

Review date: December 2009. If you found this review interesting or have further questions or comments please contact us.
All content copyright 2009 Tennis Warehouse.