Head YOUTEK Prestige Pro Racquet Review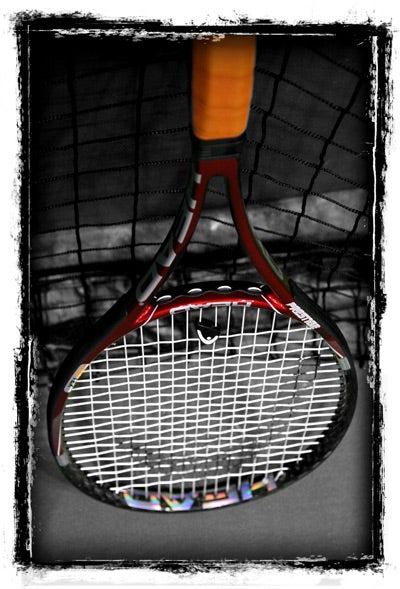 Good things come in threes. At least we have come to expect such with the Prestige line of racquets from HEAD. Previously, we have been treated to the Mid (considered the definitive Prestige by many), a Prestige Midplus and, since the i.Prestige line, a Prestige Midplus XL (27.5 inches long).
There was an XL version of the Prestige Midplus as recently as the Flexpoint line of racquets. However, when HEAD introduced the MIcroGel line, the XL was dropped and replaced by a Prestige Pro. The Pro is a standard length Prestige with its own unique specs. With the introduction of Youtek technology, the Prestige Pro returns as the third option in the Prestige line up.
The Youtek Prestige Pro offers a firmer frame and, most noticeably, an open 16x19 string pattern, compared to the 18x20 stringbeds found in the Mid and Midplus. With an RA of 66, the Pro is the stiffest of the three Youtek Prestige offerings. Weight, balance and swingweight are similar across all three models, but as you'll read in our review, the string pattern and flex of the Prestige Pro combine to create a different kind of Prestige experience.
Groundstrokes - Score: 80
The open string pattern of the Youtek Prestige Pro did a good job of opening up the sweetspot and making this the liveliest version of the three Youtek Prestige models from the baseline.
"The open string pattern gave this version of the Youtek Prestige a unique feel for me compared to the Mid and the Midplus," said Chris. "I was finding some extra pace off the racquet face, and it was feeling like I had easier access to depth. Despite its close to 12-ounce weight, I found this to be a very maneuverable racquet. I was swinging fast and getting lots of spin and speed on my shots. I felt I could rally all day with this racquet, and I was controlling the ball with confidence. This was a nice stick for me from the baseline."
Danny found slightly more pop from this version of the Prestige, saying, "This was my second favorite Youtek Prestige of the three. For me, there was not too much of a difference between this version and the MicroGEL Prestige Pro, other than some added dampening. I didn't think there was that much of a difference between this one and the Youtek Prestige Midplus, either. I found slightly more power with the Pro and easier access to spin. I thought the Pro and the Midplus were both rock solid. I did experience slightly less control and a little more vibration in the Pro version. Other than that, I thought both models were great."
Spencer found the Youtek Prestige Pro an easy racquet to adjust to, saying, "Right away I liked how this stick felt in the hand. I've always been a fan of leather grips and I think it enhances feel. Though I prefer a tighter string pattern, I enjoyed the lively feel of this stringbed. It took me a little bit longer to get a good swing going with this one compared to the Midplus. Once there, I was feeling comfortable with all my shots from the baseline. Whipping the forehand with topspin or coming over the top of my one-handed backhand, I was hitting both loopy topspin shots, as well as driving flat passes with good success. Probably my favorite shot with this one, though, was the slice backhand. I really felt this racquet could knife the ball, making a penetrating low skidding bounce."
"From the first few hits I was hitting with more depth," said Granville. "I think this was because the stringbed is a bit more open at 16x19, and it has a larger head size at 98 square inches compared to the Mid. It felt solid and consistent, and I was finding very nice slice potential. While very similar to the other two, several subtle variations made this a good choice for me."
Volleys - Score: 79
The Youtek Prestige Pro offered our testers some impressive punch at net. Granville also found it to be a forgiving racquet at net, saying, "With the added head-room I got a bit more comfort and could definitely feel the larger sweetspot, compared to the Mid. There was also some added pocketing. Perhaps it was a bit less crisp when compared to the Mid, but nonetheless, a terrific feel."
Chris also found the racquet to be a solid performer at net, saying, "I liked the pop I was getting on my volleys. The stability I needed was there and the racquet felt good even when up against hard hit passing attempts. Just as from the baseline, I found it easy to get the racquet around and was impressed by the maneuverable feel. I didn't get quite the feel on touch shots as I did with the tighter string patterns in the Mid and Midplus, but I was still impressed at net."
Danny said, "I had slightly less control with the Pro compared to the other models. I think the 16x19 pattern caused my shots to spray at times. The maneuverability was good and I thought it was stable at the net."
Spencer was in agreement, adding, "I liked how maneuverable and steady this stick was at net, though it seemed erratic at times when trying to finish a point. I'll chalk it up to the more lively, open string pattern. I felt I had more control with both the Mid and Midplus versions."
Serves - Score: 81
Spin and pace both came easily for our testers on serve. For Spencer, the serve was his favorite shot with the Youtek Prestige Pro. "I was getting nice action on the ball when serving. I enjoyed the power when needed, but more so the bite and kick I was able to muster. This was the part of the playtest that I enjoyed the most because of the spin I could impart on the ball."
"I thought the Prestige Pro was easy on the arm when serving," said Danny. "I was also fairly accurate with both first and second serves. I didn't find quite the pop and consistency I found with the Midplus, but I thought it was better than the Mid version."
Granville felt comfortable immediately when serving with the racquet, saying, "This Pro has a more comparable response to my current racquet. I felt I was hitting my serves about as hard as possible, with good control."
"I liked serving with this one," said Chris. "I was able to get good pace and plenty of action on spin serves. The best part about serving with this racquet was that it was so effortless. A smooth, fast swing was all that was needed. I was able to stay on the gas on second serves thanks to the topspin I was finding, and that was very confidence inspiring."
Serve Returns - Score: 80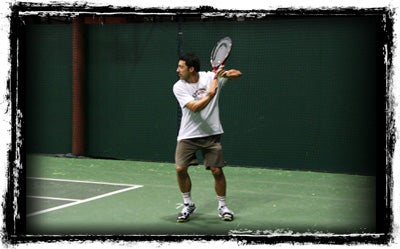 When it came to returns, "solid" was an oft used descriptive for the Youtek Prestige Pro. Danny said, "This was a solid racquet when returning. I thought the Pro was just as good as the Midplus on returns. I liked the way the racquet felt in my hands. I was getting better results with it on my backhand, and found that to be my favorite return with this racquet."
"I really liked this racquet on two-handed backhand returns," said Chris, who was impressed by the solid response. "I was finding some added pace and good access to spin. I'm not as aggressive on my backhand, so I enjoyed the free pace I was getting. On the forehand side I felt confident taking big cuts at the ball. With Topspin Cyber Flash 17 strung at 57 lb., there was ample grip and spin to stop the ball from flying long."
Spencer was another tester who benefitted from the solid response of the racquet. He said, "I found a good combination of maneuverability and stability when returning serve. As with groundstrokes, I enjoyed returning with my slice backhand the most."
Granville was enjoying the sweet life while returning with the Youtek Prestige Pro, saying, "I was more comfortable returning serves with this version of the three. The larger sweetspot and open string pattern really gave me some pop on my returns. I could feel the main strings stretching out on my best returns, providing more power, and giving my approaching opponent no time to do anything with his first volley. How sweet it was returning with this racquet!"
Overall - Score: 80
With its open string pattern and slightly different weight and flex, the Youtek Prestige Pro offers a unique feel in the Prestige line-up. Differences are subtle, but advanced players will note some additional pace off the stringbed. With this racquet, the word "open" not only refers to the 16x19 string pattern, but also describes the feel at impact. The liveliness was especially noticeable on serves, and our testers were very impressed with the power and spin they were finding. Those who have longed for a bit more punch combined with plenty of feel should take interest here. All in all, this racquet impressed our team and is definitely worthy of a demo for 4.0+ level players.
Likes
Chris - "I liked the maneuverable and whippy feel I found from all areas of the court. I also like the pace and spin I could generate, especially on the backhand side."
Danny - "Overall, I thought the Pro version was solid. I liked it most at the baseline and on serve returns. I think it is a good players stick that has good dampening."
Spencer - "The leather grip and combination of specs. A nice feeling racquet."
Granville - "The more open string pattern. The leather grip is nice. Admittedly, not a very soft and supple leather, but with an overgrip on top I was not bothered by the difference."
Dislikes
Chris - " I didn't have quite the feel on touch shots as I did with the Mid and the Midplus, but it was only a very slight difference. The added pace off the backhand more than made up for feel."
Danny - "I didn't like the Pro version at the net. I thought the open string pattern made it too inconsistent."
Spencer - "Though the open string pattern gave access to more spin, I felt it was a bit too lively."
Granville - "I would prefer a bit more head light balance."
Technical Specifications

Length
27 inches
69 centimeters
Head Size
98 square inches
632 square centimeters
Weight
11.8 ounces
335 grams
Balance Point
12.75 inches
32 centimeters
6pts Head Light
Construction
21mm Straight Beam
Composition
Graphite/d3o
String Pattern
16 Mains / 19 Crosses

Babolat RDC Ratings

Score
Grade
Flex Rating
66
Range: 0-100
Swing Weight
320
Range: 200-400
Head YOUTEK Prestige Pro Scores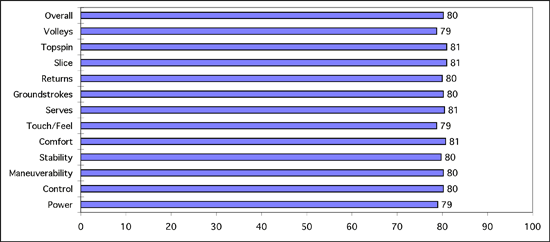 (Scores are determined by averaging individual play test scores)
Chris' Scores
Power
7.9
Serves
7.9
Control
8
Groundstrokes
7.9
Maneuverability
8.2
Returns
8
Stability
7.9
Slice
7.7
Comfort
7.9
Topspin
8
Touch/Feel
7.7
Volleys
8
Overall
7.9
Danny's Scores
Power
8
Serves
7.9
Control
8.1
Groundstrokes
8.1
Maneuverability
8.1
Returns
8.2
Stability
8
Slice
7.9
Comfort
8
Topspin
8
Touch/Feel
7.9
Volleys
7.7
Overall
8
Granville's Scores
Power
7.7
Serves
8.5
Control
8
Groundstrokes
8
Maneuverability
8
Returns
7.8
Stability
8.5
Slice
8.3
Comfort
8.5
Topspin
8.3
Touch/Feel
8.5
Volleys
8.3
Overall
8.3
Spencer's Scores
Power
8
Serves
7.9
Control
8
Groundstrokes
8.1
Maneuverability
7.8
Returns
8
Stability
7.5
Slice
8.5
Comfort
7.9
Topspin
8.1
Touch/Feel
7.4
Volleys
7.5
Overall
7.9
Playtester Profiles
Chris: 5.0 All court player currently using the Volkl Power Bridge 10 Mid. Chris uses a full-western forehand grip, has a fast swing style and hits a two-handed backhand.
Danny: Open court player currently using a Volkl Power Bridge 10 Mid. Danny uses a semi-western forehand grip, a two-handed backhand and has a long swing style.
Granville: 5.5 all-court player currently using a Wilson K Factor Six-One Tour 95. Granville is an aggressive player who uses an eastern forehand grip and goes continental on everything else, hits with a flat swing and a one-handed backhand.
Spencer: 4.5 Baseline player currently using a Wilson K-Blade Tour. Spencer uses a semi-western forehand grip, and hits with a one-handed backhand.

Review date: February 2010. If you found this review interesting or have further questions or comments please contact us.
All content copyright 2010 Tennis Warehouse.