Head YOUTEK Prestige Midplus
Every once in awhile, everything in a player's game clicks. There are those golden moments when, as tennis players, we enter the zone. How sweet those moments are. They fuel our passion for the game and define those times when we hit the impossible shots and pull out the improbable win.
Every once in awhile, everything in a racquet's design clicks. Racquets that combine feel, power, maneuverability, control and stability are rare, but every now and then one comes along. These are the racquets that inspire us to play our best, that give us the confidence to paint the lines on passing shots, and instill the belief needed to close out a tough match.
Here we test one such racquet, the Head Youtek Prestige Midplus.
Groundstrokes - Score: 82
The Youtek Prestige Midplus proved to be very popular with our playtesters on groundstrokes. All our testers quickly found the groove with it, and for Chris, it was his favorite of the three new Prestige racquets. He said, "I was very, very happy with my level of play, and my confidence was high with this racquet. This is the nicest Prestige Midplus I've hit, and it was my favorite of the three Youteks. I've never picked a Prestige Midplus over a Mid before, but this racquet won me over. Feel, control, spin and pace, it was all there. This racquet was a great fit for my groundstroke game, and I could switch to it during hitting sessions and immediately feel comfortable."
Danny agreed, saying, "The Youtek Prestige Midplus was the racquet that I liked most out of the three models. My control and consistency were high, and I loved the soft Youtek feel. I think the only difference between last year's model and this year's model is dampening. I thought the accuracy and plow through was the best with this model as well. Really, the only difference between this version and the Pro version is the string pattern. I think this model had slightly less spin potential than the Prestige Pro."
Spencer was impressed with the control-oriented response, saying, "I am a big fan of the Midplus after hitting this one from the baseline. The 18x20 string pattern offered excellent control and feel, with the ability to keep the ball deep in the court. I felt the specs were nicely balanced, offering a good blend of maneuverability and stability."
Finding the racquet light enough for creative shot making was Granville. He said, "This racquet had a very familiar feel. I was not struggling to keep up with shots, as the racquet was just light enough for me to have my way with it. My shots were landing deep and with excellent control. Even late in a point, or when I was moving from side to side, I was able to reverse the direction of the ball from cross court to down the line with great results. When I try that with a heavier racquet I run the risk of being late and hitting wide."
Volleys - Score: 81
Our testers loved the combination of control, feel, maneuverability and punch they found at the net with the Youtek Prestige Midplus. Finding the racquet very versatile at net was Granville, who said, "Big and friendly feeling, this Midplus allowed me to cover the net with ease. If the 93 is a scalpel, this is a saws-all. I could bleed the pace for a short volley winner or punch the ball for a knock out volley. Good stuff."
Spencer was in agreement. He offered, "A wonderfully versatile racquet, the Midplus helped maintain consistency for me at net. I found decent maneuverability with a forgiving, feel oriented stringbed, which helped keep a nice balance on volleys. I found effective punch, while also getting good touch on placement and angle volleys."
Danny had a Goldilocks moment with the Youtek Prestige Midplus, saying, "The Midplus was my favorite racquet at the net as well. I liked it mostly because of its consistency. It didn't have the touch the smaller Mid has, but I could stick my volleys better than I could with the other versions. The Mid didn't have enough power for me at the net and the Pro would be uncontrollable at times. The Midplus was exactly what I was looking for."
Chris continued to favor the Midplus when moving up to the net, saying, "I found lots of feel and control at net. I was able to control touch shots as well as I could with the Mid. For me, there was also the added bonus of a more forgiving response. Again, this one was my pick of the bunch. The feel was soft and plush, yet I found all the punch needed to stick my volleys."
Serves - Score: 81
Our testers found the Youtek Prestige Midplus an easy racquet to swing on serve. The maneuverable feel had our testers finding lots of pace and spin, thanks to fast swing speeds. Danny said, "My overheads and serves were the best with the Prestige Midplus. I found the Midplus to be the easiest swinging racquet out of the three models. I had good pop and consistency when serving right up the tee."
Granville also had success on serve with the racquet, saying, "At least with this racquet I felt like I could squeeze some extra speed out of my serves. There was a nice crisp response, even with my preferred use of multifilament strings. I found excellent precision going wide and up the middle."
Spencer found an emphasis on control over power on serve. He said, "The control of this racquet stood out for me in this category. What I lacked in power, I felt was made up for with placement and control. I was happy with the amount of spin I could generate, even with the 18x20 pattern."
Chris enjoyed serving with the racquet, saying, "I was most impressed on serve with this racquet. The speed and spin I was generating was great. I was getting some nice action kicking the ball as well as good consistency on harder serves. I felt confident no matter what serve I was hitting and was able to continually mix things up to keep opponents guessing. This was a fun racquet to serve with."
Serve Returns - Score: 82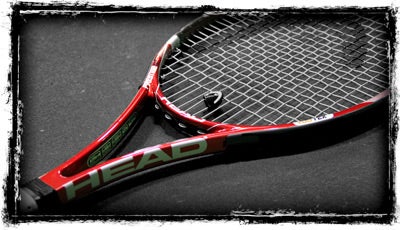 Finding plenty of control, our testers returned well with the Youtek Prestige Midplus. Granville offered, "Here again, if I was in position and moving forward, I could do just about anything with this racquet. When taken out wide I did find a little less response compared with the other two versions. Nonetheless, this one is a weapon in the right person's hands."
Danny continued to be impressed, saying, "Due to all the control and feel, it's not surprising to say the Midplus version was my favorite Youtek Prestige when returning serves."
Chris was swinging with confidence on returns. He said, "I was able to do a lot with the ball on returns. The control was there to let me swing away, yet I also found the spin and feel needed for delicate angles or when looking to softly roll the ball deep. This one felt more forgiving than the Mid on returns and had more feel than the Pro, so it was again my pick of the bunch."
"This was one of my favorite racquets when it came to returning serve," said Spencer. "I could be aggressive and effective off both wings. I gained a lot of confidence stepping in and driving the backhand cross court, or being able to hit a low slice just over the net. I really enjoyed the controlled aggressiveness I could put on the ball."
Overall - Score: 81
The Youtek Prestige Midplus was simply a hit with our testers. Offering a high level of mobility for a player's racquet, our testers were able to generate fast swing speeds and get the most out of the racquet. The stringbed offered a forgiving and comfortable response without sacrificing feel and control, which is a rare combination. Despite popular belief that open string patterns are more spin friendly, all of our testers were impressed with how much spin they could generate with this racquet -- most likely due to the maneuverability. Needless to say, this is a racquet we definitely think you should demo.
Likes
Chris - "I loved the control and feel the most. The speed I could swing it was also impressive. I just loved the whip I was finding on angles and spin shots. This was a great serving stick, too."
Danny - "I liked the Youtek Prestige Midplus the best out of the 3 models. I liked the dampened Youtek feel and I think it is a great all around racquet."
Spencer - "The weight, the feel, the control, the touch and the look. Did I miss anything?"
Granville - "This slightly lighter Prestige does offer some relief for those looking for just a slightly more forgiving response."
Dislikes
Chris - "I couldn't fault much, perhaps a little more length to the stock grip. I wrapped my overgrip higher to solve this issue."
Danny - "Compared to the Mid and Pro versions there wasn't much that I didn't like about the Midplus. It's not a racquet that I am switching to, but it was a fun test for me."
Spencer "None."
Granville - "The HydroSorb grip is very soft and cushy -- not in-line with my preferences."
Technical Specifications

Length
27 inches
69 centimeters
Head Size
98 square inches
632 square centimeters
Weight
11.9 ounces
337 grams
Balance Point
12.625 inches
32 centimeters
7pts Head Light
Construction
21mm Straight Beam
Composition
Graphite/d3o
String Pattern
18 Mains / 20 Crosses

Babolat RDC Ratings

Score

Grade

Flex Rating
63
Range: 0-100
Swing Weight
318
Range: 200-400
Head YOUTEK Prestige Midplus Scores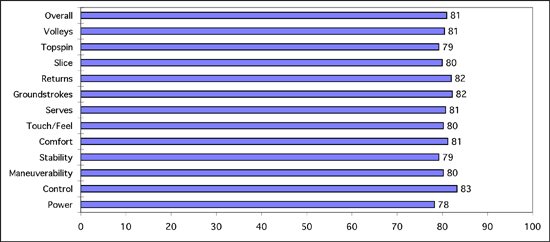 (Scores are determined by averaging individual play test scores)
Chris' Scores
Power
7.8
Serves
8.2
Control
8.3
Groundstrokes
8
Maneuverability
8.3
Returns
8.1
Stability
7.9
Slice
8
Comfort
7.9
Topspin
7.9
Touch/Feel
7.9
Volleys
8
Overall
8.1
Granville's Scores
Power
7.3
Serves
8.4
Control
8.3
Groundstrokes
8.5
Maneuverability
8
Returns
8.3
Stability
8.3
Slice
8
Comfort
8.5
Topspin
8
Touch/Feel
8.5
Volleys
8.3
Overall
8.1
Danny's Scores
Power
8
Serves
8.2
Control
8.2
Groundstrokes
7.9
Maneuverability
8
Returns
7.9
Stability
8
Slice
7.9
Comfort
8.1
Topspin
8
Touch/Feel
8.1
Volleys
8
Overall
8.1
Spencer's Scores
Power
8.2
Serves
7.5
Control
8.5
Groundstrokes
8.5
Maneuverability
7.8
Returns
8.5
Stability
7.5
Slice
8.1
Comfort
8
Topspin
7.8
Touch/Feel
7.6
Volleys
7.9
Overall
8.1
Playtester Profiles
Chris: 5.0 All court player currently using the Volkl Power Bridge 10 Mid. Chris uses a full-western forehand grip, has a fast swing style and hits a two-handed backhand.
Danny: Open baseline player currently using a Volkl Power Bridge 10 Mid. Danny uses a semi-western forehand grip, a two-handed backhand and has a long swing style.
Granville: 5.5 all-court player currently using a Wilson K Factor Six-One Tour 95. Granville is an aggressive player who uses an eastern forehand grip and goes continental on everything else, hits with a flat swing and a one-handed backhand.
Spencer: 4.5 Baseline player currently using a Wilson K-Blade Tour. Spencer uses a semi-western forehand grip, and hits with a one-handed backhand.

Review date: January 2010. If you found this review interesting or have further questions or comments please contact us.
All content copyright 2010 Tennis Warehouse.