Head YOUTEK IG Extreme MP 2.0 Racquet Review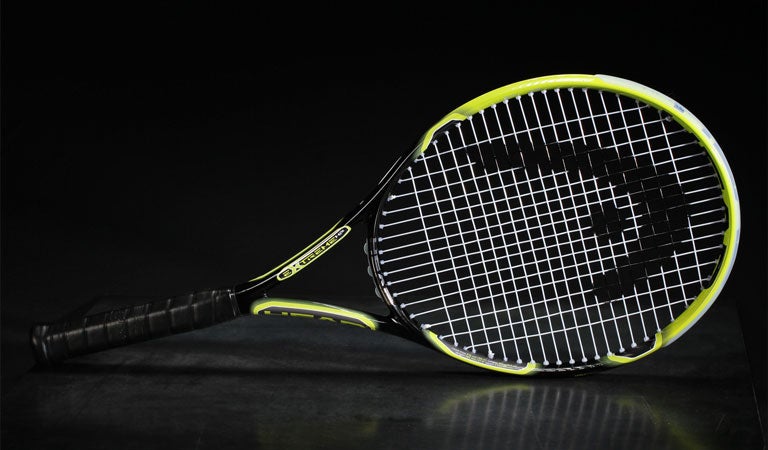 Head YOUTEK IG Extreme MP 2.0 Scores
Comfort
79
Touch/Feel
76
Serves
84
Groundstrokes
87
Returns
82
Slice
82
Topspin
84
Volleys
79
Overall
84
Upsides
Access to spin
Power
Stability
Downsides
Some maneuverability issues
Mediocre touch/feel
Summary
The Head YOUTEK IG Extreme MP 2.0 offers a step up in control and spin from the previous version. The S-Tech grommets and rounder head shape gave the Extreme a generous sweet spot that our players really enjoyed. It was all about power and spin with this racquet, and our testers could get, ahem, extreme with their shots. Also impressive was the racquet's stability, which came in handy when approaching the net and when returning serve. Our testers found, however, that this Extreme 2.0 was a little more difficult to swing than other racquets in the same weight class. Despite a few issues, our playtesters agreed that this racquet offers a great combination of power, spin and stability.
Groundstrokes - Score: 87
All our playtesters liked the power, spin and control of the Extreme MP off both wings. Finding the specs to be exactly where she liked them was Siobhan. She said, "I loved this racquet. It felt a little big and chunky when I first started playing with it, just because the shape of the head is a lot rounder. But, boy, did I enjoy hitting with it. I really liked how I could hit such big shots from the baseline with a lot of spin. The control was great, too, and even though the racquet was stiff it was still really comfortable. I just felt really safe and in control, yet able to play big tennis. One issue I had, despite the specs being exactly where I like them, was that I struggled a bit getting it around sometimes, particularly when I was playing with people who hit a heavier ball."
Jason found the Extreme MP 2.0 to be very comfortable from the baseline. He said, "For a racquet with a swingweight of 333 (RDC), I thought it was relatively easy to swing. I did notice that I couldn't hit as sharp an angle as I typically do with my own racquet, the Boris Becker DC NYC, and I struggled with it while trying to hit on the run. Other than that I thought it was maneuverable enough. I also thought the feel was very firm and solid. I had good results with it on my groundies."
"The adjustment period with this racquet was short," said Mike. "There was a lot of power on both forehands and backhands. I didn't have to swing as hard to generate the pace I normally get, so I didn't sacrifice too much energy. At times I felt like the racquet offered a bit too much power, causing me to over swing and hit very long, but on the other hand, some shots I hit were faster than I could normally generate."
Brittany loved hitting groundstrokes with this newest version of the Extreme MP. She offered, "I thought the combination of power and control was perfect for my game style. I was able to generate plenty of power and still had the ability to keep the ball under control. I thought the stability was top notch, especially when playing against players like Andy, who hit a heavier ball. I had no trouble handling the pace and was able to place the ball exactly where I wanted to on the court."
Volleys - Score: 79
Although the MP 2.0 had a solid feel at the net, some testers struggled with the touch and feel. Jason enjoyed the solid feel at net. He said, "The swingweight and balance made this racquet quite stable. The torsional stability is something I test constantly because I'm not the cleanest volleyer, so I could appreciate it. I also thought that the touch was good for drop volleys."
Siobhan found better maneuverability at net. She said, "It was solid at net, and I could move it around better. It was really stable, and I liked how I was able to return any power that was thrown at me. The racquet did feel like it was lacking a little touch and feel. It just felt a little too clunky to give me what I wanted on some shots."
Mike liked the response he got at net. He said, "The racquet was solid at net as well. The only thing I didn't like was the stiff feel of the racquet on certain volleys, making it hard to control and really place the ball where I wanted. The power and stiffness of the racquet made overheads really easy to hit."
Brittany was on the fence about her volleys. She said, "I had some mixed feelings when it came to volleys. The positive was put-away volleys. I loved stepping forward and hitting a solid volley to end the point. On the downside, I felt the racquet was lacking a little bit of feel, which was most apparent up at net. I struggled placing short angle volleys or reflexing balls back in the right place."
Serves - Score: 84
While all the playtesters found great spin on serves, there were mixed thoughts on the power. Mike accessed some big serves with the Extreme MP. He said, "This was probably my favorite aspect of the playtest. It was nice knowing I could get many freebies on my serve with this racquet. Pace and control were easy to adjust to, and I was racking up some aces throughout this playtest. Down the T was the easiest serve to hit, and it would annoy my opponents."
On the other hand, Brittany liked the spin but struggled with maneuverability. She said, "I struggled a bit with my serve with this racquet. At the beginning I was having trouble generating power and lost some of my accuracy. I felt I had a hard time generating racquet speed, and the racquet wasn't as maneuverable as on groundstrokes. About halfway through the playtest I was able to dial it in a little bit better and found some pace on my first serve. Nonetheless, I enjoyed hitting kick second serves with this racquet and was very consistent doing so."
Also liking the spin was Jason. He offered, "I didn't get any extra power with this racquet, but luckily for me, I rarely hit a flat, big serve. Instead, I tend to favor the slice serve, which I thought this racquet did well. With a full bed of poly I had great access to spin."
Siobhan was surprised with the amount of power she got off her serve. She said, "I didn't think I was hitting very big with this racquet, but I got comments on how aggressive my serving was. I struggled a little to get the head of the racquet up and around, but when I did I was hitting serves with big pace on them (despite not having that big 'pop' feel). There was a lot of power and a lot of heavy spin from this racquet on serves."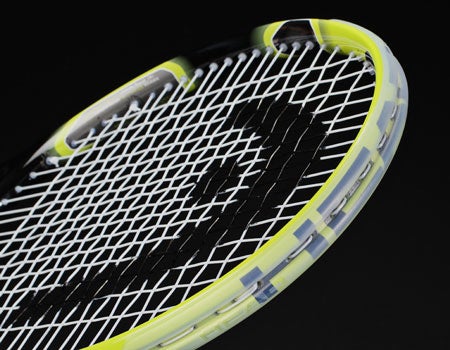 Serve Returns - Score: 82
Most playtesters found accuracy and depth on their serve returns. Brittany didn't have any problems returning with this racquet. She said, "I enjoyed it a lot, especially in doubles.The stable feel I got from groundstrokes translated well on returns. I found a lot of success in doubles and was able to keep my returns low and place them accurately. I had similar success in singles as well."
Jason really felt the specs on his return. He said, "This was the area where the higher swingweight affected my strokes significantly. I was a touch late when returning bigger serves. I really need a whippy racquet on my backhand side so this one really did me no favors. I did enjoy it when blocking back shots, and I was able to hit them with nice depth."
Finding her return to be really solid was Siobhan. She offered, "I feel like this racquet had a lot of stability behind it on serve returns. It had enough heft for me to really swing it around and hit some powerful returns back. I loved the head light balance, particularly on returns, and found it easy to hit really deep balls."
Mike revealed both his nickname and his propensity for returning with power, saying, "It felt a bit stiff at times if my opponent hit at a faster pace, but when I was able to hit through the ball, I generated tons of pace. Overall the racquet made it easy to get myself into the point, so my opponents had to grind it out against the one they call 'Monchichi'!"
Overall - Score: 84
Likes
Siobhan - "The ability to slug big balls from the baseline with comfortable control."
Brittany - "I loved this racquet from the baseline. I could really groove on my groundstrokes."
Jason - "Access to spin, solid feel and generous sweetspot."
Mike - "Tons of pace made it easy on my body. Serves and overheads were my favorite parts of the playtest."
Dislikes
Siobhan - "I struggled a little bit to get it around sometimes."
Brittany - "I struggled finding a rhythm on my serve and feel on my volleys."
Jason - "It's too firm for me because of my previous history with arm problems."
Mike - "A bit stiff and unstable at times on certain shots."
Comparing the racquet to others they've tried, our testers said:
Siobhan - "Babolat Pure Drive. It has the same kind of big power and nice spin off a stiffer frame."
Brittany - "I would say this is a mix of the Babolat Pure Drive, Wilson BLX Juice 100, and Yonex VCORE 100 S."
Jason - "This reminded me of a Wilson BLX Juice 100 and the Babolat Pure Drive GT."
Mike - "Compared to previous versions of this racquet I've used, the new version offered more pace on pretty much every shot and definitely was easier on the arm. I would have to say that this is a definite upgrade from previous Extremes."
Technical Specifications

Length
27 inches
69 centimeters
Head Size
100 square inches
645 square centimeters
Weight
11.5 ounces
326 grams
Balance Point
13.38 inches
34 centimeters
1 pts Head Light
Construction
24mm / 26mm / 23mm Tapered Beam
Composition
d3o / Innegra / Graphite
String Pattern
16 Mains / 19 Crosses

Babolat RDC Ratings

Score

Grade

Flex Rating
69
Range: 0-100
Swing Weight
333
Range: 200-400
Scores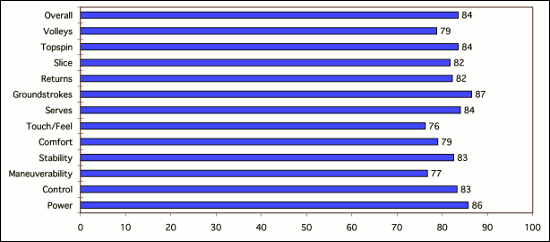 (Scores are determined by averaging individual play test scores)
Mike's Scores
Power
9
Serves
9
Control
8.4
Groundstrokes
8.6
Maneuverability
8
Returns
8.4
Stability
8.1
Slice
8
Comfort
8
Topspin
8.3
Touch/Feel
8
Volleys
8
Overall
8.5
Jason's Scores
Power
8
Serves
7.8
Control
7.9
Groundstrokes
8.2
Maneuverability
7.9
Returns
7
Stability
8.1
Slice
8.2
Comfort
7.3
Topspin
8.2
Touch/Feel
8
Volleys
7.9
Overall
8.1
Brittany's Scores
Power
8.5
Serves
7.8
Control
8.5
Groundstrokes
8.8
Maneuverability
7.8
Returns
8.7
Stability
8.8
Slice
8.5
Comfort
8.3
Topspin
8.4
Touch/Feel
7.5
Volleys
7.8
Overall
8.3
Siobhan's Scores
Power
8.8
Serves
9
Control
8.5
Groundstrokes
9
Maneuverability
7
Returns
8.8
Stability
8
Slice
8
Comfort
8
Topspin
8.5
Touch/Feel
7
Volleys
7.8
Overall
8.5
Playtester Profiles
Mike: 5.0 baseliner with a semi-western forehand and two-handed backhand. His current racquet of choice is a customized Prince Triple Threat Warrior.
Jason: 4.0 baseliner with a semi-western forehand and two handed backhand. Currently using a customized Boris Becker Delta Core NYC.
Brittany: Open level player with a semi-western forehand and a two-handed backhand. She currently plays with the Yonex V-Core 100S.
Siobhan: Open level player with a semi western forehand and a two-handed backhand. She currently plays Wilson KBlade Team.

Review date: August 2012. If you found this review interesting or have further questions or comments please contact us.
All content copyright 2012 Tennis Warehouse.