HEAD Youtek IG Radical S Racquet Review

HEAD Youtek IG Radical S Scores
Comfort
79
Touch/Feel
77
Serves
80
Groundstrokes
81
Returns
78
Slice
78
Topspin
81
Volleys
78
Overall
80
Upsides
User friendly
Maneuverability
Easy access to spin
Power
Downsides
Unstable against heavy hitters
Summary
The faster you swing, the better it plays. That's all you need to know to get the most from Head's Youtek Radical S. For players who like to take an aggressive swing at the ball and look to hit with a lot of spin, this racquet should be your next demo. With impressive comfort for its weight, the all-new Radical S impresses from all areas of the court. There's plenty of control and feel to please classic strikers of the ball, although stronger players will likely want to add some weight. Our team really enjoyed this racquet strung with a full bed of co-polyester string, which maximized its spin potential. Impressively, even a stiff polyester string did little to impact the comfortable response of this racquet. With a lighter and faster feel than the Radical Midplus and Oversize models, the S is the place to be if you are looking to maximize swing speed. Many of our testers found depth easy to generate from the baseline, and the open string pattern gives the Radical S a lively feel from all areas of the court. We could imagine a young, denim clad Andre Agassi doing some serious damage with this racquet.
Groundstrokes - Score: 81
Our playtesters were swinging fast with the Youtek IG Radical S. For Brittany, this translated into an offensive game. She said, "The very first thing I noticed with this racquet was the depth I was getting on groundstrokes. I was able to effortlessly hit the ball deep in the court. I found the racquet very easy to swing, and I loved stepping in and being aggressive. It was perfect for taking balls on the rise. My favorite shot to hit was my backhand. Even though I love to hit my backhand regardless of what racquet I use, I found that the Radical S took it to a whole new level. The one thing I struggled with was returning groundstrokes that were hit to me with some pace or slice. The racquet felt a little unstable and would flutter a bit when I made contact with the ball."
Agreeing with Brittany, Tiffani added,"The first word that comes to mind is depth. It was easy for me to get my shots to land deep in the court with the Radical S. Although I sometimes found it a bit too easy to get that depth, if you get my drift. I hit pretty flat, but topspin is easy enough to create to keep the ball down and in play. However, unlike another S series racquet -- the Instinct S -- I felt this one did have some stability issues against bigger hitters. There was some flutter if I was coming up against a heavy hit ball, and I found it tough to return heavy slice shots because there was just not quite enough mass. Overall, though, it was an easy racquet to use from the baseline."
Chris loaded up his shots with spin. He said, "This was a very light and fast racquet off the ground. I could really whip it through the contact zone. The racquet head speed I was getting combined with the open string pattern to make this a very, very spin-friendly racquet. However, in stock form this racquet is just too light for me. It felt better on topspin strokes because it just didn't pack the mass I like from a racquet on my backhand slice. My slice with this racquet was too floaty. To knife my slice I had to attack the ball with too much aggression and sacrificed consistency. Likewise, I prefer a heavier and more stable racquet on touch shots so I can have a softer grip on the handle."
"I really enjoyed hitting with this racquet on my groundies," said Mike, who plays primarily a baseline game. "My backhand benefitted the most from the maneuverability of the racquet. Because it was so easy to swing the racquet I was able to get lots of pace and spin on both sides."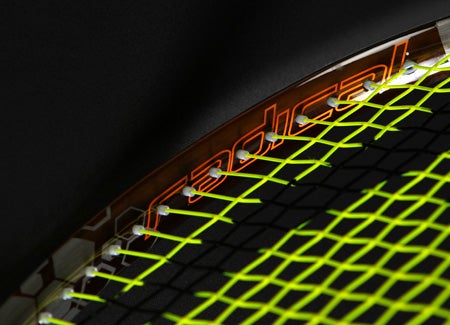 Volleys - Score: 78
The light weight had its positives and negatives for net play. Chris noted, "I liked the comfortable response and power level of this racquet when punching volleys. On touch volleys I was missing the weight that would allow me to caress the shot with a soft grip. My touch volleys typically landed too short, and I had to focus more than usual to find my targets."
Brittany could put the ball away, but wasn't overly excited about the touch. She said, "I could definitely volley with this racquet. However, nothing special stood out to me in regards to touch or angle shots. Punching the volley deep was a little better, and I found I was more consistent putting away the volley that way."
It was easy volleying for Mike, who said, "My volleys with this racquet felt really good. It was easy to swing and maneuver. Power and control were very easy to get used to, and my placement was good."
Tiffani also enjoyed the racquet's mobility. She said, "I've been working on my net game, and I liked the fast feel of the Radical S on volleys. I had decent control and could easily hit a volley back deep. I again noticed some instability when I missed the sweetspot, which is to be expected, but I felt that the Instinct S was more stable."
Serves - Score: 80
Maneuverability again impressed the team, this time on serves. Tiffani said, "I'm trying to increase my swing speed on my serve, and the Radical S was a good platform for me to work on that. It was so easy to use. I don't know how much faster I was swinging, or if I even was, but I thought I saw more action on the ball than usual on my spin serves. Pace was good, but it wasn't powerful in the way that heavier racquets can be on serve. It didn't feel like it swung through for me, rather I was generating the entire racquet swing."
"I loved my spin serve with this racquet," said Mike. "It did a great job giving me access to spin, and it was also easy to swing through the ball to generate some power."
It took Brittany a while to find her rhythm. She said, "At the beginning of the playtest I had no trouble hitting heavy serves, but was more confident hitting second serves. After a week or so of hitting I was able to make some slight adjustments and really go after my first serves with confidence. By the end I was hitting flat and powerful first serves along with heavy, spin-oriented second serves."
Chris served with variety. He said, "This was a fun and easy racquet to serve with. I was able to get lots of spin for both consistency and accuracy. The pace I was getting was good enough to keep me satisfied, but nothing exceptional. Again, comfort was impressive, and the racquet felt forgiving even when strung with a full bed of poly."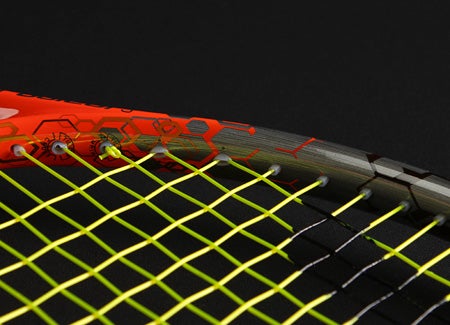 Serve Returns - Score: 78
Spin and maneuverability were standout features on returns for the team, but like the other playtesters, Mike had some issues with stability. He said, "Against big hitters or heavier shots the racquet was a little unstable at times and made me play defensively if I couldn't get a hold of the return. However, when I struck a return in the sweetspot the racquet felt great, and I could generate pace and place the ball wherever I wanted."
Chris found spin to be helpful. He said, "When hitting topspin forehands and backhands I was able to get lots of spin and some nice pace on my returns. The lack of weight took a little off my defensive returns, and I noticed some instability when pitted against some of our stronger serving playtesters."
"There were ups and downs on returns," said Tiffani. "I loved the quickness of the racquet and could take full swings at the ball. I could also be aggressive on weaker second serves and hit an attacking return with good depth or angles. However, like on groundstrokes, I did feel the racquet flutter some against fast-paced serves."
Brittany agreed. She added, "I enjoyed this racquet when stepping in and taking second serves early. The maneuverability really stood out here as I was able to prep early and swing through the ball. However, like on groundstrokes, I felt some instability when returning flat hard first serves."
Overall - Score: 80
Likes
Brittany - "I loved the power and maneuverability on my groundstrokes and serves."
Chris - "I liked the spin and comfort, the large sweetspot and the maneuverability."
Mike - "Maneuverability, volleys and serves, and how easy the racquet was to swing."
Tiffani - "It was so easy to swing, and depth was easy to come by on groundstrokes. The comfort level was good, too."
Dislikes
Brittany - "The instability of the racquet when returning flat serves and slice shots."
Chris - "The maneuverability came at the price of not enough stability and punch on slower swings."
Mike - "It was unstable on certain shots, and I couldn't be too offensive with this racquet."
Tiffani - "I felt there were some stability issues when returning a well struck ball."
Technical Specifications

Length
27 inches
69 centimeters
Head Size
100 square inches
645 square centimeters
Weight
10.3 ounces
292 grams
Balance Point
13.4 inches
34 centimeters
0.8pts Head Light
Construction
23.5mm / 24mm / 22mm
Composition
Graphite / Innegra / d3o
String Pattern
16 Mains / 19 Crosses

Babolat RDC Ratings

Score

Grade

Flex Rating
63
Range: 0-100
Swing Weight
290
Range: 200-400
Scores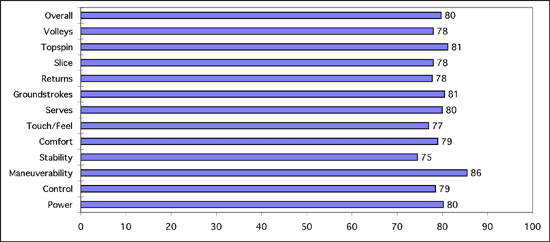 (Scores are determined by averaging individual play test scores)
Brittany's Scores
Power
8.5
Serves
8
Control
7.6
Groundstrokes
8.4
Maneuverability
8.3
Returns
7.8
Stability
7.2
Slice
7.7
Comfort
8
Topspin
7.7
Touch/Feel
7.6
Volleys
7.5
Overall
8.2
Chris's Scores
Power
7.5
Serves
7.8
Control
8
Groundstrokes
7.7
Maneuverability
9
Returns
7.8
Stability
7.3
Slice
7.7
Comfort
7.8
Topspin
8.7
Touch/Feel
7.5
Volleys
7.7
Overall
7.8
Mike's Scores
Power
8.1
Serves
8.2
Control
8
Groundstrokes
8.1
Maneuverability
8.2
Returns
7.8
Stability
7.8
Slice
8
Comfort
7.9
Topspin
7.9
Touch/Feel
7.9
Volleys
8.1
Overall
8
Tiffani's Scores
Power
8
Serves
8
Control
7.8
Groundstrokes
8
Maneuverability
8.7
Returns
7.7
Stability
7.5
Slice
7.8
Comfort
7.9
Topspin
8.2
Touch/Feel
7.8
Volleys
7.9
Overall
7.9
Playtester Profiles
Brittany: Open level player with a semi-western forehand and a two handed backhand. She currently plays with the Yonex V-Core 100S.
Chris: 5.0 all court player currently using the HEAD Youtek IG Prestige Midplus. Chris uses a full-western forehand grip, has a fast swing style and hits a one-handed backhand.
Mike: 5.0 baseliner with a semi-western forehand and two-handed backhand. His current racquet of choice is a customized Prince Triple Threat Warrior.
Tiffani: 4.0 level baseliner with a semiwestern grip on the forehand and hits a two-handed backhand. Currently playing with the Tecnifibre Rebound Pro.

Review date: December 2011. If you found this review interesting or have further questions or comments please contact us.
All content copyright 2011 Tennis Warehouse.