Head Sprint Pro Women's Shoe Review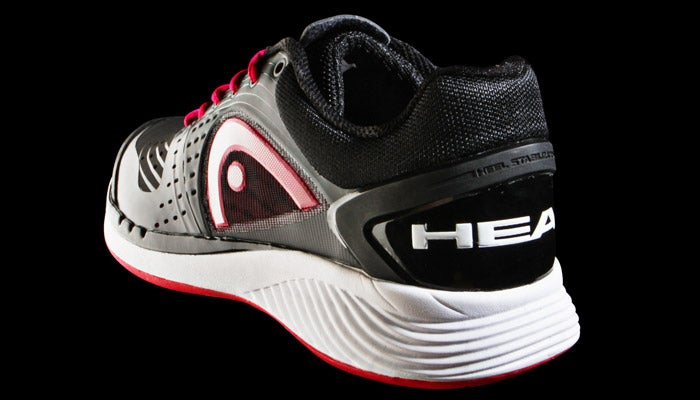 Head Sprint Pro Women's Shoe Scores
Comfort
3.9
Ventilation
3.1
Arch Support
4.2
Foot Support/Stability
4.1
Overall Sole Durability
3.8
Toe Durability
4.3
Traction
4.2
Weight
4.2
Overall
4.0
Upsides
Lightweight
Support
Cushioning
Summary
The new Head Sprint Pro offers players a sleek, speedy performance shoe without sacrificing fashion. Our playtesters spent many hours on the court putting this shoe to the test and found it to be comfortable and quick, with great traction. The Sprint Pro comes in a lightweight, low-profile package, and our playtesters were impressed with the durability of the outsole and even more surprised to find that this speed-oriented shoe comes with a six-month outsole warranty. Head has also injected this shoe with its three-part Trinergy technology, which helps absorb impact, add torsional stability and provide energy for rebounding off the court. Overall, we found this offering from Head to be a superb option in the speed category. It was so impressive one of our playtesters declared this one to be her new favorite shoe!
Comfort - Score: 3.9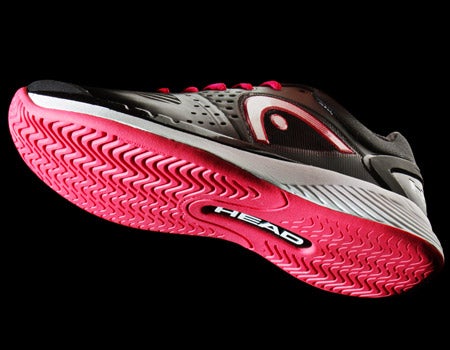 Our playtesters found the comfort of the Head Sprint Pro to be on par with other speed-oriented performance shoes. With the Micro-Fit last and a female specific fit, this shoe was designed to be comfortable right out of the box. Carol started this playtest off on a positive note, saying, "This is probably one of the most comfortable tennis shoes I have ever playtested!" She loved the pillow-like cushioning, especially in the heel. "The technology in the heel is the best I've experienced in a tennis shoe. I never wanted to take these shoes off! I never experienced any pinching, poking or rubbing during this playtest, and I think I can credit that to the incredible fit."
It took about two hours for the uppers to soften and mold around Brittany's feet. She explained, "I felt a bit of discomfort during those first two hours, especially on the lateral side of the forefoot on my right foot. However, this discomfort went away after the break-in period, and from then on I didn't feel any pain. I thought there was enough cushioning throughout the shoe to satisfy my needs. The heel cushioning was excellent, and I would say it was on the plush side. I did experience some rubbing on the back of my heels because the shoe ate my low-cut socks. This problem was fixed when I wore ankle socks or socks with a heel tab."
"I've had some good experiences with Head shoes," began Tiffani, "and I liked this shoe comfort-wise pretty much from the start. There was little to no break-in time for me. The only discomfort I felt was in the mid-foot area, which was a little narrow for my wider feet. The upper material stretched enough within an hour to eliminate this problem. As far as cushioning goes, the Sprint Pro was right up my alley. It was noticeable, but not overwhelming, and it kept me fairly low to the ground. One word of caution: I did have some rubbing on my Achilles tendon when I wore socks that were low cut."
When Karly first put on the Sprint Pro it felt a little stiff, but it didn't take long for that stiffness to go away. She explained, "It only took about an hour for the shoe to loosen up, which was pretty quick. I'd say the padding throughout the shoe was average. There was a enough to prevent any pinching or rubbing, but the cushioning didn't have a plush or pillowy feel to it. The only issue I had with discomfort was a little bit of toe-jamming. The Sprint Pro fits a little roomy in the forefoot so when I made quick stops my toes would hit the end of the shoe. I had to be careful when making sudden stops because the jamming was really painful. The overall comfort was average; I just wish they fit my feet a little better in the toe box."
Ventilation - Score: 3.1
Despite the calendar telling us it's fall at Tennis Warehouse, our playtesters have been enjoying some 80+ degree days on the California Central Coast, which helped to really put the Sprint Pro to the test when it came to ventilation. "There is a mesh window in the mid-foot area that should help with venting out the heat," said Tiffani. "I never noticed my feet feeling hot in the shoe during play, but when I took my shoes off (gross alert!), my socks were always rather damp. Only then did I notice how much my feet were sweating."
"Let's just say ventilation wasn't the Sprint Pro's strongest suit," said Karly. "After an hour of hitting my socks felt so damp that changing out of them after stepping off the court was always my first priority. To be fair, I wasn't really expecting the best ventilation from this shoe. One of the first things I noticed was the limited amount of perforations and mesh on the completely synthetic upper. The shoe was warm on court, but the temperature didn't distract me too much while I was hitting. It was the aftermath that bothered me the most."
If Brittany had to pick one negative of this shoe, it would be the ventilation. "I didn't expect to have any problems with ventilation since we were playtesting this shoe in the fall, but toward the end of my practice sessions my feet were definitely warm toward the forefoot of the shoe. Once I finished playing tennis I had to take these shoes off immediately because I didn't feel like I was getting enough air circulation."
Carol, however, never wanted to take these shoes off and never struggled with overheating while wearing this shoe. "Given the comfort and cushioning level of this shoe, I was very surprised that my feet did not overheat. I felt properly ventilated in the Sprint Pro whether I was going for a quick hit, doing isolations or playing points with lots of movement."
Arch Support - Score: 4.2
Sometimes the arch of a shoe can make or break a shoe, but our playtesters didn't have anything negative to say about the arch support in the Sprint Pro. "The arch was lower in this shoe, but it caused no noticeable effect on my movement or play," stated Carol. "I would say that the arch was just right for me."
Karly also found the support to be on the low side, but the insoles were cushioned enough to keep the flatter arches from bothering her. She said, "I usually don't have any problems with my arches, and it wasn't any different when I was wearing the Sprint Pros, even with the lower support."
Brittany's medium arches were very happy in this shoe. She offered, "The support hit my arches in the perfect location, and it was very comfortable. I had no issues whatsoever."
"I love it when I don't feel the ache of a misplaced arch support," said Tiffani, who has low arches. "The arch support of the Sprint Pro is great, and I gave it high marks for that reason. I felt supported and comfortable at all times."
Foot Support/Stability - Score: 4.1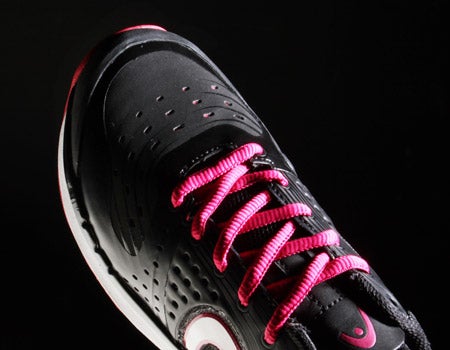 This shoe provided a pleasant level of support and stability for our aggressive playtesters. Tiffani found some positives and negatives when it came to the support and stability of the Sprint Pro. She explained, "The upside of having a slightly stiffer ankle collar is that there is good support. The downside is the rubbing I experienced on my Achilles when I wore very low cut socks. That was more of an annoyance than a problem, because it was easily remedied with higher cut socks. I was happy with the low-to-the-ground feel, which helped keep me connected to my footwork and confident in all of my movements. I did need to make sure I tied the shoes tightly to ensure maximum support, but I walked away from this playtest pretty happy all around."
Carol had nothing but great things to say about the support and stability of this shoe. "My foot was held firmly in place by the Sprint Pro on the court, and I felt very secure. I never felt the sensation that my ankle was going to roll during my movements around the court. Again, my foot felt very secure and stable on the court. The shoe supported all my movements, whether it was a quick change of direction or long defensive strides. There was no shock to the foot with quick stops, which I credit to Head's Trinergy technology."
"I was surprised by how stable this shoe was," began Brittany. "It kept my ankle in place with no risk of rolling over. The fit was a tad different for me. I found the Sprint Pro held my mid-foot in place because it was a tad narrow in that area. The toe box was wider, and I did feel some movement in my forefoot when running around the court."
Karly was also surprised with the stability, saying, "I thought the support was great, especially considering they're somewhat light. Even with my feet sliding around some in the shoes, I was still making aggressive movements on the court without hesitation. The support was definitely no match for an adidas Barricade or Asics Gel Resolution, but with the support and stability that was there I was confident that I wasn't going to twist an ankle making a quick stop or turn."
Overall Sole Durability - Score: 3.8
This quick, lightweight shoe held its own when it came to durability. For its weight, the Sprint Pro exceeded Karly's expectations. She said, "I thought they held up really well for how fast they played. I did notice a little bit of smoothing on the outsole after five hours of playing, but I have yet to actually wear through the outsole or see any significant damage after about 25 hours. I think the durability was about average, but it's how long they've lasted for how much they weigh that impresses me."
Tiffani, on the other hand, found the wear of this shoe to be appropriate for the weight and build of the shoe. She said, "The rubber feels pretty soft underfoot, and the wear seems to validate that. I saw some wear on the tread after just a few hours. The previous Head shoes I wore, the Prestige and Prestige Pro, were both very durable. This is more of a speed-oriented shoe than a durability shoe, so I wasn't surprised that the durability isn't in the same league. This is more like a Nike Vapor 9 Tour in terms of durability."
"I noticed minimal wear and tear along the sole, and I have played many hours in this shoe," said Carol. "I did notice a few scuff marks here and there, but that was really it."
After several weeks of playtesting, Brittany put its durability to the test. She offered, "While it isn't at the top of my durability list, it is definitely above average in the lightweight shoe category. I saw the start of some smoothing under my big toe, but it was after many hours and not premature. I feel like I have several more weeks of play left on this shoe."
Toe Durability - Score: 4.3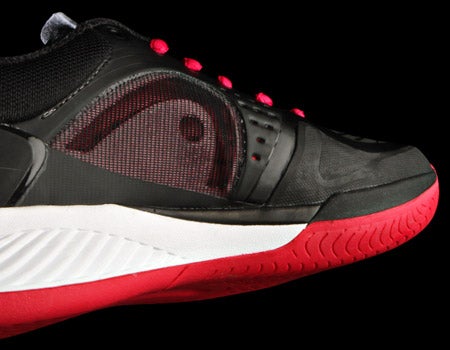 Because all four of our playtesters are also toe draggers, they really were able to test this shoe's limits. Brittany was very satisfied with the toe durability, saying, "I frequently drag my toe on the court, and the toe bumper still looks brand new. The toe bumper was thick enough and went up high enough to protect my shoe from damage. I still have many more hours of play left before I'll have any issues."
Tiffani found better durability in the toe area than the outsole. "I drag my toes mostly on the backhand side, and I found the toecap to do a pretty good job of protecting the shoe. There's minimal scuffing on top of the toe. My one knock is that the midsole is exposed on the lateral side of the toe area. I sometimes turn my foot over and drag it when I'm getting down to hit a slice backhand. I did that in my Sprint Pros and now the paint on top of the EVA is all scratched up."
"For my style of play the protection around the toe was perfect," began Karly. "I'm not a severe toe dragger, but when I did drag my feet, the coverage around the toes was durable enough to prevent any significant damage to the shoes. I have yet to see any wear at the toes and I don't think I will anytime soon with the amount of protection the Sprint Pros have."
Carol always seems to wear out her tennis shoes at the inner toe first. She said, "I did notice a little wear along the grooves in this area, but nothing to warrant concern yet."
Traction - Score: 4.2
A modified herringbone tread pattern helped our testers find their footing on the hard courts. Carol found great traction from the Sprint Pro. She said, "I was able to change direction and stop and go with ease around the court. The traction gave me confidence in my movements around the court. I have nothing but good things to say about the traction."
The grip on the court was great for Karly as well. "I noticed after a few hours of play that the soles started to smooth down a little, and they didn't feel as sticky as they did in the beginning of the playtest. However, I also never felt that I couldn't get a good grip on the court. I never experienced any slipping or sliding, and I wasn't worried about it happening."
Finding the traction to be one of the best aspects of the Sprint Pro was Tiffani. She said, "The Sprint Pro had just the right amount of grip, so I always felt in control of my movements. I wasn't slipping when I shouldn't be, and I also didn't get the feeling that I was stuck on the court. The outsole had a good balance of stick and give."
Brittany agreed that traction was one of the standout features of this shoe. She said, "Even with a cushioned heel, I thought this shoe still maintained a low-to-the-ground feel. Moving around the court was a breeze because I had good grip when starting and stopping. The shoe was very responsive when I was changing directions aggressively."
Weight - Score: 4.2
These lightweight shoes really worked in our playtesters' favor, with all four ladies preferring lighter shoes. "The weight was one my favorite thing about this shoe," exclaimed Karly. "They weren't necessarily the lightest shoes I've ever worn, but I was able to move really aggressively in them. I could make quick and fast movements on the court, and the idea that they was slowing me down never crossed my mind. The weight itself was a little above average, but because I could move so well in them they felt lighter than they actually were."
"Given the high comfort level and stability, I was very surprised at how light the shoe is," said Carol. "As stated numerous times, I never wanted to take the shoe off, and it never weighed me down on the court. An analogy that comes to mind is featherlight pillows on the court."
Brittany said, "There are definitely shoes that feel lighter or heavier on the court, but I never had an issue with this shoe's weight. Sometimes a lighter weight makes the shoe too unstable, and a heavier weight makes the shoe too clunky. I thought Head did a great job of finding the perfect weight-to-stability ratio for the Sprint Pro."
"The weight is spot on for me," said Tiffani. "Although I rarely complain about heavy shoes, I certainly welcome a lightweight feel as long as there is ample support, and there is plenty in the Sprint Pro. The only other Head shoes I've worn have been Prestiges, and they're much heavier and clunkier. The Sprint Pro is, as the name suggests, much speedier and more streamlined."
Overall - Score: 4.0
Likes
Carol- "I liked everything about this shoe! This is one of my favorite shoe reviews to date, and with a shoe brand I have never tried before. I applaud Head for producing such a comfortable and reliable tennis shoe."
Brittany- "I thought that the shoe had a good blend of stability, durability and traction."
Tiffani- "I liked the traction, support and lightweight feel. The design lines are also nice."
Karly- "Not only did the shoe look great, it was also stable and lightweight."
Dislikes
Carol- "I really don't have a dislike with this shoe!"
Brittany- "I wish the ventilation was better."
Tiffani- "Although it didn't bother me when I was playing, my socks were damp after playing in the Sprint Pro because of the mediocre ventilation."
Karly- "The ventilation. My socks were surprisingly damp with sweat, even after a short hit."
Comparing this shoe to other shoes they've worn our testers said:
Carol- "Well, I hate to say goodbye to my previous favorite shoe, the Asics Gel Resolution 5, but a new shoe has been given the throne, and it's this shoe from Head. I really enjoyed this playtest and was very impressed with this shoe."
Brittany- "I felt this shoe was similar to the adidas adizero Tempaia II and the Wilson Rush Pro. All three shoes had similar cushioning, support, stability and durability. I would say the Tempaia II felt the lightest. They all had ventilation issues, especially the Tempaia II and Sprint Pro."
Tiffani- "This shoe is in line with the synthetic leather adidas Tempaia II. Both are lightweight, with a low-to-the-ground profile for a fast feel on the court. They're comparable in other areas as well. Both offered good support and stability, but I also struggled with the ventilation and outsole durability with both of them."
Karly- "I thought the Head Sprint Pro was extremely similar to the adidas Tempaia II -- the full synthetic uppers made them warm shoes to play in, but they made it easy to move aggressively and were fairly stable for their weight."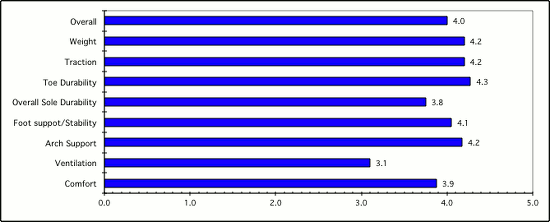 Playtester Foot Types:
Carol - Medium width, Medium arch
Brittany - Narrow width, Medium arch
Tiffani - Wide width, Low arch
Karly - Medium width, Medium-low arch

Review date: January 2014. If you found this review interesting or have further questions or comments please contact us.
All content copyright 2014 Tennis Warehouse.