Head Youtek IG Instinct S Review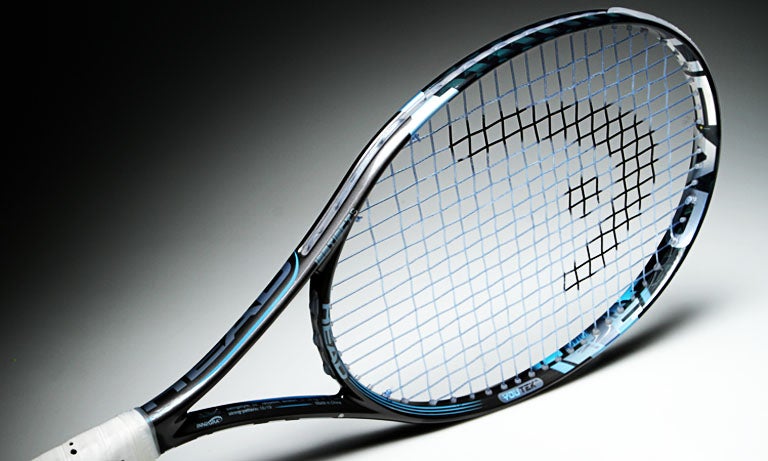 Head Youtek IG Instinct S Scores
Comfort
81
Touch/Feel
81
Serves
86
Groundstrokes
82
Returns
81
Slice
80
Topspin
81
Volleys
80
Overall
83
Upsides
Power
Access to spin
Maneuverability
Feel
Downsides
Nothing we could agree on
Summary
The HEAD Youtek IG Instinct S's playability simply belies its light weight. Our team found that the racquet performed well beyond its specs. At 9.9 ounces strung, the Instinct S easily fits into the 'tweener category. However, even some of our most accomplished Open level players found the Instinct S to shine for them on court. With its light weight, the racquet predictably played with zip. Built to satisfy intermediate players, the racquet also packs a powerful punch. Our testers found this power in all areas of the court. The Instinct S managed to outperform most racquets in its weight category by providing our testers with surprising stability. The Instinct S possesses the benefits of a lightweight racquet, including great maneuverability and a forgiving response, but skips the potential pitfalls of poor stability and lack of feel. These qualities make the Instinct S a must demo for a wide range of players.
The Youtek IG Instinct S is a completely new version of the Instinct. This racquet boasts a fast feel, a bigger sweetspot and a larger headsize. The specs of the Youtek IG Instinct S appear to be intermediate player friendly, with a 102 square inch headsize, a 9.9 ounce strung weight, a 1 point head heavy balance, and a 16x19 string pattern.
This is also the second version of the Instinct to be released with the Youtek moniker. This all new Instinct features some familiar technologies, while adding Innegra (IG) to its layup. As with the previous Youtek Instinct, the IG Instinct S features d3o. d3o is a material that stiffens on harder hit shots for power and absorbs shock on softer hits to provide more feel. The new Innegra fibers help provide stability without adding weight. According to HEAD, Innegra fibers are the world's lightest high performance fibers, and when mixed with HEAD's carbon composite technology, vibrations are reduced up to 17% on ball impact.
We were eager to see how this all-new Instinct performed on court, so we handed it over to our testers for a month of playtesting. Here are their comments:
Groundstrokes - Score: 82
The Instinct S powered up our playtesters' games, and most were impressed. Brittany said, "I was surprised at first with how light the racquet was, because it doesn't feel like a 9.9-ounce racquet. I found it to be very stable, and I felt the sweetspot was very big. I enjoyed hitting flat, deep groundstrokes off both sides and was able to achieve effortless power and spin whether I was on offense or defense. One of my favorite shots to hit was an angled forehand. I could really pull my opponent off the court."
The lightness, though, was a drawback for Chloe, who said, "I didn't really like the groundstrokes too much with this racquet because it was a little too light for me (I prefer racquets in the 11 ounce range). My shots tended to be inconsistent in terms of how deep in the court they landed. I did, however, feel like I could get some good topspin on the ball and really generate power."
Kana said, "I had to tweak my stroke a little on the forehand side. I was struggling to control depth and my shots fell just outside the baseline or way too short. As I got used to the racquet and made the proper adjustments, I had easy access to spin and was able to control my depth better. I favored my backhand from the baseline because I had better feel and placement, and I could really work the angles."
The racquet was a good fit for Tiffani. She said, "Since returning to the game after pregnancy I've been enjoying lighter weight racquets. This Instinct S is easily among my favorites right now. There is plenty of power on tap, and with the light weight I'm able to create spin easily and find the angles, too. The racquet has a fairly muted feel, and I didn't feel excessive feedback even when strung with a poly -- a setup that I've found can be painful in lightweight racquets. Though I couldn't feel vibrations when playing, I would steer clear of full poly setups for two reasons. One, I just prefer hybrids or full multifilament string jobs, and two, just a few shanks with a poly and my arm was feeling the stiffness of the racquet."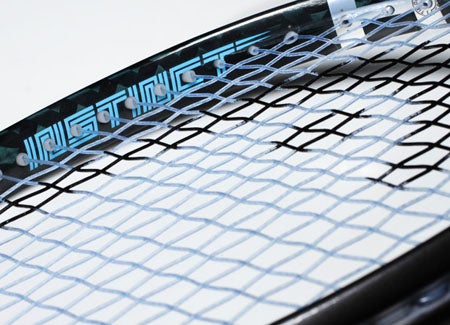 Volleys - Score: 80
At 9.9 ounces, the racquet was a breeze to use at the net. Even baseliner Tiffani was pleased, saying, "I can't recall having such a good time volleying. It's all about confidence with me at net. The Instinct S boosted my confidence, and I was hitting good half volleys. Not with ease, but I was hitting them, and I was able to put away volleys with the ample power found in this racquet. Angles were easy to hit as well, though my efforts to hit touch volleys were only mildly successful."
Kana also played with confidence. She noted, "I was really comfortable at net with this racquet. It felt stable, and I could go for a variety of shots. I appreciated the feel, especially when going for the touch volley."
"I liked the maneuverability of this racquet up at net," said Brittany. "The touch and feel really stood out to me, whether I was playing doubles or singles."
Chloe found she had a lot of options at net, saying, "I thought that my volleys were pretty good because I was able to maneuver the racquet really quickly at the net and I wasn't jammed on any volleys. Also, I was able to get some good action on the ball due to the open string pattern."
Serves - Score: 86
The power level again came into play when the playtesters were serving. Kana enjoyed serving with the Instinct S. She said, "I had great pop on my serves. The maneuverability allowed me to get a good snap into the ball, and the open string pattern gave me plenty of access to spin. I found more action on my shots and really favored my flat, down the T serve with this racquet."
Chloe found she could swing the racquet with ease. She offered, "I really enjoyed the serve with the IG Instinct because I felt like I could generate a lot of racquet head speed due to the light weight. I had more pop on my serve than normal."
"The Instinct S gave me some additional pop and action on my serve," said Tiffani. "I've been struggling as of late with my serve, and the Instinct S provided me with the extra juice I need. I actually won some rare free points on my serve."
Brittany loved serving. She said, "My favorite shot to hit with this racquet was the serve. It was very comfortable when I was hitting big first serves down the T or right into the body. I struggled just slightly on second serves. I found a little instability when I was going after more kick or hitting spin serves."
Serve Returns - Score: 81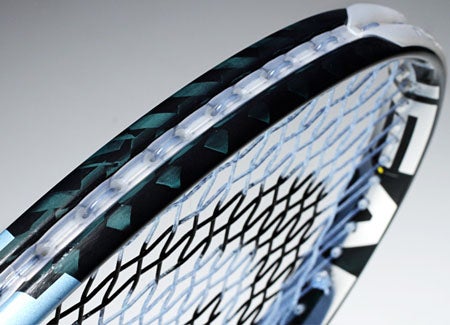 The light weight of the racquet allowed the playtesters to get aggressive while returning. Chloe said, "It was a little sporadic in terms of depth in the court for me, but I felt that I was able to create some really sharp angles."
"The racquet felt very stable on returns, whether I was punching a big first serve back or if I was stepping in on a second serve," said Brittany, who likes to be aggressive on returns. "The low swingweight allowed me to aggressively swing through the ball faster and create deep, penetrating returns."
Tiffani was returning with variety. She said, "I could be pretty aggressive with my returns because this racquet is just so easy to swing. I really felt I could take advantage of weak second serves. I could go for angles or hit deep returns. For its weight, the Instinct S is surprisingly stable as well."
Also returning with confidence was Kana, who offered, "This was a very stable racquet to return with. I felt extremely confident going for big returns on my backhand side. The specs of this racquet made it easy to get back into the point with a defensive return against big serves or aggressively move the ball against weaker serves."
Overall - Score: 83
Likes
Brittany "I liked the comfort, power and stability I received from this racquet."
Chloe "I really liked my slice backhand. I also enjoyed the pop on serves and overheads, because I was able to generate a lot of racquet head speed with such a light racquet. I also like that this racquet allows for the possibility of adding more weight to it."
Kana "The easy maneuverability and the feel/action I got with my backhand and serves. Those were my favorite shots with this racquet."
Tiffani "There was plenty of power, and I could easily hit angles off the ground and at the net because of the excellent maneuverability."
Dislikes
Brittany "The lack of stability when hitting second serves with spin."
Chloe "I didn't like how light the racquet felt, and it was a little too powerful."
Kana "It took some adjusting for me to find the depth I wanted on my groundstrokes."
Tiffani "The comfortable feel masks a fairly stiff frame that I only noticed when I mis-hit a ball and felt the shock up my arm."
Technical Specifications

Length
27 inches
69 centimeters
Head Size
102 square inches
658 square centimeters
Weight
9.9 ounces
281 grams
Balance Point
13.6 inches
35 centimeters
1pt Head Heavy
Construction
23mm / 26mm / 22mm
Composition
d3o / Innegra / Graphite
String Pattern
16 Mains / 19 Crosses

Babolat RDC Ratings

Score

Grade

Flex Rating
69
Range: 0-100
Swing Weight
288
Range: 200-400
Scores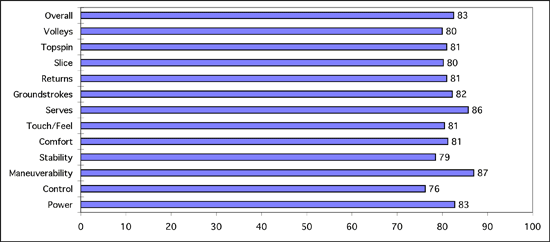 (Scores are determined by averaging individual play test scores)
Brittany's Scores
Power
8.8
Serves
8.8
Control
8
Groundstrokes
8.6
Maneuverability
8.6
Returns
8.2
Stability
8
Slice
8
Comfort
8.8
Topspin
8.2
Touch/Feel
8.4
Volleys
8
Overall
8.6
Chloe's Scores
Power
8
Serves
8.8
Control
7
Groundstrokes
8.2
Maneuverability
9
Returns
8
Stability
7.8
Slice
8.5
Comfort
8
Topspin
8
Touch/Feel
8
Volleys
8
Overall
8
Kana's Scores
Power
7.8
Serves
8
Control
7.7
Groundstrokes
7.9
Maneuverability
8.2
Returns
8.2
Stability
7.9
Slice
7.8
Comfort
7.9
Topspin
8.2
Touch/Feel
8
Volleys
8
Overall
8
Tiffani's Scores
Power
8.5
Serves
8.5
Control
7.8
Groundstrokes
8.2
Maneuverability
9
Returns
8
Stability
7.7
Slice
7.8
Comfort
7.8
Topspin
8
Touch/Feel
7.8
Volleys
8
Overall
8.4
Playtester Profiles
Brittany: Open level player with a semi-western forehand and a two handed backhand. She currently plays with the Yonex V-Core 100S.
Chloe: 5.0 baseliner with a semi-western forehand and two-handed backhand. Currently plays with a Babolat Pure Drive Plus Team.
Kana: Open level baseliner with a western forehand and two-handed backhand. Currently using a customized Volkl V1 Classic.
Tiffani: 4.0 level baseliner with a semiwestern grip on the forehand and hits a two-handed backhand. Currently playing with the Yonex RDS 003 (08 version).

Review date: October 2011. If you found this review interesting or have further questions or comments please contact us.
All content copyright 2011 Tennis Warehouse.