Head IG Youtek Speed 18x20 Racquet Review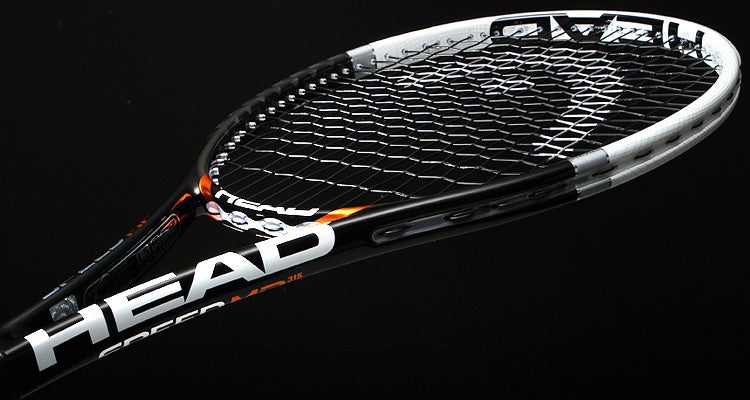 The Head YOUTEK Innegra Speed 18x20 racquet is off to a very, very impressive start to 2011. As the racquet of choice for Novak Djokovic, it was put to good use while Djokovic dominated the field to take home his 2nd Australian Open title.
As the Aussies might say, "It must be a bloody good racquet."
Building on the success of the previous model, this latest Speed specs out slightly lighter than the Head Youtek Speed 18x20 and has the advantage of a new technology, Innegra, in the hoop. Used in conjunction with d30, Head claims that Innegra helps reduce shock vibration by up to 17%, and increases stability.
Our team took this racquet out for a month long playtest to see if we could bring the heat just like Djokovic did down under.
Groundstrokes - Score: 78
From the baseline our testers found an emphasis on control, rather than power. Jason was hitting with pinpoint accuracy. He said, "I really enjoyed the amount of control I got with this racquet. Since it is low powered, I was able to take full swings at the ball and still keep it in play. I felt like I was able to successfully hit with a lot of variety. Whether I was going for a shot down the line, pulling a sharp angle cross court, or hitting anything in between, I was hitting my shots well. This version felt easier to swing and whippier than the previous Youtek Speed. But like with the previous version, the sweet spot felt smaller than usual."
Generating tons of spin, but not enough depth, was Troy. He said, "I found this racquet to be easy to maneuver when hitting groundstrokes. I was able to generate a lot of racquet-head speed, which made it easy to generate lots of topspin. Ideally, I would have liked a little more mass in the head of the racquet, which would have given this stick more plow-through and torsional stability on impact. During hard hitting exchanges from the baseline this racquet got pushed around a bit. I enjoyed the 100 sq. in. head size. I was finding a nice sized sweetspot that combined with the dense string pattern to offer good control. The main problem I had with this stick was that I wasn't finding consistent depth on my groundstrokes. I felt that this racquet was lacking plow through, which caused my shots to land short sometimes."
"The first time I hit this racquet it was strung with a co-poly monofilament string and I just couldn't get along with it," said Chris, who had to find the right string setup before settling in. "My targeting was off and I was losing points left and right. On the next outing I decided a change up was in order and hit the courts with the racquet strung with a multifilament string. The difference was incredible. I was able to find my targets immediately and the stringbed felt way more consistent in its response. This was a very maneuverable racquet from the baseline and that enabled me to swing fast and get a lot of spin. I liked hitting both topspin and slice shots. I found all the control I needed to be aggressive on approach shots. I could basically just stay on the gas with this stick with no fear of over hitting. Faster swings also resulted in better stability and the racquet got pushed around less when I stayed on the gas."
Kana agreed with Chris, adding, "The first few hits was with a poly at mid tension, and the racquet felt extremely low powered and stiff. The racquet was relatively maneuverable, but I was using too much energy and hitting most of my shots near the service line. After switching to a multi the racquet felt much different. I could really feel the ball pocketing and noticed I had much more control. The racquet was stiffer than I like and power tended to die when hitting outside of the sweetspot. Other than that, the racquet felt extremely solid in the sweetspot and control was excellent. My favorite aspect of the racquet was how flat I could make my shots, especially on my backhand side. My slices stayed extremely low to the ground, but I also found it easy to float them for a defensive shot."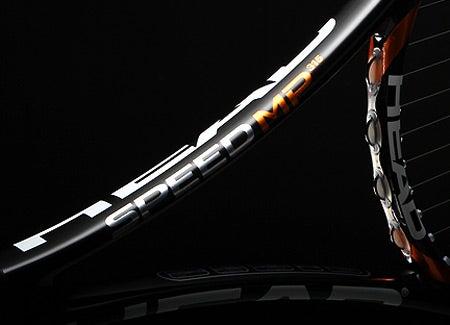 Volleys - Score: 80
The Head Innegra Youtek Speed 18x20 offered great maneuverability at net. Chris wielded this racquet successfully in both singles and doubles play. He said, "This racquet was very fast and maneuverable at net. I played quite a lot of doubles with this one and found it a great stick to have at net. It felt very maneuverable and I was able to move quickly during fast four-up doubles exchanges. I was able to punch volleys with decent pace to help get the ball away. On touch shots I had good feel and control. All in all, I was impressed."
Troy liked the racquet for his volleys. He said, "At net I found this racquet to be very maneuverable, which helped me with quick-reaction volleys in doubles. I found the 100 sq. in. headsize to provide a nice sized sweetspot that allowed me to get good penetration on my volleys, as well as create a lot of backspin. The downside was that I would have liked a little more mass in the head of the racquet to help with torsional stability. At times the racquet had a tendency to get pushed around and had a dead feel on off-center shots."
Having some mixed feelings was Jason. He said, "In an ideal world, the weight, swingweight and balance would remain the same, but there would somehow be more mass in the hoop. It just felt like there was some torsional instability on shots not hit directly in the sweetspot. But I did like how I could easily flick the racquet around for sharp angles and overheads."
"I had a hard time finding touch with this racquet because of its low power," said Kana. Adding, "When it came to sticking shots, I could really angle the volleys well and it just felt solid."
Serves - Score: 82
Our TW playtesters loved the fast feel of the Head Innegra Youtek Speed 18x20 on serve. Kana said, "I felt very confident serving with this racquet. Because of the easy maneuverability I could really whip it up to the ball and create more spin. My first serve percentages stayed relatively high. I was finding depth and consistency with control. I could really hit my targets with this one."
Jason also found the control to be impressive, saying, "A great racquet for hitting consistently. It took very little effort to whip the racquet around, so I was able to replicate the timing easily. Because of the high swing speed my slice serves produced shots with plenty of action, even with a tight string pattern. The downside, again, would be the lack of power."
Troy was also finding lots of spin on serve. He said, "I enjoyed this racquet when serving. I found it easy to hit my spin serves consistently, which allowed me to utilize my slice and kick serves effectively with this racquet. I found it easy to generate racquet head speed. I do feel that with some added mass in the head of the racquet I would have been able to get more pop on my serve, but having good maneuverability does appeal to more levels of players. The 18x20 string pattern provided a nice consistent response and allowed me to have confidence in my placement of serves."
"I would have liked a little more power on serve," said Chris. "Even with a powerful multi string in the racquet I was looking for more. I found good pace, but my serves were lacking just a little bit of weight to penetrate the court as I would like. I was getting a lot of spin on second serves. Again, I was impressed by the level of control, and I was placing the ball well."
Serve returns - Score: 74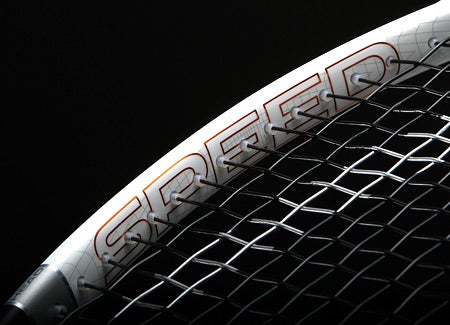 To be truly effective on returns, our team felt the Head Innegra Youtek Speed 18x20 needed some extra mass. Landing some of his returns short was Troy, who said, "The lack of plow through and stability that I was experiencing during groundstrokes was evident on serve returns as well. I found that I had a hard time getting my returns to land deep in the court. Against big, heavy serves I felt the racquet getting pushed around at times. I feel that with some added weight on the head of the racquet I would have received better plow through and may have liked this stick a bit more on my returns. On the plus side, the benefit of the maneuverability came on returns where I was stretched-out and had to use my wrist to get the ball back in play."
Both Jason and Kana were in agreement. Jason said, "It was easy to get the racquet on the ball because it was so easy to swing, however, getting some good consistent depth and pace on the return was another story. I loved the results when I had time to set up. It was those instances where my only option was to block back a serve that I found myself wanting slightly more mass in the head."
Kana added, "The maneuverability made it easy to get the racquet on the ball, but I found -- because of the low power -- that I was more vulnerable, as my returns would land too short. When I had plenty of time it was easy to flatten out my stroke for a deep, offensive return."
Chris had his ups and downs, saying, "with the racquet being so light and mobile it was easy to take a good rip at returns. If I missed, it was usually short into the net, as the racquet lacks the plow through I'm used to. When on the gas I could drive through the ball with a high level of confidence and really swing away with this one. I would have liked a little more mass to help push my block and stretch returns deep, but other than that, I was returning well."
Overall - Score: 79
The Head YOUTEK Innegra Speed 18x20 impressed our team with its high level of control and maneuverability. From the baseline, our testers were able to confidently take full swings at the ball and hit with a variety of shots. The fantastic mobility made this racquet quite an asset up at net. At over 11 ounces, there was just enough weight to put away easy balls and help absorb the harder hit passing shots. On serves, what the racquet lacked in mass it more than made up for with maneuverability. Because it was almost effortless to swing, our team found easy access to spin on both slice and kick serves. If there was one area we would like to see improved, it would be the addition of weight in the hoop. For a couple of playtesters string choice played a big part in how it performed. A softer, multifilament string seemed to bring out the best in the racquet. Overall, we felt this was a very solid stick that provided our testers with control from all areas of the court. It has already helped one player win an Australian Open title and it just might be the racquet to take your game to the next level.
Likes
Jason - "Very easy to swing, great control, and feel."
Kana - "The maneuverability and control were excellent."
Chris - "I liked the maneuverability, spin and the response at net the most. This was a great stick for me with a soft multifilament string in the stringbed."
Troy - "The 18x20 string pattern provided good control and a consistent response."
Dislikes
Jason - "Lacked some mass in the hoop, and the high stiffness rating."
Kana - "It is pretty low powered, and the stiffness might not be good for my chronic shoulder problems."
Chris - "I didn't like this racquet as much when strung with a poly. I think some added weight would help in general, and it would definitely help when using a low-powered string."
Troy - "The lack of mass in the head of the racquet lead to an unstable feel for me."
Technical Specifications

Length
27 inches
69 centimeters
Head Size
100 square inches
645 square centimeters
Weight
11.5 ounces
326 grams
Balance Point
12.825 inches
33 centimeters
5.40000000000001pts Head Light
Construction
21/20/21
Composition
d3o/Innegra/Graphite
String Pattern
18 Mains / 20 Crosses

Babolat RDC Ratings

Score

Grade

Flex Rating
64
Range: 0-100
Swing Weight
314
Range: 200-400
Scores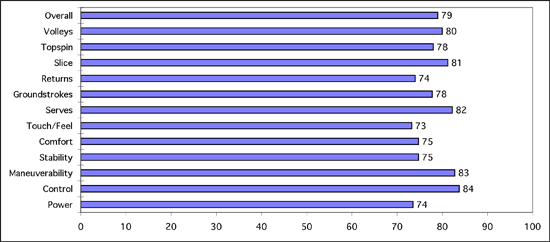 (Scores are determined by averaging individual play test scores)
Chris' Scores
Power
7.3
Serves
7.8
Control
8.2
Groundstrokes
7.8
Maneuverability
8.6
Returns
7.9
Stability
7.8
Slice
8.3
Comfort
8
Topspin
8.2
Touch/Feel
7.9
Volleys
8.4
Overall
7.8
Jason's Scores
Power
7.3
Serves
7.9
Control
8.5
Groundstrokes
8
Maneuverability
8
Returns
7.2
Stability
7.4
Slice
8
Comfort
7.5
Topspin
8
Touch/Feel
7.2
Volleys
7.5
Overall
7.9
Kana's Scores
Power
7
Serves
8.5
Control
8
Groundstrokes
7.8
Maneuverability
7.8
Returns
7.5
Stability
7.5
Slice
8.2
Comfort
7
Topspin
7
Touch/Feel
7
Volleys
7.2
Overall
8
Troy's Scores
Power
7.8
Serves
8.7
Control
8.8
Groundstrokes
7.5
Maneuverability
8.7
Returns
7
Stability
7.2
Slice
8
Comfort
7.4
Topspin
8
Touch/Feel
7.2
Volleys
8.4
Overall
7.9
Playtester Profiles
Chris:5.0 All court player currently using the Volkl Power Bridge 10 Mid. Chris uses a full-western forehand grip, has a fast swing style and hits a one-handed backhand.
Jason: 4.0 baseliner with a semi-western forehand and one handed backhand. Currently using a customized Volkl Power Bridge 9.
Kana: Open level baseliner with a western forehand and two-handed backhand. Currently using a customized Volkl V1 Classic.
Troy:5.0 lefty all-court player with a full Western Forehand and a two handed backhand. Troy currently plays with the Wilson K-Blade 98.

Review date: January 2011. If you found this review interesting or have further questions or comments please contact us.
All content copyright 2010 Tennis Warehouse.