Head Speed Pro Lite Men's Shoe Review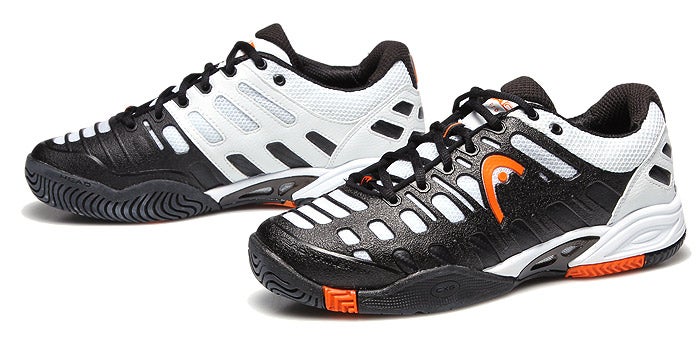 Head Speed Pro Lite Men's Shoe Scores
Comfort
3.9
Ventilation
3.7
Arch Support
3.8
Foot Support/Stability
3.8
Overall Sole Durability
4.1
Toe Durability
4.1
Traction
4.1
Weight
4.4
Overall
3.9
Upsides
Lightweight
Durable
Good fit for wide feet
Summary
As an update to the Speed Pro, the Speed Pro Lite joins the Head lineup as a lightweight performance shoe. By cutting the weight, Head has given us a shoe that allows aggressive footwork and easy movement around the court. The Speed Pro Lite is comfortable out of the box and provides responsive cushioning for the player looking for comfort without sacrificing performance. Despite the high level of comfort, our playtesters felt the toe box was a little roomy. The mesh on the upper provided good ventilation for most of our playtesters, with no overheating or excessive sweating. Issues arose due to foot movement within the shoe causing a few blisters, but in general our testers felt well supported. Sole durability was high and toe durability also met expectations. Lightweight and easy to move around the court in, the Head Speed Pro Lite lived up to its name.
Comfort - Score: 3.9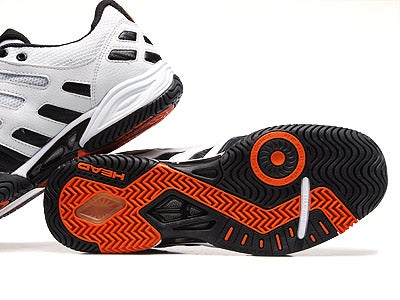 The Head Speed Lite offers responsive cushioning and out of the box comfort, however, it was a little roomy widthwise for some playtesters. Granville liked the comfort from the start. He said, "The Speed Pro Lite has a nice first feel, not too stiff with good cushioning. The shoe fits a bit tight for me, but it contours to my foot nicely (as most Head shoes do)."
Jason found lasting comfort, saying, "I thought the overall comfort was very good from the very first playtest till the last. The uppers flexed in all the right places for me so I didn't experience any pinching. The cushioning was a bit firmer than I would've liked, but I did like that responsive and low-to-the-ground feel that came from it."
Despite finding the toe box a bit roomy, Troy noticed how pliable the shoe was when he first tried it on. He said, "There was good comfort out of the box. When I took these shoes to the court I began to realize how roomy they are and noticed that my narrow feet had a lot of room to move around. Because I had a lot of wiggle room, my feet were sliding around and rubbing a lot in the toe area. Typically I wear two pairs of socks with all my tennis shoes, but for these to fit properly I had to wear three pairs of socks. Once I was able to get these shoes to fit properly they were very comfortable. This shoe rides pretty low to the ground, so there wasn't a lot of sole cushioning compared to shoes like the Asics Gel Resolution 4 or the Nike Air Court Ballistec 4.3. The upper of this shoe was pliable, which helped with comfort, so I could cinch the laces nice and tight even with three pairs of socks on!"
Ventilation - Score: 3.7
Some playtesters complimented the breathability, while others wished it were a little better. Impressed with the Speed Lite's ventilation was Jason. He said, "The noticeable use of mesh in the uppers seemed to translate to actual results. My feet never felt like they were going to overheat. I was able to wear them all day, after playing, and feel fine heat wise."
Troy thought the design should have increased the ventilation, saying, "I was surprised to find that the ventilation of this shoe wasn't very good since it's a lightweight shoe and appears to have a lot of mesh in the upper. Obviously, I expected my feet to get hot when I played in three pairs of socks, but I noticed my feet getting hot when wearing these shoes casually with just one pair of socks. Most of the time ventilation isn't an issue for me, and in this case it didn't necessarily affect my performance on court."
Although the shoes had good ventilation, Granville thought there could have been improvements. He said, "Looking back on this test pair I would not call them particularly cool on my feet, but they aren't hot shoes, either. The mesh panels do help a bit (just wear them barefoot for a while if you want to feel it). Like most shoes in this range, they do offer better than average ventilation - but it's not really a factor in my overall impressions.'
Arch Support - Score: 3.8
With arch support being around medium to low, none of our playtesters experienced any discomfort. Granville had no issues because he adjusted the shoes. He said, "It's just your average insole with little to no arch support and was a non-issue for this tester as I use arch support insoles."
Troy thought the arch of this shoe was just right. He said, "It seemed to be just about a medium to slightly lower than medium fit, and I never really had to think about it while playing, which is always a plus."
Jason felt that the arches were lower than our listed medium. He explained, "I think it might have something to do with the fact that the shoes are so wide and I'm not sitting right on top of the arch."
Foot Support/Stability - Score: 3.8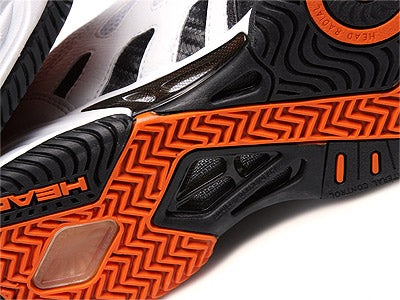 Some playtesters experienced uncomfortable foot movement within the shoe, but others found the support to be great, particularly on lateral movements. Granville found the fit of the shoes provided great support, saying, "My test shoes had plenty of width, even when I wore ankle braces. I had no rollover fears, even when I was on the dead run and reversing directions. The shoe fits my foot well. The materials offer a nice stable wrap. The low ride enhances that stable feel."
Jason wanted to give the Speed Pro Lite two scores in this category. He said, "I'd give the stability a 4 because the chassis was stable with almost every foot plant. I never had that my-ankles-are-going-to-roll-over feel, so that was a major plus. But I'd score this shoe a 2.5 for support due to the extremely wide fit. With every start/stop action I could feel my feet slide around inside the shoes. I have a wide (2E) foot as it is, and this shoe was too wide even for me. I also couldn't cinch down the uppers enough to get a snug, secure fit. That, along with the width, really had my foot sliding, which resulted in blisters."
Troy really enjoyed how well he was moving laterally in these shoes, saying, "Once I dialed in the fit by wearing multiple socks, the fit was pretty snug and I felt comfortable making aggressive cuts without any uncomfortable rubbing. The shoe being low to the ground provided a lot of court feel, and I felt this added to the lateral support and gave me more confidence that I wasn't going to roll an ankle. Out of the box my foot would slide around a lot, but by dialing in the fit I found a lot of support and felt that I could have confidence in playing a match in these shoes."
Overall Sole Durability - Score: 4.1
The durability met the high standards of our testers, with no premature wearing or balding. Jason thought the construction of the Speed Lite was really good, saying, "I was pretty impressed with the Head HyBrasion rubber compound. I wore these shoes for about 15 hours and still have plenty of tread left. Only slight balding on the medial forefoot, which is normally my high wear area."
Surprised with the durability because of the Speed Lite's weight was Troy. He said, "I found that the overall outsole was more durable than I would have figured considering this is a lightweight, speed-oriented shoe. I found the most wear near the balls of my feet and near the tip of the toe, which is always the case with my shoes. The rubber compound held up pretty well throughout the test. It was even better than the Head Prestige Pro II. They both have Head's HyBrasion rubber compound, but this shoe seemed to have a more durable sole than the Prestige Pro II."
Granville agreed with Troy. He said, "These shoes seemed to provide adequate durability considering the weight of the shoe. Wear was evenly spread over the entire outsole."
Toe Durability - Score: 4.1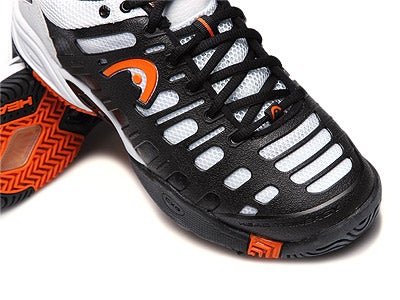 Our crew was happy to find that the Speed Pro Lite experienced no premature wear around the toe. Granville found the durability to be adequate for most aggressive movers. He said, "Unless you are rolling over to the top of the shoe, you will be fine. There's plenty of material in the toes to cover all but the worst toe draggers."
Troy agreed, adding, "I found the rubber compound that covered the tip of the toe to hold up strong. The toe also had a toe guard above the rubber outsole that provided good durability when I dragged my toe, like when I was moving forward to hit a volley."
Traction - Score: 4.1
Our testers had varied opinions when it came to traction. Not a fan, Troy found the traction to be mediocre during this playtest. He said, "I found that the rubber outsole was pretty firm and tough, which didn't necessarily translate into good grip on the court. Most of the time I moved laterally with a lot of confidence, but there were times that I lost my footing when making a quick change of direction. I was finding this sliding to be a detriment when grinding from the baseline. Then there were times when I was moving forward to get a drop shot that I could actually slide into the shot, and this was a benefit, as I could come at the ball with a little more acceleration!"
Jason enjoyed the traction, saying, "Because they flex well, I felt like I was getting optimum contact with the court when I took off for a ball. Even when our indoor court was dusty and dirty, I had very few issues with slippage. The solid traction had me moving with confidence."
Granville had a mixed but positive reaction. He said, "These shoes seem to walk that fine line between being too durable (hard) and too sticky (soft) - it was a good blend of both for me. On occasion I was able to ease into a controlled slide when recovering from a dead-run."
Weight - Score: 4.4
Lightweight and easy to move around the court in, the Head Speed Lite lived up to its name. Feeling light on his toes was Troy. He said, "Typically I don't prefer lightweight shoes because they usually sacrifice a lot in the comfort and support categories. With this shoe it was a pleasant surprise to find a lightweight package that was fairly durable and provided good lateral support, even though there was a lack in overall cushioning."
Granville said, "This shoe looks heavier than it is. Well under my 16 ounce per foot rule, this shoe really is on the lighter side of the shoe mix. And with the upper materials and outsole being so tough - I'd give this shoe very high marks for being light weight and maintaining performance."
"True to its name, I thought this shoe did feel light and fast," said Jason. "The low-to-the-ground feel also helped with that speedy sensation, but the weight was definitely the key ingredient."
Overall - Score: 3.9
Likes
Granville - "Good cushioning is a primary feature. Durable materials also make this an appealing choice."
Troy - "The low-to-the-ground feel gave me confidence in my movements. It was light and it had decent durability, which is not a very common combination."
Jason - "Most everything about these shoes impressed me, but especially the weight, ventilation and traction."
Dislikes
Granville - "Not a fan of the color I tested. I prefer the White/Black color-up."
Troy - "The fit was definitely too wide for me, although I did find a solution to that by triple socking! The traction, oddly, wasn't as good as the Head Prestige Pro II, even though they supposedly possess the same Head HyBrasion rubber compound."
Jason - "Even with wide feet, these shoes were too wide for me. And because of that, they lacked the foot support I need."
Comparing the Speed Pro Lite to other shoes they've worn, our testers said:
Granville - "This is a good representation of Head shoes overall: Functional (bordering on utilitarian), stable, due to the design and materials, and comfortable for post tennis BBQ and blue jeans."
Troy - "Overall, the closest shoe that comes to mind is the Nike Zoom Breathe 2K10. This Speed Pro Lite fits wider and has a more durable outsole, but in other categories played pretty similarly to the 2K10. Compared to the Head Prestige Pro II, which was the last Head shoe I tested, this shoe was lighter and actually seemed to have a more durable outsole. The Prestige Pro II had better cushioning, and the rubber outsole felt like it was better for traction, or more grippier."
Jason - "It reminds me of a lighter, better version of the Head Mojo shoe."

Playtester Foot Types:
Granville - Narrow width / Low arch
Troy - Narrow width / Medium arch
Jason - Wide width / Low arch

Review date: May 2012. If you found this review interesting or have further questions or comments please contact us.
All content copyright 2012 Tennis Warehouse.