Head Prestige Pro II Shoe Review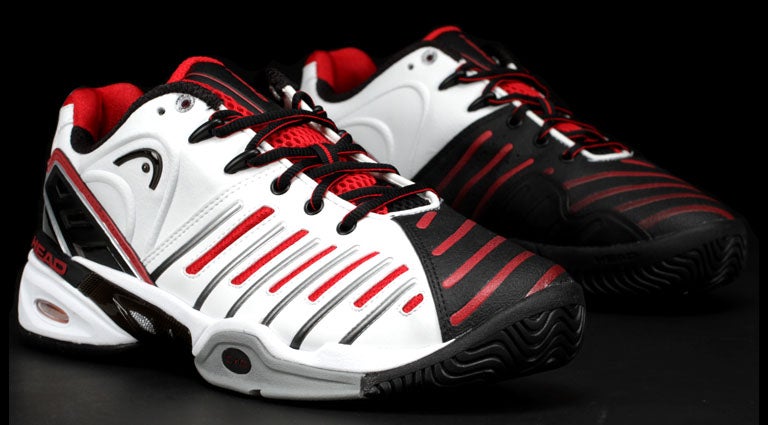 Head Prestige Pro II Shoe Scores
Comfort
4.3
Ventilation
3.4
Arch Support
3.9
Foot Support/Stability
4.2
Overall Sole Durability
3.8
Toe Durability
4.3
Traction
4.3
Weight
3.9
Overall
4.0
Upsides
Immediate comfort
Cushioning
Traction
Support
Stability
Summary
Though there were no real surprises or standout features, the Head Prestige Pro II offered a nice blend of characteristics that worked well together. Starting with out-of-the-box comfort, the Prestige Pro II provided good durability, a weight that is healthy enough for good stability yet not so heavy that they feel clunky, and performance level traction for efficiency of movement. Our testers felt these shoes offered good performance for all-court, reliable play. If there was one area they felt needed improvement, it was the ventilation. All in all, the Head Prestige Pro II impressed our testers with its solid performance.
In 2008, Head made a resurgence in tennis footwear when it introduced the Prestige shoe. Now on the third iteration of Prestige, Head has made subtle updates to improve what was an already solid shoe.
With a slightly new look and a change in the upper, the Prestige Pro II aims to improve durability while maintaining its weight. Toe draggers can rejoice, as this version looks to be impervious to even the guiltiest of abusers. By keeping the same midsole and using CGX Comfort Grid in the forefoot and Vi Pod in the heel, court landings have minimal jarring. Thus, the same cushioned ride and on-court performance of the previous Prestige Pro should be expected. With such subtle updates, it seems this Prestige Pro II will be a reliable, solid, all-court performer, much like its predecessor.
While the Prestige Pro II looked good on paper, our playtesters took them out on the hard courts to see how they perform in the real world. Read on for their findings.
Comfort - Score: 4.3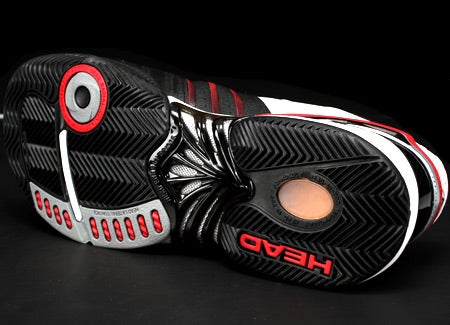 Offering comfort right from the start, the Prestige Pro II continued to impress our team throughout the playtest. Finding immediate comfort was Chris. He said, "These shoes did not really require any break-in for me. They continued to soften up as the test wore on but were plenty comfortable right out of the box. They also fit my narrow feet well and proved supportively comfortable for the duration of the test. I never had any poking or pinching from the upper materials. The shoes flexed in all the right places and moved well with my feet. There was plenty of cushioning, and the heel cushioning felt especially plush."
Granville found this to be his favorite Head shoe. He said, "This is probably my favorite shoe from Head in the last five years. The Prestige Pro II was comfortable, with a solid wrap around my entire foot, and was roomy enough for insoles and ankle braces. The fit wasn't as glove-like as some shoes, but the shoe does follow the contours of my feet nicely."
Noting the excellent comfort was Troy. He said, "I was finding the comfort of this shoe to be one its best attributes. As I experienced with the original Prestige Pro, it had a very plush and comfortable feel from the first time I tried it on. I felt that this shoe did not need much of a break-in period, if any at all. For the first 5-10 hours of court time with these shoes I felt more comfortable than just about any shoe I have played in. After about 10 hours of court time I felt that the toe box expanded a little bit, which caused my forefoot to rub against the inside of the shoe. After experiencing this I wore two pairs of socks to help fill the excess room, which worked well."
Spencer has been a fan of all the Prestige shoes from Head. He said, "Concerning comfort, I've always enjoyed wearing the Head Prestige line of shoes, from the original Prestige to the Prestige Pro, and now the Prestige Pro II. I'll admit, the first iteration fit my foot the best, but I am still happy with the fit of this latest version. From the initial lace-up, I had no comfort issues from the initial lace-up. The upper wrapped the foot nicely for a snug supportive fit, and there was plenty of cushioning in the midsole for jar-free landings. It was very reminiscent of the previous version, which I was happy with as well."
Ventilation - Score: 3.4
Most of our squad felt there was room for improvement when it came to heat and breathability. Finding a new way to gauge ventilation was Granville, who said, "The shoe does a good job of ventilating with the mesh panels. My new test of this is to leave my shoes on and walk around post match to focus on how hot or cool my feet feel. I could feel the cooling through the mesh, although it was minimal compared to the best vented shoes."
Troy said, "The ventilation of this shoe was mediocre for me. It didn't seem like it was designed to have a lot of ventilation. With this being said, I don't typically take ventilation into account when judging a shoe. The ventilation seemed to work just fine in the climate I tested these shoes in. I would say the ventilation was about equal to my two favorite shoes on the market, the Nike Air Court Ballistec 2.3 and the adidas Barricade 6.0."
Chris felt his feet were a bit on the warm side. He said, "These shoes ran just a tad on the hot side for me. The heat build-up did not deter me from grabbing them from my pile of test shoes, but it did make me want to take them off once done hitting. My socks were a little more soaked than with some other shoes, but I've definitely played in worse. For me, the use of durable upper materials in the forefoot and toe more than made up for the slight sacrifice in ventilation."
Spencer noticed more heat in this shoe than others, saying, "The ventilation seemed to be rather limited. Other than the mesh tongue and some minimal mesh and perforations, the upper didn't offer much breathability. Though the wire mesh, integrated with the midfoot shank, was a nice touch, the insole seemed to quash any air that may have come into the shoe. On warm days my feet would feel the heat. It wasn't enough to affect play, but it was more than I've noticed in most other shoes I've worn."
Arch Support - Score: 3.9
We found the arch support to be ideally placed with a good amount of support. Troy felt the arch fit his feet perfectly. He said, "I felt that the arch of this shoe hit my foot in just the right place, and this was very beneficial to the comfort aspect of this shoe. Coming off playtesting the Nike Air Court Ballistec 3.3, which was not a good match for my arches, I felt much more comfortable in this shoe. I felt that the arch support was a good fit for my medium height arches. I also found the shoe gave me a nice snug fit in the arch area, but didn't pinch or cause any pain."
The arch support worked well for Chris. He said, "The arch support was a good fit for me. The height of the support worked well with my feet, and the midfoot shank kept everything nice and stable. I found a good level of support when sprinting forward and when moving side to side. I thought Head did a great job of giving the chassis of the shoe a nice solid feel."
Granville added his own aftermarket insoles for better support. He said, "As with any insole these days, the stock insole is mimimal and seemed to add more comfort than actual arch support. I always add arch support insoles to any shoe."
Spencer was happy with the height and support of the arches. He said, "The arch support was good. The medium height was a good match for my arches, and they did a good job with the support."
Foot Support/Stability - Score: 4.2
Our testers all agreed that the Prestige Pro II offered a high level of stability. Spencer was happy with the stability and said, "With a supportive upper and a solid base, lateral changes of direction were handled well. At the onset of the test I was a bit concerned, as I felt the shoes rode a bit high on court. I didn't have that low to the ground feel that I like when playing. However, my worries were put to rest after I got into some heated exchanges where I was forced to change direction as quickly as possible. These shoes held their ground, both literally and figuratively."
Enjoying a good blend of support and stability was Chris, who said, "The snug fitting uppers combined with the solid chassis to provide a great blend of support and stability for me. I always felt confident moving around the court at full speed. There was just enough flex in the shoes to keep them feeling nice and fast, yet I never felt any stability issues. I was very impressed and came away from this test with the opinion these were the best Head shoes I've worn, especially on a support and stability front."
Granville felt this was the best aspect of this shoe. He said, "This is where the Prestige Pro II really shines. It's very stable on the court. There's no flexing at the perimeter, and the shoe is solid and stable throughout. This is one shoe where I could leave my ankle braces home! The upper materials have a nice blend of leather and mesh designed to be stable while offering as much venting as possible. It works."
Getting more than he expected was Troy. He said, "While playing in this shoe I found that the support held up better than I expected. I felt that Head did a good job making this second version of the Prestige Pro a bit sturdier than the original for better lateral support. Even though this shoe was soft and had a good amount of flex to it, the lateral support was not sacrificed. I felt like I was able to move more aggressively in this version of the Prestige Pro compared to the previous version, and even compared to the first Head Prestige. I feel that this shoe has the best blend of stability and comfort from the line of Prestige shoes from Head. I will say that the support/stability is not up to par with the Nike Air Court Ballistec 2.3 and the adidas Barricade 6.0, but it still performed well in this category."
Sole Durability - Score: 3.8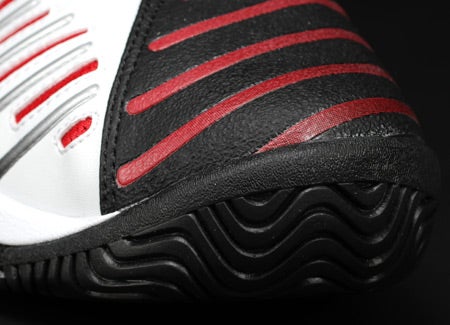 Satisfied with the durability of the outsole, most of our testers noted a good balance of durability and traction. Chris was happy with the durability. He said, "The outsoles held up better than average for me. While they were not the most durable shoes I've worn, they weren't that far off. My shoes were wearing in the typical areas but I did not burn through any areas, and I put about 30 hours of playing time on them. At the end of the test the outsoles were still holding up and traction had not suffered too much, despite the tread getting worn off."
Granville liked the combination of durability and traction. He said, "I found this outsole to be as durable as just about any shoe out there, while maintaining excellent traction. It was just the right combination! I played several matches outside for the playtest, and they still have a lot of matches left in them."
Spencer agreed, and added, "I've experienced better durability but was certainly happy with what the Prestige Pro II offered on its outsole. There was a good combination of tack and durability, and more notably, on a shoe that costs less than $100 with a durability guarantee. I was impressed."
Troy was looking for a bit more longevity. He said, "I found the overall sole durability to be average. I was wearing through the rubber sole faster than I have in other high-end durability shoes such as the Nike Air Court Ballistec 2.3 or adidas Barricade 6.0. The rubber compound felt a bit softer than most shoes built for enhanced durability. Therefore, the sole wore down faster than I would have liked."
Toe Durability - Score: 4.3
The outsole wraps up onto the toe of the Prestige Pro II to limit damage from toe dragging. Chris was impressed. He offered, "I loved the toe durability. I drag my toes a lot and these shoes took all the abuse I could throw at them and didn't miss a beat. Everything about the toe areas seemed to be built to last. While the forefoot ran a tad hot to wear, the durability made up for it. I gave the shoes top marks here. Enough said."
"I typically will wear down the sole of my shoes near the toe or at the ball of the foot," said Troy, who logged several hours on court in the shoes. "With this shoe I found the most wear in this area, as it typically is in most of my shoes. I feel that this shoe was about average in toe durability, but as I stated in overall durability, not as good as my favorite hard court shoes. Within about three weeks of consistent use (about 10-12 hrs. per week) I was able to wear down the toe quite a bit. If I were to continue this amount of use for another couple of weeks I would more than likely wear through to the midsole or insole. The durability guarantee would be what would keep me attracted to this shoe as a consumer; without the durability guarantee, not so much."
Traction - Score: 4.3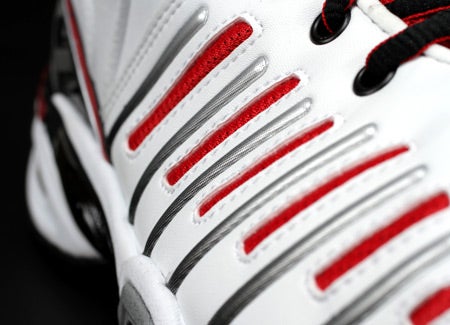 The level of traction was a shining attribute, according to our test team. Troy found the level of traction to heighten his game. He said, "I found the traction of this shoe to enhance my movement. The outsole was gripping the court surface very well, allowing me to move aggressively without fear of slipping. The rubber compound may have worn out faster than some of my favorite hard court shoes, but it seemed to make up for it by providing me with enhanced movement. I was still getting good court traction even as the sole wore down and became smooth."
Sharing that sentiment was Chris, who added, "Combine the impressive grip with the level of durability and it was obvious to me that Head have nailed the rubber outsole compound. Even as the shoes started to wear, I was still getting enough grip to scamper around the court and get enough balls back to annoy opponents. When pushing off for a quick sprint, I liked how the outsoles hooked up and gave me the grip I needed for a strong driving first step. Likewise, stopping and changing directions was solid and confidence inspiring."
Granville felt they performed best in the heat. He said, "Here is another strength of the shoe. The tread pattern is a thick herringbone and suitable for most court surfaces. Deep grooves show off the amount of rubber on the sole. The hotter the court the better the traction."
Finding the traction to be excellent in relation to the durability was Spencer. He said, "The best outsoles provide a good combination of durability and tack, and the Prestige Pro II accomplished that. I was able to rely on the outsole when changing directions. Movement is important to my playing style, so efficient change of direction is something I look for, not only in my legs, but also in my footwear. This shoe did not disappoint."
Weight - Score: 3.9
Though it weighs more than 16 ounces (size 10.5), the weight of the Prestige Pro II was more than acceptable, given the durability and the feel on court for our testers. Troy felt the distribution of weight was spot on. He said, "The weight of this shoe was ideal for my preference. The weight of this shoe is very similar to what I am used to. For some, this weight may be on the heavy side, but I felt that the weight was distributed well throughout the shoe. Overall, the weight of this shoe did not limit my movement."
Finding the weight to provide all around performance was Chris. He said, "These were far from the lightest feeling shoes. I felt a little elevated in the heel, and I think that added to the slightly weighty feel. However, the shoes more than made up for their weight by providing an impressive combination or durability, traction, support and stability."
Granville wasn't aware of the weight during play. He said, "It's right at my weight limit of a pound per shoe. A lot of beefy materials built into this shoe make for a solid value. I'm not thinking about my feet when playing in this shoe. That's always a good thing."
Feeling the weight is justified based on the stability was Spencer. He said, "Though it's not the lightest shoe out there, I was happy with the weight. Based on the support and stability, the static weight is justifiable, and on top of that, it never felt clunky É or chunky for that matter."
Overall - Score: 4.0
Likes
Chris "I liked the toe durability, cushioning, support and traction. The durability was solid, too."
Granville "Solid on my feet and very stable. Good traction. 'A poor(er) man's Barricade.' "
Troy "I really enjoyed the comfort of this shoe fresh out of the box. It's a very comfortable shoe that provided top-notch traction. My favorite cosmetic in this line."
Spencer "I liked the fact that I didn't dislike anything about it from a performance standpoint. It's a solid tennis shoe."
Dislikes
Chris "I would have liked them in a more aggressive cosmetic. I wore them in the White / Black / Red color."
Granville "They need to be $10 less expensive to really be a home run."
Troy "The sole began to wear out a bit sooner than I would have liked."
Spencer "I wasn't crazy about the cosmetics, and I'd prefer a lower ride, but all in all I have nothing negative to say."
Compared to other performance shoes our testers have worn, they said:
Chris "This was my favorite Head shoe test so far. I really enjoyed playing in these shoes. The chassis, outsole and cushioning are very similar to the Insane Pro, but the fit is very different. Whereas the fit of the Insane Pro was too wide, these were a much better fit for my narrow feet. I was impressed by the durability. It was not quite up to Barricade standards, but Head is closing the gap."
Granville "It's so like a Barricade minus the glove-like fit, but it's as or more stable(and that is saying something)."
Troy "There's similar attributes to the adidas Barricade 6.0, but they're not quite as durable or stable. They didn't give me the glove-like feel that I get from the Nike Air Court Ballistec 2.3."
Spencer "Reminds me in many ways of the Prince T20 in that I felt it was a great workhorse of a shoe. It's a shoe I could wear every day for tennis."

Playtester Foot Types:
Chris - Narrow width / Medium arch
Granville - Narrow width / Low arch
Troy - Narrow width / Medium arch
Spencer - Medium width / Medium arch

Review date: July 2011. If you found this review interesting or have further questions or comments please contact us.
All content copyright 2011 Tennis Warehouse.