Head Graphene Radical Midplus Racquet Review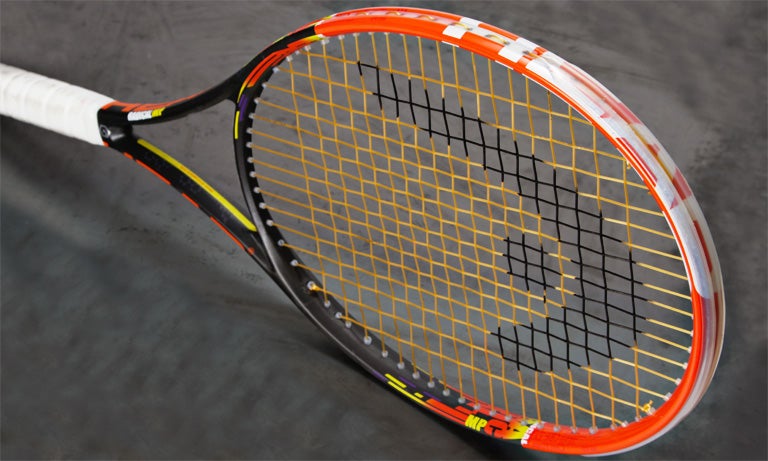 Head Graphene Radical Midplus Scores
Power
79
Comfort
81
Touch/Feel
79
Serves
81
Groundstrokes
85
Returns
83
Slice
79
Topspin
83
Volleys
76
Overall
81
Upsides
More power than previous versions
Maneuverable
Spin friendly
Downsides
On the light side for advanced players
Summary
The Head Graphene Radical Midplus boasts power and maneuverability. Head introduces a new dynamic 16x19 string pattern in the Graphene Radical Midplus that is tighter in the middle and more open on the edges to ease the shock and increase the power on balls hit outside of the sweetspot. Proving to be more powerful than its predecessor, the YOUTEK IG Radical, the Graphene Radical Midplus allowed all of our playtesters to hit big groundstrokes from the baseline. However, our testers had mixed results when they weren't hitting groundstrokes. Some found this racquet to be a maneuverable, crisp volleying machine, while others felt this frame didn't have enough weight to volley effectively. When serving, some of our playtesters benefited from the lighter weight and found ample access to spin, while others thought the racquet lacked the mass to really get their serves going. All of our playtesters agreed that this powerful racquet was quick and easy to use when returning serves. If you enjoy maneuverability in a quick, precise racquet, the Graphene Radical Midplus could radically change your game for the better.
Groundstrokes - Score: 85
Right off the bat, our team of playtesters found the Radical Midplus to have a different feel than the racquet it replaces. Power was notably present in this update, as well as a new "dynamic" string pattern that creates less shock and more power on off-center hits. "My favorite part of this playtest was hitting groundstrokes," Chris began. "It was a very fast and easy racquet to accelerate through the ball. I found I could get a lot of topspin because of that. The added spin opened up some nice angles. I felt like I was driving the ball pretty well off both wings when hitting topspin. I would have liked some added weight on my backhand slice to help me knife through it like I could with the Graphene Radical Pro."
Karly started this playtest on a high note and needed no time at all to get comfortable with this racquet. "Where do I even begin?" she said. "The list of positives for the Head Radical Midplus racquet is long! All of which made the racquet easy to use. I immediately felt comfortable playing with it because of its tremendous maneuverability, the combination of power and control, and the great access to spin. On top of all that, the feel was exceptional. It was a very soft, comfortable racquet that was really easy on the arm. I could take big cuts at the ball without having to worry about losing control, and with all the spin I could easily add variety to my shots." There wasn't much Karly didn't like from the baseline, but she did wish for better stability. She explained, "It wasn't extremely bad, but there were times when I wanted more plow through and felt slightly pushed around. If I didn't hit directly in the sweetspot the racquet felt unstable in my hands. If the racquet had more stability and force when I was following through with my groundstrokes I would have absolutely no complaints."
Sean, who is familiar with the history of the Head Radical line of racquets, found this update to have a very different feel, but he still thought it performed very well from the baseline. "I was impressed with the solid feel for a racquet with less heft than I'm used to," he said. Sean noticed that despite the open string pattern and the lighter weight, this racquet still felt very control-oriented and low powered, which is typical of the Radical line. "I could really go for my shots to take control of the rally, and I could keep my groundstrokes deep in the court. I preferred the dense string pattern of the previous model, although the spin production with this racquet was incredibly helpful for keeping my shots in."
Echoing the rest of the playtesters was Brittany, who agreed that this racquet was easy to use from the very first hit. She said, "The Graphene Radical Midplus was very comfortable to play with. After my first solid hour hitting with it I determined that it had much more power than the previous IG model. I also noticed plenty of spin, which helped keep my balls deep in the court. The maneuverability was outstanding, and I was able to really get a lot of racquet head speed. Even slices felt really solid with this racquet. However, when I was hitting with bigger hitters there were times that I felt the racquet was being pushed around."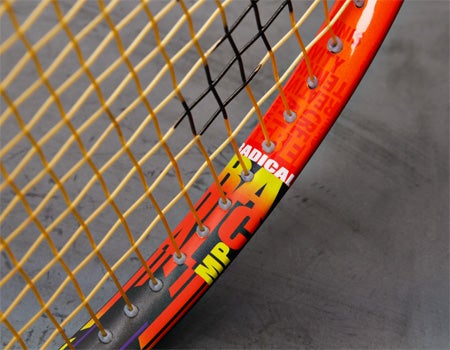 Volleys - Score: 76
There were some mixed opinions when it came to volleying with the Graphene Radical Midplus. The lighter weight tripped up some of our playtesters, but there were no complaints when they made clean contact in the center of the sweetspot. Karly was really impressed with the overall performance of the Radical Midplus at the net, saying, "I'd have to say the standout feature for me was the touch. I could easily absorb the pace of the ball and place a soft drop shot more confidently with this racquet. In addition, the lightweight feel and great maneuverability made it easy to get the racquet on the ball. I just had to make sure the ball hit the sweetspot, because the racquet seemed less forgiving up at net. If I hit on the edge of the stringbed my shot felt dead and drastically different from when the ball hit the sweetspot. The lack of forgiveness and instability was more apparent with volleys."
Chris found this racquet very fast and easy to maneuver at the net. He said, "It felt nice and crisp at contact, and I felt well connected to where my shots were heading. Again, I was wishing for more weight as the racquet got pushed around some. When I was volleying from deeper in the court I had to really punch through the ball to make sure I got depth. However, when I was given a high volley close to the net it was easy to snap the racquet through contact and punch the volley quickly away."
Brittany had a mixed experience with volleying. She described her ups and downs by saying, "The racquet was very maneuverable and I had plenty of time to block volleys back. I thought my deep put-away volleys were very effective as well. My one knock would be that if I hit just outside the sweetspot there was a noticeable drop in power and control."
Sean struggled the most at the net with this racquet. "I had considerable trouble controlling my volleys because of the lighter feel. I felt a lack of touch and feel when compared to the soft, flexible feel of the previous version of the Radical, and its response at net suffered. Redirecting hard shots was also a difficult task due to the lighter static weight." Sean did find an upside to the lighter weight. "I did enjoy the maneuverable feel when wielding this racquet at net, although I stayed back for the most part to avoid getting myself into trouble when coming forward."
Serves - Score: 81
Most of the playtesters agreed that this racquet added variety and pace to their serves. "I found I could get a lot of racquet head speed and really go up and after my serve," said Brittany. "I enjoyed mixing up my serves with this racquet in both singles and doubles. If I wanted to be aggressive I could hit a bigger, flatter serve up the T. If I wanted to jam my opponent I could hit a slice into the body. I think my most successful serve was out wide on the ad side, whether I was hitting flat or with spin. The spin potential of this racquet was a real bonus on serves. I had a lot of confidence hitting second serves not only consistently in, but also placing them where I wanted."
While he didn't love it at the net, Sean was impressed with this racquet when it came to serves. "It was far more solid than anticipated, and I found that I had a ton of confidence on both my first and second serves. I was concerned that without enough weight I would lose stability on my first serves, but I was happy to find that I could swing freely and generate some huge serves without any loss of stability or plow through. I could also hit my second serves better than I did with the previous version. I could generate more spin and place the ball more accurately in the service box."
Chris struggled to serve well with this racquet. He explained, "It was just too light to help my serves penetrate the court. I was able to swing quickly and get good spin, but I was hitting short and my serves were sitting up a little. It made it tough to follow my serve to the net because returns were really getting cracked back at me. I would add some weight just to get a little more on my serves."
Karly had no complaints when it came to serves. She said, "Serving with the Graphene Radical Midplus was a cinch! It felt light and extremely easy to swing. My shoulder didn't wear out and I could generate some fast racquet-head speed for good power. That mobility also made it easy to control the direction of the serve and produce a ton of spin. I didn't have to try very hard to put topspin on my kick serve, which was really nice. I'd like to try adding a little more weight to the top of the frame just to see if I can get more plow through and power, but I really didn't mind the serves as is."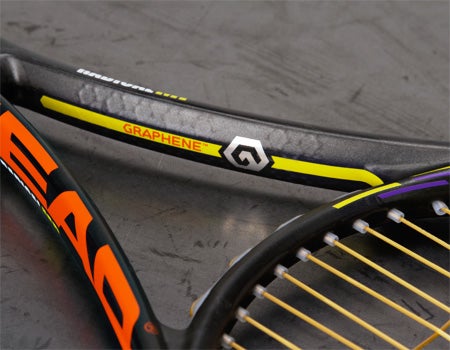 Serve Returns - Score: 83
For most of our team, the racquet's precision and maneuverability made returning simple and effective. However, Sean found a bit of a love-hate relationship when it came to returning serves with the Radical Midplus. "My shots suffered when I didn't have time to set my feet and put a good swing on the ball. Slicing the ball back deep can be an effective return, but I found that many of those returns were dropping short in the court and causing me problems. This racquet performed beautifully when I was able to hit a return in my strike zone. Its low powered feel allowed me to hit through the shot and keep the ball close to the baseline."
Controlling and spinning the ball on returns was easy for Chris. He said, "I could go down the line or cross court with pace, accuracy and consistency. I preferred hitting topspin returns or flatter drives. Slice was OK, but the racquet got pushed around a little on slower swings. I much preferred the response on a fast swing, and I felt this racquet was a good option when looking to rip a return."
Considering how maneuverable this racquet is, it came as no surprise that Karly really enjoyed returning with it. "I loved how fast it felt," she said. "Not getting my racquet back in time was rarely an issue, and when it was I could still move the racquet quickly to at least make contact with the hard serve. The fairly even combination of power and control let me swing aggressively without worrying too much about overhitting. However, I thought the racquet lacked stability. The frame didn't feel solid, and it lacked drive unless I hit directly in the sweetspot."
Brittany found this to be a great racquet for returning. For her, the maneuverability really stood out. She offered, "I was able to get my racquet back into position, even when I was facing big first serves, and hit the ball back aggressively and consistently. When returning second serves I had enough power to take big cuts at the ball. This allowed me to start a lot of points off on the offensive."
Overall - Score: 81
Likes
Chris - "I liked the response and feel when I was swinging quickly and hitting with pace and topspin."
Brittany - "I loved the power, spin and maneuverability. It was a really easy racquet to use."
Sean - "The racquet performed extremely well in my favorite areas, which tend to be the ones that involve instant offense. I had the ability to swing out on groundstrokes and serves without fear of overhitting. Overall - a fairly stable, yet lightweight racquet, with a maneuverable feel."
Karly - "It is one of the most user-friendly racquets I've tried. No adjustment period, easy to swing, good power and control, and great access to spin -- talk about a recipe for an easy-to-use racquet!"
Dislikes
Chris - "The racquet was too light for my serve, and I need more weight to improve the stability on shots with a slower swing, such as volleys, touch shots and chip returns, etc."
Brittany - "My very small dislikes were that I thought the racquet got pushed around a tiny bit and there was a drop in power on volleys hit outside the sweetspot."
Sean - "I would have liked this racquet better with a slightly heavier overall feel, especially when having to deal with heavy shots from my opponent. The unstable feel was far more evident on slower paced shots."
Karly - "Sometimes the racquet felt a little too light and needed more plow through. A little more weight would also help improve the stability."
Comparing it to other racquets they've used, our testers said:
Chris - "I felt like this racquet lacked some of the solid feel of previous Radicals. It definitely came through the ball faster and offered better topspin, but it was not as stable at net or as solid on a touch shot. I've always found Radicals to be good platform racquets for adding weight, none more than this one. In that regard, I'd compare the Graphene Radical Midplus to the Tecnifibre TFight 315 LTD and Donnay X-Dual Silver 99, both of which I'd customize with weight."
Brittany - "Compared with the previous version, the YOUTEK IG Radical MP, I found the Graphene Radical Midplus to have the power that I felt was lacking in the past. I thought the control and maneuverability were very similar between the two racquets. I would say that the IG version had a tad more stability."
Sean - "There is nothing that quite compares to the solid feed and lightweight swing of the Graphene Radical Midplus. When I first hit with this racquet I was reminded of other light, whippy racquets like the Wilson Juice 100 and the Yonex VCORE 100S. In reality, I felt far more confident using the Radical against harder hitters than any other racquet with similar specifications."
Karly - "The Graphene Radical Midplus reminded me of a more control-oriented and stable Head YOUTEK Graphene Speed MP. They're both comfortable and easy-to-use racquets."
Technical Specifications

Length
27.0 inches
69 centimeters
Head Size
98 square inches
632 square centimeters
Weight
11.2 ounces
318 grams
Balance Point
13.0 inches
33 centimeters
4pts Head Light
Construction
21.5mm / 23.5mm / 21.5mm
Composition
Graphene
String Pattern
16 Mains / 19 Crosses

Babolat RDC Ratings

Score

Grade

Flex Rating
64
Range: 0-100
Swing Weight
316
Range: 200-400
Scores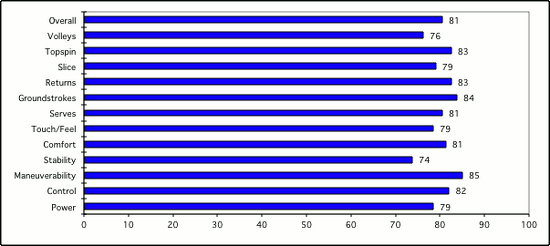 (Scores are determined by averaging individual play test scores)
Chris' Scores
Power
7.6
Serves
7.4
Control
8.3
Groundstrokes
7.8
Maneuverability
8.5
Returns
8.2
Stability
7.2
Slice
7.8
Comfort
7.8
Topspin
8.4
Touch/Feel
7.7
Volleys
7.6
Overall
7.6
Brittany's Scores
Power
8.5
Serves
8.5
Control
7.9
Groundstrokes
8.8
Maneuverability
8.8
Returns
8.7
Stability
7.4
Slice
7.9
Comfort
8.5
Topspin
8.4
Touch/Feel
7.8
Volleys
7.8
Overall
8.3
Sean's Scores
Power
7.4
Serves
8.2
Control
8.4
Groundstrokes
9
Maneuverability
8.2
Returns
7.8
Stability
7.5
Slice
7.5
Comfort
8
Topspin
7.9
Touch/Feel
7.6
Volleys
7.2
Overall
8.1
Karly's Scores
Power
7.9
Serves
8.1
Control
8.2
Groundstrokes
7.9
Maneuverability
8.5
Returns
8.3
Stability
7.4
Slice
8.4
Comfort
8.2
Topspin
8.3
Touch/Feel
8.3
Volleys
7.9
Overall
8.2
Playtester Profiles
Chris: 5.0 all-court player currently using the Wilson Six.One 95S. Chris uses a full-western forehand grip, has a fast swing style and hits a one-handed backhand.
Brittany: Open level player with a semi-western forehand and a two-handed backhand. She currently plays with the Yonex V-Core 100S.
Sean: 4.5 baseliner using the Head YOUTEK Prestige Pro. Sean has a semi-western forehand, 1 handed backhand.
Karly: 4.0 baseline player currently playing with the Wilson nCode nTour. She hits with a semi-western forehand grip and uses a two handed backhand.

Review date: October 2013. If you found this review interesting or have further questions or comments please contact us.
All content copyright 2013 Tennis Warehouse.