Head Graphene Extreme MP Racquet Review

Head Graphene Extreme MP Scores
Power
85
Comfort
78
Touch/Feel
79
Serves
79
Groundstrokes
83
Returns
80
Slice
80
Topspin
87
Volleys
83
Overall
82
Upsides
Powerful
Spin friendly
Maneuverable
Summary
On paper, the addition of Head's Graphene technology to the Extreme line of racquets sounded pretty good. With the Graphene Extreme MP, the execution pretty much matched the expectation. By taking the weight out of the throat and adding it to the tips of the frame the new Extreme MP is more maneuverable and more powerful than its predecessor, which worked out well for our playtest team. Our playtesters had no problems generating pace and depth from all areas of the court, even from defensive positions. With that boost in power our team found the racquet a bit erratic at times, but they adjusted their approach over the course of the review and started allowing the racquet to do more of the work. There was excellent access to spin as well, which was felt the most on serves and heavy groundstrokes. In the end, the Graphene Extreme MP lived up to expectations and is an excellent choice for the modern player who places a priority on power, maneuverability and spin!
Groundstrokes - Score: 83
Our playtesters enjoyed the Graphene Extreme MP from the baseline and found easy access to pace and spin, even when they were drawn out of position. Brittany had a much easier time wielding this version compared to its predecessor. She said, "I was excited to get back on the court with this newest update because I really enjoyed the last version of the Extreme, especially from the baseline. To my relief, this Graphene version did not disappoint. Right off the bat, I found this update to be easier to swing than the previous version and, all in all, very maneuverable. I also thought this version had a little more power, which I had to control by adding a little extra spin. I found myself wanting a tad more stability."
Tiffani liked the boost in power over the previous version and thought the co-poly string we used really helped give the racquet some nice control. She explained, "I liked the amount of power I was finding as well as the fast response off the stringbed. We had this strung up with YTex Quadro Twist, which helped make this new Extreme super spin-friendly. All the spin I was finding was helping me keep the ball in play. I felt compelled to go for more with this racquet so I appreciated a more control-oriented string setup, like a co-poly. The stability was where I expected it to be, and I only struggled with it when I missed high out of the sweetspot. The one issue I had was slice. I couldn't quite find it consistently, and I watched quite a few balls float rather than cut through the court."
Jason also noticed the improved maneuverability, but he found the response off the stringbed to be a bit unpredictable on his groundstrokes. He said, "This updated version is noticeably more maneuverable than its predecessor. I found it easy to swing from both wings, and I was able to create some nice angles. The standout feature for me was the access to spin, but the downside was the erratic stringbed. Sometimes my shots would land 10 feet out, and other times the ball would fall inside the service line."
For Mark, it was all about power and spin from the back of the court, and the racquet really helped him be consistently effective with his groundstrokes. He said, "Lately, my personal point of reference are the lower-powered player racquets with a more rectangular/flexible beam type. Switching to the Graphene Extreme MP was like trading in a Mercedes S class to the SLS: The new Extreme MP felt like a hot rod. Even with the full bed of poly, I was able to reach the back of the court without too much effort on both forehands and backhands. By the end of the playtest I concluded that this is one of the more spin-friendly racquets I have ever played with. Containing all the power was my focus, but I had great results in most groundstroke exchanges."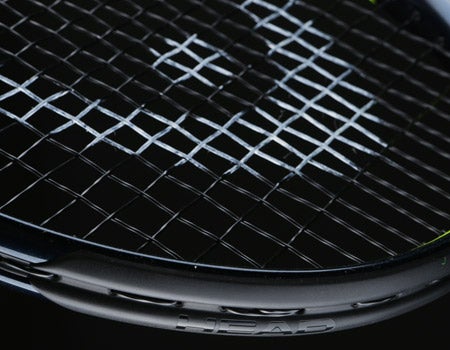 Volleys - Score: 83
Our playtesters' opinion of the Graphene Extreme MP improved even more once they moved forward in the court. Once again, it was the excellent maneuverability and easy access to power that impressed us the most. Mark couldn't wait to get to the net during the playtest, and he raved, "Again, I had to focus on harnessing the easy power this racquet offered, however, I adapted well and was even hitting some clutch topspin volleys off both sides. I could definitely feel the added weight in the hoop, but it was still maneuverable enough for me to be eager to get to net."
Tiffani was also moving forward successfully. She offered, "I felt surprisingly comfortable at net, which is where I struggle most. As usual, I was most confident blocking back the ball and punching my volleys deep. However, I did find enough control to angle off volleys and hit softer placement volleys."
Brittany had all of her different volleys working, as she once again preferred this Graphene version to the previous iteration. She explained, "I thought this Graphene version was a great improvement up at net, primarily when it came to the feel. I had the confidence to hit a variety of volleys, whether it was a deep put-away volley or a pick-up volley angled off the court. The added maneuverability was a bonus. I never felt late, even in quick exchanges during doubles matches."
Jason found this racquet easy to get into position during quick exchanges. He said, "It wasn't sluggish at all, so that really helped me out at net. I found it easy to hit quick reaction volleys and overheads. I liked the touch and responsiveness as well."
Serves - Score: 79
For the most part, the Graphene Extreme MP gave our testers a little boost on their serves that was certainly appreciated. "This is possibly my favorite stroke to hit with this racquet," Jason praised. "I rely heavily on my slice serves, and with the great access to spin I was able to put tons of bite on my serve. It felt 'whippy' enough that even when I didn't have the perfect toss I could accelerate the racquet, get it where I need it to go and still make the serve."
It took Tiffani a little time to adjust, but once she did the Graphene Extreme MP really helped her service game. She explained, "Initially, the racquet felt awkward to swing because I could sense the extra round head shape when bringing the racquet up over my head, but after a few serves that sensation went away. Unlike groundstrokes, I didn't find this to be a power machine, but that's not to say it was low-powered. Although it wasn't a rocket launcher for me, I found better than average pace and spin on my serves. I was able to maneuver it well and direct my serves where I wanted them to go. Overall, I thought it fit my game well because it's rare that I find a racquet that helps me in the serve department."
It also took Mark a bit of time to get accustomed to the Graphene Extreme MP, but like Tiffani, he eventually reaped the benefits on serve. He said, "This racquet has the modern player's racquet feel to it because it swings fast and the ball noticeably explodes off the stringbed. Once I got used to how fast everything happens with this racquet, I definitely benefited from it on serve."
On the contrary, Brittany never found a good rhythm when serving with the Graphene Extreme MP, but after a while she was using the easy access to spin to keep her opponents off-balance. She said, "I struggled finding a consistent response when hitting serves, and I never felt fully comfortable hitting riskier serves. I found myself aiming toward the middle of the box and hitting more spin-oriented serves. However, I didn't have any issues with power or maneuverability with this latest version, and I did start to hit a wider variety of first serves toward the end of the playtest."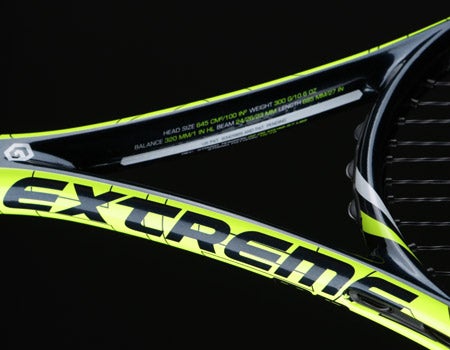 Serve Returns - Score: 80
Some of our playtesters enjoyed the maneuverability and easy power of the Graphene Extreme MP on their returns, while others found it to be too erratic. Tiffani found that she could be effective as long as she didn't try to do too much with her returns. She said, "The responsive feel of this racquet really came into play here. I felt like all I needed to do was get my racquet on the serve and the ball would end up back in play. I did need to be careful not to take too big of a swing. This is my flattest shot, so without the added spin that I use on groundstrokes my attempts to be more powerful off the return were often out."
Jason struggled to be consistent with his returns, but eventually learned to let the racquet do the work. He said, "Returning serves with this racquet was sort of a crapshoot. I was inconsistent with it, like on my groundstrokes, only worse. The depth control wasn't the greatest, but I had good placement, whether I was going cross court, inside out or inside in. I also felt like the racquet did well on slice returns."
Brittany, who loves to be aggressive with her returns, felt totally dialed in throughout the playtest. She raved, "Again, the added maneuverability was a plus when hitting returns. I was able to get my racquet into place on time (sometimes even early) and direct the ball wherever I wanted. Surprisingly, I also felt a little more stability than on my groundstrokes. With returns being one of my favorite shots, this racquet gets my approval."
After a brief adjustment period Mark found success with his returns. He said, "This was the shot that required a bit more time to adapt. But, like all my other strokes with this racquet, the serve return felt pinpoint as long as I could tame the power."
Overall - Score: 82
Likes
Jason -"Maneuverability, great access to spin, solid feel."
Tiffani -"I felt like the Graphene Extreme MP swung faster than its specs indicate (320 swingweight), and I liked the easy power on my groundstrokes. This is also the best looking Extreme racquet Head has made."
Brittany -"I liked this racquet for grooving groundstrokes from the baseline. Additionally, I enjoyed its feel and maneuverability."
Mark -"I loved the fact that fewer balls were returned during points when I played with it (scores do not lie). Aesthetically, it is very easy on the eye. I also liked the stability. I got some easy power and spin, and I suppose it is worth mentioning that my arm was still fresh after playing."
Dislikes
Jason -"Erratic stringbed response. Tough to get in a groove with."
Tiffani -"There isn't much I dislike, but I found it a bit unstable when the ball hit high out of the sweetspot, and I preferred it with a control string."
Brittany -"It felt a little inconsistent at times, especially on my serves, and I would have liked more stability."
Mark -"At times I had a hard time harnessing the easy power that the Graphene Extreme MP offered."
Comparing it to other racquets they've used, our testers said:
Jason -"The maneuverability and spin of the Graphene Extreme MP are similar to the Yonex EZONE Ai 100. It's a more user-friendly Extreme MP than the previous version."
Tiffani -"The Graphene Extreme MP swings more easily than the previous IG Extreme MP 2.0, but it's right in line with the previous Extreme MP racquets in terms of power. It's also more spin friendly. The feel has changed somewhat over the life of the Extreme series; I found older generations to feel crisper. I also think the Graphene Extreme MP is a lot like a more spin-friendly Babolat Pure Drive."
Brittany -"Compared to the previous IG 2.0 version, I found this version to be more maneuverable and powerful as well as a tad less stable. I also liked the feel from the Graphene Extreme MP up at net when hitting both put-away volleys and short angled volleys."
Mark -"To find similar playability you have to add all the oval shaped beamed frames to the list: the Babolat Pure Drive Roddick, the standard Pure Drive, the Donnay Formula 100, the One Strings Turbine 300, the Volkl Organix 8, the Dunlop M5.0 and the Tecnifibre TFlash 300/315."
Technical Specifications

Length
27 inches
69 centimeters
Head Size
100 square inches
645 square centimeters
Weight
11.3 ounces
320 grams
Balance Point
13 inches
33 centimeters
4pts Head Light
Construction
24mm / 26mm / 23mm
Composition
Graphene
String Pattern
16 mains / 19 crosses

Babolat RDC Ratings

Score

Grade

Flex Rating
69
Range: 0-100
Swing Weight
320
Range: 200-400
Scores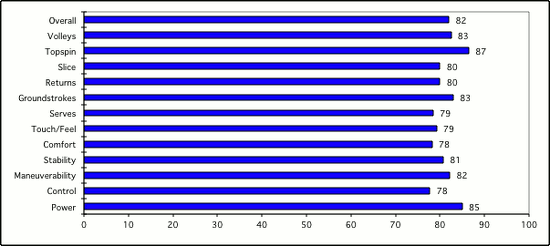 (Scores are determined by averaging individual play test scores)
Jason's Scores
Power
8
Serves
8.2
Control
7.8
Groundstrokes
8
Maneuverability
8.4
Returns
7.8
Stability
8
Slice
8.1
Comfort
7.8
Topspin
8.5
Touch/Feel
8
Volleys
8
Overall
8.1
Tiffani's Scores
Power
8.4
Serves
7.9
Control
7.8
Groundstrokes
8.2
Maneuverability
8
Returns
7.9
Stability
8
Slice
7.6
Comfort
8
Topspin
8.3
Touch/Feel
7.8
Volleys
8
Overall
8
Brittany's Scores
Power
8.6
Serves
7.8
Control
7.5
Groundstrokes
8
Maneuverability
8.5
Returns
8.3
Stability
7.8
Slice
8.3
Comfort
8
Topspin
8.8
Touch/Feel
8.4
Volleys
8
Overall
8.2
Mark's Scores
Power
9
Serves
7.5
Control
8
Groundstrokes
9
Maneuverability
8
Returns
8
Stability
8.5
Slice
8
Comfort
7.5
Topspin
9
Touch/Feel
7.5
Volleys
9
Overall
8.5
Playtester Profiles
Jason: 4.0 baseliner with a semi-western forehand and two handed backhand. Currently using a Yonex EZONE Ai 100.
Tiffani: 4.0 level baseliner with a semiwestern grip on the forehand and hits a two-handed backhand. Currently playing with the Donnay Formula 100.
Brittany: Open level player with a semi-western forehand and a two-handed backhand. She currently plays with the Yonex EZONE Ai 100.
Mark: 5.0 lefty all-court player with a one-handed backhand. He currently plays with the Wilson Steam 99S.

Review date: June 2014. If you found this review interesting or have further questions or comments please contact us.
All content copyright 2014 Tennis Warehouse.