Head FXP Tour String Review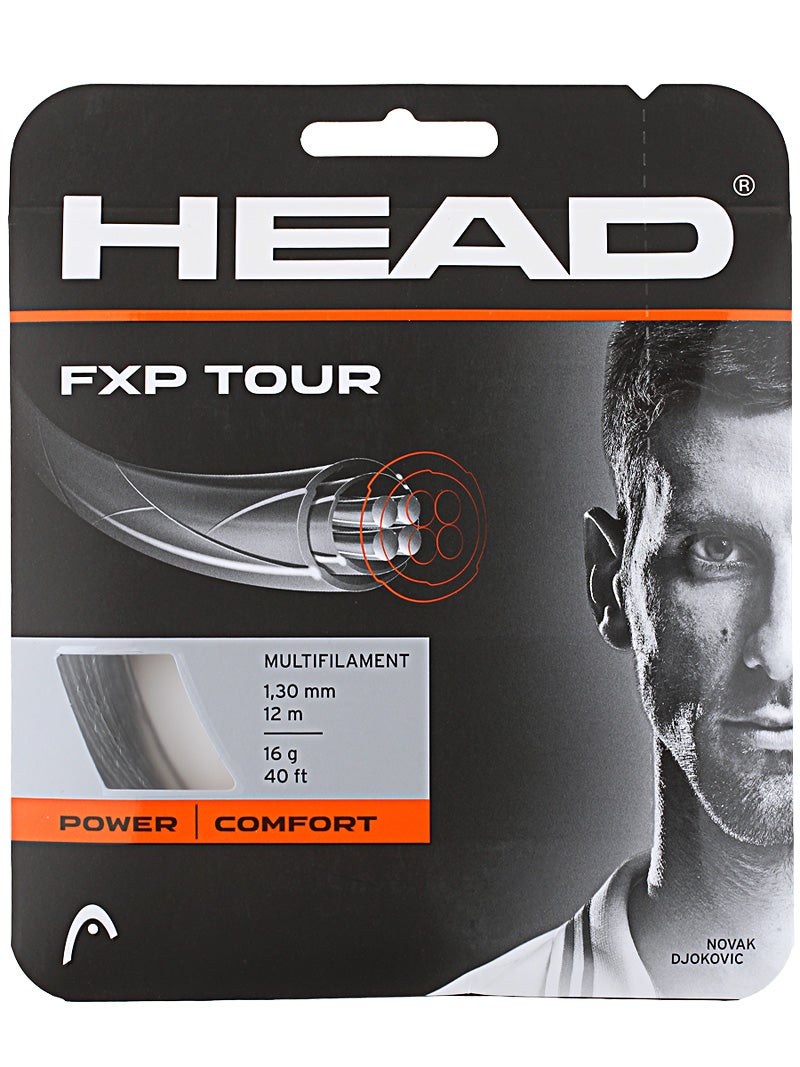 Head FXP Tour String Scores
Power
81
Spin
77
Comfort
84
Control
77
Touch
75
String Movement
59
Playability Duration
75
Durability
76
Overall
75
Upsides
Comfort
Playability
Nice balance between control and power
Downsides
Too muted for players who prefer super crisp polys
Summary
In the tennis universe, the word "polyester" is the virtual opposite of the word "multifilament." This is because polyester strings are firm (and offer excellent control and durability), whereas multifilaments are soft (offering excellent comfort and power). The most common way to access the benefits of both string types is to use a hybrid. Another option is Head FXP Tour, which has a stiff four-part polyester core surrounded by flexible multifilament wraps. The result of this innovative construction is, according to our playtest team, a nice balance of features punctuated by impressive comfort. In contrast to a crisp poly, we found the feel to be decidedly muted, making FXP Tour a great option for those who seek extra vibration dampening. We also discovered that FXP Tour was no slouch in the control department, though one of our playtesters found it to be quite powerful. As for spin potential, our testers didn't get quite the grip they experience with their favorite polyester monofilament, but each player was able to generate effective spin. Ultimately, for those who want a comfortably muted string with decent control, spin and pop, this one is worth a serious look.
Power - Score: 81
Even though FXP Tour is partly filled with polyester, our team found it to be far from dead. In fact, Mike thought it was quite lively, saying, "When I first strung the racquet it felt very powerful and dampened. I really had to adjust my strokes for the first couple of hitting sessions because the string felt like a trampoline, with tons of power. I had to focus on controlling the ball with spin, which made things a lot easier for me. I'm used to a low powered poly so this was a little different, but I actually liked the extra power and would recommend it."
Chris discovered a balance of power and control, not unlike the response of a hybrid. He said, "The power level of this string was pretty middle of the road. I was getting enough pop to help me get the ball away, but not so much as to make the string uncontrollable. Even at 5 lbs above my usual tension I had enough power from this string to find solid pace on the ball. It is definitely more powerful than the vast majority of poly based strings, and it plays very much like a poly/synthetic gut hybrid in terms of power and feel."
Spin - Score: 77
FXP Tour isn't a shaped and low-powered monofilament like the best spin strings, but our team was still able to get some good ball rotation from this string. For Chris it was all about sound technique. He said, "The level of spin from this string was decent. I would put it on par with a tightly strung multifilament or synthetic gut -- in that I get spin from the confidence to swing fast rather than from the string itself. The level of bite on the ball was also decent, but not poly-like in its grip and grab. For me, tension and racquet head speed are going to be the key factors for getting spin from this string. If strung tight enough, I'm going to be swinging fast enough to get lots of spin."
Finding a nice combination of power and bite, Mike was able to hit a heavy ball with this string. He said, "For having so much power, this string did bite the ball well and had a comfortable feel, allowing me to focus more on generating spin and placing the ball with angles wherever I wanted. This helped me hit heavier when playing people who hit the ball a little harder than me, like Michelle (ha ha)."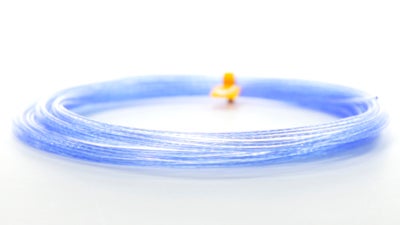 Comfort - Score: 84
For our team, FXP Tour provided a very smooth and comfortable ride. In fact, this is one of the more comfortable strings Mike has ever hit. He said, "Probably my favorite part of this string. Very, and I repeat, very comfortable. It honestly felt like soft creamy peanut butter; a weird reference, but I loved the feel of this string. I had no vibrations or discomfort. It's probably one of the softest strings I've played with."
"A fairly dampened string, this one offered a very comfortable response," said Chris. Additionally he offered, "The feel is firmer than a multifilament, but softer than a monofilament poly. The result is much like that of playing with a poly/synthetic hybrid. Compared to other strings with a similar build, Wilson NXT Control has a crisper/firmer feel while Tecnifibre X-Code and IsoSpeed Axon Multi are very similar."
Control - Score: 77
With its polyester core and durable coating, FXP Tour is designed to provide decent control. Chris, who prefers stiffer strings, was ultimately satisfied with the response. He said, "I found a solid level of control from this string. I liked how I could increase tension for more control without sacrificing comfort. I felt very dialed in when rallying from the baseline. The amount of spin I was getting allowed me to control passing shots and angles while still swinging aggressively. Although it's a tad too muted in feel to be ideal for drop shots and touch volleys, the response was very predictable off the stringbed, so I was able to dial those shots in without issue."
Mike had great control after adjusting to the lively response. He said, "At first I couldn't get a feel for the string, probably because of the high power, but once I got a feel for it I was able to place the ball wherever my little heart desired. I would consider playing with this all the time."
Playability Duration - Score: 75
Even with the expected tension loss, FXP Tour gave both our playtesters good playability throughout the playtest. For Chris, this string never lost its predictable response. He said, "I really liked the consistent feel throughout the test period. The drop in tension was gradual and the playability remained good. My opinion of what I felt and expected from the string never changed during the test. I always knew what I was going to get from this string, and that's a very good thing."
Also satisfied with how well this string held up over time, Mike said, "It felt good throughout the entire playtest. I did notice the power level went down a bit, which gave me a little more control."
Overall - Score: 75
What type or player would you recommend this to?
Chris - "This string is a great option for the player seeking a firmer, more controlled response than synthetic gut or multifilament strings. It is also a great option for players seeking more comfort and forgiveness than a poly, without giving up too much control. Lastly, if you are not into trying poly/synthetic gut hybrids, you can get a similar feel/response by just using this string."
Mike - "If you're looking for something similar to a hybrid, but maybe a little softer and more powerful, then this would be the way to go. I actually might start using this string more frequently."
Likes
Chris - "I liked the consistent feel from the string and that it remained consistent over the duration of the test."
Mike - "Power, feel, spin potential."
Dislikes
Chris - "The feel was too muted for me. I prefer the crisper and cleaner feel of NXT Control."
Mike - "To be honest, I loved this string."
Comparing the string to others they've tried, our testers said:
Chris - "Other must try options if you like this type of string construction would be NXT Control, X-Code and Axon Multi."
Mike - "I usually play with polys such as Volkl Cyclone or Kirschbaum Pro Line 2. FXP Tour felt like a hybrid setup with one of these strings, which turned out to be great for me."
Scores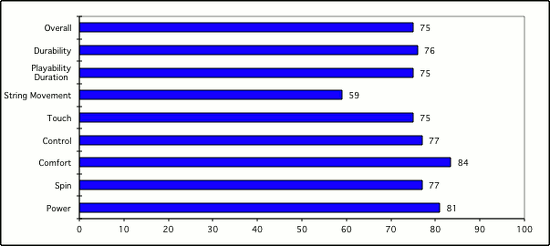 (Scores are determined by averaging individual play test scores)
Chris' Scores
Power
7.5
Playability Duration
8
Spin
7.4
Durability
7.8
Comfort
8
Control
7.4
Touch
7
String Movement
6.8
Overall
7
Mike's Scores
Power
8.7
Playability Duration
7
Spin
8
Durability
7.4
Comfort
8.7
Control
8
Touch
8
String Movement
5
Overall
8
Playtester String Setups
Chris:
Playtest Racquet: Slazenger V100 Team
Playtest Tension: 56 lbs
Typical String: Volkl Cyclone 16
Mike:
Playtest Racquet: Head Youtek Graphene Instinct MP
Playtest Tension: 59 lbs
Typical String: Volkl Cyclone 17

Review date: July 2013. If you found this review interesting or have further questions or comments please contact us.
All content copyright 2013 Tennis Warehouse.