Gamma RZR 98 Racquet Review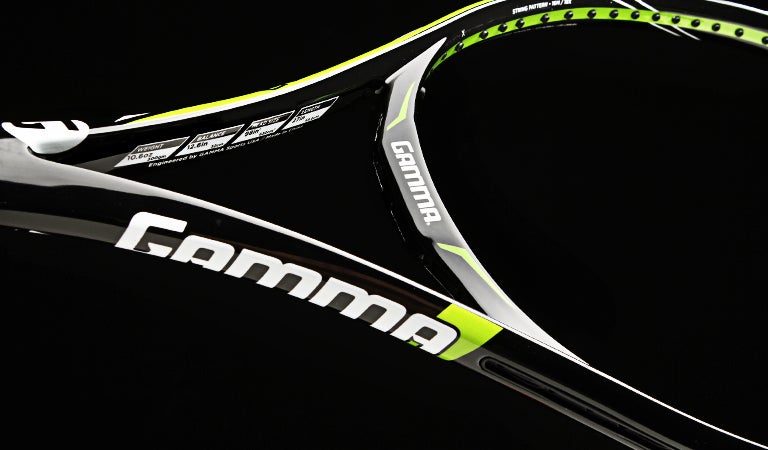 Gamma RZR 98 Scores
Comfort
67
Touch/Feel
72
Serves
81
Groundstrokes
72
Returns
72
Slice
80
Topspin
83
Volleys
74
Overall
72
Upsides
Extreme spin potential
Maneuverable
Downsides
Inconsistent response
Small sweetspot
Summary
Our TW testers found the Gamma RZR 98 provided huge spin potential in a maneuverable package. From the baseline, pace and spin were easy to generate, although our testers found the response to be a bit inconsistent and erratic. When the ball hit the sweetspot the results were positive, but when the ball wasn't completely in the middle of the stringbed the RZR 98 became a bit temperamental. The racquet was extremely maneuverable and spin-friendly at the net, but our playtesters had trouble with touch and stability. The serve was definitely the favorite shot for all the playtesters with the Gamma RZR 98. The racquet provided increased spin production and good accuracy. Returns were enhanced by the maneuverability of the racquet but were weakened by the same inconsistencies our playtesters found on groundstrokes: a lack of control and erratic results.
Groundstrokes - Score: 72
Our testers liked the pace and the spin the RZR 98 could generate, but struggled with consistency from the baseline. Jason said, "I won't put all the blame on the racquet, but I felt very erratic with this stick. I could go from hitting a shot long to the very next shot barely clearing the net. When I did manage to hit it in the sweetspot, I found my shots had plenty of pace and tons of spin. It was one of the more spin-friendly racquets I've tested in the past few months. I wasn't too big a fan of the feel. It felt brassy, as Chris would say, meaning stiff and uncomfortable."
Siobhan was also a big fan of the spin, but struggled with what she felt was unpredictability. She said, "The baseline was an area where I was able to generate a lot of spin with this racquet. I could hit pretty heavy balls with nice pace, which allowed me to put pressure on my opponent, particularly when I got the ball deep. Both the 100 and the 98 allowed me to generate a lot of power from the baseline, but that came with a price. Sometimes a good shot would come off fine, and sometimes it would fly. I never knew what was coming next. The word I would use to describe it would be erratic, because there was no knowing what it would do. Also, more so than any racquet I've playtested so far, I felt like string choice was a huge factor. I'm giving it the benefit of the doubt that maybe with the perfect string there would be more consistency, but I have yet to find it! I did not develop a very trusting relationship with this racquet."
Brittany was never able to find a rhythm. She said, "When I hit in the smaller-than-I-am-used-to sweetspot I hit a clean, crisp ball. However, I found the racquet to be very unpredictable when I wasn't hitting exactly where I wanted to on the stringbed. I couldn't control the ball as well as I would've liked and found my balls spraying in every direction. Sometimes I would play well, and other times my groundstrokes felt forced and uncomfortable. On a positive note, I found plenty spin, especially on my forehand side, and found it relatively easy to keep my slice low."
Karly liked the maneuverability. She said, "The head light balance made this racquet feel a lot lighter than 11 ounces, which I think helped make it easy to swing and easy to generate a lot of spin. I didn't have to put much effort into getting the racquet back in time to set up for my next stroke, though I would've liked to have gotten more plow through from the racquet at the baseline. There were times where I lost a considerable amount of momentum when making contact, especially against a fast paced ball. I think the racquet could have used a little more mass to help make it feel more stable."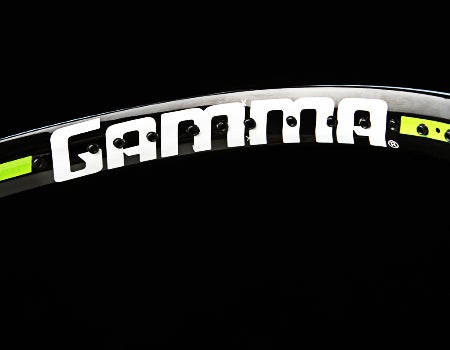 Volleys - Score: 74
The TW squad had ups and downs at net with the RZR 98. When volleying, Karly found the racquet up to par until the pace picked up. She said, "The great maneuverability made it so I could make contact with any ball that came my way. It was extremely easy to swing up at net. However, when volleying against hard hitters I thought the racquet lacked stability. It was obvious when I didn't hit the ball directly in the sweetspot because it felt really unstable. Even though it was an easy racquet to swing at net, I didn't like the instability when I hit off-center shots."
Brittany just couldn't sync her play with the Gamma RZR 98. She offered, "I played several sets of doubles with this racquet. Up at net, I didn't have the feel I was looking for. I felt it was lacking in the touch department. Similar to my groundstrokes, I found my volleys to be erratic at times, and I couldn't put the volley away in doubles. I did find I was able to maneuver the racquet into position for reflex volleys."
The racquet became enjoyable for Jason at net. He said, "To my surprise, I liked this racquet better at net than I did from the baseline. I think the less I swung, the less erratic it would be, so my volleys were more controlled. Spin was still great, and it was maneuverable enough that overheads were easily executed."
Still having some trouble, but enjoying the power off overheads, was Siobhan. She said, "Same as from the baseline: hit the sweetspot off a normal paced ball and it felt good. I did find it maneuverable, and overheads were good, too. I felt I had good power and a decent amount of control hitting them. But in the real world of tennis, when each ball is different, there was just no consistency to anything, and the racquet felt really flimsy. The sweetspot was small, and the racquet couldn't handle backspin, really big pace or really slow balls. I just felt a little defenseless at net."
Serves - Score: 81
This is where the RZR 98 shone for our testers. Each player found good spin production and accuracy. Finding the consistency that was missing elsewhere was Siobhan. She said, "Serves were my favorite shot with the RZR 98. It could deliver a pretty big bang, I think due to my ball toss always being a consistent pace maker that I could swing at. I really enjoyed the spin I was able to get off my second serve. Kicking, hitting flat and slice were interchangeable. It just felt a little empty, with no solid feel that I like from a racquet."
Karly liked the spin that the racquet gave her, saying, "Serving was where I was able to generate the most spin out of the racquet, and I loved it. I barely had to brush the ball to get a ton of kick on my serve. Generally, I'm a little hesitant with my second serve to go for more kick, but with this racquet I was confident that the large amount of spin would keep the ball in. It was definitely a fun racquet to serve with."
Brittany was in agreement with Siobhan and Karly about the power and spin potential of this racquet. She said, "My favorite shot with this racquet was the serve. I found just enough power to hit a solid flat first serve. My favorite serve to hit with this racquet was a body serve, to jam my opponent. I would take a little pace off the serve and add some extra spin or slice. My second serve was definitely a complement to my first, as I was able to use all the spin potential to create a heavy second serve."
Jason found his niche with a slice serve. He said, "I liked this racquet for serving. Since I hit a slice on 90 percent of my serves, I really appreciated the spin I was able to produce. I also felt the control was good with this stick; I was able to hit my spots for the most part."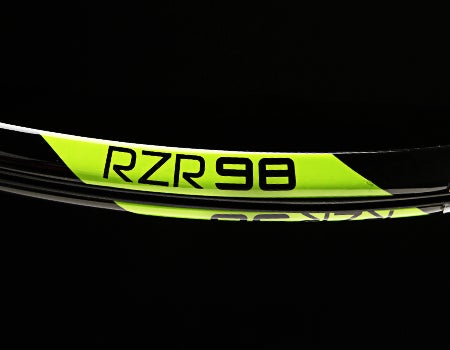 Serve Returns - Score: 72
The RZR 98 allowed our testers to return with plenty of spin, but with similar inconsistencies as groundstrokes. Siobhan liked the spin production but wished the racquet offered a bit more punch. She said, "The racquet just felt hollow as if there was some beefiness missing. I'm used to playing with racquets a lot lighter than this, but it still felt like there wasn't much to it, despite the weight. Returns were up and down. I could get really great spin, but again the inconsistency was troubling. I ended up not going for returns I normally would go for because the racquet scared me into being less aggressive."
Jason also found out the hard way that a tentative approach had negative effects on returns. He said, "Like with my groundstrokes, I experienced inconsistent results. Some returns flew, and some had no pop behind them. I did find that the best results were when I didn't hesitate and just went for a return. If I played tentatively, especially when slicing my return, I found the ball would fly."
The RZR 98's good maneuverability made it easy for Karly to get the racquet head around. She said, "It didn't matter how fast the serve was, I didn't have to put much effort into bringing the racquet around in time. However, I don't think the racquet had enough plow through to take control of a point off a return. There were a lot of times when I felt like I was being pushed around on the returns."
"I enjoyed the maneuverability on my returns," said Brittany. "I was able to get to get my racquet in position on any serve that was thrown at me. I struggled with control again, but found myself adjusting to hitting more spin-oriented returns."
Overall - Score: 72
Likes
Jason - "The racquet produces tons of spin and is fairly maneuverable."
Karly - "The amount of spin I got out of the RZR 98 made it a really fun racquet to hit with."
Siobhan - "Spin production from the baseline and on serve."
Brittany - "I liked the ease in creating spin off my groundstrokes and serves."
Dislikes
Jason - "Brassy feel, inconsistent stringbed, stiffness is too high."
Karly - "I don't think this head light racquet had enough oomph, and I would've liked to have seen a little more plow through."
Siobhan - "Erratic response. The empty, hollow feel."
Brittany - "I was too erratic playing with this racquet, and I didn't like the small sweetspot."
Comparing the RZR 98 to other racquets they've used, our testers said:
Jason - "Hard to compare this one, but it has characteristics that remind me of a Volkl Organix 10 (295g)."
Karly - "The access to spin and easy maneuverability reminded me of the Wilson BLX Steam 100, although I thought this racquet had better feel than the Steam."
Siobhan - "In regards to spin production, this racquet reminded me of the Pure Drive and the Volkl Organix V1 Midplus, and in terms of overall feel and pace, the RZR 100."
Brittany - "The two racquets I thought this compared to were the Gamma RZR 100 and the Volkl Organix 10 (295g). It's very similar to the RZR 100, but I found a little bit more control and a little less power. The Volkl Organix 10 (295g) had a similar feel, but with more stability."
Technical Specifications

Length
27 inches
69 centimeters
Head Size
98 square inches
632 square centimeters
Weight
11.2 ounces
318 grams
Balance Point
13.125 inches
33 centimeters
3pts Head Light
Construction
22mm / 22mm / 22mm
Composition
Graphite
String Pattern
16 Mains / 18 Crosses

Babolat RDC Ratings

Score

Grade

Flex Rating
57
Range: 0-100
Swing Weight
317
Range: 200-400
Scores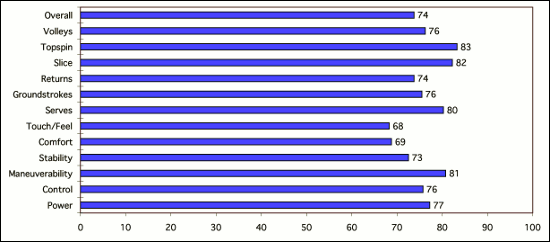 (Scores are determined by averaging individual play test scores)
Jason's Scores
Power
7.6
Serves
8
Control
7.7
Groundstrokes
7.5
Maneuverability
8.1
Returns
7.4
Stability
6.9
Slice
8
Comfort
6.3
Topspin
8.5
Touch/Feel
7
Volleys
7.9
Overall
7.1
Karly's Scores
Power
7.5
Serves
8.2
Control
7.4
Groundstrokes
7.4
Maneuverability
8.1
Returns
7.2
Stability
7.1
Slice
8.3
Comfort
7
Topspin
8.1
Touch/Feel
7.8
Volleys
7.5
Overall
7.3
Siobhan's Scores
Power
7.6
Serves
8
Control
6.8
Groundstrokes
7
Maneuverability
8
Returns
7
Stability
7
Slice
8
Comfort
6.3
Topspin
8.5
Touch/Feel
7
Volleys
7.3
Overall
7.3
Brittany's Scores
Power
7.8
Serves
8
Control
6.9
Groundstrokes
7
Maneuverability
7.8
Returns
7
Stability
6.9
Slice
7.5
Comfort
7
Topspin
7.9
Touch/Feel
7.1
Volleys
6.7
Overall
7.2
Playtester Profiles
Jason: 4.0 baseliner with a semi-western forehand and two handed backhand. Currently using a Boris Becker Delta Core London.
Karly: 4.0 baseline player currently playing with the Wilson nCode nTour. She hits with a semi-western forehand grip and uses a two handed backhand.
Siobhan: Open level player with a semi western forehand and a two handed backhand. She currently plays Wilson KBlade Team.
Brittany: Open level player with a semi-western forehand and a two handed backhand. She currently plays with the Yonex V-Core 100S.

Review date: April 2012. If you found this review interesting or have further questions or comments please contact us.
All content copyright 2012 Tennis Warehouse.